"What if sinigang, but egg?" Like the majority of my food experiments, these things usually get started with an invasive thought and no roadmap. Do I poach an egg in sinigang? Should I steam it in a sinigang bath? Would it work if I scrambled it with sinigang powder?
But no. Instead, I applied a tried and tested cooking method to the experiment: boiling and then marinating them. After debating on whether or not I should make my own sinigang from scratch and marinate the eggs in the soup, I realized there was a much faster way to go about things—using instant sinigang powder.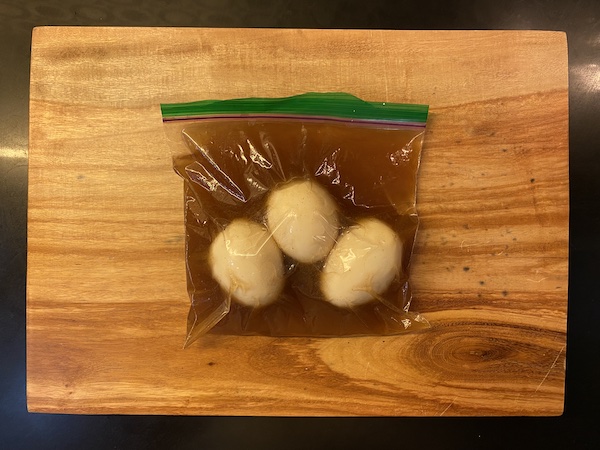 Purists would scoff at me, but it is what it is. I needed an intense concentration of sinigang flavors that would seep into the egg. If I had the luxury of time and energy (which I can only dream of at this point in my life), I would have gone the traditional route. But alas, I must make do with what I have, and what I had ended up amazing.
Much like sinigang in traditional form, making sinigang eggs is a very straightforward process. Take one small pouch of the sinigang premix of your choice, add 2 tablespoons of patis, a cup of water, and marinate for at least two days.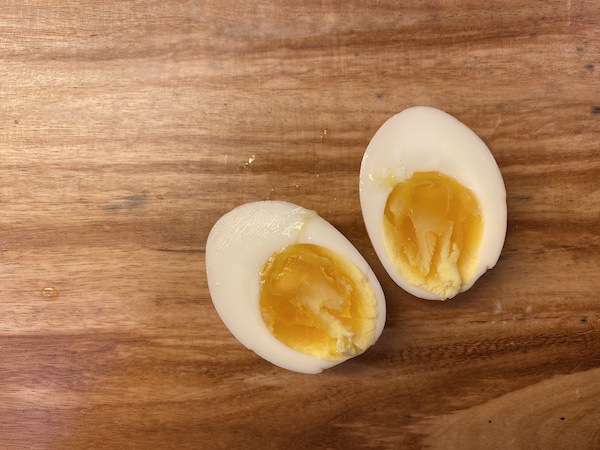 Instead of serving it by itself or over plain rice, I decided to make tutong na kanin bites. I fried up a few day-old black rice patties in bacon fat (I know, not the best recipe if you're looking out for your cholesterol) until they browned and popped at the bottom. I topped it off with quarters of the sinigang egg and ate everything that took me five days to make in two minutes.
The marinated egg is distinctly salty-sour and absorbed the seasoning and patis really well. If you want a stronger flavor, you can leave it in for up to five days (which will pucker your lips). You can also adjust the recipe depending on whether you like patis or not.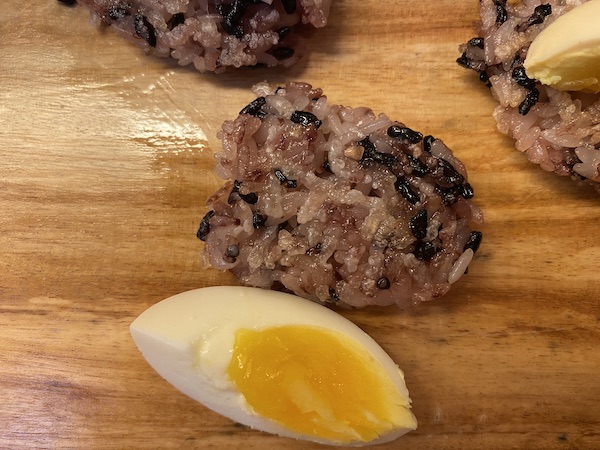 Using tutong as a base helped diversify the texture. It delivered some much-needed crunch to a potentially overly jammy bite. Frying it in bacon fat is awful for your health, but tastes amazing. The bacon fat doesn't come out strong, but it gives a whisper of richness to the whole thing.
This could potentially be a great appetizer for parties or a snack while drinking with friends. For now though, it's a successful food experiment I'm happy to share with everyone.
Marinated sinigang egg over tutong bites
Ingredients:
For the sinigang egg
4 eggs
11 g sinigang mix
2 tbsp. patis
1 cup water
For the tutong
1 cup day-old rice
1 tbsp. oil
Procedure:
For the sinigang egg:
Soft boil eggs for 6 minutes and prepare an ice bath
While eggs are boiling, prepare mixture in an airtight container or ziplock
Remove eggs from boiling water and soak in ice bath until completely cool
Peel eggs and add to the marinade
Marinate overnight up to 5 days
For the tutong:
Densely pack rice into flat, bite sized pieces
Fry over oil until crisp and brown
Place on plate covered with paper towel to absorb extra oil
Assembly:
Slice each egg into halves or quarters depending on preference
Lay egg on top tutong bites
Sprinkle flaky salt on top (optional)
Serve and enjoy