There are millions of possible milkshake combinations at Shakeaway
With more than 180 ingredients for your milkshake, you can live without drinking the same milkshake twice
info
Shakeaway

Milkshakes

Mondays to Fridays, 11 a.m. to 9 p.m. Saturdays and Sundays, 10 a.m. to 10 p.m.

₱

P200 to P300
Restaurants are getting more and more ambitious with their milkshakes nowadays, coming up with grander presentations and more indulgent combinations. In the midst of this, one milkshake bar sticks to the basics, focusing on authentic flavor and giving the drinkers the control over what goes into their shakes.
Shakeaway is the second Southeast Asian franchise of the popular UK milkshake bar. They carry over 180 ingredients which can be mixed and matched according to the drinker's preference. "You can live without having the same milkshake twice [because] you can make any combination, you can add toppings, you can add protein, even," says Shakeaway Philippines' executive director Zerline Chan Ortiz-Luis. For those who get overwhelmed with the myriad of options, they also offer "named shakes," which are tried and tested combinations from their stores worldwide.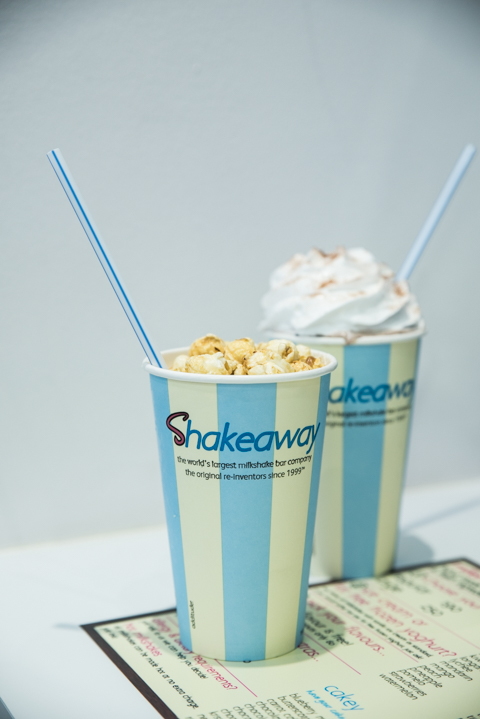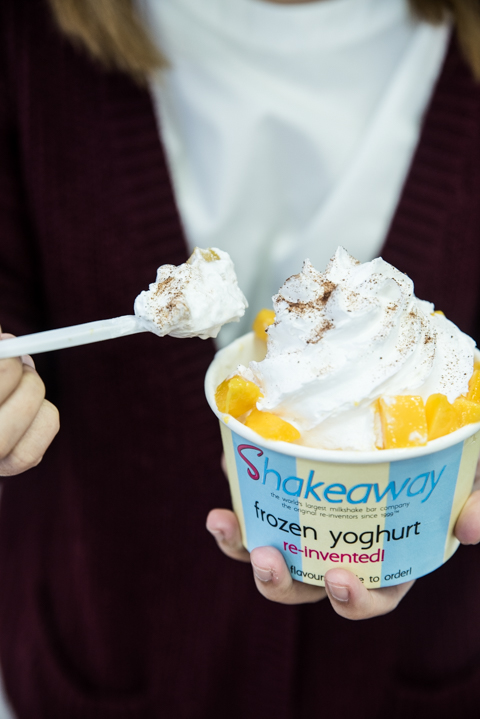 For a classic, chocolatey milkshake, try the Casey shake. One of the original named shakes, it has chocolate crinkles, Nestle crunch, and is topped with whipped cream. Each slurp of this milkshake comes with the bits of chocolate crinkles, which adds more texture and a bit of a more enjoyable aspect to the drink.
Meanwhile, Mae is a drink and a snack slushed into one cup, as it uses Apple & Werther's original candies and is topped with toffee popcorn. Shakeaway uses straws that come with spoons at one end, making it easier to scoop up and eat the cake, cookie, or even popcorn toppings.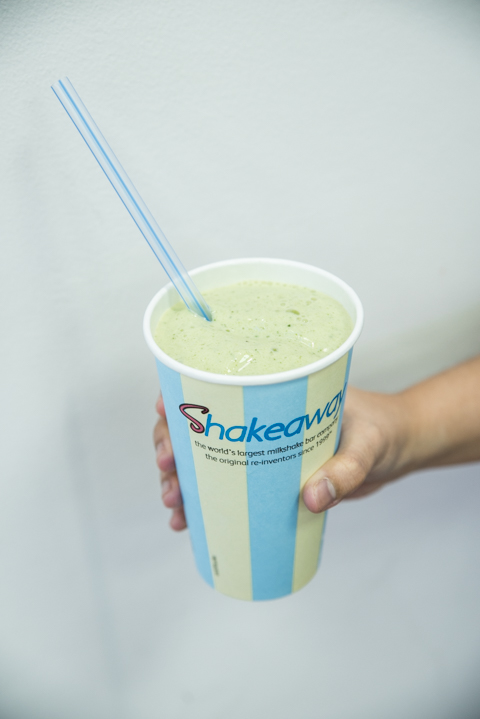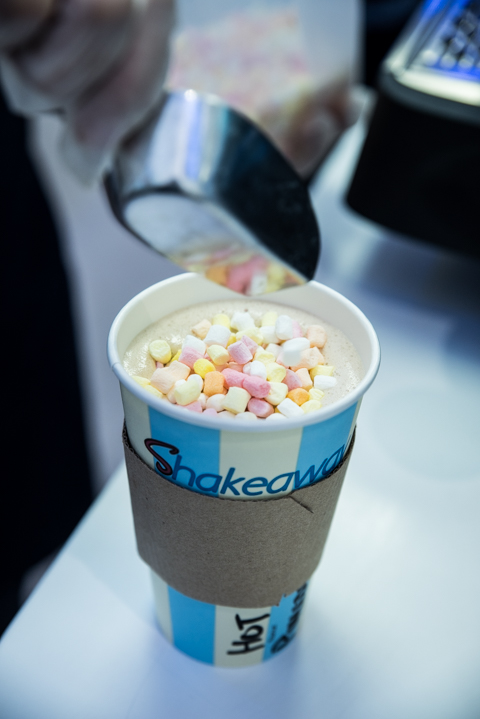 Those on a diet or planning to hit the gym can also find a shake fit for their lifestyle, as there are fit and healthy shakes available. Ortiz-Luis shares that this line of shakes use 100 percent fat-free frozen yoghurt as the base. "[Shakeaway UK] wanted one ingredient to be a vegetable, and from there it has to be paired with something sweeter," she says. "The yoghurt that we use [isn't the tart one that we're used to]. Our yoghurt has to be bland, otherwise it will fight with the taste of the kale or the other vegetables."
You can still enjoy milkshakes on cold days. Aside from Shakeaway's seasonal menu, such as the Pullover Pam from their winter menu that runs until mid-March, all of Shakeaway's shakes can be served hot. "We steam the whole drink to make it hot," says Ortiz-Luis. "It also makes the flavors richer."
Snacks and frozen desserts are also available at Shakeaway. Low-fat fries, which are oven-baked instead of deep-fried, add a good balance to the sweetness of the shakes. If you're not feeling like having a shake, you can still get a cold treat in the form of shaved ice or frozen yoghurt, which you can also customize with your choice of toppings.
For something more adventurous, Shakeaway also has gimmick shakes: the Wicked Wendy, the so-called world's worst milkshake, has frozen peas and pickled onions, and is usually ordered as a dare. Meanwhile the Millionaire's Milkshake has Lindt chocolates, hazelnuts, and 23 carat edible gold flakes, making it a perfect celebratory treat.
TAGS: frozen yogurt milkshake nolisoliph shakeaway shaved ice
WHY GO?
They have more than 180 ingredients to choose from. Their milkshakes are made using the actual ingredients, and not artificial flavorings. (So there are real Nestle Crunch bars and chocolate crinkles in that Casey milkshake)
MENU