UPDATE: Metro Manila will be placed under a less restrictive general community quarantine (GCQ) starting Wednesday, Sept. 8 until the 30th, Malacañang announced Monday. Presidential spokesperson Harry Roque explained that Metro Manila was downgraded to GCQ classification since it will be piloting the proposed shift to granular lockdowns as opposed to region-wide restrictions.
---
ICYMI: Metro Manila will be under granular lockdown starting Wednesday, Sept. 8. This is according to the Department of Trade and Industry (DTI) Secretary Ramon Lopez. The new quarantine classification was already approved by the Interagency Taskforce on Emerging Infectious Diseases (IATF) over the weekend.
Under granular lockdown, the incidence of COVID-19 in each area will be categorized based on its severity rated from 1 to 4. At level 1, the area will impose the least restrictions, while level 4 areas will mean hard lockdown, where a no entry or exit rule will be observed, with the exception of health workers. The IATF is reportedly still discussing whether authorized persons outside of residence (APORs) will be allowed to go out. Lopez said there was a suggestion to allow APORs to go out as long as they have negative COVID-19 test results.
The IATF has yet to release specific guidelines, and whether this system extends to locales outside of Metro Manila. But according to Lopez, businesses in areas designated as level 1, 2, or 3 will be allowed to operate.
The granular lockdown, which has been favored by Malacañang, was initially implemented last year in Cebu. The government previously assigned granular lockdowns to a sitio, purok, or barangay, instead of an entire city or province. This is in order to impose strict quarantine protocols and more focused interventions in select small-scale areas that are deemed to have the most active COVID-19 cases. A similar classification has been utilized by cities in Metro Manila like Taguig last year but under the term localized lockdown.
Will it work this time? It depends
The country's COVID-19 positivity rate currently stands at 28 percent or almost 1 in 3 Filipinos who are being tested yielding a positive result.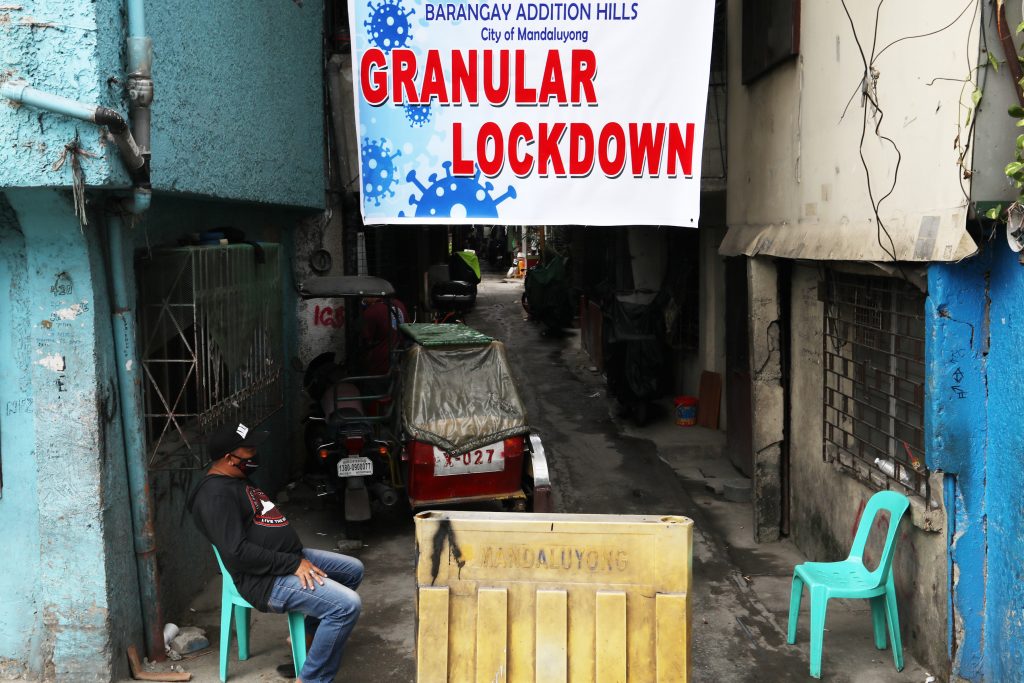 On Sunday, Vice President Leni Robredo said that while granular lockdowns are generally "okay," they should be supplemented with ample testing and contact tracing. She added that there should be enough aid for people for the lockdown to be effective, too.
OCTA Research came up with the same recommendation; however, it is firm in its position that granular lockdowns alone will not be enough to curb COVID-19 cases.
"Our local governments will have a hard time in this set-up because of their limited manpower," OCTA Research fellow Dr. Guido David said in a CNN Philippines interview.
"For example, there are 100 barangays in a city and 10 of them only have cases, it will be easier to implement a granular lockdown. But if there are 90 barangays with cases, the local government will have a hard time dealing with those because there will be persons assigned to man the locked-down area and bring food there."
Over the weekend, the country tallied over 20,000 new COVID-19 cases in two consecutive days. There are currently over 150,000 active cases, according to the Department of Health's latest bulletin.