Tomorrow marks the 49th anniversary of former President Ferdinand Marcos signing Proclamation No. 1081 on Sept. 21, 1972. In effect, this placed the country under martial law. Yep, it's Sept. 21, not Sept. 22, or 17.
With the national elections coming next year, misinformation is rampant on the internet and attempts at historical revisionism are once again in full gear (if it ever stopped). Case in point, that controversial interview of a celebrity blogger with a Marcos scion.
"49 years later, we continue to deal with lies, misinformation, and historical revisionism of martial law and the Marcos regime on various media platforms," a statement from the University of the Philippines (UP) about the upcoming observance reads.
The national university, which has played a vital role as grounds of dissent during the martial law era, has had enough of these lies. This is why this week, from Sept. 20 to 24, 9 a.m. to 12 p.m., it is hosting a week-long virtual commemoration with a series of virtual discussions and conversations to dispel these myths.
Through UP Days of Remembrance, scholars of history and social sciences from UP and other local and international universities will team up with human rights activists to set the record straight regarding the myths of martial law and the Marcos regime.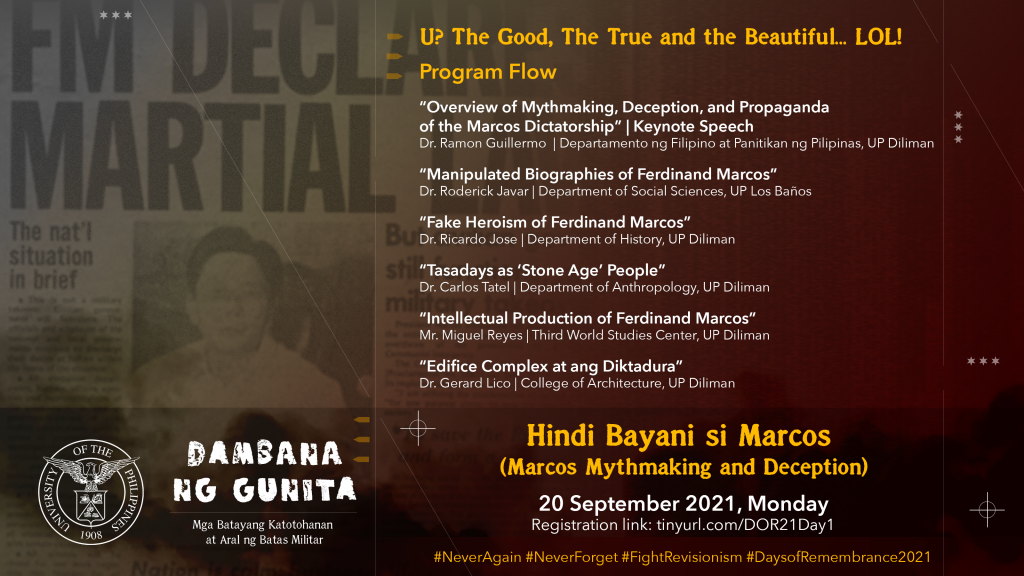 Among the topics of said discussions will be Marcos's alleged heroism, the supposed peaceful society during the Martial Law years, human rights violations under the Marcos regime, the myth of an economic golden age, and the rampant corruption and cronyism of the Marcos administration.
The series will kick off with a talk on Zoom called "Hindi Bayani si Marcos: Marcos Mythmaking and Deception" with Dr. Ramon G. Guillermo of the UP Diliman Center for International Studies. It will also be live-streamed on YouTube.
Register to join the Zoom stream here.
Program:
"Manipulated Biographies of Ferdinand Marcos"
Dr. Roderick C. Javar Department of Social Sciences, UP Los Baños
"Fake Heroism of Ferdinand Marcos" 
Dr. Ricardo T. Jose, UP Diliman Department of History
"Tasadays as 'Stone Age' People"
Dr. Carlos P. Tatel, Jr., UP Diliman Department of Anthropology
"Intellectual Production of Ferdinand Marcos"
Prof. Miguel Reyes, UP Diliman Third World Studies Center
"Edifice Complex at ang Diktadura"
Dr. Gerard Rey Lico, UP Diliman College of Architecture
The Human Rights Violations Victims' Memorial Commission also partnered with the UP Open University and the Bantayog ng mga Bayani Foundation for a series of talks on martial law this week. "Essential Truths on the Martial Law Years" will feature talks from "prominent human rights advocates, academics, and victims of the martial law period" from Sept. 21 to 24, 3 to5 p.m. It will be live-streamed via Zoom. Register here.