Read more related stories

Judd Figuerres, advertising director
Ipe Cervantes, sales manager
Judd and Ipe's loft is warmth exemplified, with enough tchotchkes to give it its own personality: a bunch of Doraemon figurines, plants they've raised together, and a sprinkle of homoerotic art here and there. "Is this Nolisoli?" one staffer asks of a print of two men in coitus. "We can make it if we want to," said another. But a kitschy framed and backlit Divisoria wallpaper of three white puppies is, for sure.
On the terrazzo kitchen counter is an orange Le Creuset Dutch oven like the one owned by the late Joan Didion, which fetched $8,000/set at an auction. Later it will be filled with dal that Ipe cooked for their group dinner, accompanied by warm billowy naan tucked inside an Owa Sylvia wicker basket with a gingham liner.
As the hours tick away and the sun retreats to the west, the space is bathed in warm light emitted by a Louis Poulsen pendant, like candlelight inviting you to take a seat on their long dinner table as Pilita Corrales (on vinyl) serenades you.
READ: Home for the holidays and every moment in between
---
How important was it for you to have your own space in relation to your lifestyle and your work?
Ipe: This is actually the first time I moved out of my family house and be independent. So I appreciate the fact that we get to design everything to our own taste. That was fun. Like building the house from empty space to very much filled in right now with our own style.
Judd: Originally, 'yung job kasi namin is here in Makati. Before we moved here, we were based in Quezon City, so we were always traveling from QC to Makati and back every day. And when we moved here, all we wanted was our own space kasi 'yung work namin is so stressful. Aside from picking a spot convenient to our location for work, we really wanted to build a space where hindi lang siya extension of our personality but also something na we can do things creatively na hindi siya part of our "jobs."
We really wanted to build a home na pag-uwi namin, we can just relax, and we can just be ourselves.
What's the best thing about living in Poblacion?
Judd: Noong una, we were like, "Oh, shit, Poblacion is going to be noisy." So when we were testing the space, we said, "Let's just see how the noise pollution is." So we spent a weekend here just testing kung maiingayan kami and it was maingay. 
And then, biglang nag lockdown. So it was, "Oh okay! Ang quiet ng Poblacion!" So we started yearning for that noise, 'di ba? So when things started coming back, doon namin na feel na "Oh wow. Poblacion is so fun."
Aside from that, we're neighbors with our friends, it was so easy for us to find people to hang out with. It's so easy for us also to find places to hang out dito. And I think—I don't know what you call it—revenge partying? Parang ganun? So there's so much energy! And I don't know, like, sometimes prior to this kasi since we were living in QC, wala kaming social life masyado. So now, medyo parang feel na feel namin 'yung energy ng Poblacion. And we really love it here. 
We really wanted to build a home na pag-uwi namin, we can just relax, and we can just be ourselves.

Judd and Ipe

Ipe: And the access to different restaurants. The food choices here are amazing, unlike in QC where everything is too far. Then Rockwell is just over there. And then there's also a palengke.
Judd: There's a palengke! Then all the clubs that play different music. You get a lot. Kasi in the morning, it's different; sa afternoon, it's different; at night, it's different. So parang nagta-transform ang space every day, every hour. Kaya siya masaya.
What was the vibe you were going for when putting together this space?
Judd: When we were doing it, parang, we wanted something clean and cute—
Ipe: Initially.
Judd: Initially!
Ipe: It was very empty, initially, but then during the pandemic—
Judd: We started collecting so many things. Which is I think kind of reactionary? Because wala namang nangyayari so parang, so might as well stimulate yourself with things.

Ipe: Yeah, like Judd started collecting plants during the pandemic.
Judd: I started collecting vinyl.
Ipe: I started collecting vintage stuff like the vases and all the cute stuff around.
Judd: So I think it's just really whatever makes us happy.
What are your favorite parts of this space?
Judd: I love this dining room because during the day this is where we work also. Kasi dito 'yung pinakalakas na internet. Because it's an old building the walls are quite thick. So medyo mahina ang internet sa loob ng mga kuwarto so we always work here. This area also has the best natural light. And then at night, 'pag magkakasama kaming lahat, kasya kaming lahat dito. So this is where we host dinners.
Ipe: We love hosting dinners.
Judd: So I think, for me, this. Ikaw?
Ipe: Same. Like a lot of things happened on this dining table. [laughs]
What makes a perfect home?
Judd: I think for me it's the person you live with more than the space. I feel like it's because it's the first time we moved in together. It's our first attempt and it was a lot of learning din from our end because, syempre, you're going to clash at some point. But I think 'yung lesson is through those clashes, we learn how to harmonize more. And I think for me that's what home is. Where you can find harmony. 
Ipe: Yeah. Judd is home, our friends are home. 
Bea Te, DJ
Bea's house reminds you of that one friend in college equipped with the things you wish your dorm had: a Rihanna coffee table book, an irregular blob of a mirror, and a Bottega green reproduction of that IG-famous modular bubble couch originally designed by Mario Bellini.
There's an air of coolness amplified by the nonchalance of having just a few covetable objects in your living quarters. Think Steve Jobs photographed sitting on the floor of his California home in 1982 with nothing but an $8,200 stereo setup and an antique Tiffany lamp.
Mano Gonzales jokes, Bea just packs and unpacks here. She's everywhere. That weekend she'll be in Cebu. Nonetheless, she vouches for the importance of having a space in Makati, which we might have overread as having a space in the scene.
READ: Home for the holidays and every moment in between
---
How important was it for you to have your own space in relation to your lifestyle and your work?
I've always lived alone since I was like 16 when I moved to Manila, so I'm used to that. I'm from Bacolod. But the pandemic really changed that 'cause as much as I like living alone, I am a very social person. I used to live in Poblacion as well. When I moved here, it really was like a breather. I felt saner just because I had my own space, but I also had all these amazing people around me. And it was like our little safe space during the craziness of the pandemic.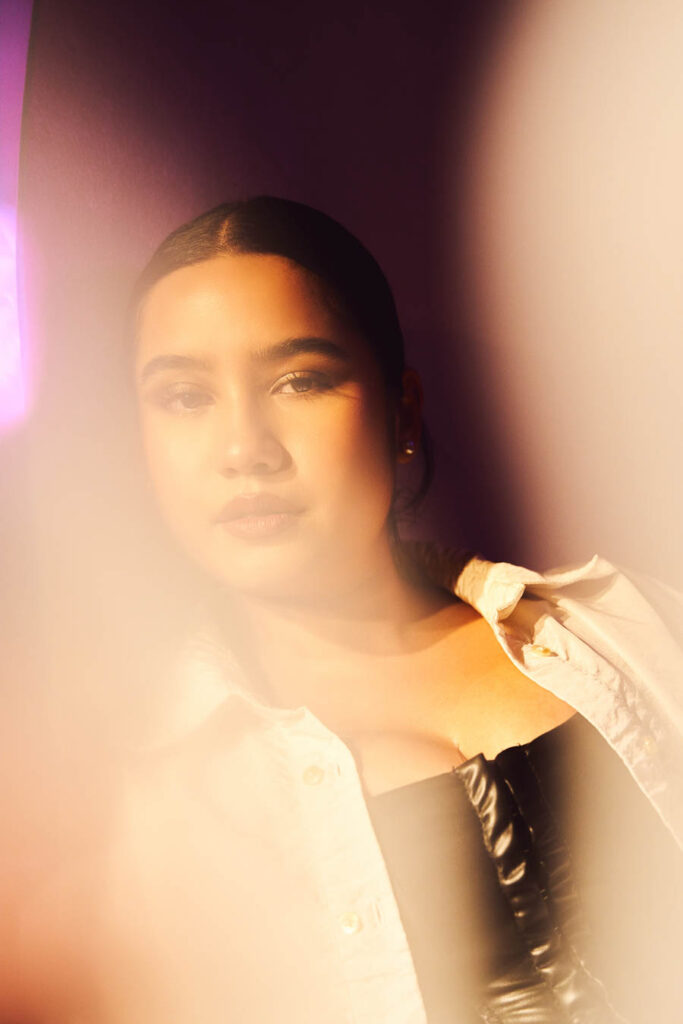 What's the best thing about living in Poblacion?
Number one for me is most of my work is here. I usually play in bars around Poblacion, so I just walk everywhere. That's mainly the reason why I moved here. But also in general, I feel like I'm never alone because there are just so many people here.
And the food scene, you go down and you have everything from bars to restaurants to activities—everything you really need.
I never really leave Poblacion unless I really have to 'cause everyone just ends up going here anyway. And as much as it feels a little grimy here and there, it still feels safe. It feels like home to me.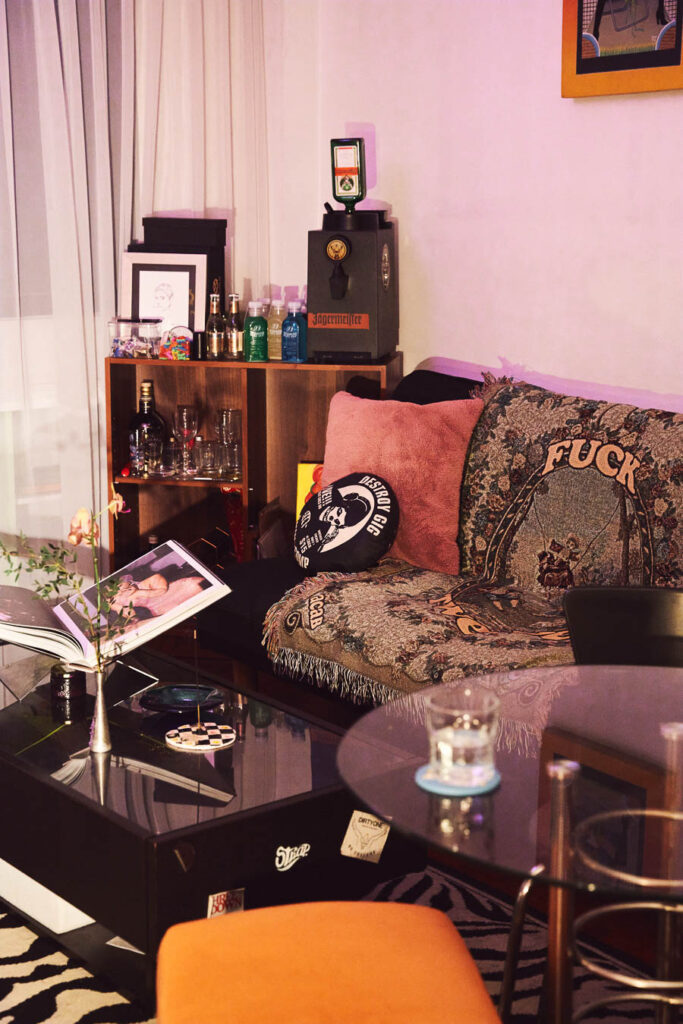 What makes the perfect home?
I think when I moved to my space I like it when a home grows with you. I don't like coming into a home when it's fully furnished. I like fixing things here and there and it grows in time with you. I feel like a home is never really finished. You always want to improve it, add things, minimize things. I think the perfect home is more of a space where you can relax. Especially in a city like Manila with so many things happening and with my job, going out to events and all that. I just like coming home to a space where I can just relax and just unwind. And welcome friends also.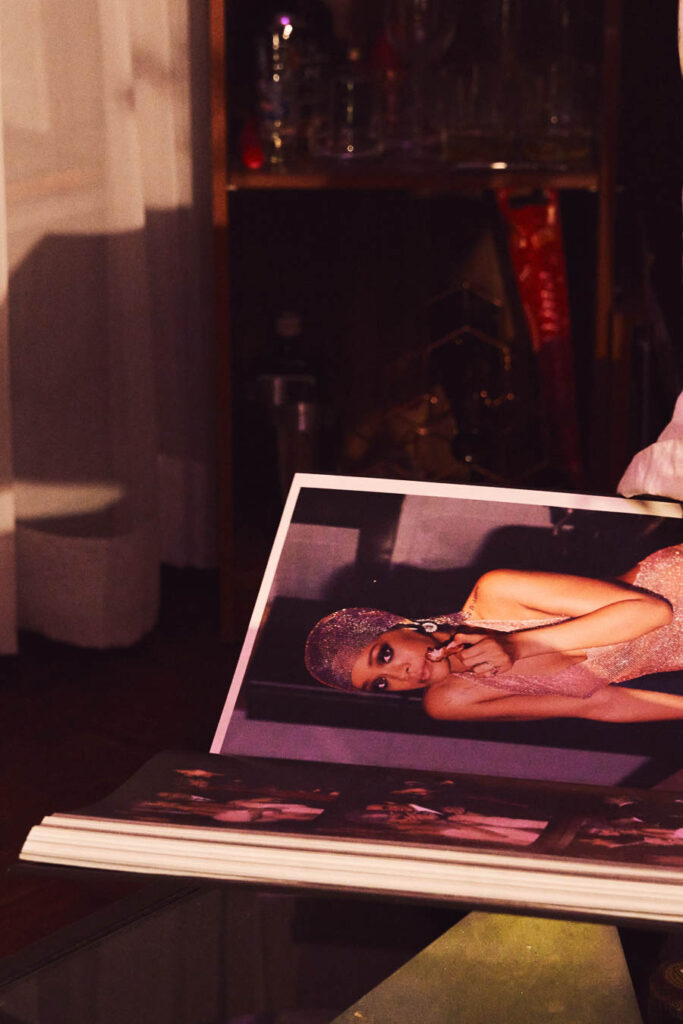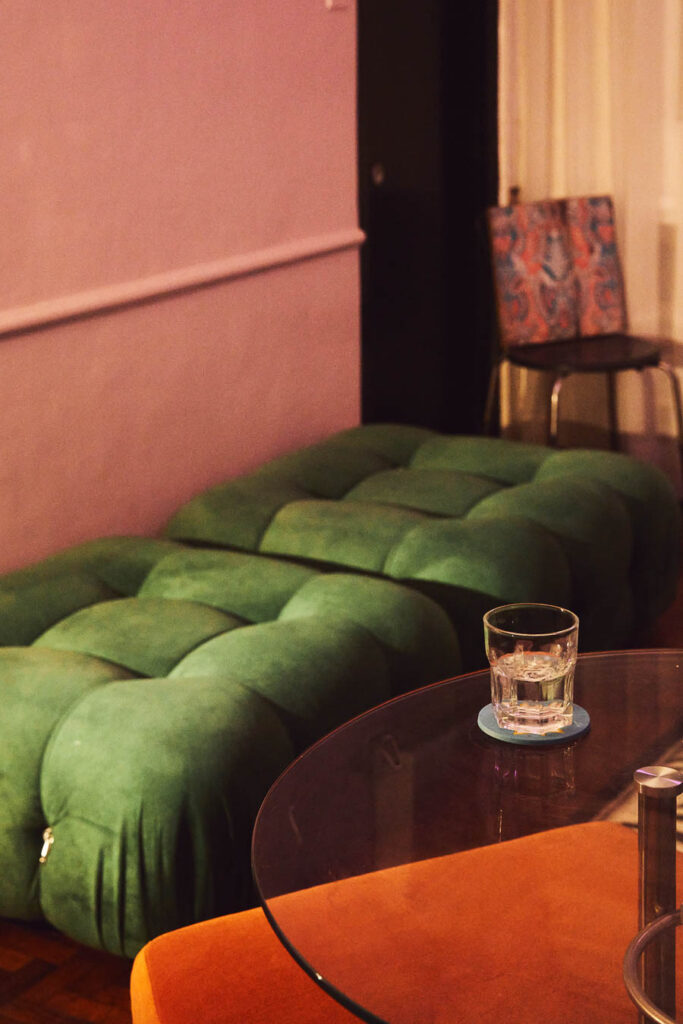 What are your favorite parts of your space?
My favorite part is definitely my living room because of our view. I don't have a television in my living room cause it really feels like the window and the view is just the focal point of the whole space, especially during sunsets. It's the best.
And, of course, my bedroom, because it's what I really look forward to after going out.
Mano Gonzales, artist and stylist
Jan Pineda, film studio creative manager
Mano and Jan's apartment was previously painted a drab brown. "We used to joke it looked like a mocha cake," the artist says pointing to the apartment's unique geometric crown molding. The pair has since painted it white, making vivid colors pop up against the parquet floors in one area and white marble in another: an Yves Klein blue couch in the living room and a cinema red carpet red rug in the bedroom.
The penthouse was a far cry from their previous tiny one-bedroom apartment in BGC, a rarity in the Metro Manila real estate market. So when the opportunity came, they jumped on it—despite having to hop and skip one more floor from the last elevator-serviced level. "We had to carry everything ourselves one extra floor," Mano says. "Get movers, guys," Jan adds.
READ: Home for the holidays and every moment in between
---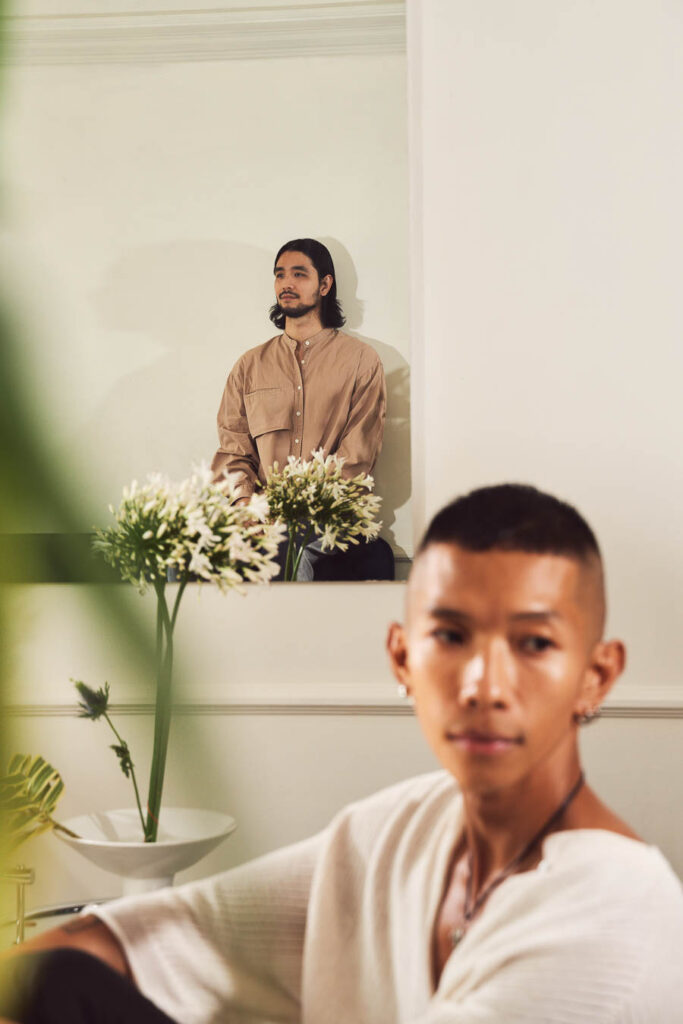 How important was it for you to have your own space in relation to your lifestyle and your work?
Jan: Well, I guess for me, we moved to work from home. So it's important to have that space where I can do my work but also share it with friends.
Mano: Basically to also have a bigger space to do our work and to thrive personally so we can create a space that's comfortable, that's also inspiring, and have enough space to do personal projects in. And like Jan said, to have friends over. Because we have a lot of friends who live in the building, there's a sense of community. We moved here during the lockdown, so that was a time when we can't go out, can't see people, because this is basically like a bubble for us. Para hindi namin masyado mafeel 'yung lockdown vibes kasi we always hang out together.
What's the best thing about living in Poblacion?
Jan: First, people didn't really want to go to BGC to visit us. Here parang it's mas central, it's easier to go to.
Mano: Yeah, things are happening everywhere, it's so easy to meet people and see our friends. During the lockdown, Poblacion was so quiet, walang ganap, because all the places were closed. But parang 'di rin naman namin siya masyado na-feel because all of our friends are here (in the building) anyway.
Jan: In Poblacion, we hardly go out. All our friends are here na. But, of course, when our friends play, like si Judd [Figuerres] or si Butta B (Bea Te) plays around Poblacion, it's easier to go.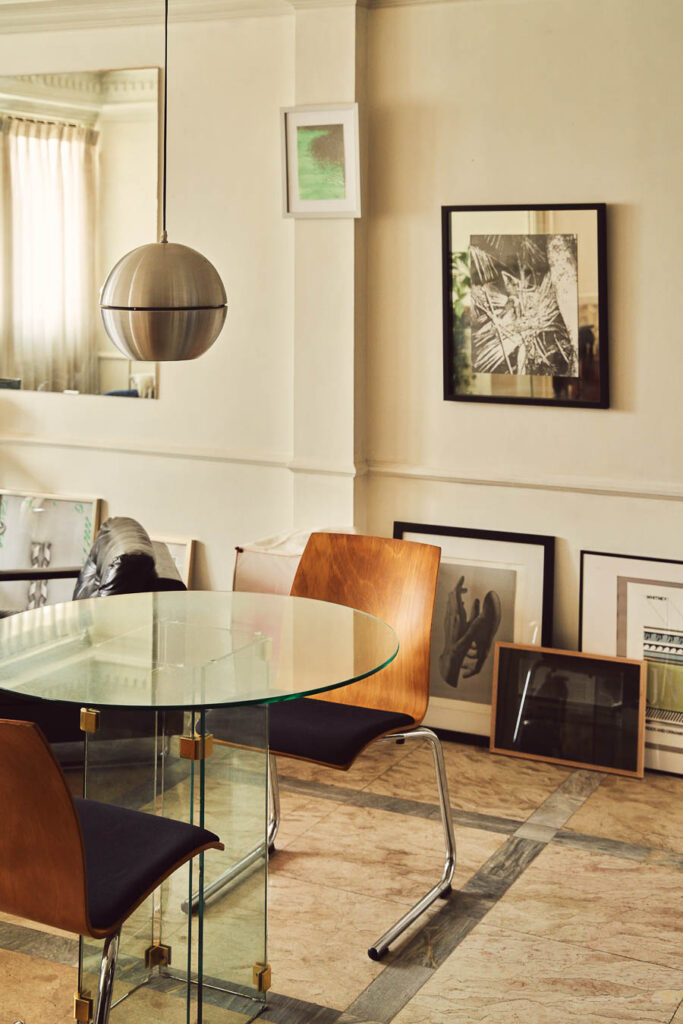 What was the vibe you were going for when putting together this space?
Jan: We built around the space lang.
Mano: We're both very visual people, so we get inspired by the things we surround ourselves with. So I think that's number one. Number two… is there a number two? [laughs]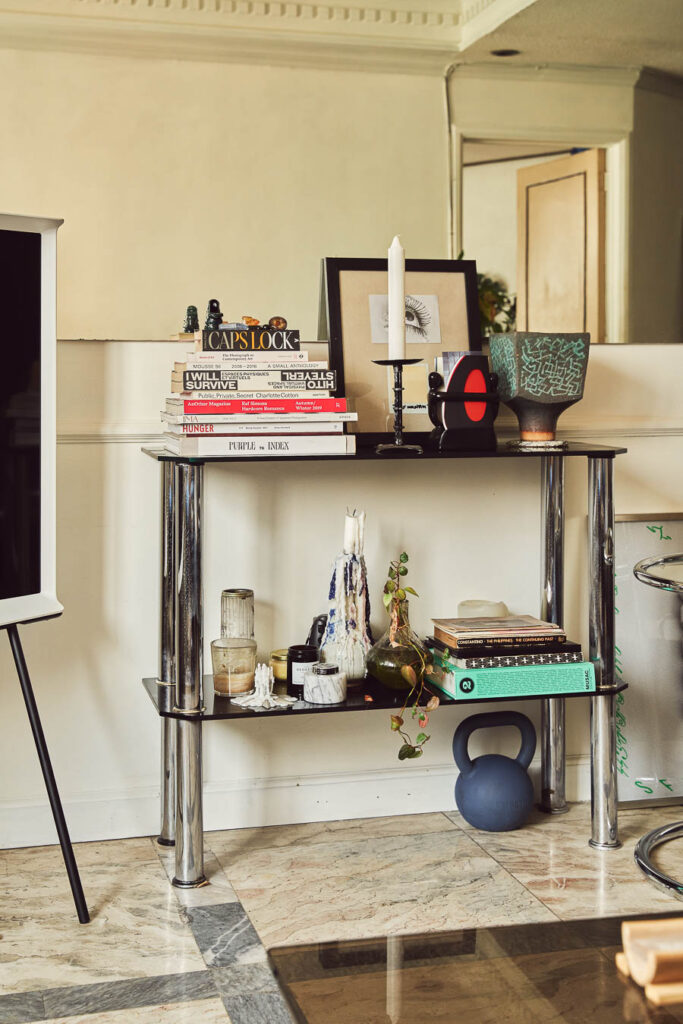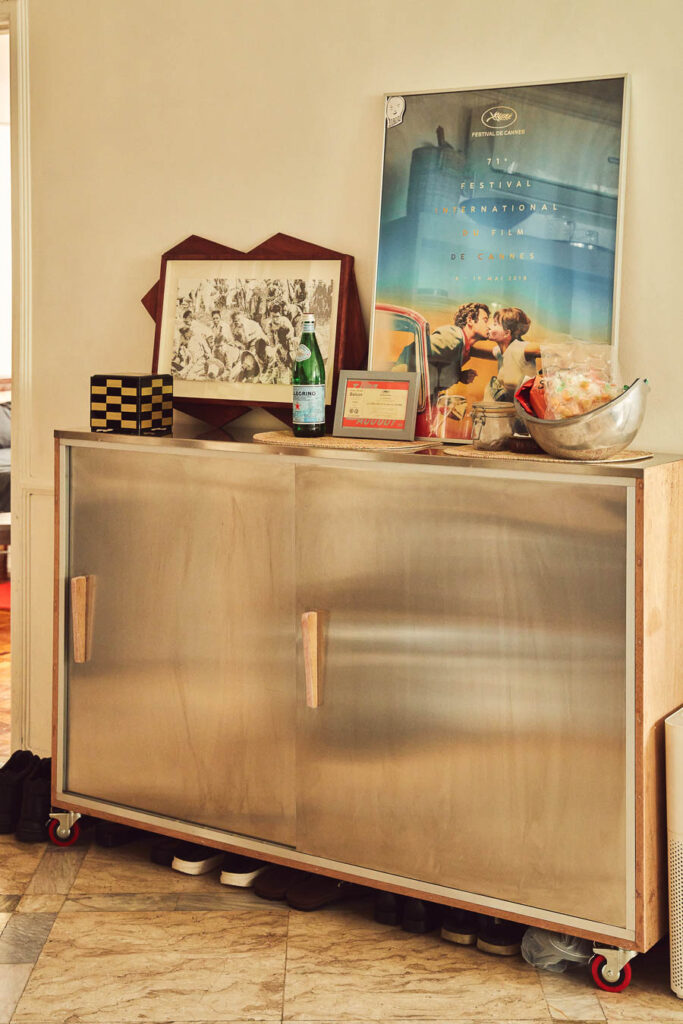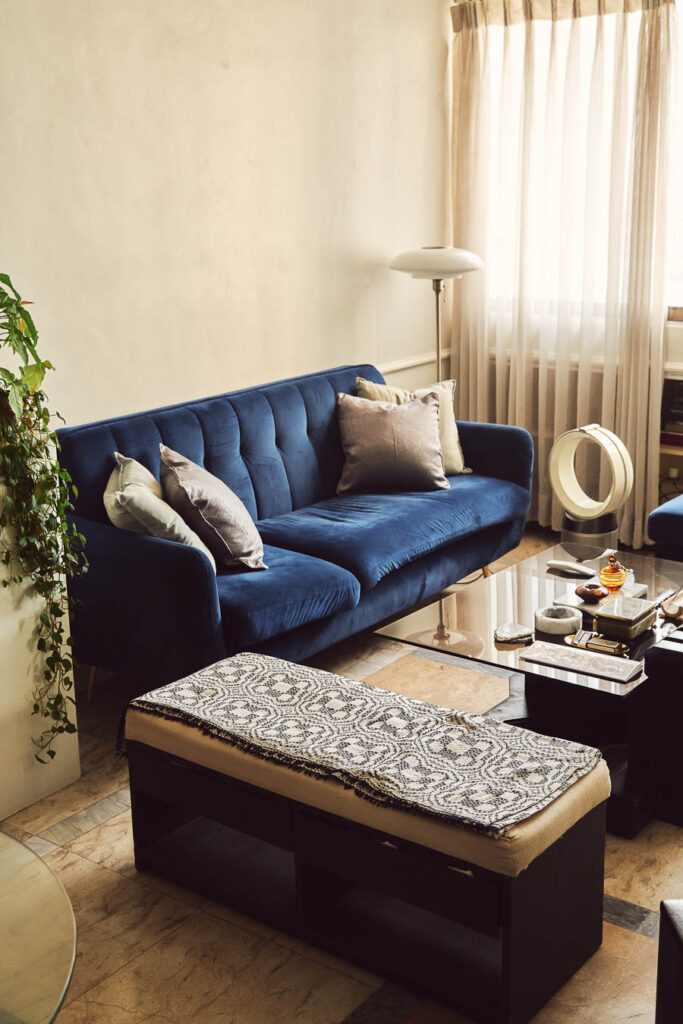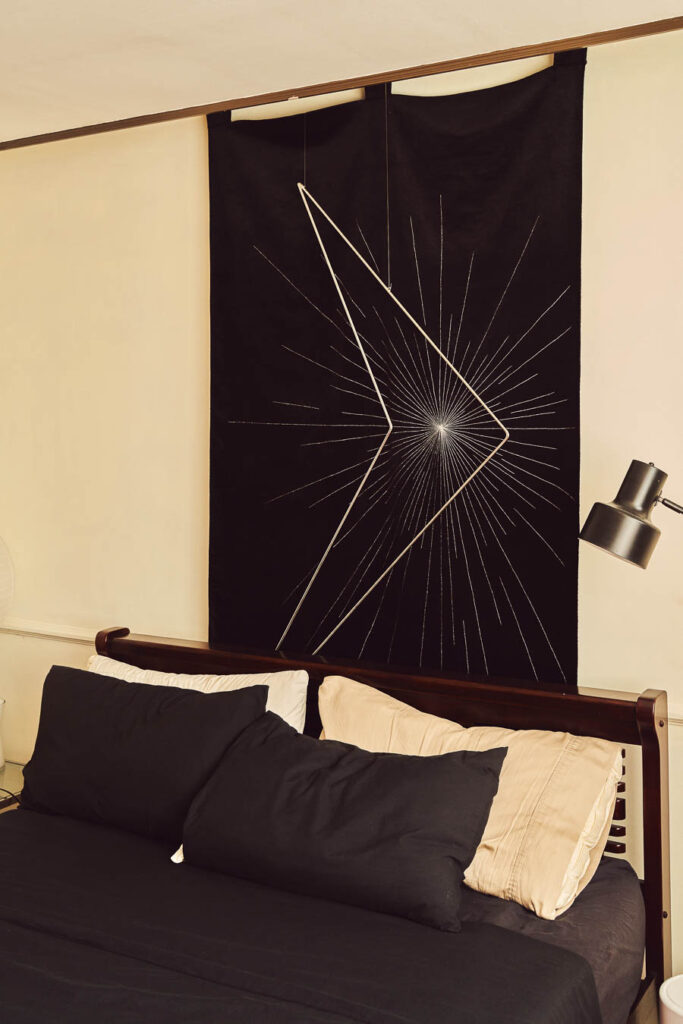 I guess things that make things comfortable and homey. Right now malakas 'yung araw but at night it gets really cozy here, and I think 'yun 'yung pinaka-[non-negotiable] namin ni Jan, that it's cozy. There's no design brief. Though we like collecting a lot of like, most of our stuff here are old stuff from our own houses, second-hand pieces we find online–
Jan: –or stuff from travels
Mano: So mga ganun. Basically, just things that inspire us.
What are your favorite parts of your home?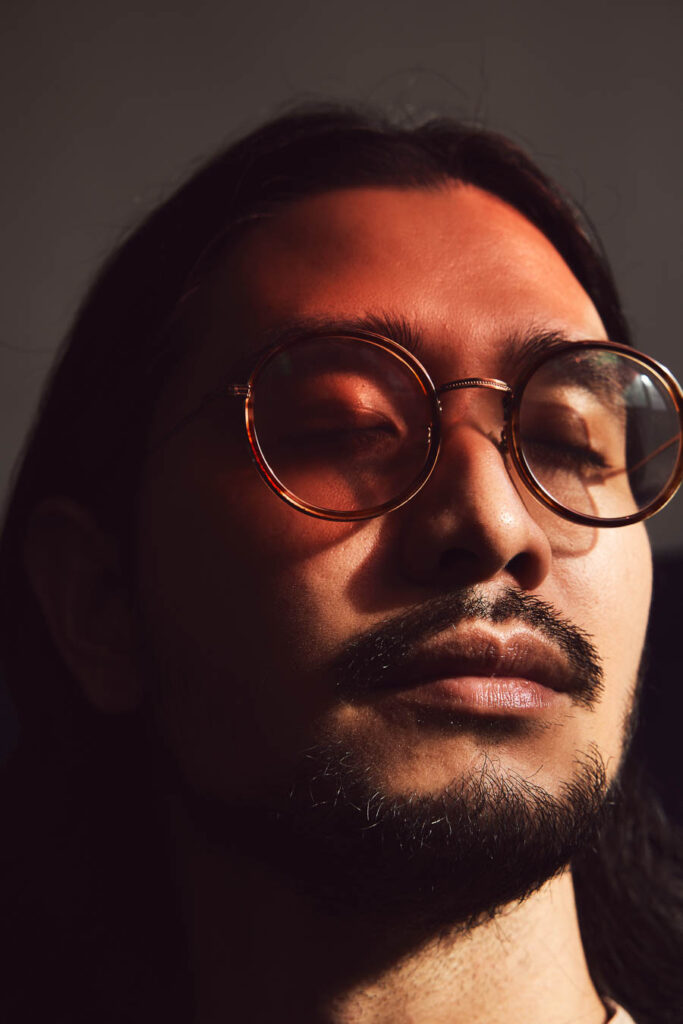 Jan: This studio work area that we also turn into a dining space when we have people over. And my favorite activity here now is hosting, having dinner parties with friends. Nung pandemic, other establishments are closed so we had to make do with the space. I think I discovered I liked that better—hosting—kasi mas intimate. Before, parang I'd hang out with friends sa bars or clubs, pero alam mo 'yon, ang daming nangyayari. With dinner parties or having people over, you learn more about them, mas personal. Also, we work here din.

Mano: It's the most active place. It changes a lot.
Jan: Yeah. Working on different projects, I also bring my team here sometimes. So 'yun, here 'yung pinakamaraming interactions.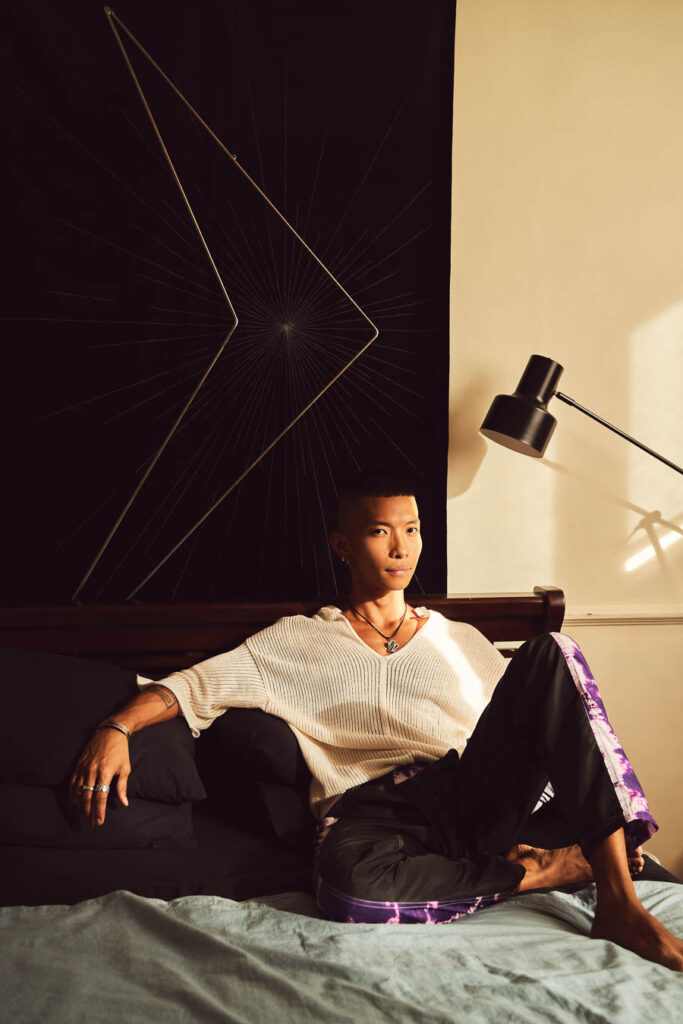 Mano: Ako naman, before we even moved here we would visit the building because we had friends who lived in this building na before. 'Yung pinaka-crush ko talaga 'yung view nung mga units here. Basically, you have an unobstructed view of—What is this district? CBD. This view also kind of informs how we design the space, or how we set up things.
A lot of the pieces we get here are kind of like inspired by what you see outside. 'Yun talaga yung favorite ko about here. The view. It's so hard to look for a view like this in Makati. And because our surroundings—Poblacion—are so active, parang naging project namin ni Jan 'yung to make a cozy space for us. I think that's why we never really go out anymore, we just hang out here.

Breakfast buffets are one of mankind's most awe-inspiring inventions. For serious night owls, insomniacs, and people who stay up late to party (guilty on all three counts), the thought of cutting sleep short for a pile of food could be a dealbreaker. So as a (self-proclaimed) breakfast buffet enthusiast, it is my God-given duty to tell you it's possible to stay up late and still have the breakfast buffet experience of your dreams.
From the hours of 2 a.m. to 10 a.m., OVO Manila is opening up its doors and setting up its tables for a breakfast buffet where early birds and night owls can meet in the middle.
The restaurant serves all types of breakfast favorites like bacon (a must!), coffee (another must), corned beef, and a decked out egg station. Of course, a breakfast buffet isn't a breakfast buffet without dessert, which varies from day to day. While the menu is subject to change, we can at least expect these fan favorites to be regulars on the buffet line. 
When OVO isn't operating an odd hour breakfast buffet, they're an all-day brunch dining spot that converts itself into a cocktail bar at the strike of 10 p.m. The restaurant also serves fine dining cuisine and a prix fixe menu that's available from 5 p.m. to 9 p.m.
So if you're hungry but still drunk from a full night of partying or just craving a full spread of breakfast at 3 a.m., now you know where to go.
Ovo Manila is located at Santiago, cor. B. Valdez St., Brgy. Poblacion, Makati City
When was the last time you were in Poblacion, Makati? If your answer was before the pandemic, then, chances are, most of its restaurants, cafes, and bars are totally new to you. Old haunts have made way for new and exciting places worth revisiting the famed nightlife district. Here are some of them.
Sawsaw by Sau
8491 Kalayaan Ave., Poblacion, Makati
Open Tuesday to Sunday, 10 a.m. to 10 p.m.
Cuisine: Modern Filipino
Claim to fame: Helmed by renowned Kapampangan chef Sau del Rosario, serving modernized Filipino classics
Price range: P450 to P750 for appetizers, P695 to P1,550 for mains, P375 to P450 for cocktails
Plant-based options available
Full menu here
Lunes Everyday Dining
6060 R. Palma St., Poblacion, Makati
Open Monday to Sunday, 8 a.m. to 10 p.m.
Cuisine: Modern Filipino
Claim to fame: Open for breakfast, lunch, and dinner seven days a week, serving Filipino cuisine with a twist
Price range: P320 to P390 for breakfast bowls, P590 to P1,250 for mains, P290 to P450 for cocktails
Vegetarian options available
Full menu here
Japonesa
5658 Don Pedro cor. Jacobo Sts., Poblacion, Makati
Open Tuesday to Thursday and Sunday, 5 p.m. to 1 a.m.; Friday and Saturday, 5 p.m. to 3 a.m.
Cuisine: Japanese Peruvian
Claim to fame: Live DJ sets on certain days
Price range: P200 to P850 for starters, P420 to P900 for mains, P300 to P500 for cocktails
Full menu here
Assembly Hall
773 J.P. Rizal Ave., Poblacion, Makati
Open Monday to Wednesday, 7:30 a.m. to 6:30 p.m.; Thursday to Sunday, 7:30 a.m. to 8 p.m.
Cuisine: New York-style cafe
Claim to fame: Instagram-worthy modernist interiors, perfect for co-working; serving cocktails soon
Price range: P125 to P225 for coffee and non-caffeinated drinks, P265 to P280 for pastries
Non-dairy options available
With Meraki Caffeteria
6032 R. Palma St., Poblacion, Makati
Open Monday to Saturday, 11 a.m. to 8 p.m.
Cuisine: Farm-to-table
Claim to fame: Organic produce, zero-waste store with a quaint, warm, and plant-filled space for dine-in
Price range: P180 to P450 for food, P180 to P300 for coffee and drinks 
Plant-based options available
Full menu here
West 32
8464 Kalayaan Ave. Poblacion, Makati
Open Tuesday to Sunday, 5 p.m. to 1 a.m.
Cuisine: Modern Korean American
Claim to fame: New York-style speakeasy with comforting Korean-American fare
Price range: P200 to P700 for appetizers, P350 to P850 for mains, P250 to P400 for cocktails
Full menu here
Despite quarantine, we longed to visit Pampanga, the country's culinary capital with its distinct cuisine. Fortunately, the isolation didn't stop Kapampangan culinary figure, chef Sau Del Rosario, from delivering food, literally—alongside some goofiness—from Pampanga to Manila.
[READ:
4 restaurants in Angeles City to visit for an authentic Kapampangan food trip
]
In the early days of the lockdown, chef Sau focused on pastries. In April, he posted a photo of a confection he's made, an egg pie he jokingly called Heg Fye in reference to the comedic mispronunciation among some Kapampangan speakers. That stuck—both the name and the pie itself—and soon he was making buko pie, too, jokingly called Vuko Fye.
The pies were on every stuck-at-home foodies' list in the metro until quarantine restrictions were loosened. Nine months later, chef Sau opened Le Petit Café Fleur, literally a smaller, more cosmopolitan version of his Angeles, Pampanga restaurant, in Poblacion, Makati.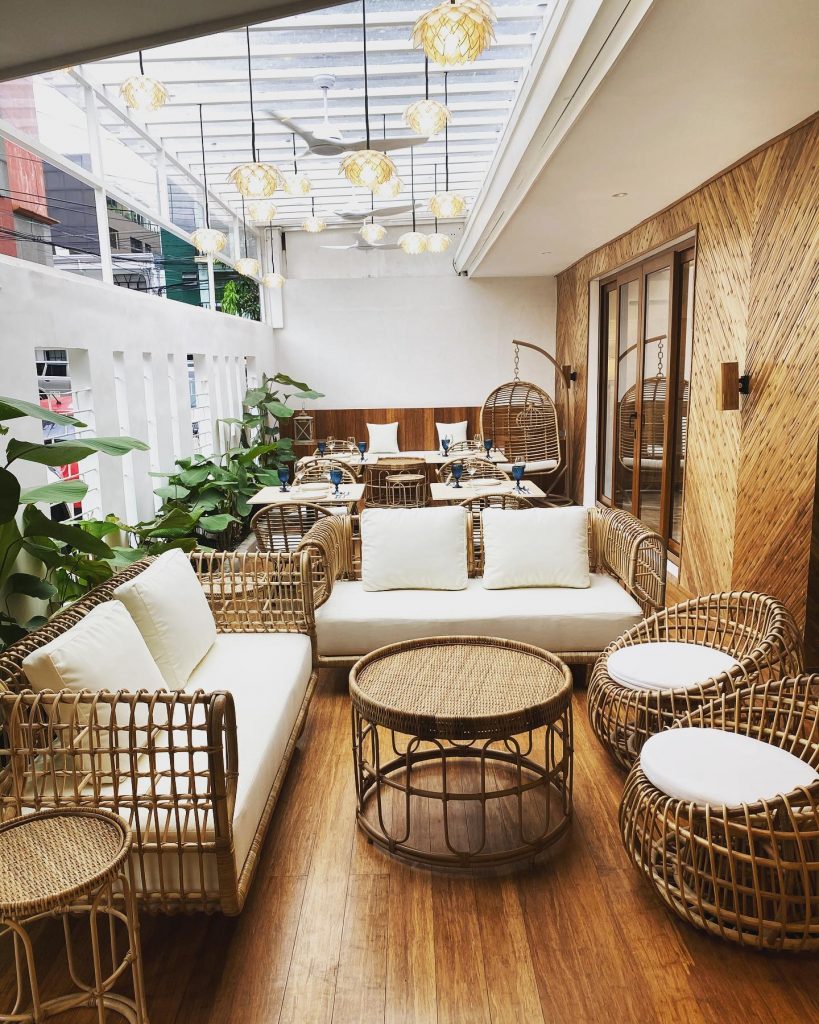 Part restaurant, part "bekeri"—yep, he's sticking to his comedic guns—Le Petit Café Fleur is currently on soft opening and serving only a few customers due to restrictions. And yes, people are more comfortable dining in now. For those who may not be, there's an "almost" al fresco section outside, a garden-style seating arrangement reminiscent of a boutique hotel in a tropical destination. Warm with wooden floors and wall panels, the area receives enough light through a make-shift sunroof, enough to fool you into thinking that you are otherwise in Pampanga and not in the heart of Makati.
Known for his avant-garde takes on traditional Kapampangan cooking, Del Rosario's newest concept is a comforting mix of familiar Filipino flavors and some Western fare. Local favorite pork bola-bola misua and patola, for example, is served with sourdough rolls and sits comfortably on the menu alongside the Italian squid ink aglio olio, the Mediterranean shakshuka (sous-vide organic eggs in a sauce of tomatoes, olive oil, peppers, onion and garlic) and the Latin American boneless pollo a la plancha.
Of course, there's bread. For one, the chef's quarantine hit Vuco Fye stays, along with a selection of other "hilarious" pastries made in-house including the Vananah Walnut Malagos Cake.
In keeping with the interiors' tropical-Mediterranean vibe, there is a lineup of color-coded smoothies like the green smoothie made with kiwi, honeydew, avocado and lime, and the white smoothie made with lychee, guyabano, banana and coconut.
A socially-distanced dining setup
In a preview of the space on Instagram TV, chef Sau virtually tours outdoor dining-starved guests in his spacious new culinary address at 5893 Enriquez St. There's the "bekeri" living up to its name with bread strewn across a pristine paneled counter as one usually finds in a local neighborhood bakery. To its right is a see-through baker's kitchen and on its left is the airy al fresco area.
Going inside, one is greeted by a circular booth that can seat a party of four socially-distanced diners. Then there are three tables for two with enough room to allow the minimum six-feet distance between individuals. An open kitchen bookends the interiors, where the staff makes almost everything fresh including the pasta.
Open Tuesdays through Sundays from 10 a.m. till 10 p.m., the restaurant currently accepts bookings by appointment in keeping with safety protocols.