There's something enviably appealing about the pastoral home that breathes life into Mia Casal's art. Over a hundred miles north of the capital, her residential studio sits beside a beach and a sunken greenery that transforms into a lake whenever the storm hits. Her Zambales is no Manila, and its charm owes itself greatly to this contrast.
"I can see the mountain where I get my terra cotta clay from," says Casal. "I see carabaos, goats, dogs, birds, and cows take their time as they live throughout the day." The idyll, convincingly, is fuel for the potter's art. Watching the natural theatrics of the place, you'd ask, just how deeply must someone be immersed in the world of her craft in order for her to recreate it?
Her dinnerware, tumblers, pitchers, vases, and accessory beads are in different specialty stores and exhibits. Then there's Art in the Park last March, and ABS-CBN's upcoming teleserye, Pangako Sa'yo, where she trained one of the leading actresses how to spin the wheel, and where her creations will figure prominently in one scene. With her crafts abounding around the city and the media, one could see how her pieces powerfully hark back to the place where they were made.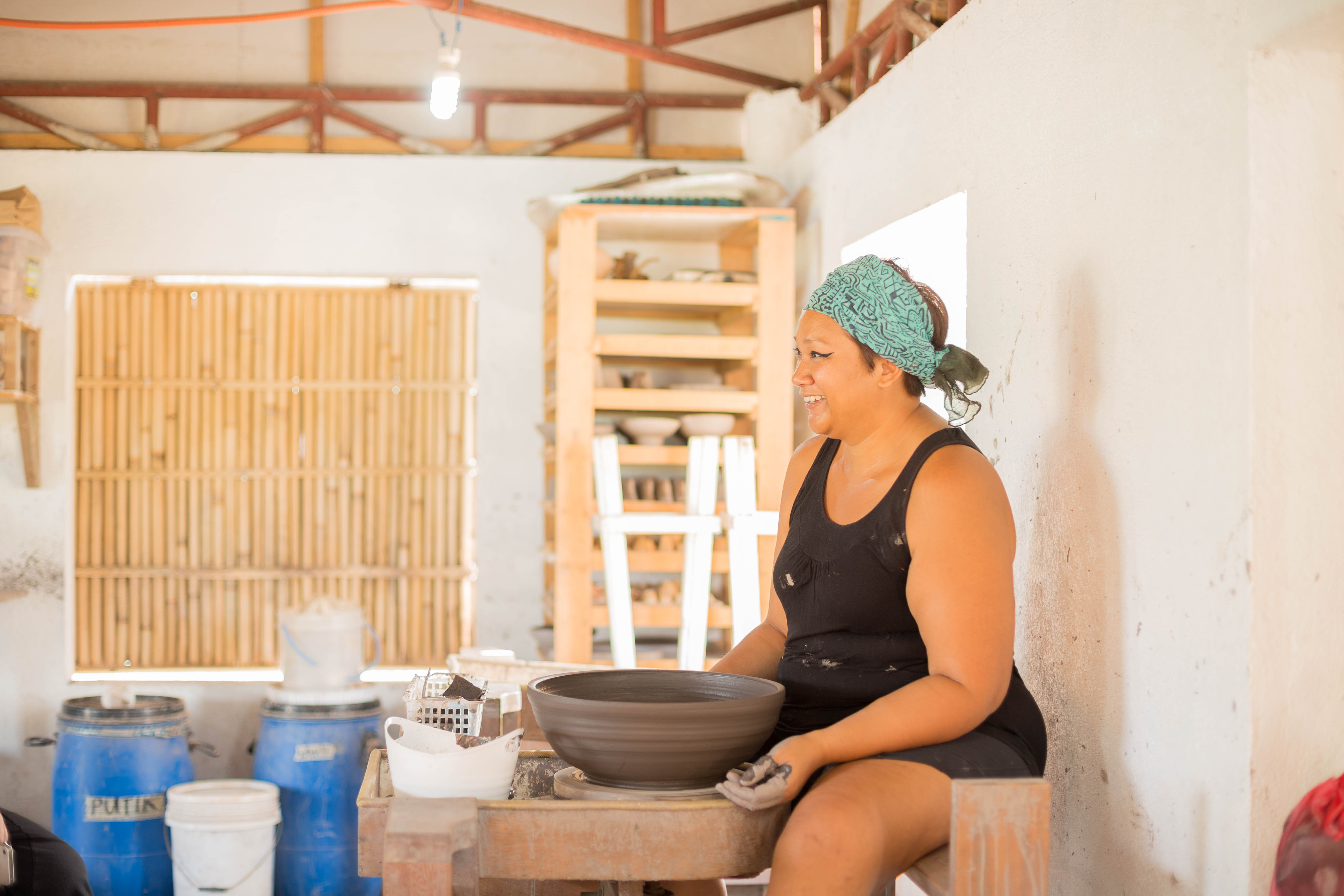 "I want people to see that I live near the beach," she says. "The greens you see [in my ceramics], resemble this bukid that's right in front of me. The baso, half white, half blue, is like the landscape of the sea and sky." The modern, elegant grit of the design—rough sands on the outer surface and semi-gloss glazes resembling water on the inside—look as though they've sprung spontaneously on the shore, the mugs and pots looking as natural as sea shells.
Wholly and directly, it's an aesthetic evoking nature—as, perhaps, can be expected from a community who lives off the natural bounty that the sea provides. "The good thing about living in the province is you survive even if you don't have money. Everything is by the sea." Like the body of water in all its boastful profusion, here, the mind is as free and fertile. "Nature plays a big role," she affirms. "In Manila, I was never inspired to make anything."
[blockquote author="Mia Casal" pull="left"] "People today are more interested in handmade pottery. They want to see that each piece is uniquely handcrafted by its maker." [/blockquote]
Working for a publishing company back in 2002, she was not at all pleased with being stuck in a corporate den. "My hands," she recounts, "were longing to be creative." When her friend urged her to visit Ugu Bigyan's pottery haven in Tiaong, Quezon, she was immediately smitten at first acquaintance. "As soon as I felt the spinning clay between my hands, I knew I wanted more of it."
The sudden affair then followed its due course: It took her first to Lanelle Abueva's Potter Exchange in Eastwood, and then to Jon Pettyjohn's pottery school in Makati, before finally deciding to set up Clay Ave: "I converted our two-car garage into a mud pit!" Life became a montage of one pottery exhibit to another, of teaching one crowd of new enthusiasts to the next. On her travels—to New York, Italy, or the local islands—she makes it a point to visit workshops and communities that similarly cultivate the craft. Potters, she pointed out, as though pertaining to a wholly different breed, are honest and direct; "I guess we feel very close to the earth. We get down, dirty, and real."
It was in 2013 when she decided to embrace dirt in its full glory. When teaching had cast a drought on her ability to create, she moved to Zambales to set up her pottery studio by the farm and beach. Time there is as fluid and as sluggish as the river that runs nearby. She would sit by the shore across the street, just "to stargaze and listen to the waves."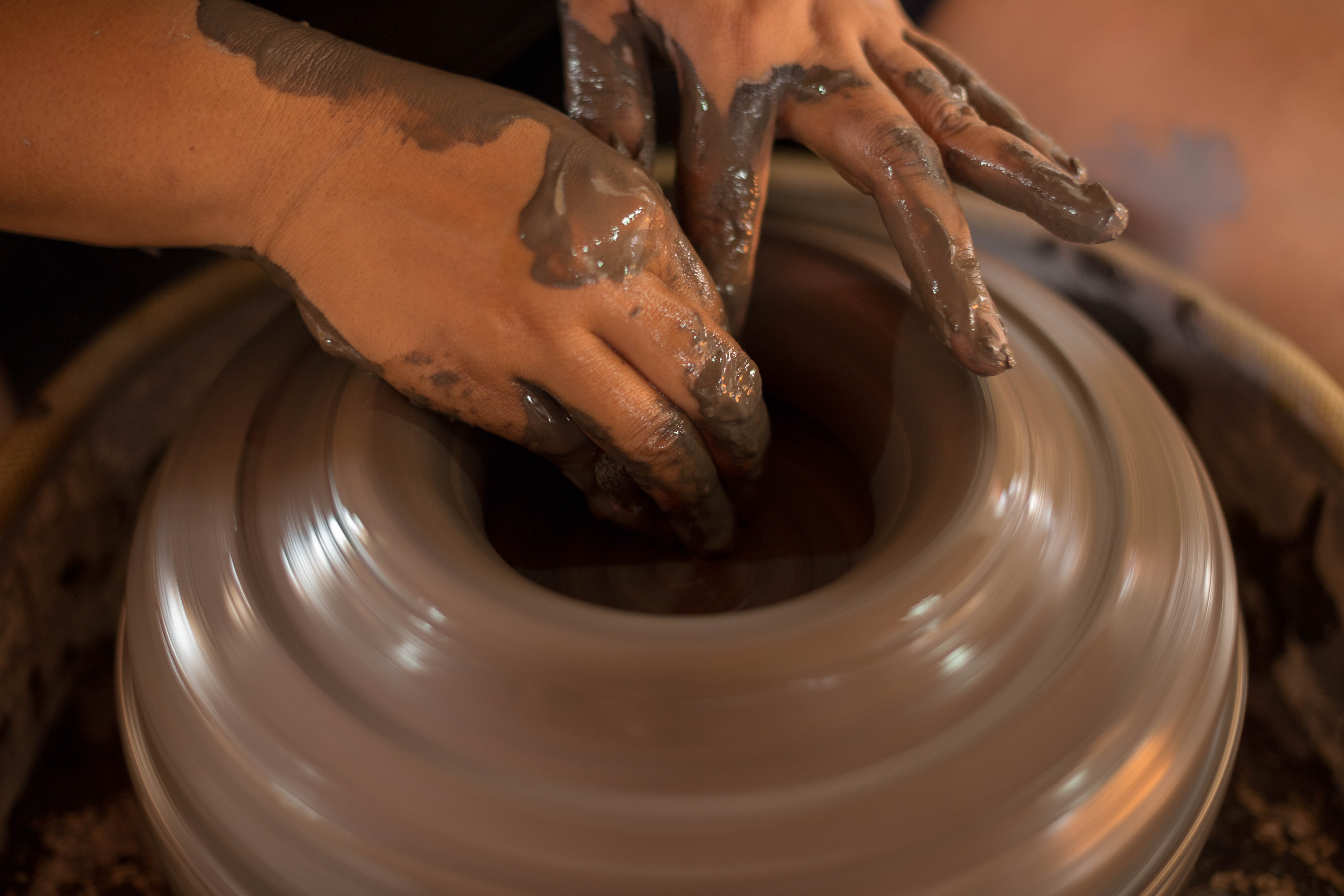 It's a life in tune to nature's rhythm, spawning ceramics that pay tribute to nature's forms. Simply, it's the total reversal of what it means to be factory-made. Like natural elements, none of her two pieces are alike. "People today are more interested in handmade pottery," she shares. "They want to see that each piece is uniquely handcrafted by its maker." The rough, irregular touch of grit in her designs give character to her pieces or, if we're feeling briefly spiritual about the case, breathe soul to her creations.
Some decades ago, her mother told her how there is life waiting beyond the capital, urging her past the toll gates, past where Manila's concrete pavements end, to where lands, seas, and skies converge. "At some point, we have to know [we're] from the earth and [we] can play with [the soil]. [We] can have it in [our] hands and [we] can form something out of it." And indeed, she has not only formed art; she's made a life out of molding clay.
Writer: PRISTINE L. DE LEON
PHOTOGRAPHY JILSON SECKLER TIU