'Care Divas,' '1896' and other PETA plays are going online through this showcase
"K.E.-Pop: Kalinangan Ensemble Performers Overcoming a Pandemic" is the Philippine Educational Theater Association's first paid showcase
Oct 12, 2020
Theaters may be closed as of the moment—but as they say, the show must go on. Proving that any place can be a stage if you want it to be, the Philippine Educational Theater Association (PETA) goes on a virtual platform to present a showcase of delightful productions.
Featuring a collection of several short and full-length plays, "K.E.-Pop: Kalinangan Ensemble Performers Overcoming a Pandemic" serves as PETA's first ticketed showcase. It will run from Nov. 27 to 29 and Dec. 4 to 6 and centers on works by the theater organization's homegrown Kalinangan Ensemble. 
Promising a series of stories that resonate with the times, the showcase will present new productions that focus on themes of humanity and human rights. It will be divided into two sets, and you can also stream three of PETA's top musical hits which are part of the lineup. Tickets for "K.E.-Pop: Kalinangan Ensemble Performers Overcoming a Pandemic" can be purchased at KTX's website.
Here's the lineup of the theater productions you can watch from the "K.E.-Pop: Kalinangan Ensemble Performers Overcoming a Pandemic" showcase:
"Care Divas"
Yes, you'd be able to watch the musical production of Vincent De Jesus and Liza Magtoto's multi-awarded "Care Divas" online. Revolving around the stories of five transgender overseas Filipino workers in Israel, "Care Divas" has won the hearts of viewers as it presented the characters' struggles both in making ends meet and being accepted for who they are.
"1896"
Tagged as "one of PETA's milestone musicals of all time," the Palanca Award-winning production reminds us about the Philippine revolution and features our national heroes Emilio Jacinto, Andres Bonifacio,  Emilio Aguinaldo and Dr. Jose Rizal as its characters. 
"Si Juan Tamad, ang Diyablo at ang Limang Milyong Boto"
Already thinking about national elections? This vaudeville musical centers on Juan Tamad as a young and apathetic first-time voter urged by his grandmother to cast a vote in the presidential elections. His cynic outlook when the candidate he voted for had lost changes after a series of events, and he eventually turned from Juan Tamad to Juan Tama.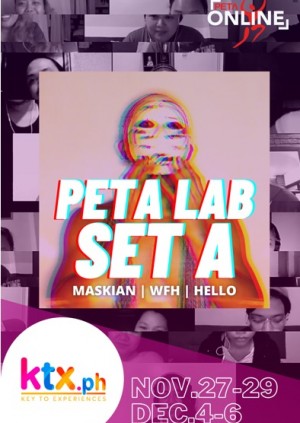 PETA Lab Set A
"Maskian (The Masks of Asian)" 
Written and choreographed by Carlon Matobato, "Maskian" explores the evolution of wearing masks for fashion, tradition and now protection. An interesting hook from its official description says, "Nobody is spared from mask-wearing—even our leaders and high officials… although they have been wearing a different kind of mask for some time now" and it is definitely convincing us enough to watch.
"WFH (Trabaho Lang)" 
Here's an ode to all of us who are struggling over work-from-home settings. Tackling the story of a struggling employee tagged as "too progressive" in an online meeting, this production written by Michelle Ngu and directed by Meann Espinosa poses a question about how far we are letting others in our lives in this age of cameras and screen sharing.
"Hello" 
A team-up of directors Ian Segarra and Keiko Yamaguchi, "Hello" figures out how we establish a connection to one another despite current social distancing measures. It especially highlights the viewpoint of children and young people during the pandemic, and the production features artists from PETA and Kyoto, Japan.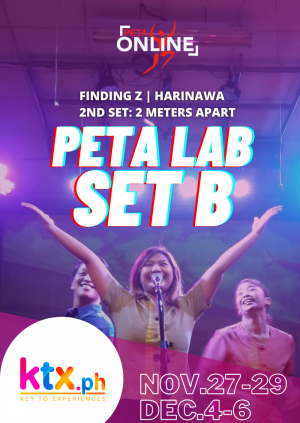 PETA Lab Set B
"Finding Z" 
Written by Jean Gladys Vicente and directed by Ian Segarra with assistant director Julio Garcia, "Finding Z" is about a teenager destined to be a superhero but forced into isolation. He takes this time to  embark on a journey filled with questions, denials, realizations, self-discovery and healing by confronting his past, present and future.
"Harinawa" 
"Harinawa" is a word that we use to express hope for something—but it never gives us anything definite. This production written by Michelle Ngu and directed by Lotlot Bustamante wittily presents a plea to end extrajudicial killings.
"2nd Set: 2 Meters Apart"
In the age of social distancing, what will connect us to each other? "2nd Set: 2 Meters Apart" says it's music. Directed by Norbs Portales with musical direction by Ada Tayao, this play discusses music and distance.
Header photo from Inquirer Lifestyle
Get more stories like this by subscribing to our weekly newsletter here.
Read more:
Recommended for you: Local theater productions to watch online
CCP's annual theater festival Virgin Labfest goes fully digital this year
Podcast musicals take the theater experience on the go
TAGS: online musicals online theater PETA philippine educational theater association Philippine Educational Theater Association musicals Philippine Educational Theater Association plays watch PETA online watch theater plays online