Chai lattes may be popular, but very few places serve chai that doesn't taste like milk with a hint of spice. The Indian staple has made its way across the world and on to cafe menus virtually everywhere.
The upside is that chai is more accessible. The downside is that it's always a toss up whether it's any good or just watered down tea with milk and a hint of cardamom.
I am by no means a chai latte expert. I have never been to India and I have never even attempted to make my own chai. But, I do order a chai latte at every single café or restaurant I visit if it's on the menu.
My idea of a perfect chai latte is a strongly brewed, full-bodied black tea with a generous amount of spices and just enough milk to smooth everything together. It should have a warm flavor—even when served with ice. And of course, it shouldn't be too sweet.
Here's a roundup of some of the best chai lattes I've had. It's by no means comprehensive, but it does contain some accessible favorites, as well as some of the really special stuff. If your favorite chai latte didn't make it on this list, please don't gatekeep and please let me know. I'd love to give it a try. 
The hidden chai gem
With a coffee menu as extensive as the one Spotted Pig has, their chai latte could easily get lost in the options. As a non-coffee drinker who loves visiting cafés, the restaurant probably has one of the best in the area.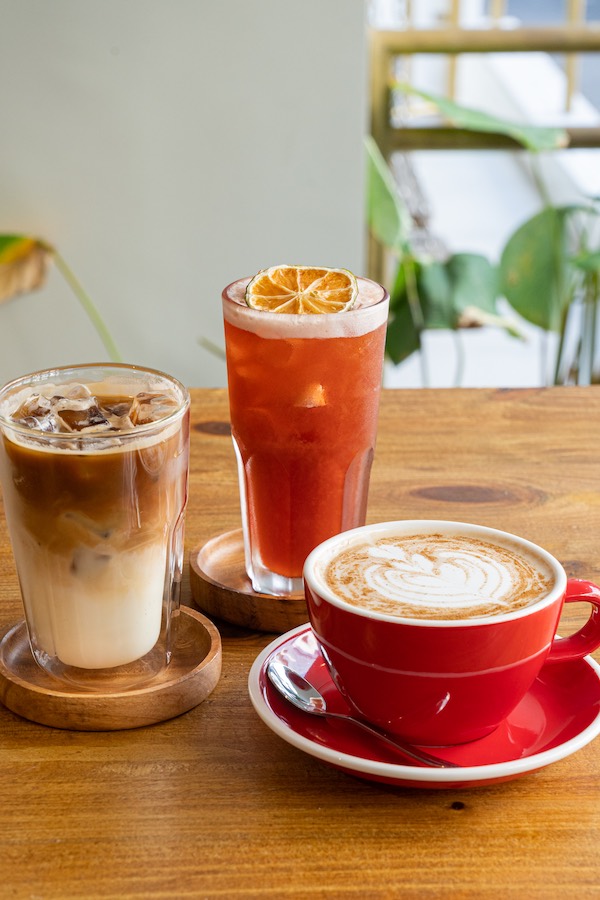 It's served in one of their signature colored cups and comes with foam art on top. The foam art, of course, isn't necessary—but it is appreciated.
Spotted Pig's chai latte has all the hallmarks of what a good chai latte is to me: it's rich in spice, aromatic, and definitely not too sweet. It would be a loss to ignore it among the espressos and drip coffees, so I'd suggest you give it a try on your next visit. 
The big leagues
Jacob's Well
When it comes to the chai conversation, it would be remiss of me not to mention Jacob's Well. The brand specializes in chai concentrates, as well as other teas and chai accouterments. Aside from being delicious, what sets Jacob's Well apart is the number of options they offer. 
And while the brand isn't a cafe and doesn't have a permanent location where patrons can enjoy their drinks, the quality of their products gave them a fast pass to the big leagues of the chai list.
Jacob's Well sells three different types of chai concentrate: chai original, spiced vanilla, and a vegan option. They also sell ground and whole versions of the spices conveniently packaged in a tin or a bag so you can brew your own batch at home. 
Personally, one of the best things about Jacob's Well's chai concentrate is that you can customize it to your liking without trying too hard. I'm a cardamom and ginger girl, so my cup has a little extra of those flavors.
Ricksha
While I'm not typically the type to reveal favorites, Ricksha's masala chai is something my conscience won't allow me to keep to myself. Ricksha is a modern Indian restaurant from the minds of Cyril and Pierre Addison that just recently relocated to its new San Juan space from Kapitolyo. 
Aside from serving delicious Indian fare (of which the pani puri and the palak paneer are my ultimate favorites), they make a killer, traditional masala chai.
The restaurant's chai is a treasured family recipe—and made the way Cyril's father used to enjoy in their home province of Bangalore. With bold flavors and bright, warm spices, Ricksha's chai is the chai of my dreams. 
It's served unsweetened, which means you have the option of adjusting the sweetness to your personal liking. Cyril's father enjoys his with white sugar, though.
As a testament to just how good their chai is, I would willingly brave through the traffic and cross my personal boundary (the Pasig River) just for another cup. And so nothing gets lost in translation, let me clarify—it's just that good. 
The accessible options
When it comes to franchise coffee shop chai lattes, some are much better than others. Two of my favorite accessible chai latte options are from The Coffee Bean and Tea Leaf and Seattle's Best.
Coffee Bean's chai is rich in spice, which is something I really appreciate. There's no watered down flavors present in their version of the drink. It's aromatic, even when served ice, and you can grab it whenever you want.
Seattle's Best's version of the popular tea drink is similar in terms of accessibility, but the drink is a carbon copy of Coffee Bean's version. The Seattle's Best chai latte is a little sweeter and milkier, but still passes muster in terms of flavor.
Both aren't bad options if you just want to satisfy a sudden craving.