How graffiti became an art form
Should blank walls be involuntarily translated into canvases and soapboxes for anyone with a paintbrush and an idea to communicate?
Nov 21, 2016
Banksy, a cogent yet elusive contemporary artist from the UK, is nearing 3.3 million likes on Facebook. An online presence for enigmatic street artists like him isn't surprising in this era, despite his early counterparts' reliance on chance encounters as their works' platform. Banksy, like most of his fellow street artists, still strives for secrecy even with his world-renowned cult status, and for good reason.
"Street art [for us] is one of the most important art forms because it's incredibly effective at conveying ideas to a large audience and, because being a transient medium, it's always changing, always responding to new forces and commenting on new issues. row social media into the mix and your audience is multiplied a thousandfold," say Kim Dryden and Austin Smith, producers and directors of the transmedia documentary Filipino Street Art Project. With pseudonymity comes freedom, with the perk of stamping one's moniker in the hopes of recognition. What we now widely view as art rather than vandalism is definitively warranting the credit it deserves as more and more people seek to curate the works by means of actual preservation or online collation.
Although we have yet to see celebrities procuring notorious urban art in millions here in the Philippines, the country's fairly young street art movement is quickly earning the same reputation as its foreign equivalents. The visual art form, expanded to mean graffiti, sticker art, stencil art, installation, sculpture, yarn bombing, and video projection, may be rooted in activism with slogans, protests, and political and social commentaries as its forerunners. From World War II's "Kilroy Was Here" to the wall writings in upper west side Manhattan in the late 1960s, the craft evolved into stylized graffiti. Not long after, SEEN, which is how the man who invented modern graffiti is referred to, sparked a rivalry on style recognition when he chose NYC trains as his canvases. In the '80s, the illegal, ephemeral and covert traits of the craft drew a number of artists aspiring to be the next Futura, Keith Haring, Jean-Michel Basquiat, Richard Hambleton, or Rene Moncada, joining the movement and labeling graffiti as urban art.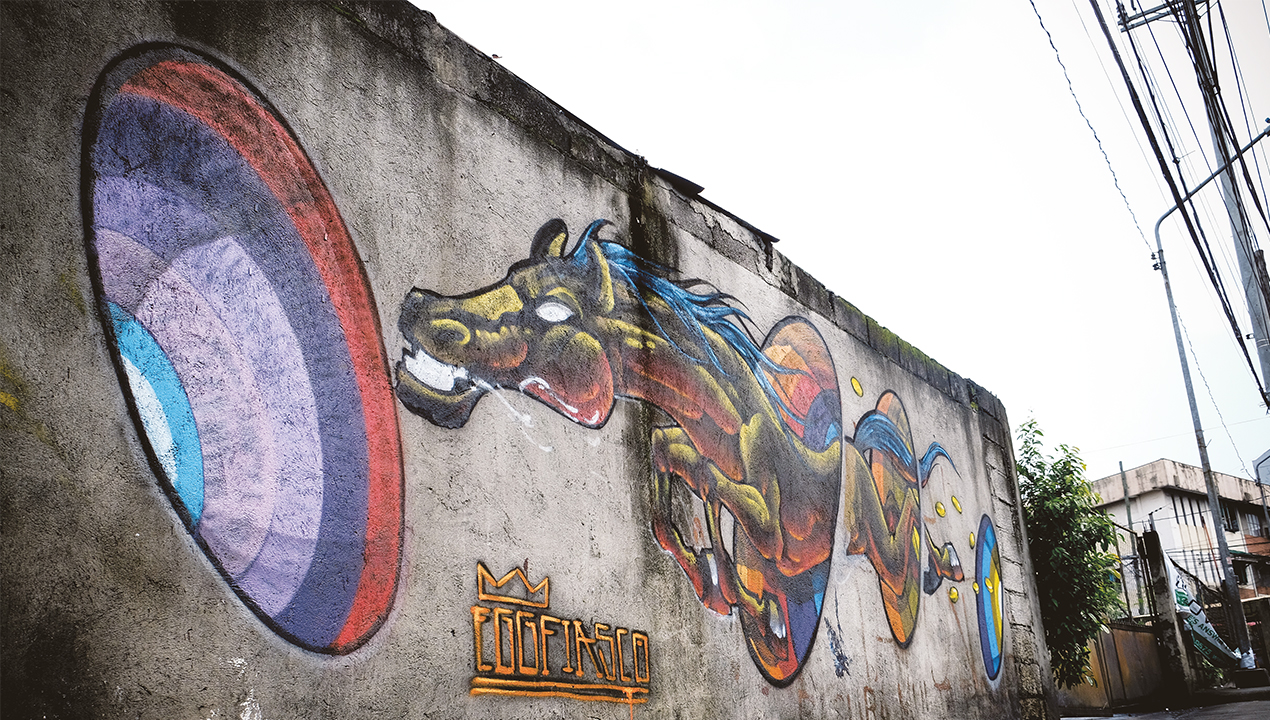 The Philippines has been accustomed to this art form even before we realized it. The lost art of Kut-Kut from the late 15th century is a form of sgraffito to or scratch graffiti. Contemporarily, we've been exposed to spray-painted fences with gang names or taboo drawings and establishment walls decorated with depictions of values or valor from commissioned artists. Visually arresting and socially relevant guerilla illustrations and installations have also been growing by the number in recent years. Some artists have even crossed to the mainstream. Dee Jae Pa'este's trademark feminine murals are strewn across Bonifacio Global City's walls and Pilipinas Street Plan's exhibits are earning the admiration of aesthetes and media honchos.
Nonetheless, the spirit behind clandestine art is still thriving. is drove the Filipino Street Art Project into fruition. "The idea came about at a time when I was trying to get connected with my Filipino-ness. I am half-Filipino and grew up in a Filipino family, but had not visited often and was looking to explore the country and culture of my family," says Smith. "I was looking to go back to the Philippines, was reading a lot about the socio-economic successes and challenges in the country, and was inspired by what I saw in the street art scene in Manila. I've always tried to advocate for Filipino-American culture, and I think that the Philippines, as a whole, is criminally overlooked in western media. at's what motivates me: sharing Filipino stories at a time when the Philippines is such an exciting, complex, frustrating place. I tell everyone to keep an eye out because the Philippines is on the rise." Aside from the documentary, Filipino Street Art Project is also a website and a newsletter, and is about partnerships, internships and fellowships. e feature-length documentary, which focuses on street artists such as Whoop Wonka, Kookoo Ramos, Gerilya, Blic Pinas, Brian Barrios, Elli Killingwithcuteness, Lee Salvador, Triskaideka Masuerte, and Basic Lee, serves as the project's central aspect.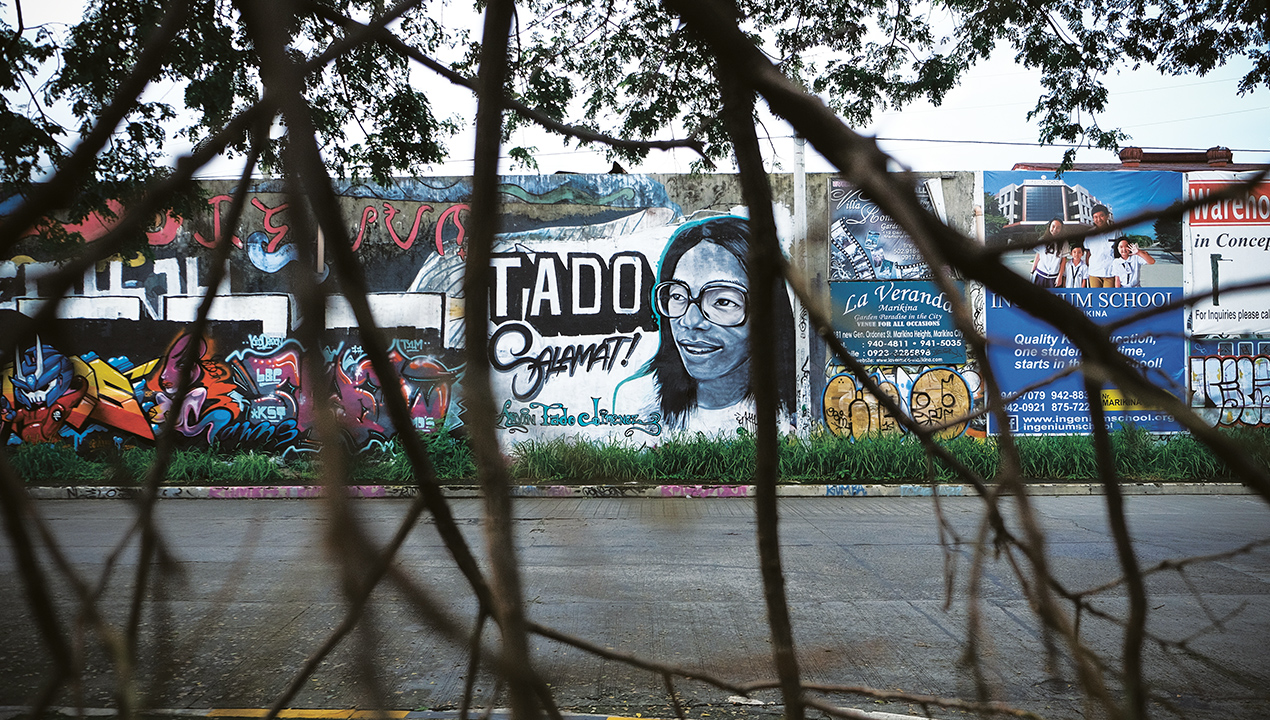 Dryden and Smith formed the venture after throwing around ideas for a documentary project. "The more we researched the scene [in the Philippines], the more we realized how young it was, but also how vibrant and multifaceted. The art we were seeing was incredible but not getting the coverage it deserved; it was just coming into its own. We started talking to the artists and got a sense that there were so many stories embedded in this topic: about the artists' lives, about Manila, about globalization, and of course, about the role of street art in society. We were hooked," says Dryden.
The implications behind the artworks are as distinctive as its makers. PAW, Emesu and Over of Wadab Locals, a group of street artists from Davao City with the aim of pushing art and graffiti back to the streets, have different takes on their craft despite belonging to the same community. "Different artists have their own interpretations and expectations on their works. Some are political, social, or just plain personal happiness," explains Emesu. A common message, however, still ensues.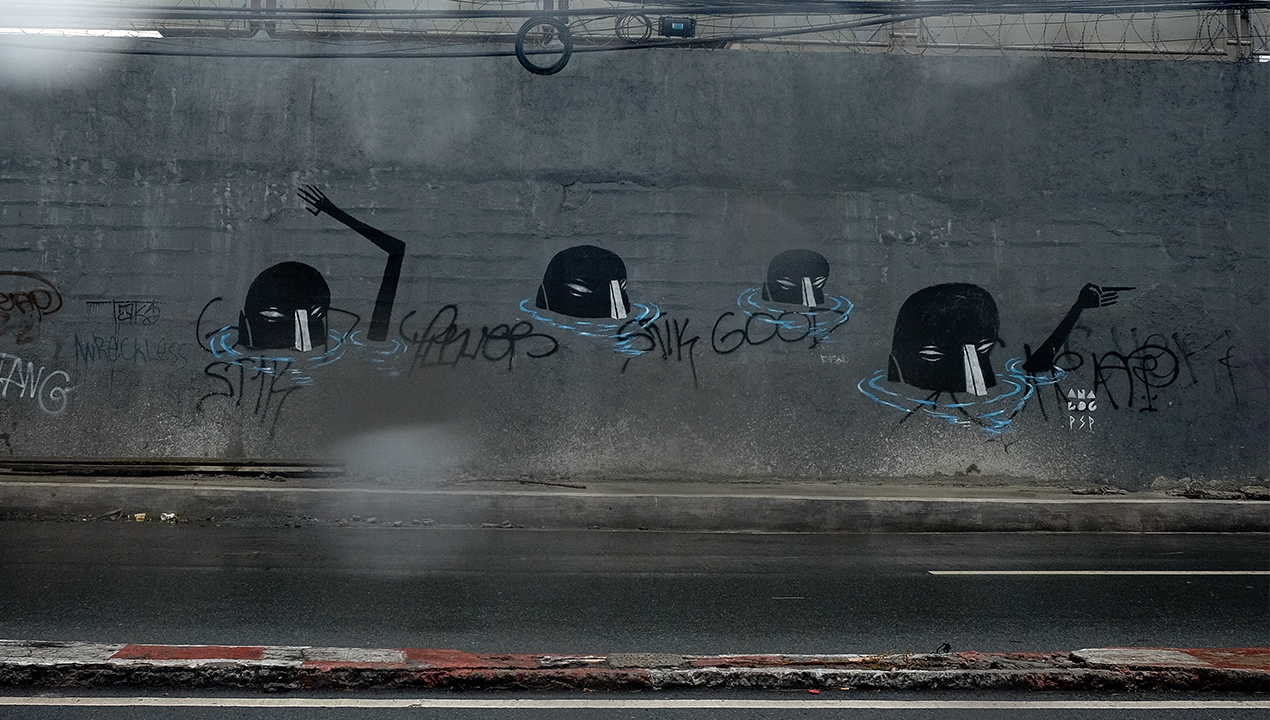 University of Sto. Tomas Fine Arts graduate and street artist Geloy, after seeing a piece by Mark Salvatus of Pilipinas Street Plan on his way to Quiapo, justifies the significance behind urban art perfectly: "At first, I didn't understand why Sir Mark (Salvatus) made a mural on a big rock that will soon be demolished anyway. But the concept that you value your art to the point that you share it freely with a wider audience—the normal people on the street—triggered me to try street art, too. For me, that's the most selfless form of art. We may not get paid for doing street art but we give people who can't afford to go to galleries and museums or aren't even aware of them the chance to encounter art." PAW shares the same sentiment, viewing the streets as a gallery for the masses.
 "The more we researched on the street art scene, the more we realized how young it was, but also how vibrant and multifaceted. The art we were seeing was incredible but not getting the coverage it deserved." Dryden and Smith
To experience this open museum for all, just look at the tunnels and walls of Metro Manila's ever growing concrete jungle: Commonwealth Avenue, Quezon Avenue, Bonifacio Avenue, Ortigas Avenue, and University of the Philippines Katipunan. Cainta's Felix Avenue, Cavity Collective's works in Cavite, and Wadab Locals' murals in Davao are also must-sees.
Although we have come to embrace such illustrations and installations as art, their essence as vandalism still rings true. Should street art, just because it offers aesthetic value, be legally overlooked? Should blank walls be involuntarily translated into canvases and soapboxes for anyone with a paintbrush and an idea to communicate?
For Dryden and Smith, art and vandalism are not mutually exclusive. "It's a populist medium, and that's why we love it. And yeah, some of it may not be legal, but that in no way takes away from its power as a piece of art. Sometimes, in fact, the placement of street art in places it's 'not supposed to be' only adds to its message or adds another layer of complexity to the whole thing." Emesu, on the other hand, feels that there's distinction between the two, emphasizing the creative contribution as beneficial rather than a nuisance. PAW comments, "When people in Davao see us doing murals on the street, the first thing in their mind is we are doing vandalism, which we are not. That is why we want people to see that we are giving life to an ordinary wall." However, as society opens up to the craft and provides legal spaces for it to thrive, some artists, like Emesu, feel that the artwork may lose its magic. Others like Over see its legalization as purely favorable. He says, "There's nothing wrong with it. You're just pasting everything that's on your mind on the walls of the streets. [It gives] everyone the chance to appreciate and explore the true meaning of [the] art."
Purists feel that street art is meant to be free for the masses, and its translation to pieces for profit is ironic. But this transcendence is an indication of a culture's evolving social awareness. Dryden and Smith opine, "The social implications for a city that's rich in street art is huge. It means that people are communicating, albeit in a somewhat one directional manner, about ideas and issues that are important to them. The public space is being used for a form of visual discourse. In cities like Manila that have a lot of really impressive street art, it also means that there's a free, publicly available source of really good art, and it's all around you. What's more inspiring than bringing down the financial and time restraints on viewing good art? Everyone, no matter how much money or free time they have, deserves to be able to see great art, to really see it and think about it and even analyze the issues that it raises."
TAGS: art graffiti nolisoliph pilipinas street plan street art urban art vandalism