The dying industry of hand-painted movie billboards
YouTube and piracy killed the movie billboard industry
Nov 22, 2016
Still remember what movie billboards looked like decades ago? You'd look up and see those giant faces of actors in the sky, at times with half-slights to human anatomy, more often in lurid smatterings of neon. The caliber varied: Nora Aunor rendered in studied photorealism, a Ninja Turtle depicted in salmon pink. Some may call it crude. Others pine for the folk craftsmanship of yesteryears. Say what you must of hand-painted movie billboards, those 10-foot artworks were once the fixtures of the Manila skyline or, if not, the collective memories of its denizens. But in the age of large-scale digital printing and LED billboards, the once lucrative industry of hand painters has dwindled. Technology, as they say, has a way of reducing artisanal industries into arcane vocations. But is technology the sole culprit here?
On a gritty sidewalk in Quiapo, two men alight a tricycle as they reach the Times eater, a crusty ghost of its former self, its Art Deco splendor lost in the soot. One of them unfurls a roll of tarpaulin while the other clambers up the railings to bring down last week's movie. They dismantle the contraption—a rickety skeleton made of salvaged plywood—and drape a freshly painted advertisement on it. As they say, out with the old, in with the new.
Bespoke movie advertisements went hand in hand with the mushrooming of the stand-alone Art Deco theater (or "standies"), an import from the Americans during the construction boom of the '50s. These architectural marvels dotted the avenues of Avenida, Recto, Escolta, and Cubao— Manila's old commercial stomps. The space surrounding these buildings was used for advertising the movies they showed, as walls and rooftops had proven to be cost-efficient locations for canvas billboards to be installed in.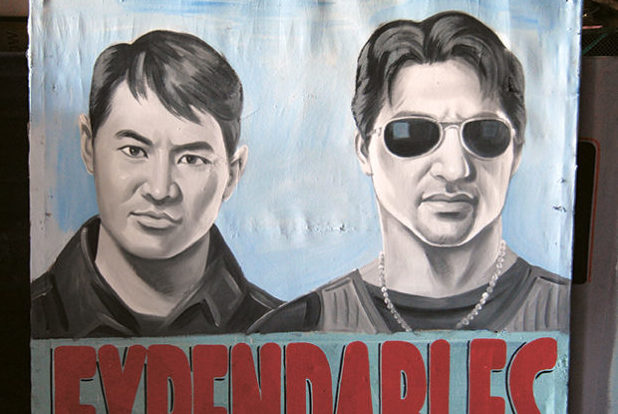 As the years went by, trends in the movie exhibition business led to the deterioration of these theaters. In the late '80s to the early '90s, multiplexes housed inside malls meant less upkeep and fatter profits. The once working-class pastime of watching movies shifted towards the moneyed consumer. The death knell began to ring: so as to maintain an upmarket image, mall operators drafted policies to display only digitally printed billboards. From then on, such is the degradation of stand-alone theaters that the few that still do business lease their space to religious seminars to continue their operations.
Besides this, other matters turned things bleaker for the industry. The LRT and MRT platforms have obscured the once magnificent panoramas of the theater districts, thereby rendering hand-painted billboards ineffectual. The billboard boom in Guadalupe and South Superhighway have given way to higher paying clients, who can afford P300,000-a-month contracts and a battalion of graphic designers from multinational ad agencies. There were also the movie stars who stood firm on digital printing, which could depict their faces in a more flattering light and, not to mention, correct their imperfections by the pixel.
Inside a spartan compound at the heart of Tondo stands BM Sagmit Enterprises, one of Manila's last surviving houses of movie poster hand-painters. Buckets of Boysen Acrytex give the air an acrid smell. On the pristine-white back of a tarpaulin, William Mercenares, 35, sketches an under-drawing. To cut down on expenses, this very same canvas will be re-used at least three times by adding coat on top of coat of paint.
"It used to be that we serviced around 50 theaters. Now, we only have three clients left: Times eater in Quiapo, Roben Cinema in Recto and Remar Cinema in Cubao," the self-taught painter says.
"Hand-made things always have a way of returning. In this digital age, people will always look for things made by hand. Maybe in the next five years, our client base will grow again. I can feel it." Benjie Sagmit
This indeed can be a symptom of the bigger industry's illness. Since the 2000s, major studios have cut down on the production of mainstream movies. From 200 films per year in the '80s, the local lm industry has whittled down production to approximately 30 films in 2013. This is due to a number of reasons such as piracy, YouTube, the takeover of Hollywood blockbusters, and the switch of viewership towards primetime teleseryes.
Nowadays, in terms of potential clientele, Viva Films has tie-ups with advertising agencies for promotional materials; Star Cinema employs a team of in-house artists; Regal Films hires freelancers. Indeed, what's left for the hand-painters?
As Mercenares is lost in focus, mixing paints, Benjie Sagmit, the 50-ish, mustached manager of BM Sagmit Enterprises, introduces himself. "I'm not really an artist myself, but I have a good eye for what works and what doesn't."
His father Eduardo Sagmit was one of the industry's stalwarts, having been in the business since the '50s until the market peaked in the '70s, the touted Golden Age of Philippine Cinema.
"I am deeply saddened by all this. These billboard painters should be the pride of the Filipinos. They are truly talented artists," Sagmit says. He then reminisces about better days when they had 20 in-house painters and they would service the marquees of 80 theaters around the city, aside from the rooftops on busy junctions. Now, most of their painters have retired back home to their provinces.
However, Sagmit is still hopeful when asked if hand-painted billboards will have a comeback. "Hand-made things always have a way of returning. In this digital age, people will always look for things made by hand. Maybe in the next five years, our client base will grow again. I can feel it."
The rain begins to pour in Quiapo. Done in cheap acrylic, a portrait of Hugh Jackman from X-Men: Days of Future Past clings hard to its scaffolding as the winds do their worst.
It is beautiful. It is resilient. It is color amidst the filth.
TAGS: hand-painted movie billboards nolisoliph