Charo Santos-Concio is doing a new film
While waiting, watch some of her previous films
Jun 9, 2017
Charo Santos-Concio is definitely back to acting. ABS-CBN reported that Santos-Concio will do another film with acclaimed director Lav Diaz. After the groundbreaking Ang Babaeng Humayo, their new collaboration is about OFWs.
"The entire film will be shot in Singapore. It's about an OFW who comes home to bury her son but na-delay 'yung flight niya so she had to stay in the Singapore airport. She met young OFWs during the transit. And then she got to know the way of thinking of these young OFWs," she told ABS-CBN.
The working title and release date have yet to be announced, but we are already excited. While we always see Santos-Concio on TV every Saturday night on Maalaala Mo Kaya, nothing beats her work for the silver screen.
Itim by Mike de Leon (1976)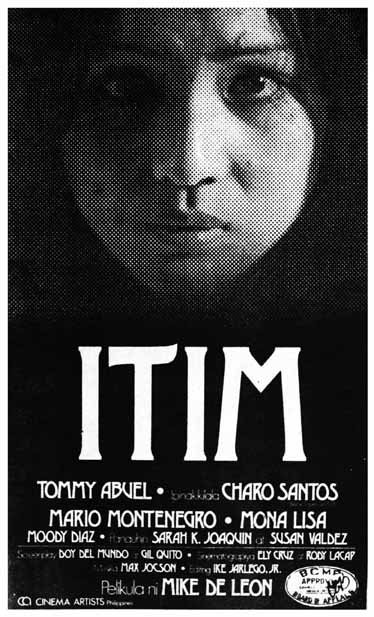 Mike de Leon's debut film Itim is Santos-Concio's first foray in acting. In this film, Santos-Concio's Teresa and her mother (Mona Lisa) has been consulting a medium since her sister has gone missing. After which, Teresa begins to act strange. Set during Holy week, she meets Jun (Tommy Abuel) and they slowly unravel the mysteries surrounding her missing sister.
Santos-Concio garnered a Best Actress award from the Asian Film Awards in 1978 for her performance in the film. This collaboration between de Leon and Santos-Concio led to more fruitful collaborations.
Kakabakaba Ka Ba by Mike de Leon (1980)


Unlike Itim, de Leon's Kakabakaba Ka Ba is a musical comedy, a rare gem in Philippine cinema. Melanie (Santos-Concio), Johnny (Christopher de Leon), Nancy (Sandy Andolong), and Nonong (Jay Ilagan) got involved in a feud between Chinese and Japanese syndicates after Johnny unknowingly acquired a confidential tape at the airport.
Here, we see Santos-Concio's unusual fun side. Also, watch out for the musical fight scenes of Johnny Delgado's Pinoy Master and Armida Siguion-Reyna's Madame Lily. Watch out for Nanette Inventor's performance as Mother Superior.
Kisapmata by Mike de Leon (1981)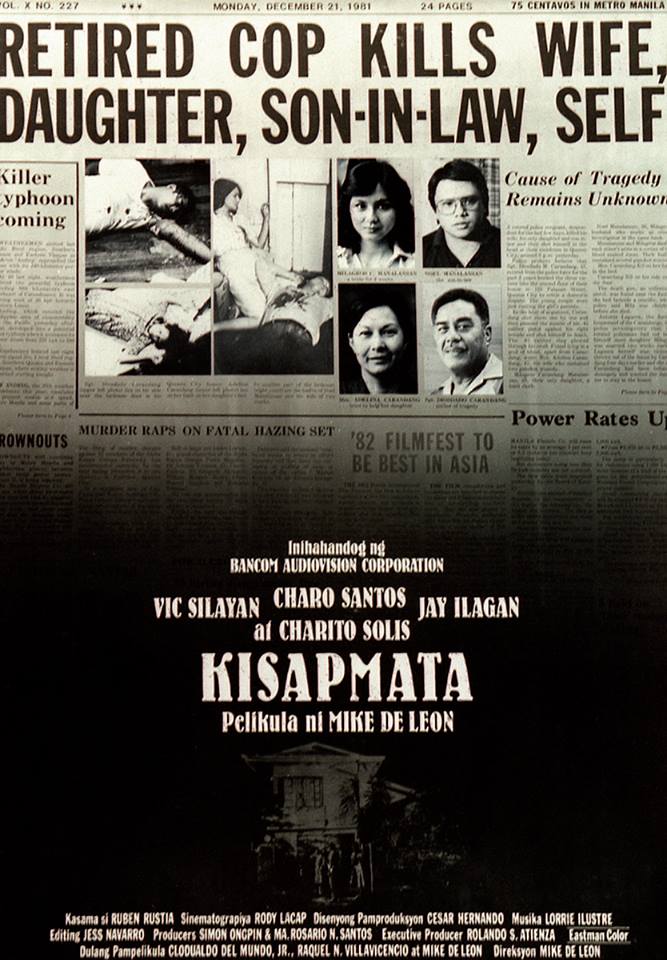 Based on Nick Joaquin's House on Zapote Street, Kisapmata is probably one of the best Filipino films. I remember first watching this film in my film class under screenwriter Clodualdo "Doy" del Mundo, Jr., who also wrote the film and had Santos-Concio as his student in De La Salle University.
Mila (Santos-Concio) leads us into the darkness and secrets of their lives under authoritarian father Dadong (Vic Silayan). After she married Noel (Jay Ilagan), she continues to live a nightmare as her father forces them to live with him and Mila's submissive mother Adelina (Charito Solis). In the end, this should not be a spoiler as it is already revealed in the official poster, Dadong kills the couple, Adelina, and himself.
The film bagged most of the awards in the 1981 Metro Manila Film Festival.
Ang Babaeng Humayo by Lav Diaz (2016)

Ang Babaeng Humayo is Santos-Concio's return to the silver screen. The film shows the life of Horacia (Santos-Concio) after her release from imprisonment for a crime she didn't commit. While she plots her revenge against her former lover Rodrigo Trinidad (Michael de Mesa) who framed her up, she meets and cares for Hollanda (John Lloyd Cruz).
The film competed at Venice International Film Festival and received the Golden Lion, the top prize from the said film festival.
Himala by Ishmael Bernal (1982)

Himala is popular for Nora Aunor's "Walang himala" monologue. Directed by national artist Ishmael Bernal, Himala tells the story of an eccentric woman Elsa (Aunor) who claims to have seen Virgin Mary. After the miraculous event, she performs miracles in their hopeless drought-ridden barrio. Along with the rise of religion in the barrio, promiscuity, prostitution, and fraud also invaded the poor barrio.
Unlike other films on this list, Santos-Concio didn't star in Himala. Instead, she acted as the film's executive producer. While Santos-Concio is more prominent as a producer for Star Cinema, her work for Himala, along with Peque Gallaga's period film Oro, Plata, Mata, is one of her best.
Produced with only P3 million pesos under the Experimental Cinema of the Philippines and shot in about three months in Ilocos, the film encountered logistical challenges: from weather mismatch to 3,000 extras. "I think this was one of the last movies that required a cast of thousands," Santos-Concio told screenwriter Ricky Lee in his book Sa Puso ng Himala.
In 1982, Himala was an ambitious film, but it was an ambition carried out well.
Header photo courtesy of ABS-CBN Film Restoration
Read more:
Five films you should watch if you enjoyed Jerrold Tarog's Bliss
How Brillante Mendoza is saving Philippine cinema
Apichatpong Weerasethakul sets lush, dreamy (almost trippy) scenes
Five books from Petersen Vargas' bookshelf
TAGS: