It's all about Southeast Asia in the first TINGIN Asean Film Festival
Time to test if Southeast Asian films are more than poverty porn
Oct 10, 2017
In line with their celebration of the Philippines' 50th year as a member of the Association of Southeast Asian Nations (ASEAN), the National Commission for Culture and the Arts (NCCA) is hosting a film festival featuring top-tier films from all over Southeast Asia. The film festival coined as TINGIN hopes to give the public a glimpse of what our side of the world can offer the film industry, and the chance for us Filipinos to make our own opinions about what our neighboring countries have to show us through the cinematic lens. It will be held at the Shang Cineplex, Shangri-la Plaza starting Oct. 11 until Oct. 15.
Here's what to expect from the five-day film fest.
The country's best
The film festival will be featuring films chosen by the governments and National Asean Committees of each Asean member. This collection aimed to represent the modern classics of Southeast Asian cinema so they weren't strict when it came to criteria. The only guidelines the NCCA gave were that each movie must have been produced between 2000 to 2017, it must have international or national renown, and, most importantly, it must revolve around intangible cultural heritage.
The resulting collection comprises of politically stark films, tear-jerkers, action thrillers, horror, documentaries, and, of course, drama. The best part? You can watch all of these films for free.
Tastemaker movies
Other than the official selections, there will also be a tastemaker section where established members of the Philippine film industry, specifically actor and producer Piolo Pascual, University of the Philippines Film Institute professor Dr. Patrick Campos, and screenwriter Moira Lang, were asked for their personal picks amongst all the entries. This section will comprise four films in total, one pick from each personality plus one more that they chose together.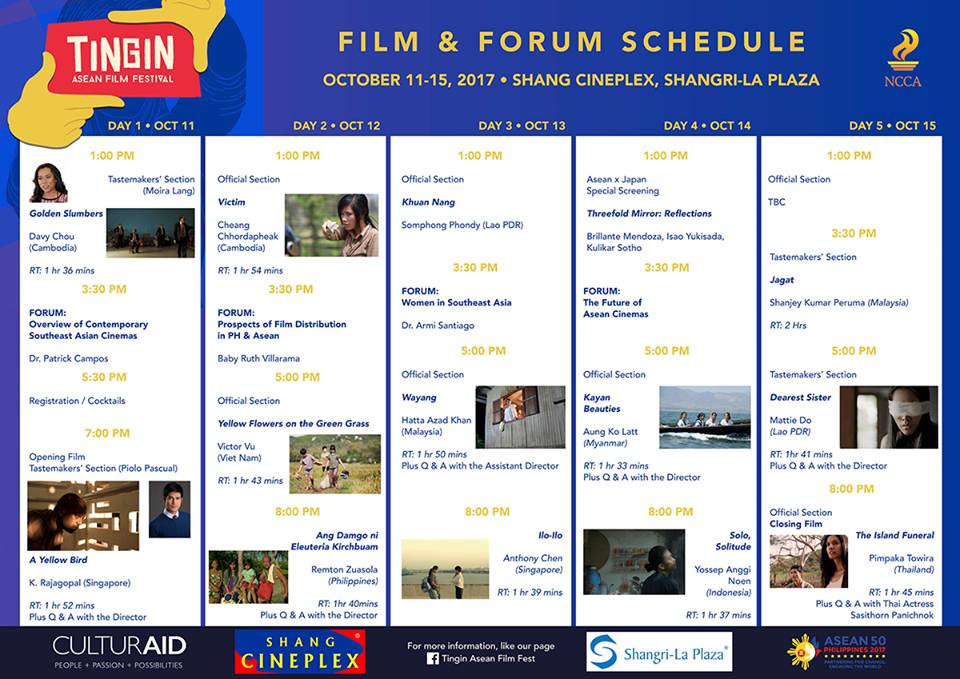 Film forums
Other than free films, there will also be forums held throughout the festival dabbling on the different aspects of filmmaking in Southeast Asia. The forums will be held every 3:30 p.m. of each day from Oct. 11 to 14. They're perfect for students just starting to get into filmmaking, hardcore movie critics, or casual connoisseurs of cinema who simply want to learn more. Check out the topics and their corresponding speakers below.
Oct. 11
Overview of Contemporary Southeast Asian Cinemas
By Dr. Patrick Campos
Oct. 12
Prospects of Film Distribution in the Philippines and Asean
By Baby Ruth Villarama
Oct. 13
Representation of Women in Filipino Melodrama
By Dr. Armi Santiago
Oct. 14
The Future of Asean Cinemas
Meeting the stars
Aside from Piolo Pascual who will be present on the opening day of TINGIN, a few of the directors, producers, and actors that were involved in the films will also be flying to Manila to attend the rest of the festival. Here's a full list of who will be dropping by Shangri-la Plaza in case some of you are fans of them or their work.
K. Rajagopal
Director of A Yellow Bird
Singapore
Syahrul Fithri Bin Musa
Assistant director of Wayang
Malaysia
Aung Ko Latt
Director of Kayan Beauties
Myanmar
Remton Zuasola
Director of Ang Damgo Ni Eleuteria Kirchbaum
Philippines (from Cebu)
Mattie Do
Director of Dearest Sister
Lao PDR
Sasithorn Panichok
Thai actress in The Island Funeral
Thailand
Photos courtesy of Facebook.com/TinginASEANFilmFest
Read more:
KATHA: Musika X Pelikula is bringing back live scoring on film
Watch award-winning films for P100 at Película-Pelíkula: Spanish Film Festival
TAGS: Anthony Chen arts Film film festival National Committee for Culture and the Arts ncca NCCA50 Piolo Pascual southeast asia Southeast Asian Film Festval TINGIN Asean Film Festival