Read more related stories

Read more related stories

Read more related stories

"I'm just here to hook up," Danton* told Czar Kristoff on Grindr, a dating app largely used by the LGBT+ community. "I don't understand what a workshop is for," Kristoff's match added.
Also on Grindr, Zeus Bascon paused, looking for the words to tell his match what the project really was about. Unfortunately, before he could finish, his match blocked him.
Selling a project to the art world in Manila and abroad was one thing, but sharing a community project with a sales clerk with limited opportunities and education was another thing entirely. "Do you feel safe when you go out?" Kristoff asked instead.
Hours later, Danton was still opening up about being a heterosexual-passing man in a hypermasculine space.
Later, it's Kristoff sharing at Danton's prompting, and the former talks about frequenting a skate park, having to hide his flamboyance, and "manning up."
Taking up space
For Kristoff and Bascon, both recipients of the Cultural Center of the Philippines' (CCP) annual 13 Artists Awards, coming to terms with their queerness was, and is, a gradual process.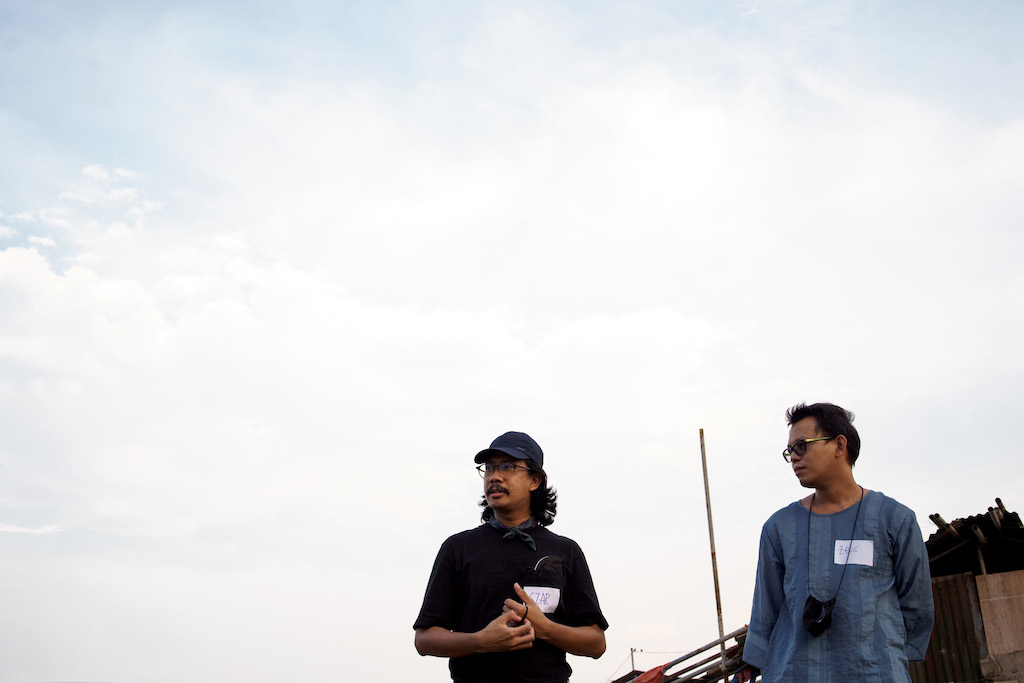 In a Zoom interview with Nolisoli.ph, the two Laguna-based artists share their mission and what drives them. Bascon also brings up the dilemmas of self-expression in a hypermasculine space. Recently, he attended a hip-hop event in a skate park, but he didn't hide who he was. He let them know "na may bakla dito."
Bascon cites a supportive family and tolerating neighbors as the water which lets him flower.
Unfortunately, as Danton's story shows, many queer Filipinos from less privileged backgrounds are not given the space or the institutional safety to allow this process to bloom. As such, many LGBTQIA+ folks sometimes hold mindsets that hinder their best interests, such as internalized homophobia or a fear-driven dismissal of human immunodeficiency virus (HIV) testing.
This urgency animates Bascon as he shares, "Since we're queer people here in Laguna, HIV testing is very important. We want to create a public space where HIV testing is seen as normal."
First discovered in the 1980s, HIV is a largely sexually transmitted virus that weakens the immune system. Scientists believe it likely originated from colonial prostitution in Africa and later unhygienic syringe use from vaccination campaigns in the region.
You take this specific role in a community as an artist to motivate or initiate movements within the community.

Arist Zeus Bascon
Presently, dated misconceptions persist that HIV is a disease exclusively created by and spread among LGBTQIA+ people. The Human Rights Campaign Foundation reports that HIV is notably present among the LGBTQIA+ community not because of same-sex practices, which many ideologues insist, but because of social stigma forcing many LGBTQIA+ people into unsafe sex work given the lack of employment opportunities.
In the Philippines, the Department of Health warned of the rising positivity rate of HIV results in the period between 2008 and 2017, from one positive case per day to 30 new diagnoses per day. Meanwhile, only 67 percent of people living with HIV in 2016 knew their status. In the same report, the World Health Organization added that a misdiagnosis rate of 10 percent occurs with dated test kits as one possible factor.
A safe sunset
Enter "Sunset Garden," a project which may just be Kristoff and Bascon's biggest undertaking yet. Is it a publication? A microsite? An ethnography? Group therapy? A community intervention?
The duo partnered not just with art institutions but also with medical and civil institutions, and the project heavily credits its rollout to Erroll Austria, a worker from a private HIV foundation attached to the Ospital ng Biñan HIV and AIDS Treatment Hub.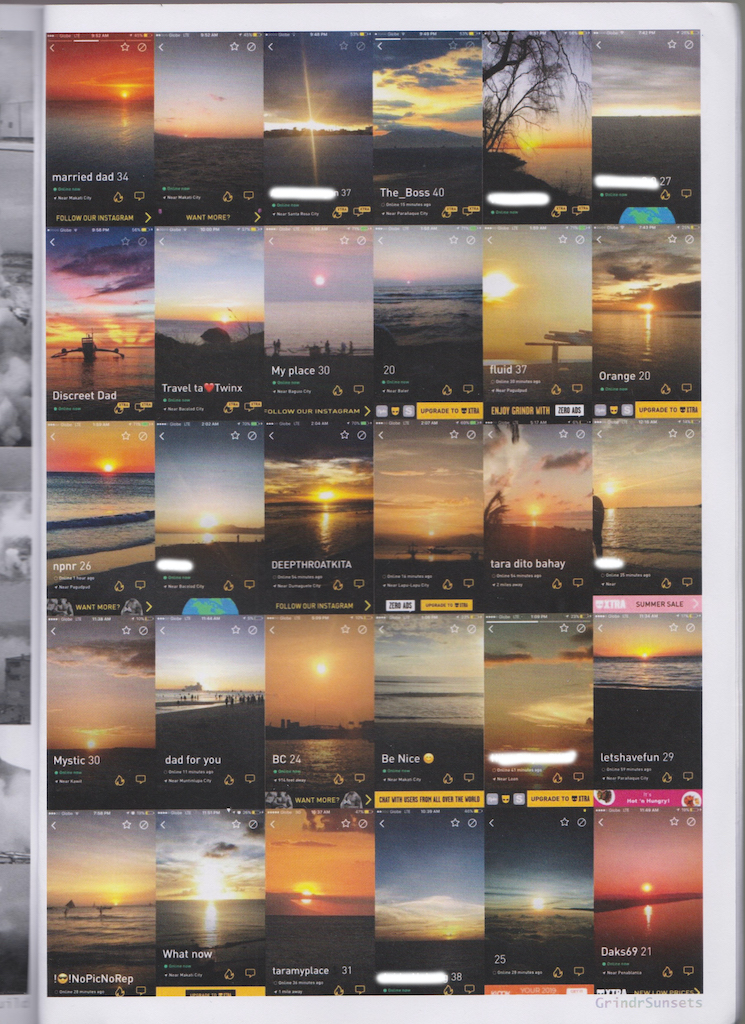 "Sunset Garden" is a continuing collaboration between the two artists that brings LGBTQIA+ individuals together by holding space for conversations and self-expression. It is a combination of individual projects they initiated in previous years, the first iterations of which were launched in early 2022. More iterations are also planned in the future based on feedback from the past and current sub-projects.
Kristoff observed something peculiar about Filipino Grindr versus when he used the app overseas: Some Filipinos used photos of sunsets as their profile pictures instead of face or body photos. He talked to these people and presented his observations in a multimedia artwork titled "Grindr Sunsets."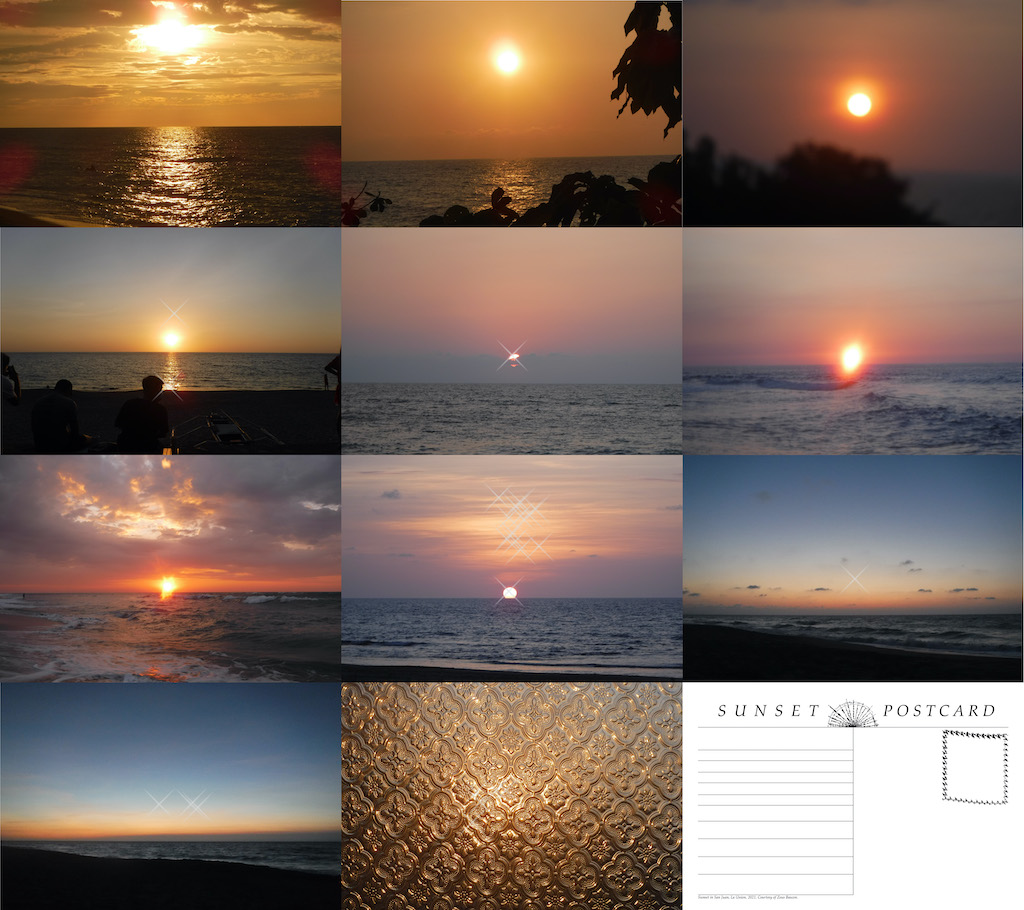 A version of this project was presented in Kwago Book Bar during Pride 2019. Building from feedback there, Kristoff presented a different version during the March 2022 run of the CCP's 13 Artists Awards.
Bascon, meanwhile, was working on an artist residency in seaside La Union under Emerging Islands. It was also a time in his life involving much inner work. The residency culminated in a series of paintings and postcards of sunsets titled "Cultivating a Garden."
"Sunset Garden" presently revolves around "congregations" of queer people and allies literally viewing sunsets at a reclaimed patch of land along Laguna de Bay, which Kristoff discovered during a bike ride. With Austria's help, they organized a sharing session at the said spot, documented it, and presented snippets of it all while respecting participant privacy.
The duo admits that the first run saw limited success and that they continue to face hurdles. During the said sharing session, only one couple arrived, and they were hesitant at first. But Austria was vocal in his support of the project, which won the couple over. They then began to open up candidly about their experiences as queer folk, including their choice to get tested for HIV.
Upon recalling that, Bascon lights up: "As all this was happening, this is when I realized: This should happen again with more participants." Psychosocial support and even caretaker support are crucial in living with HIV, similar to the holistic treatment of other chronic illnesses. "Sunset Garden," if allowed to continue, may just be that, but also with a component of creative expression.
The next session saw the launch of a "Sunset Garden" publication by their sunset spot, containing field notes and snippets of testimonies from the "Grindr sunset profiles" as well as from their first congregation, which was filmed. Amidst local DJ budots remixes, and with their voices altered to protect their privacies, only their silhouettes shown, the participants talk about what the sunset means to them, by the sunset on Laguna de Bay. "How we participate in Grindr affects our everyday life outside of it," one participant shares. The event was largely attended by writers and artists.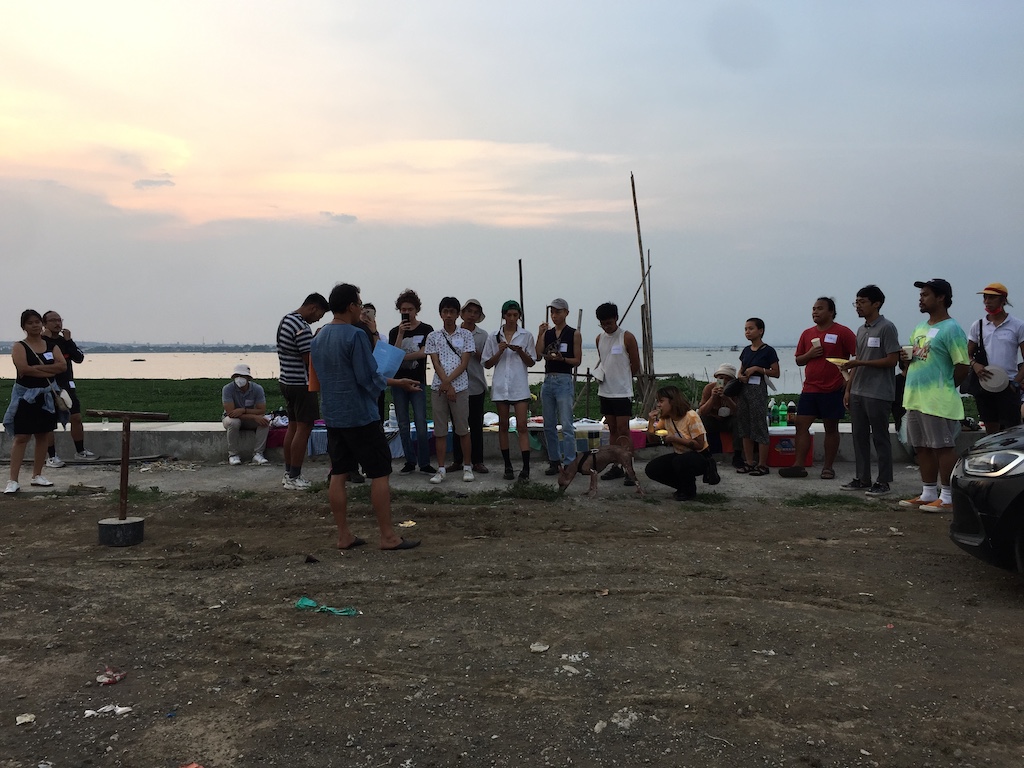 The duo tried distributing the publication at HIV clinics, and Bascon shares that the patients were kind enough to admit to the artists that they didn't understand the publication's content. "Many don't know what the word 'queer' means," Kristoff says of the people he interviewed on Grindr.
[
READ: Local queer literature to add to your reading list
]
Despite this, the artists were further galvanized into improving the work. Amid differences in language and education, as well as some initial hesitance, the subjects were always, always willing to share, to open up, to let someone hold space for them.
Kristoff and Bascon have each exhibited around the Philippines and abroad. And yet they feel that going home to Laguna and focusing on it is the most challenging and fulfilling project they've taken on so far. More iterations are planned, as long as there is a need for them, and the publication is one way supporters can help fund the project.
The Excel site and film (which was shown at the CCP) on which the publication is based is glittery and kitsch and reminiscent of a Multiply page from the early 2000s.
"That's because I'm a Multiply gal," quips Kristoff, before expounding that they used this specific visual language as it resonates more with home, with how people here express themselves. He adds, "It's hard to unlearn things if you won't go back to your past. Healing is a time-based process. You have to go back in time in order to heal."
Citizens then artists
The project thus also sheds light on the gap between the language of the art world and the language of the general public.
"Parati nating pinagsisilbihan ang mga collectors tsaka galleries (We always serve art collectors and commercial galleries)," Kristoff observes. Bascon meanwhile rounds it out by admitting that while painting in the gallery circuit pays the bills, he remains aware of "the concerns of the public beyond the art world" and because of this, he and Kristoff are straightforward with galleries in "expressing what we need to be able to work with them."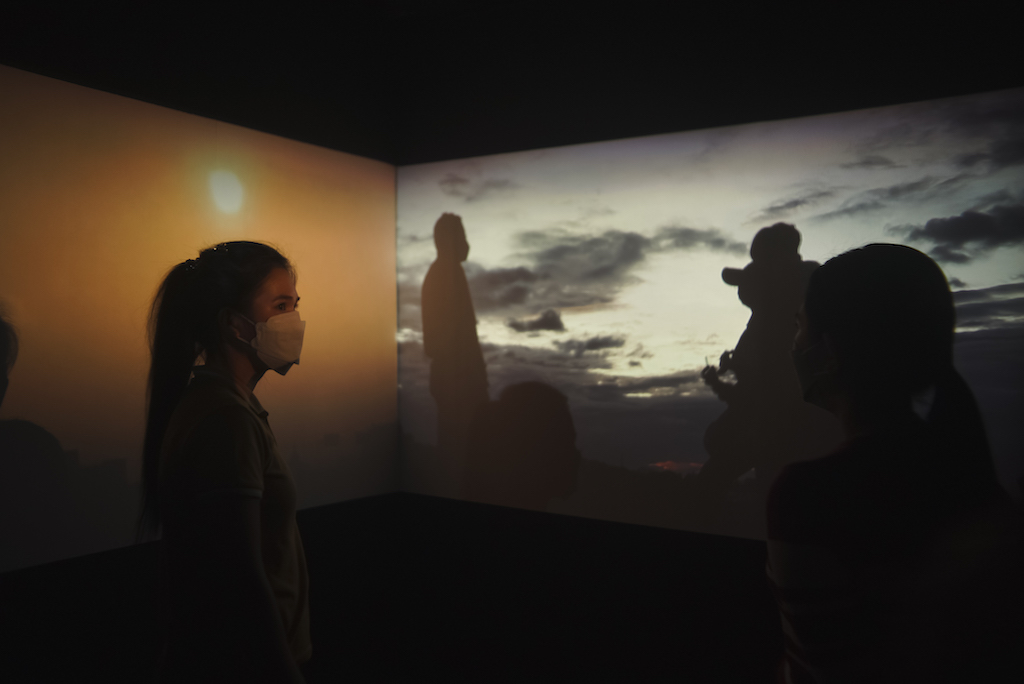 Feedback from the "Sunset Garden" congregations informed Bascon on how to be understood by the public instead of just the art-viewing community. "That's when I realized projects like these aren't meant to target art institutions and commercial galleries to tackle community issues but to target the local government and individuals with resources," he expounds.
While sunset viewing with Austria and the couple, Bascon noted that bystanders in the vicinity were within earshot of the group and could pick up on the stories being shared and how they were being expressed.
Something as small as that is a radical act, Bascon further believes, as being a citizen is essentially participating in public life. Being queer in public spaces where heteronormativity is equated with propriety, sometimes in spaces as mundane as one's commute, is one such example which the painter cites from his experience. "Ito nga ang ibig-sabihin ng occupying spaces. Kahit nag-uusap lang tayo, and other people are present. (This is what it means to 'occupy space': Something as seemingly small as conversing while others are present)."
Community mediums
In pre-colonial Philippines, the babaylan or shaman was roughly the equivalent of a priest but also a living library. The babaylan knew not just rituals to ensure a good harvest or which plants healed or poisoned but also the fables and legends representing community values. People visited the babaylan to seek advice, too.
The babaylan worked to embody and anchor the gods, the ideals, in their communities.
Storyteller, community guide, spiritual medium, medicine-person—these were the roles undertaken.
[
READ: Assured that they are loved by God
]
Babaylan were often women or men who lived as women. They held as much power as the military and political leader of a barangay, the datu, who was often a man but could be a woman. When the Spaniards arrived, babaylan were demonized in order to pave a new hierarchy. The datu meanwhile, became the overseers of Spanish authority.
Today there are still subconscious imprints of our communal past. It could be said that a manifestation of this is in the participants allowing themselves to be vulnerable with a group of strangers during the sunset viewings. It's precisely this that grounds the entire project: that primal need to commune in spaces created by those who've done thorough soul-searching.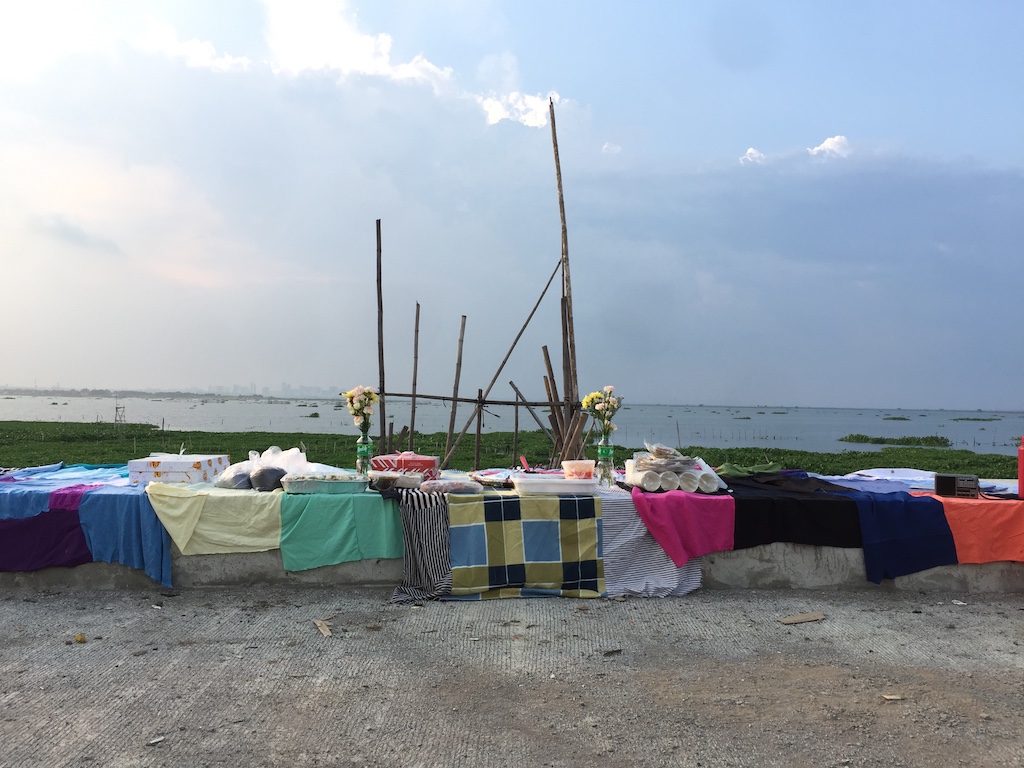 But Kristoff and Bascon aren't saviors, they are mediums helping others to embark on their own journeys, "the hero's journey," as Bascon puts it, alluding to the meaning of sun signs in astrology. It's not for the galleries, it's for the subjects, it's for the community.
He ponders further, realizing that "there's even the artist-as-performance. You take this specific role in a community as an artist to motivate or initiate movements within the community."
There's a spirit that the Sunset Garden project is trying to anchor, and it's currently taking many physical forms with no definite shape yet. But it's there. Perhaps Bascon, Kristoff, Austria, and their collaborators, in their own ways, answer the call of the Divine Feminine, a call which closeted clerks or hip-hop lads in skate parks are trying to heed, in their own way, in their own time.
When the sun sets, it's time for the stars to shine.
*Name has been changed
You can support the project by purchasing the Sunset Garden publication on Instagram and Facebook. Follow Czar Kristoff and Zeus Bascon to keep posted on future sunset sessions.
One Sunday in Escolta's creative space Hub: Make Lab, we met full-time professional photographer Jovel Lorenzo of Box Camera Ph. He's been in the photography business for 20 years now, initially as a photographer for magazines using a 35mm film single-lens reflex (SLR) Nikon FM2 and a medium format cam.
"I eventually switched to digital," he told Nolisoli.ph over email, "but I've always tried to go back to analog photography in my professional career."
And go back he did. That weekend, he brought something different. Something that dates back decades.
[READ:
Why analog is here to stay
]
Instead of snapping photos with a sleek compact camera, he asks his subjects to pose before a wooden contraption propped up by a tripod. The device was a street box camera he fashioned from parts scoured from the internet and built himself over the course of the quarantine in 2020.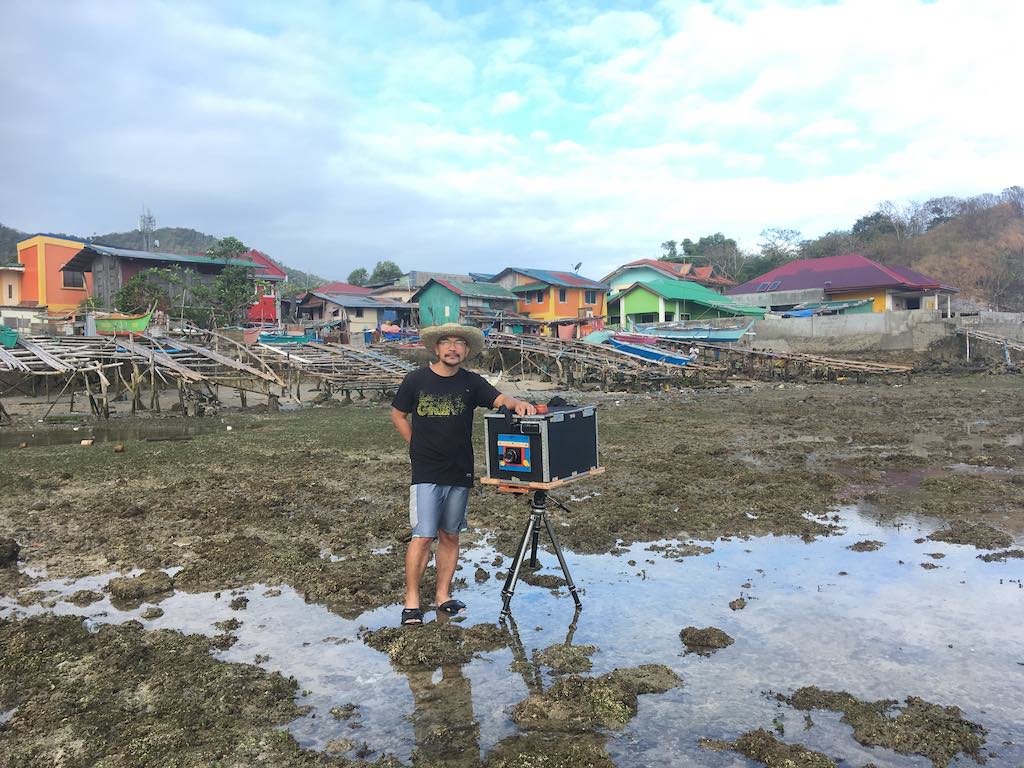 A street box camera, minutera camera, lambe-lambe, or an Afghan box was first used by traveling photographers in Latin America who would mount makeshift studios in locations without one. Soon, it was popularized in tourist spots in Europe because it was able to develop black-and-white pictures within minutes as it is both a camera and a darkroom.
More than just the novelty of analog photography, Lorenzo's photos capture something else: a rawness amplified by the black-and-white format, something even a smartphone with advanced lenses can't recreate. His photographs, 5"x7" print, seem like they were taken a century ago, projecting a mysterious aura that's out of these contemporary times.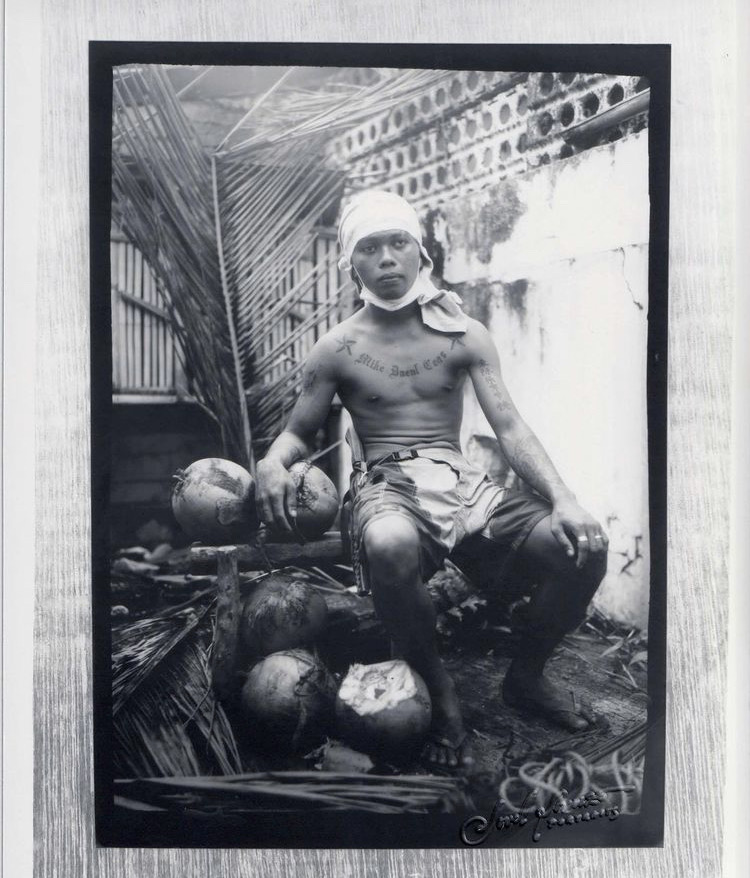 "The look of the photograph is very different," he said. "It has more texture, more depth, so you feel like you're looking at something soulful."
The process in itself is just as fascinating. While waiting for the final photo to develop, he shows you a glimpse of what it would look like by viewing the negative through a phone camera whose display colors have been inverted.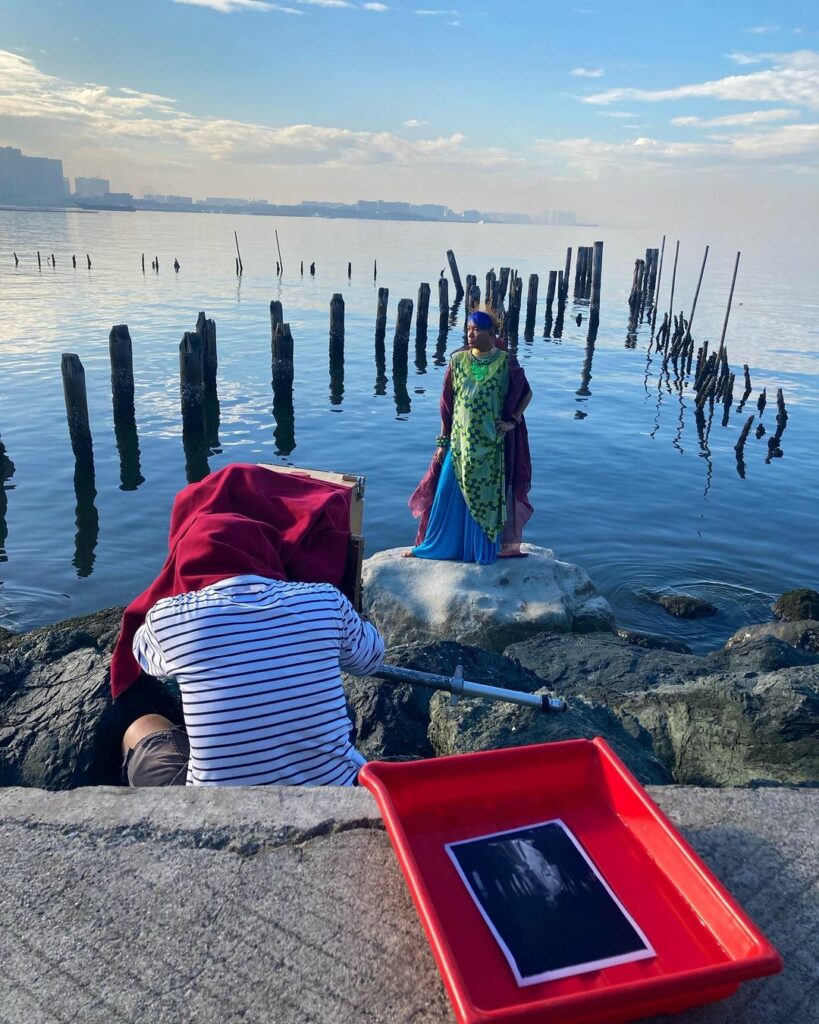 Initially, Lorenzo and his street box camera used to only accommodate private sittings at his wife's shop in Pasig and then at Photokitchen Studio in Kamuning, Quezon City. A two-hour session for one person or a couple starts at P4,500, inclusive of the black-and-white print.
It wasn't until last month that his craft was made more accessible to the greater public through a series of pop-ups. The first one was at a photographers' film meetup in Quezon City, then at a Father's Day event at a mall in Makati, and more recently at HUB: Make Lab's Pista ng Pamana.
In this interview, we talk to Lorenzo about the novelty of analog, his passion for photography, and how to make subjects comfortable in front of the camera.
When did you start using a street box camera?
I started playing with the idea of creating a street box camera in 2020 during the pandemic after watching several YouTube videos about it. I was able to build one and it took more than a month (from design to build). By November 2020, I had a fully functioning camera.
How does a street box camera work?
A street box camera operates as both a camera and a darkroom in one. What's unique about it is that it doesn't use film and instead, uses chemical-based photo paper to produce both negatives and positives.
Ideally, a street box camera develops pictures on the spot and I do that during special private sessions. I basically take another photo of the produced negative via a special arm which I also created.
But for sitter sessions, where I take several portraits, I would develop the photographs via my dark room. This helps me save on photo paper since I have fewer mistakes and I end up with pictures with outcomes I can control better.
How does a portrait session usually go?
[At popups] a sitter session takes about 15 minutes (P1,500). Usually, I ask if they have a pose in mind and we can start from that. I also ask what their interests are and we sometimes get an idea from there. Subjects hold their pose for several seconds as I prepare the camera. They hold about 1-2 seconds for me but on instances where light is dim, they stay still longer. The longest was 18 seconds but that was a rare case.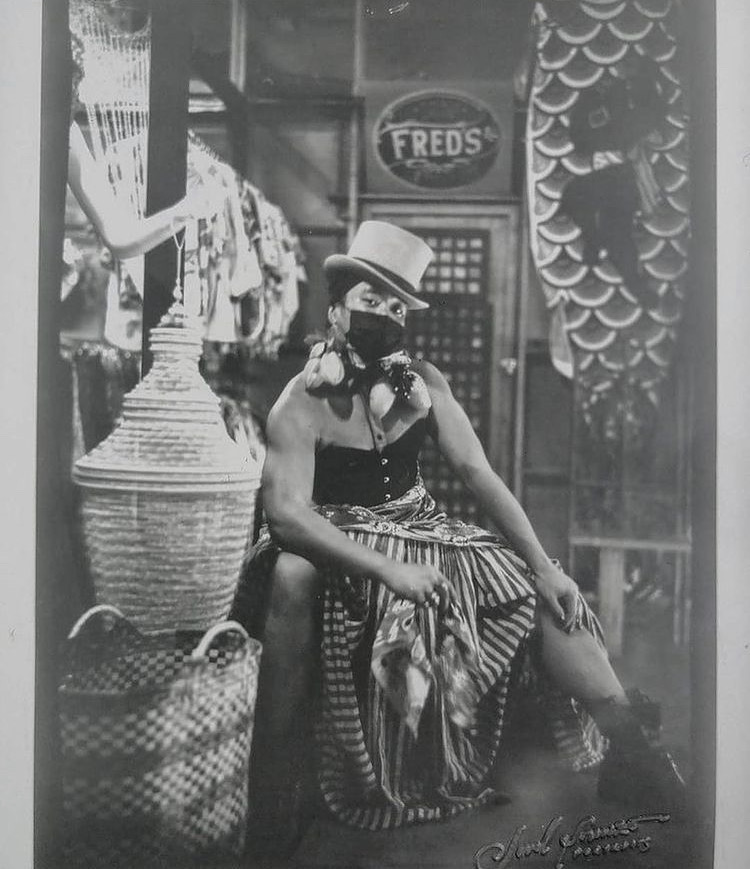 Can you recall your most memorable subject/shoot?
All my shoots are memorable because the process of doing it is really complex. But if I really have to choose it would be those I took as part of my art sessions. The first [was] a 14-day portrait I started during the early months of the box camera.
The series was called the "Island Quarantine Series" where I tried to capture island life and personalities for each day of my two-week mandatory quarantine when I visited my island hometown of Tingloy in Batangas.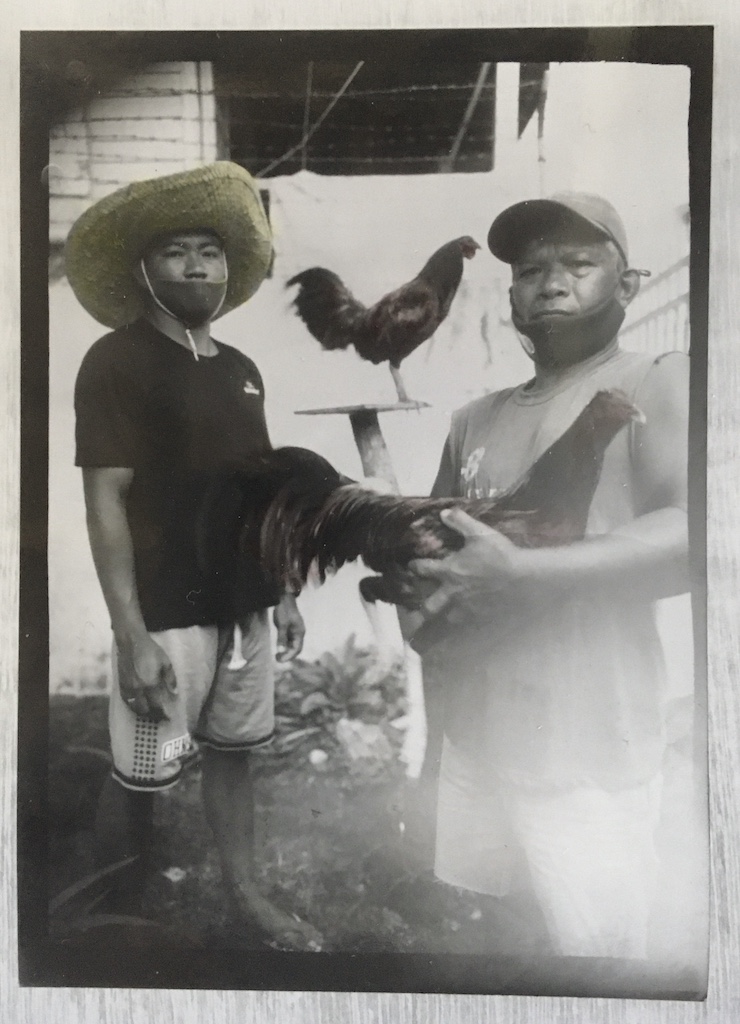 I also have three images that captured typical provincial life using another box camera I created. This one produced 11"x11" images and I had to create a separate box as a dark room. I had to lug both anywhere I [went] but it was worth it when I got to produce the three images.
Why do you think people are drawn to analog stuff lately?
The challenge and novelty of doing analog are beautiful and something that people appreciate. The excitement of not knowing what's going to come out, of doing your best because you only have a few frames to work on is enticing. During this pandemic, in particular, people had a lot of time on their hands, so they had the chance to go back to something that took time to produce.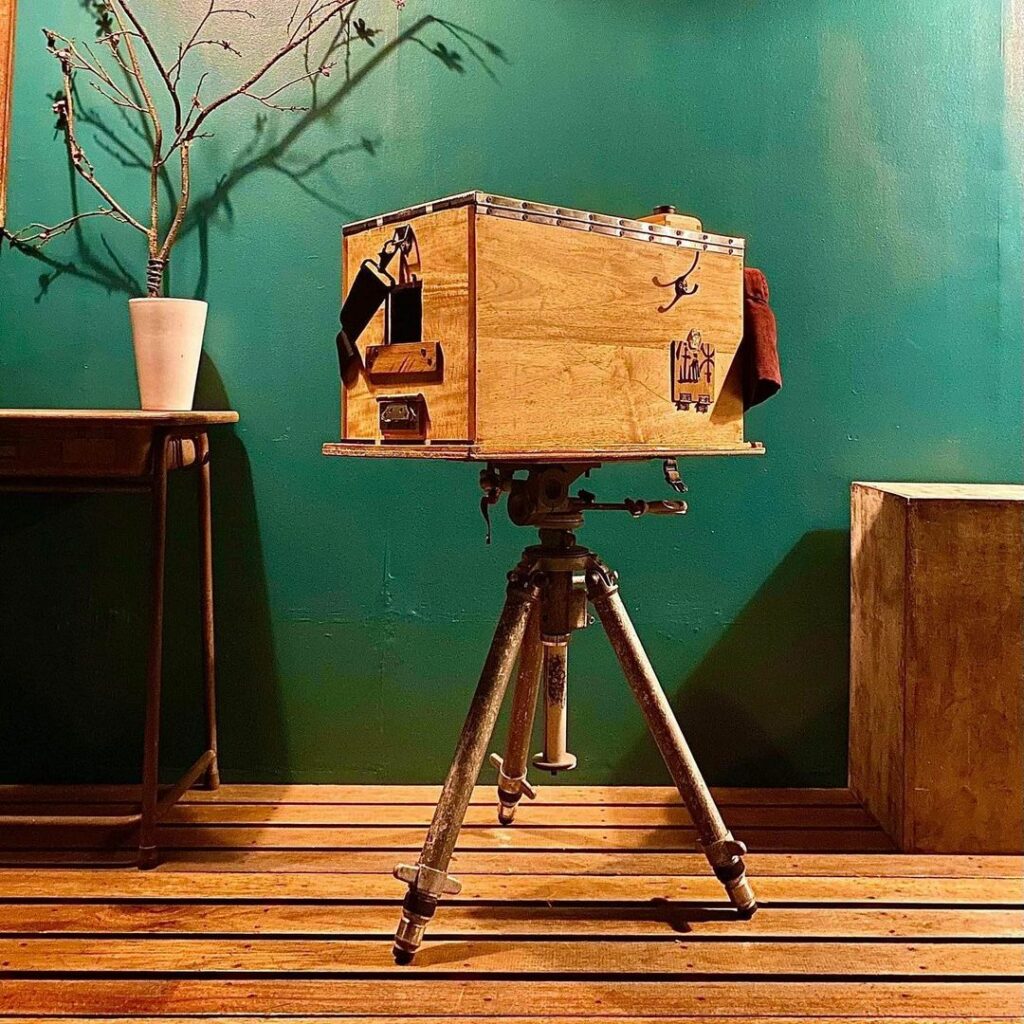 What's the best part of what you do?
The best part for me is going back to what I really love doing. There was a point in my life when I got bored doing photography using my digital camera, it became just that—a job. When I got to do photography with the box, I was so happy that I got to apply what I knew before. Suddenly it was exciting again. It [means] that I won't stop learning and it's such a beautiful and unique medium that I am eager to share with younger photographers.
Read more related stories
Read more related stories
Read more related stories

Read more related stories

Actress Dexter Doria is known for her "kontrabida" roles on television. But offscreen, she is most furious about misinformation, especially surrounding martial law years under the rule of the late dictator Ferdinand Marcos.
Doria, 66, played an activist nun in a Vince Tañada-directed musical film called "Katips" last year. In an interview, she recounts her experience as a University of the Philippines student during the First Quarter Storm of 1970. She can attest to the atrocities of that period because she was there, she said.
This 2022, she has made it her personal advocacy to enlighten those who willfully believe martial law misinformation circulating on social media even though you could easily disprove these claims with a simple Google search.
"Ako po si Nana Didi, samahan niyo po akong itama ang mga mali at peke sa social media," a post dated January 10 on the actress' Facebook page reads. It's accompanied by a video of her dressed as a teacher addressing a class behind the screen. Her first lesson? Confirmation bias.
Episodes of "Didiserye", as the series is called, are relatively short at three minutes. Just enough not to drag TikTok-obsessed viewers trained to only consume minute-long media. It's uploaded weekly on Facebook and YouTube, where false information seemed to have found its captive audience.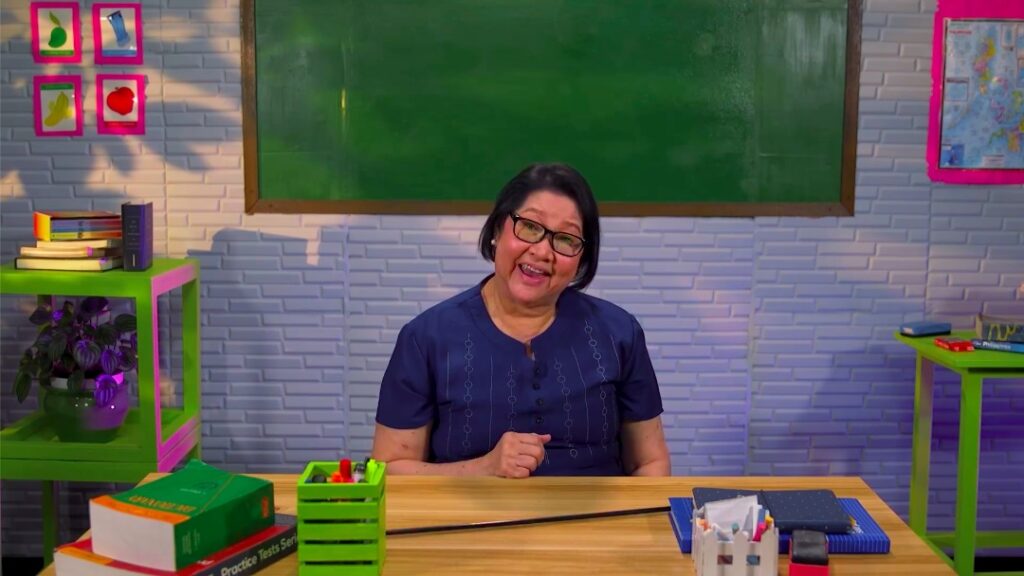 With just two episodes out, the series seemed to have hit gold with social media-savvy millennials and Gen Z. The first episode has been viewed over half a million times and shared eleven thousand times on Facebook with twenty-three thousand reactions. Apart from its short attention span-friendly duration, Doria's delivery is easy to get along with, casual but still maintains an air of authority, thanks to her teacher character.
It's not alienating for older audiences outside of the two aforementioned demographics, too. Doria, if anything, seems like a tita speaking to her amigas over a video call, albeit the tea being facts and not mere rumors.
Nana Didi's motto in the show is "Hindi paninira ang pagsasabi ng totoo," a comeback at critics who are likely to target the show for so-called bias. After all, the elections are just a few months away and the son of the late dictator is running as president. Her latest video released this week debunks martial law myths about the country's supposed "golden era" and the so-called "comfortable life" Filipinos lived during the Marcoses' decades-long regime.
Admittedly, the actress is not keen on voting for Ferdinand Marcos Jr. though. "Kasi, hindi lang naman dahil yung tatay, ginawa ito, e. It's because… yung taong tatakbo, wala talagang kaalam-alam," she said in one interview.
Nonetheless, what she wants viewers to take away from "Didiserye" is not to take sides, but to not take anything at face value and learn how to fact-check. A timely reminder as we near election season.
Doria's series is a refreshing sight to see on our feeds often riddled with news about this and that politician lumped together with political ads.
As one millennial friend put it, "I wish all boomers are like her."