Read more stories

Judd Figuerres, advertising director
Ipe Cervantes, sales manager
Judd and Ipe's loft is warmth exemplified, with enough tchotchkes to give it its own personality: a bunch of Doraemon figurines, plants they've raised together, and a sprinkle of homoerotic art here and there. "Is this Nolisoli?" one staffer asks of a print of two men in coitus. "We can make it if we want to," said another. But a kitschy framed and backlit Divisoria wallpaper of three white puppies is, for sure.
On the terrazzo kitchen counter is an orange Le Creuset Dutch oven like the one owned by the late Joan Didion, which fetched $8,000/set at an auction. Later it will be filled with dal that Ipe cooked for their group dinner, accompanied by warm billowy naan tucked inside an Owa Sylvia wicker basket with a gingham liner.
As the hours tick away and the sun retreats to the west, the space is bathed in warm light emitted by a Louis Poulsen pendant, like candlelight inviting you to take a seat on their long dinner table as Pilita Corrales (on vinyl) serenades you.
READ: Home for the holidays and every moment in between
---
How important was it for you to have your own space in relation to your lifestyle and your work?
Ipe: This is actually the first time I moved out of my family house and be independent. So I appreciate the fact that we get to design everything to our own taste. That was fun. Like building the house from empty space to very much filled in right now with our own style.
Judd: Originally, 'yung job kasi namin is here in Makati. Before we moved here, we were based in Quezon City, so we were always traveling from QC to Makati and back every day. And when we moved here, all we wanted was our own space kasi 'yung work namin is so stressful. Aside from picking a spot convenient to our location for work, we really wanted to build a space where hindi lang siya extension of our personality but also something na we can do things creatively na hindi siya part of our "jobs."
We really wanted to build a home na pag-uwi namin, we can just relax, and we can just be ourselves.
What's the best thing about living in Poblacion?
Judd: Noong una, we were like, "Oh, shit, Poblacion is going to be noisy." So when we were testing the space, we said, "Let's just see how the noise pollution is." So we spent a weekend here just testing kung maiingayan kami and it was maingay. 
And then, biglang nag lockdown. So it was, "Oh okay! Ang quiet ng Poblacion!" So we started yearning for that noise, 'di ba? So when things started coming back, doon namin na feel na "Oh wow. Poblacion is so fun."
Aside from that, we're neighbors with our friends, it was so easy for us to find people to hang out with. It's so easy for us also to find places to hang out dito. And I think—I don't know what you call it—revenge partying? Parang ganun? So there's so much energy! And I don't know, like, sometimes prior to this kasi since we were living in QC, wala kaming social life masyado. So now, medyo parang feel na feel namin 'yung energy ng Poblacion. And we really love it here. 
We really wanted to build a home na pag-uwi namin, we can just relax, and we can just be ourselves.

Judd and Ipe

Ipe: And the access to different restaurants. The food choices here are amazing, unlike in QC where everything is too far. Then Rockwell is just over there. And then there's also a palengke.
Judd: There's a palengke! Then all the clubs that play different music. You get a lot. Kasi in the morning, it's different; sa afternoon, it's different; at night, it's different. So parang nagta-transform ang space every day, every hour. Kaya siya masaya.
What was the vibe you were going for when putting together this space?
Judd: When we were doing it, parang, we wanted something clean and cute—
Ipe: Initially.
Judd: Initially!
Ipe: It was very empty, initially, but then during the pandemic—
Judd: We started collecting so many things. Which is I think kind of reactionary? Because wala namang nangyayari so parang, so might as well stimulate yourself with things.

Ipe: Yeah, like Judd started collecting plants during the pandemic.
Judd: I started collecting vinyl.
Ipe: I started collecting vintage stuff like the vases and all the cute stuff around.
Judd: So I think it's just really whatever makes us happy.
What are your favorite parts of this space?
Judd: I love this dining room because during the day this is where we work also. Kasi dito 'yung pinakalakas na internet. Because it's an old building the walls are quite thick. So medyo mahina ang internet sa loob ng mga kuwarto so we always work here. This area also has the best natural light. And then at night, 'pag magkakasama kaming lahat, kasya kaming lahat dito. So this is where we host dinners.
Ipe: We love hosting dinners.
Judd: So I think, for me, this. Ikaw?
Ipe: Same. Like a lot of things happened on this dining table. [laughs]
What makes a perfect home?
Judd: I think for me it's the person you live with more than the space. I feel like it's because it's the first time we moved in together. It's our first attempt and it was a lot of learning din from our end because, syempre, you're going to clash at some point. But I think 'yung lesson is through those clashes, we learn how to harmonize more. And I think for me that's what home is. Where you can find harmony. 
Ipe: Yeah. Judd is home, our friends are home. 
Carla Villanueva, stylist, production designer, and creative director
Photographer Hannah Reyes Morales and her husband Jon Morales used to live in this same two-bedroom apartment. Carla tells us that some of Morales' photographs are still in one of the rooms.
She lives by herself so the other room is a de facto office, where an acrylic ghost baul filled with the bead bags she designs, which takes after a real one from Mindanao she's inherited from her lola, is in. In one corner is a crystal display case. "I have a collection of glasses because I'm obsessed with drinking."
Cooking she also likes, to say the least. All around the kitchen are evidence of an impending dinner: She whips a chestnut filling for a mont blanc in one bowl after accomplishing paperwork. It's T-minus four hours before the dinner yet she doesn't look frazzled.
"She has a way of maneuvering through chaos," photographer Geric Cruz, who gleefully art directs as we shoot around the space, says of Carla. "She has a way of just enjoying every moment regardless of the situation."
READ: Home for the holidays and every moment in between
---
How did you come upon this space?
Our friends Hannah and Jon used to live here. We'd come visit after a night in Poblacion and hang out with them. Then randomly, I was with Geric doing pre-prod for a shoot when we ran into Hannah while we were having drinks. She joined us and mentioned that she was moving out. My grandma had just passed away and I always said that if my grandma passed away I'd move out of my mom's house. So when she asked, "Do you know anybody who's looking for a condo?" I was like, "me!" I love their space. Basically, I took over their lease until the end of 2021 and then moved in January. I spent like a month, fixing things up.
How different is your space now compared to before? How much did you change?
Hannah and Jon actually had a really great layout already, just a different style. So their sofa was also where I put mine, and their bed was also there as well as the kitchen. It was actually perfect, where the light hits and everything. I built this whole kitchen because I cook a lot. And then just fixed random stuff that needed to be fixed. I repainted everything, but the bones are still pretty much the same.
How important was it for you to have your own space in relation to your lifestyle and your work?
I do a lot of production design work so I have all of these things in my room in my mom's house. It was really, really full na. I think I was actually ready to move already and everything just kind of came together.
I think having your own space is important. I could've had a roommate, but I kept it as an office instead even if it's not the smartest thing to do in terms of money and rent. I wanted to have a lot of space to do a lot of creative things. So when Mano [Gonzales] and I would do shoots together—we always collaborate—all the clothes are here and it'd change into a styling area. It's a multipurpose kind of space for me. It's so nice to have that because I used to work out of my room, which was super cramped.
What's the best thing about living in Poblacion?
I don't really participate in the Poblacion nightlife, I think most of us are just kind of in this building hanging out with each other. I think accessibility to most of the work we do like shoots are always in Makati, so that makes it kind of easier than when I used to live in Pasig. Being closer to my work and my friends. Parang when you live with your family, it's like family life. Here, it's more of your own life.
What was the vibe you were going for when putting together this space?
Most of everything here I didn't buy or they're vintage. This chair is my grandfather's, this is my other grandfather's record player. Everything's like found objects that I got from different important people in my life that I collected. I think that kind of makes it home. I don't think it's "stuff," I think it's "me." Collecting all these over the years kind of like made the style, which I didn't realize I had until it all came together. I didn't really go out of my way to buy anything, it just came to me when I needed it. Like, "Oh, I need a light." Somebody will go, "I have a light!"
What are your favorite parts of this space?
The kitchen. And my lolo's chair. Super sentimental value. I repaired this little by little over the pandemic. A long project.
Bea Te, DJ
Bea's house reminds you of that one friend in college equipped with the things you wish your dorm had: a Rihanna coffee table book, an irregular blob of a mirror, and a Bottega green reproduction of that IG-famous modular bubble couch originally designed by Mario Bellini.
There's an air of coolness amplified by the nonchalance of having just a few covetable objects in your living quarters. Think Steve Jobs photographed sitting on the floor of his California home in 1982 with nothing but an $8,200 stereo setup and an antique Tiffany lamp.
Mano Gonzales jokes, Bea just packs and unpacks here. She's everywhere. That weekend she'll be in Cebu. Nonetheless, she vouches for the importance of having a space in Makati, which we might have overread as having a space in the scene.
READ: Home for the holidays and every moment in between
---
How important was it for you to have your own space in relation to your lifestyle and your work?
I've always lived alone since I was like 16 when I moved to Manila, so I'm used to that. I'm from Bacolod. But the pandemic really changed that 'cause as much as I like living alone, I am a very social person. I used to live in Poblacion as well. When I moved here, it really was like a breather. I felt saner just because I had my own space, but I also had all these amazing people around me. And it was like our little safe space during the craziness of the pandemic.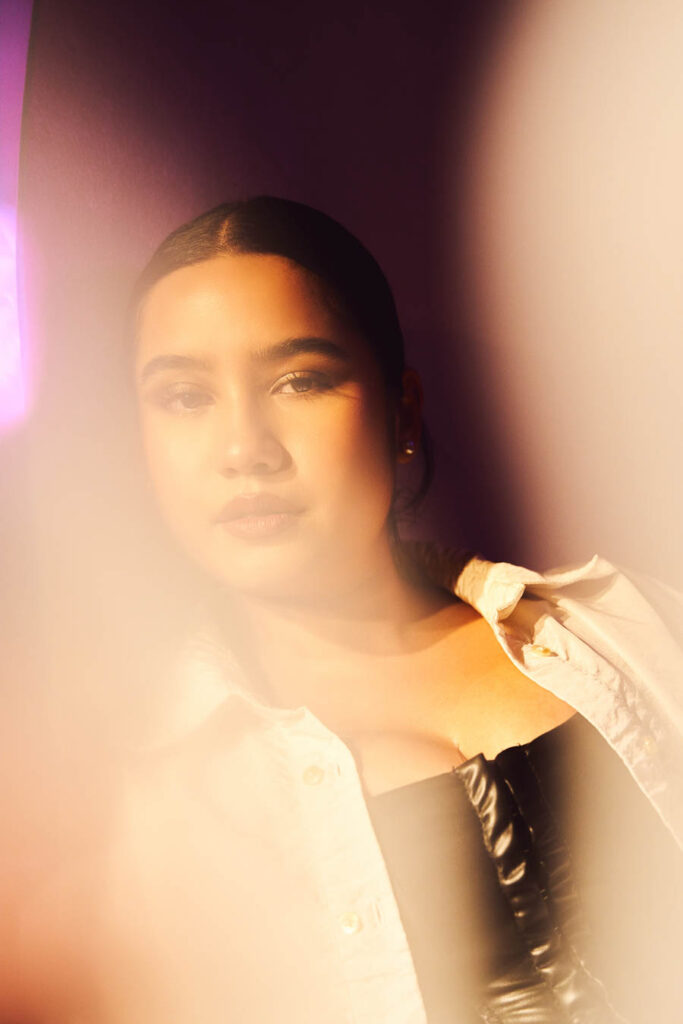 What's the best thing about living in Poblacion?
Number one for me is most of my work is here. I usually play in bars around Poblacion, so I just walk everywhere. That's mainly the reason why I moved here. But also in general, I feel like I'm never alone because there are just so many people here.
And the food scene, you go down and you have everything from bars to restaurants to activities—everything you really need.
I never really leave Poblacion unless I really have to 'cause everyone just ends up going here anyway. And as much as it feels a little grimy here and there, it still feels safe. It feels like home to me.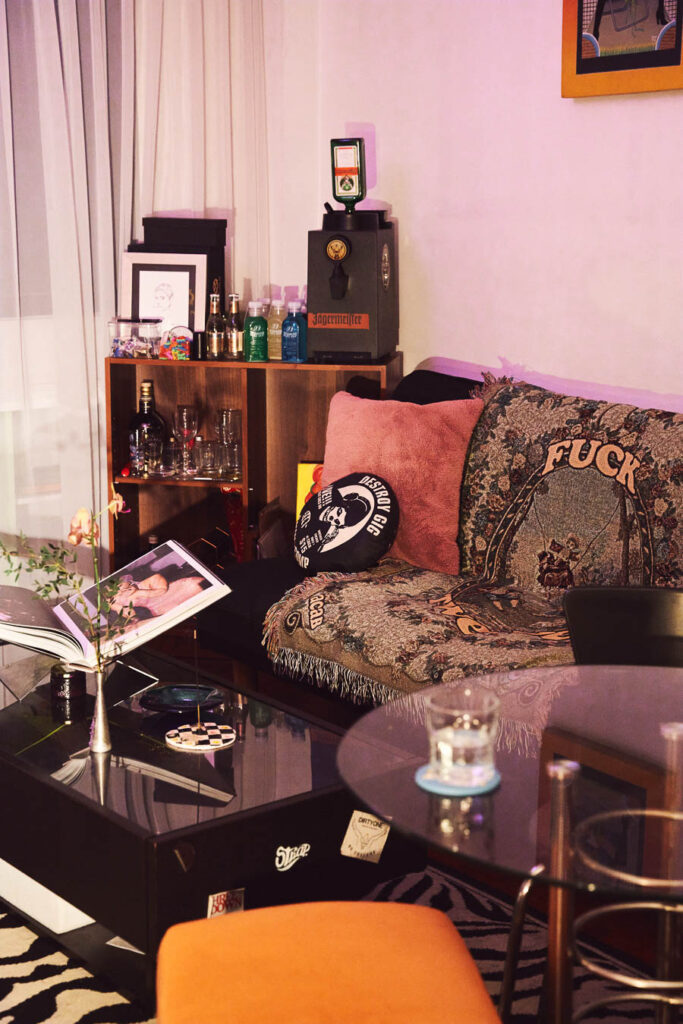 What makes the perfect home?
I think when I moved to my space I like it when a home grows with you. I don't like coming into a home when it's fully furnished. I like fixing things here and there and it grows in time with you. I feel like a home is never really finished. You always want to improve it, add things, minimize things. I think the perfect home is more of a space where you can relax. Especially in a city like Manila with so many things happening and with my job, going out to events and all that. I just like coming home to a space where I can just relax and just unwind. And welcome friends also.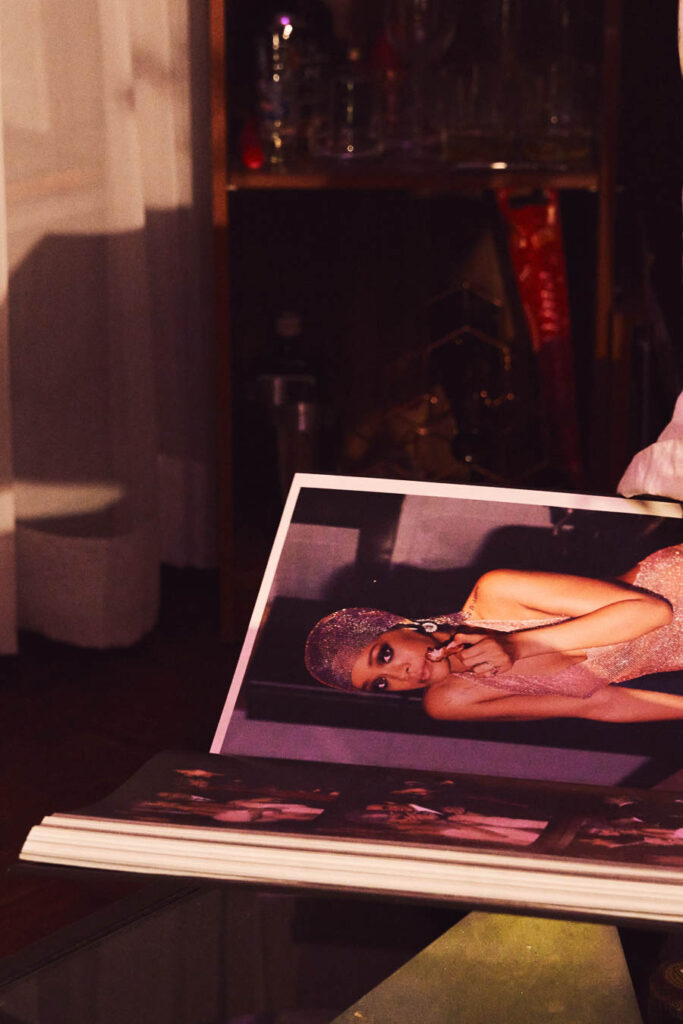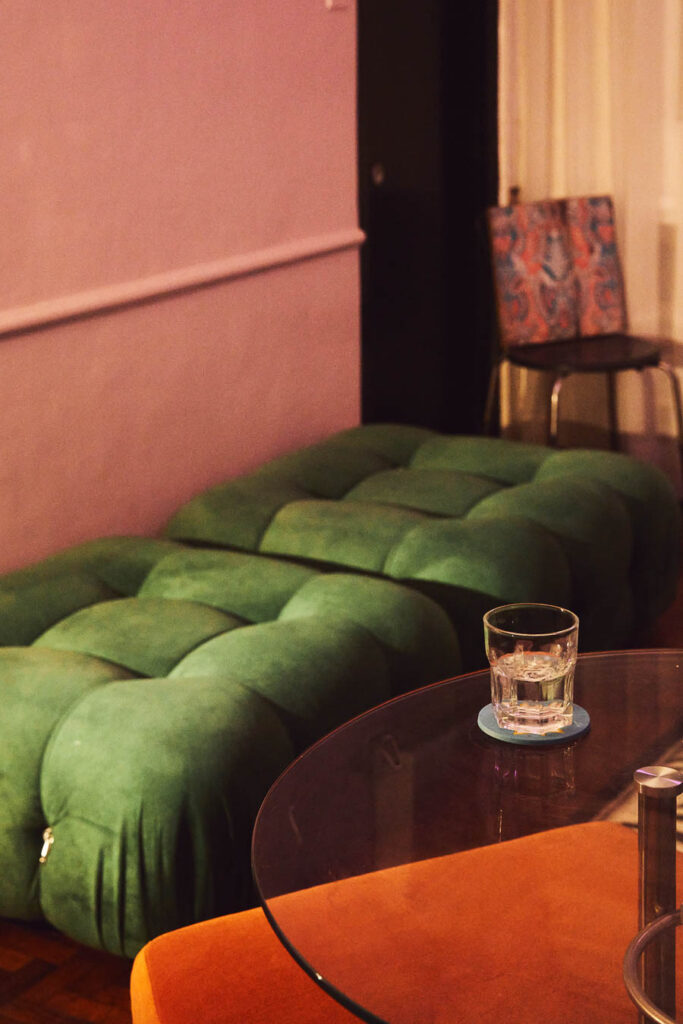 What are your favorite parts of your space?
My favorite part is definitely my living room because of our view. I don't have a television in my living room cause it really feels like the window and the view is just the focal point of the whole space, especially during sunsets. It's the best.
And, of course, my bedroom, because it's what I really look forward to after going out.
Mano Gonzales, artist and stylist
Jan Pineda, film studio creative manager
Mano and Jan's apartment was previously painted a drab brown. "We used to joke it looked like a mocha cake," the artist says pointing to the apartment's unique geometric crown molding. The pair has since painted it white, making vivid colors pop up against the parquet floors in one area and white marble in another: an Yves Klein blue couch in the living room and a cinema red carpet red rug in the bedroom.
The penthouse was a far cry from their previous tiny one-bedroom apartment in BGC, a rarity in the Metro Manila real estate market. So when the opportunity came, they jumped on it—despite having to hop and skip one more floor from the last elevator-serviced level. "We had to carry everything ourselves one extra floor," Mano says. "Get movers, guys," Jan adds.
READ: Home for the holidays and every moment in between
---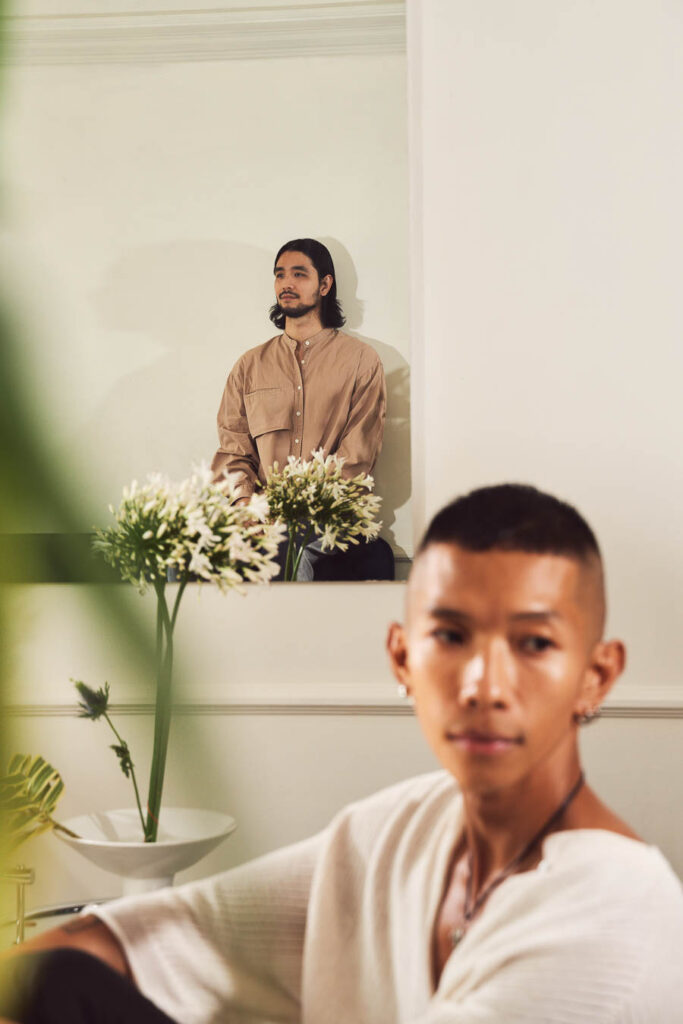 How important was it for you to have your own space in relation to your lifestyle and your work?
Jan: Well, I guess for me, we moved to work from home. So it's important to have that space where I can do my work but also share it with friends.
Mano: Basically to also have a bigger space to do our work and to thrive personally so we can create a space that's comfortable, that's also inspiring, and have enough space to do personal projects in. And like Jan said, to have friends over. Because we have a lot of friends who live in the building, there's a sense of community. We moved here during the lockdown, so that was a time when we can't go out, can't see people, because this is basically like a bubble for us. Para hindi namin masyado mafeel 'yung lockdown vibes kasi we always hang out together.
What's the best thing about living in Poblacion?
Jan: First, people didn't really want to go to BGC to visit us. Here parang it's mas central, it's easier to go to.
Mano: Yeah, things are happening everywhere, it's so easy to meet people and see our friends. During the lockdown, Poblacion was so quiet, walang ganap, because all the places were closed. But parang 'di rin naman namin siya masyado na-feel because all of our friends are here (in the building) anyway.
Jan: In Poblacion, we hardly go out. All our friends are here na. But, of course, when our friends play, like si Judd [Figuerres] or si Butta B (Bea Te) plays around Poblacion, it's easier to go.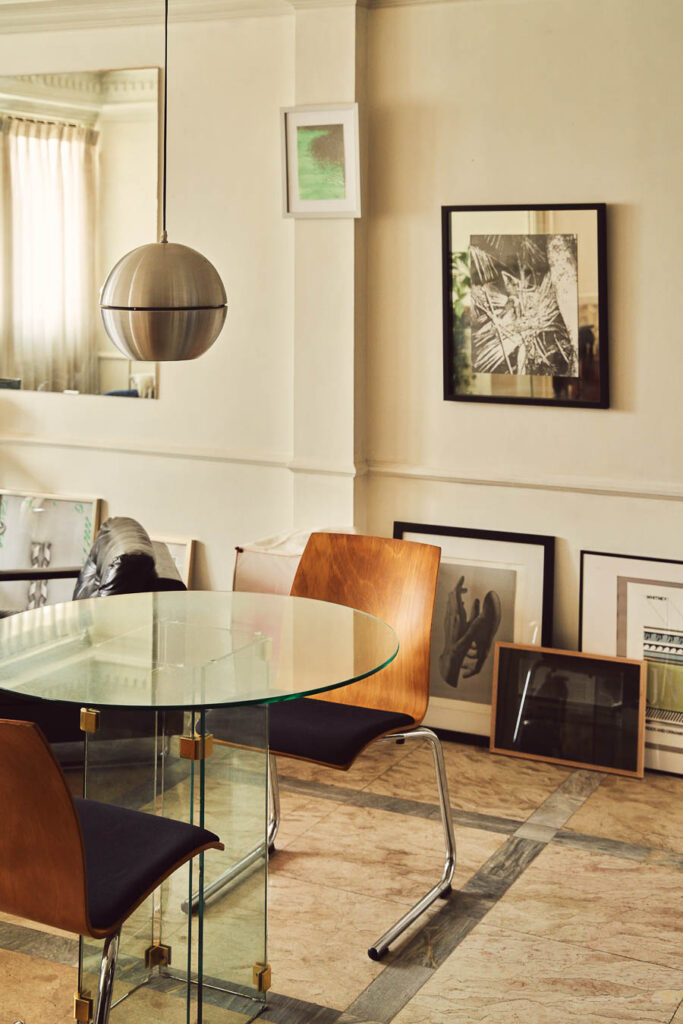 What was the vibe you were going for when putting together this space?
Jan: We built around the space lang.
Mano: We're both very visual people, so we get inspired by the things we surround ourselves with. So I think that's number one. Number two… is there a number two? [laughs]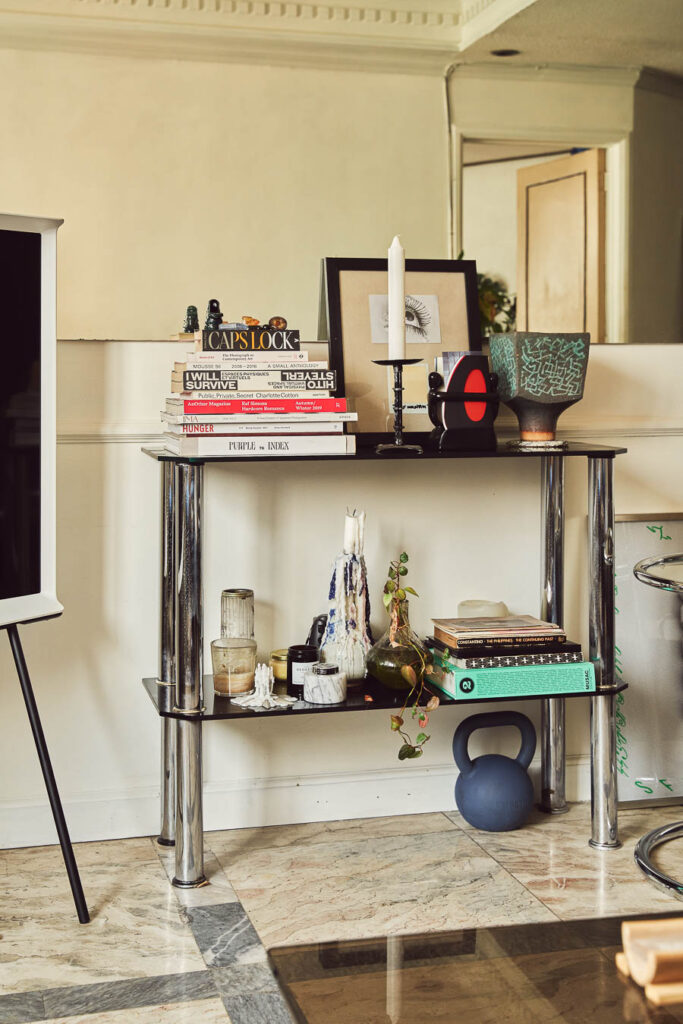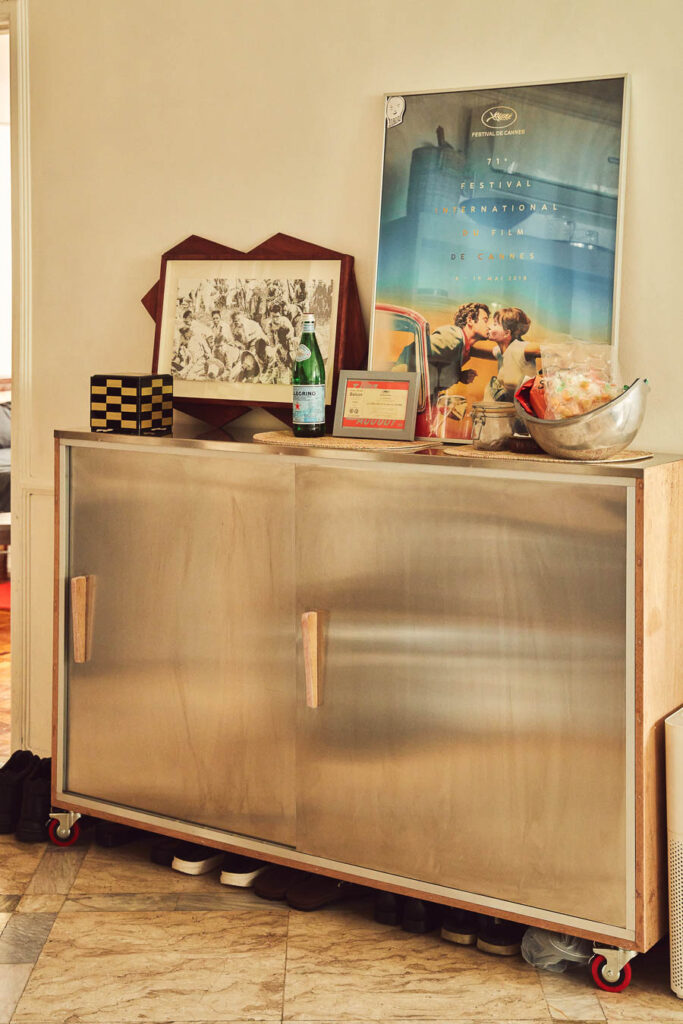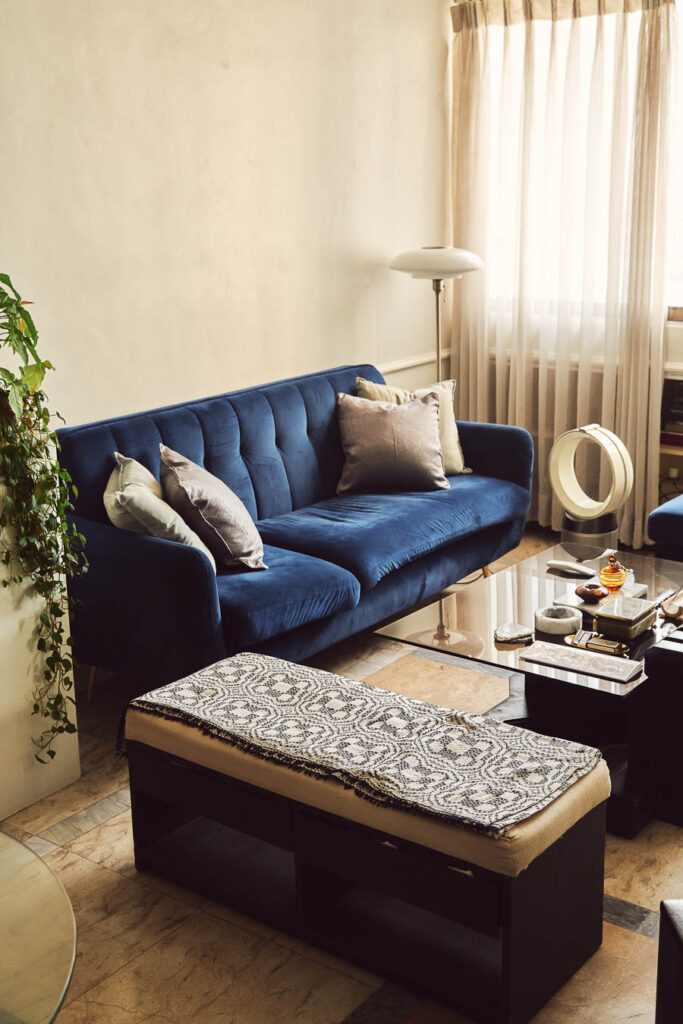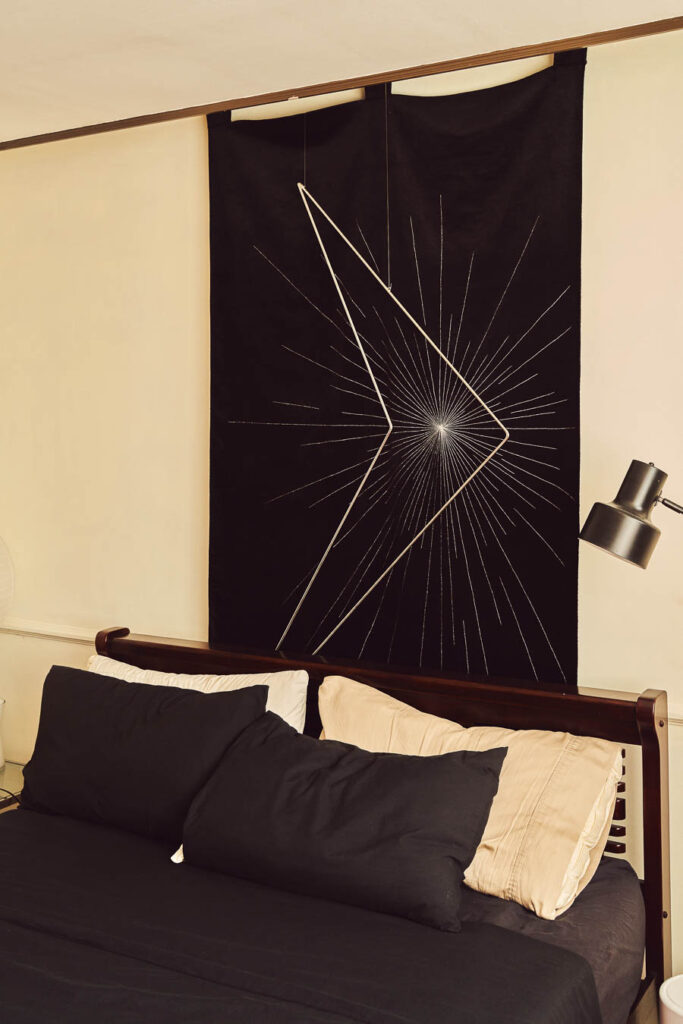 I guess things that make things comfortable and homey. Right now malakas 'yung araw but at night it gets really cozy here, and I think 'yun 'yung pinaka-[non-negotiable] namin ni Jan, that it's cozy. There's no design brief. Though we like collecting a lot of like, most of our stuff here are old stuff from our own houses, second-hand pieces we find online–
Jan: –or stuff from travels
Mano: So mga ganun. Basically, just things that inspire us.
What are your favorite parts of your home?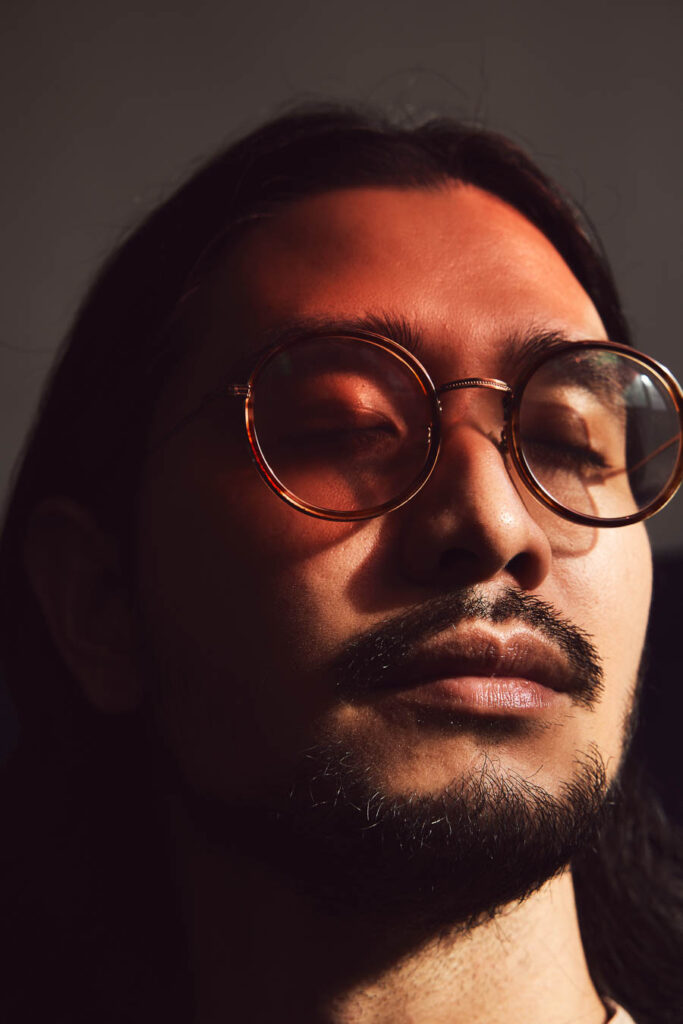 Jan: This studio work area that we also turn into a dining space when we have people over. And my favorite activity here now is hosting, having dinner parties with friends. Nung pandemic, other establishments are closed so we had to make do with the space. I think I discovered I liked that better—hosting—kasi mas intimate. Before, parang I'd hang out with friends sa bars or clubs, pero alam mo 'yon, ang daming nangyayari. With dinner parties or having people over, you learn more about them, mas personal. Also, we work here din.

Mano: It's the most active place. It changes a lot.
Jan: Yeah. Working on different projects, I also bring my team here sometimes. So 'yun, here 'yung pinakamaraming interactions.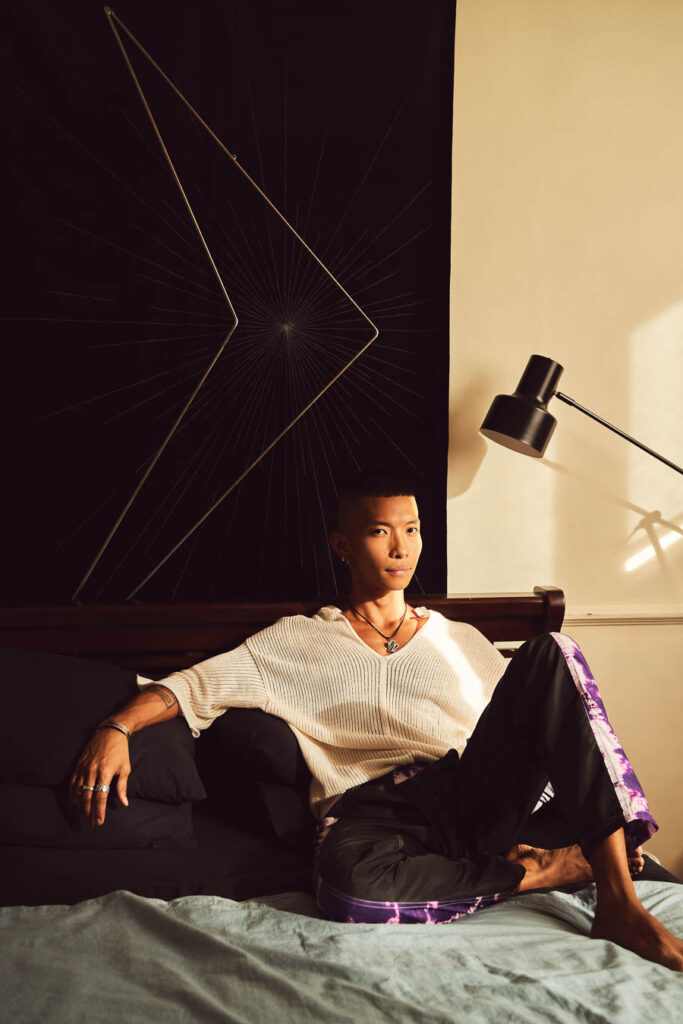 Mano: Ako naman, before we even moved here we would visit the building because we had friends who lived in this building na before. 'Yung pinaka-crush ko talaga 'yung view nung mga units here. Basically, you have an unobstructed view of—What is this district? CBD. This view also kind of informs how we design the space, or how we set up things.
A lot of the pieces we get here are kind of like inspired by what you see outside. 'Yun talaga yung favorite ko about here. The view. It's so hard to look for a view like this in Makati. And because our surroundings—Poblacion—are so active, parang naging project namin ni Jan 'yung to make a cozy space for us. I think that's why we never really go out anymore, we just hang out here.

Read more related stories

Fed Pua is a big ball of energy in chunky boots and an oversized sweater—a collectible Stockholm 1956 Olympics sweater to be exact. On eBay, it is currently listed at $299.99. (You really don't want to know how much that is in Philippine pesos. Not in this economy.) But Fed is not too precious about it, the sweater that is, or any of his prized hauls on display at his vintage shop It's Vintage's new location at Casmer Bldg. in Salcedo St., Makati.
As he welcomes me together with his best friend slash fellow shopkeeper Miguel Enriquez, horchata in one hand, Fed motions for me to sit on a neat pile of folded souvenir clothes, nostalgic T-shirts, and acid wash denim jackets from his first love Factory Boy. Yes, you can sit on it. Heck, you can even take them if you want, he jokes (obviously).
The new shop is just a few blocks away from its old location, which closed earlier this year. It was It's Vintage's home for two years. The store prides itself on stocking hard-to-find and one-of-a-kind pieces: Hawaiian shirts, bootleg T-shirts, band merch, cheeky statement tees, souvenir jackets, and more.
Before It's Vintage, Fed was the creative director of Factory Boy, which channeled the same retro feel, except the pieces are new and not—for lack of a better word—vintage. For a while, to own Factory Boy pieces meant being in touch with and attuned to local youth culture. But Fed too soon grew out of that.
In the wake of Factory came his new brainchild Atomic, a line of reworked pieces from the Y2K era. Think denim corsets, shoulder bags; halter tops made out of Harley-Davidson T-shirts. It's nostalgic, but Fed infused it with something more specific: Pinoy pop culture. Its newer pieces include a chore jacket embroidered with Jollibee mascots.
Atomic pieces join the assortment of clothes, accessories, jewelry, and art pieces (sadly not for sale) that are in-store at It's Vintage. Weeks after trying on cute (some pieces literally seem like they are meant for toddlers) colorful vest sweaters and forcing myself to fit in a kilt a size too small for me, I caught up with Fed to talk shop and everything in between.
Hi Fed! How are you doing? Congrats on the new store location. I hear it used to be a pawnshop. What made you choose this location and did you find any foreclosed jewelry left behind?
Hey king! It's been really busy since we opened but ultimately just really overwhelmed with the love and support everyone has given us.
Yup, it used to be a pawnshop. I chose the space because I instantly fell in love with the building. I had always been a huge fan of Leandro Locsin's work and to finally have a chance to set up shop in an unpretentious Brutalist structure was a personal dream.
No jewelry unfortunately but fun fact: our current fitting room is where the vault of the pawnshop used to be!
Tell us about the space. What's different, what stayed the same? Do vintage hunters get to see you in the store every day?
We gutted the entire space and tried our best to show the history of the building while infusing the narrative of the store. There were these acoustic panels at the top to make the space look more like an office which we removed and saw these incredible curved concrete slabs from the original structure. It felt like discovering a fresco that hadn't been seen in decades.
We get people from all demographics in the shop, which I love! Vintage connoisseurs, tourists, office workers, balikbayans, celebrities, families, etc. We always strive to be accessible while introducing the concept of a curated vintage store in the city. Some love it, some hate it, some still don't get it, but it's all part of the fun of running an independent store.
What can we find in the store? What's one item you regret putting up for sale and wish you kept for yourself?
It's difficult to give a specific category since the product range really changes depending on what I am able to source abroad since everything is handpicked. We have the dream closet from bootleg Versace Jeans from the 2000s, designer knit vests from the '80s, or anime promotional tees from the '90s.
Earlier you launched a new brand, Atomic World, which is also being stocked at your new location. Can you tell us more about it and how is it different from your previous brand Factory and your forever baby It's Vintage?
I launched Factory Boy when I was still in uni and I think that I have grown so much as a person and a creative since then. Atomic, I'd like to think, is a more polished and self-realized brand.
Atomic also definitely takes cues from all the vintage clothing I source for It's Vintage while subversing it to something more personal and more Manila cool I like to say. It's also distinctly different from my other brands because it's the only one that picks up inspiration from my life in New York City so it has a lot of that rebellious youthful energy infused in it.
We see you have a lot of valuable art prints and pieces as well as collectibles. Can you go over them and what's the security plan to ensure they are not taken away?
Don't even try cause we just installed our CCTV camera! *laughs*
What I noticed when I go to vintage shops abroad is the format of just sticking any kind of old poster in the store and calling it a day. I wanted a place that felt more personal to me which is why all the decorations are pieces that I personally owned.
There's a skateboard plastered with anime figurines which was a sort of cathartic art project for myself and an old American flag paying homage to the Americana vintage stores I'd frequent in Shimokitazawa that definitely inspired me to launch my own store.
[READ:
We visited these underrated Japanese cities—and here's why you should, too
]
Even the counter and tables around the store are a nod to Japanese architect Kengo Kuma who I adore. I guess the store is how my brain would look like if you entered it.
How often do you stock up on new stuff and can I see the backroom if I suspect you're hiding the good stuff out in the back?
I'm always sourcing so there are always new things out every week. It's really fun because it always feels like Christmas in the store when a new shipment arrives. And it's all personally handpicked by me so best believe the items are always fire!
Our vision of the store is definitely to be a safe space for our communities (both artists and the LGBTQIA+ community).
You cook, right? You did Comfort Kitchen for us! I love gluten-free cookies during the opening as well as the horchata Miguel whipped up in lieu of coffee (Hi Miguel!). Are there plans to have things other than clothes in the store? Perhaps food?
We've been planning to create some intimate events with friends such as independent zine launches and listening parties. Our vision of the store is definitely to be a safe space for our communities (both artists and the LGBTQIA+ community) and there aren't a lot in the city, unfortunately. We love collaborating with like-minded individuals because, at the end of the day, it's the people that make our small neighborhood shop special.
---
It's Vintage is located at Casmer Building 195 Salcedo St, Makati
Open Thursday to Sunday, from 11 a.m. to 6 p.m.
Read more related stories

Read more related stories

Read more related stories