In an alternate universe, Micaela Benedicto is standing outside of a long, concrete house by the ocean.
With the windows folded to the sides, the structural marvel opens up and transforms into a giant gray frame for the picturesque landscape. She's content with what she's done, and she takes a photo to remember that.
She stands in front of a synthesizer in another universe, twisting knobs and pressing buttons in search of the right sound. Eventually, she hears it. She then clicks the record button and shares it with Mario Consunji, the other half of the synth-pop duo Polyphonic Vision.
In another timeline, she stands next to her reflection. A mirror sculpture is perched on top of two wooden cabinets. Soon, the crowd for the rave will arrive. She gives the sculpture one last adjustment before setting up the projector to illuminate it.
But out of all of these universes, it's in this one that Benedicto has done everything, everywhere, and all at once. "Sometimes I don't really see them as separate things," she says referring to her art and architecture practices. "Rather, [they're] just things that I'm inclined to do. I now just see [my] entire breadth of work as my art practice."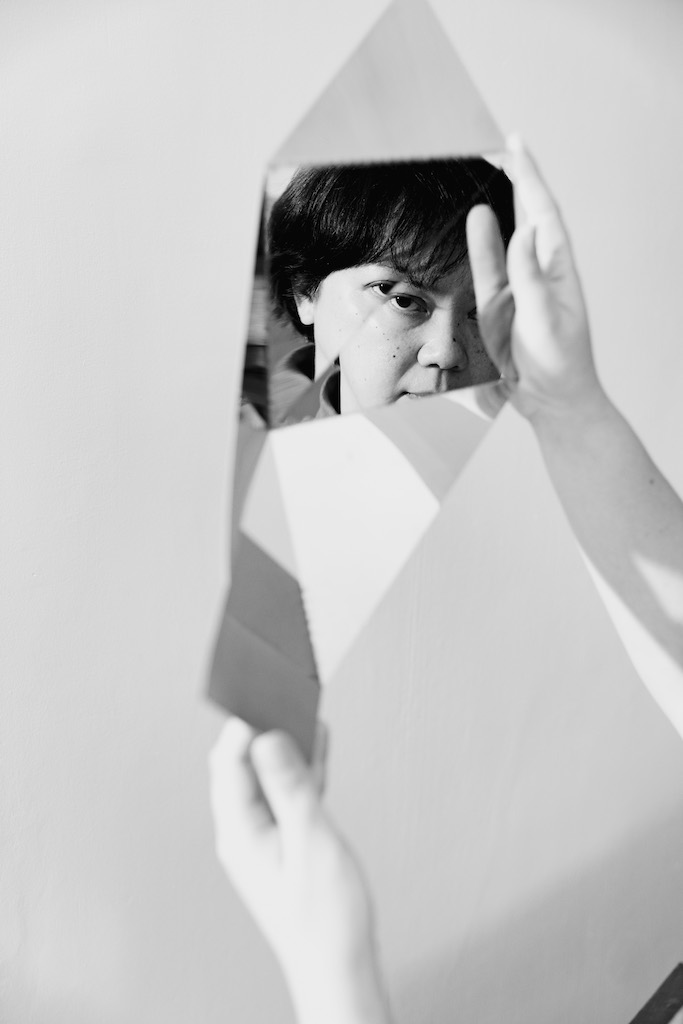 The ceiling was one of the few things that Benedicto had to alter in her new studio. As she was moving in, the architect noticed that the windows above were being cut short by the ceiling—a testament to her keen eye for detail. "I know right away if the space feels right," she says. With the obstruction gone and the ceiling back to its original height, the light now enters generously.
This decision to move her practice out of her apartment and into a proper workspace was always a part of the plan. A global pandemic, on the other hand, wasn't. But with more work coming in and in-person meetings being scheduled, Benedicto decided that it was finally time to follow through with her plan. The result: a new studio tucked within the alleys of a creative compound, one that could host more people.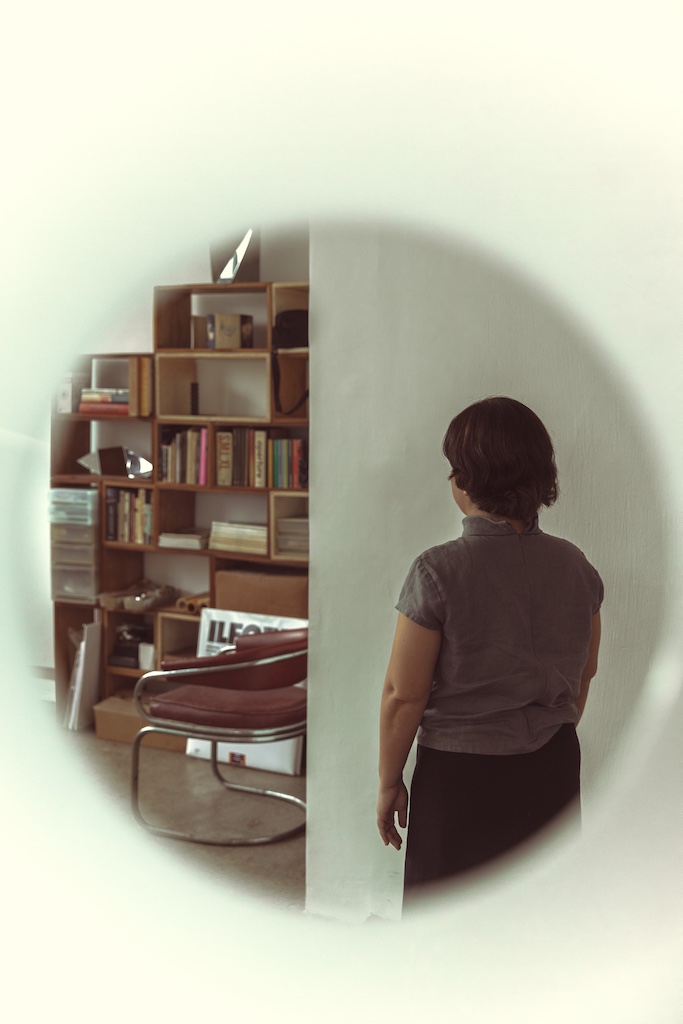 "I think this new one feels like a better space to collaborate with my small group of young architects. I can also bring more visitors in. I'm thinking I could even have an open studio sometimes and show works that don't make it to the exhibitions."
It has only been a few weeks since the move, but the studio is already exhibiting signs of a space well-lived. Every surface in the studio is busy. Hardbound design books, zines, and trinkets fill the wooden modular shelves. But what ultimately defines the space are the tools of Benedicto's trade and the sculptures that are spread throughout the studio.
---
Micaela Benedicto is an architect by profession. It's actually quite easy to tell whether a structure is designed by her and her team at the MB Architecture Studio. The buildings have a distinct angular form built with heavily-textured concrete that just begs to be touched, like the Z House, a Brutalist private residence, or the Fully Booked Flagship Store in Taguig. Moreover, the spaces are always mindfully made. "In architecture, we work with people's needs, conditions and constraints, and the environment; it's a different art in itself," Benedicto explains.
When asked about her interest in architecture and the geometry in her work, Benedicto brims with memories of her mother and their old home. "The house we grew up in was sort of modern in her way of thinking of what was modern. So it was very unlike the other houses of my friends or the ones in the neighborhood," she recalls. "I think I may have inherited it somehow. Everything is just minimal and full of shapes."
It didn't take long then for this inclination to manifest in another medium. "I had a chance to do exhibitions over a decade ago after being invited to some group shows, so I experimented with smaller works, with photography and sculpture."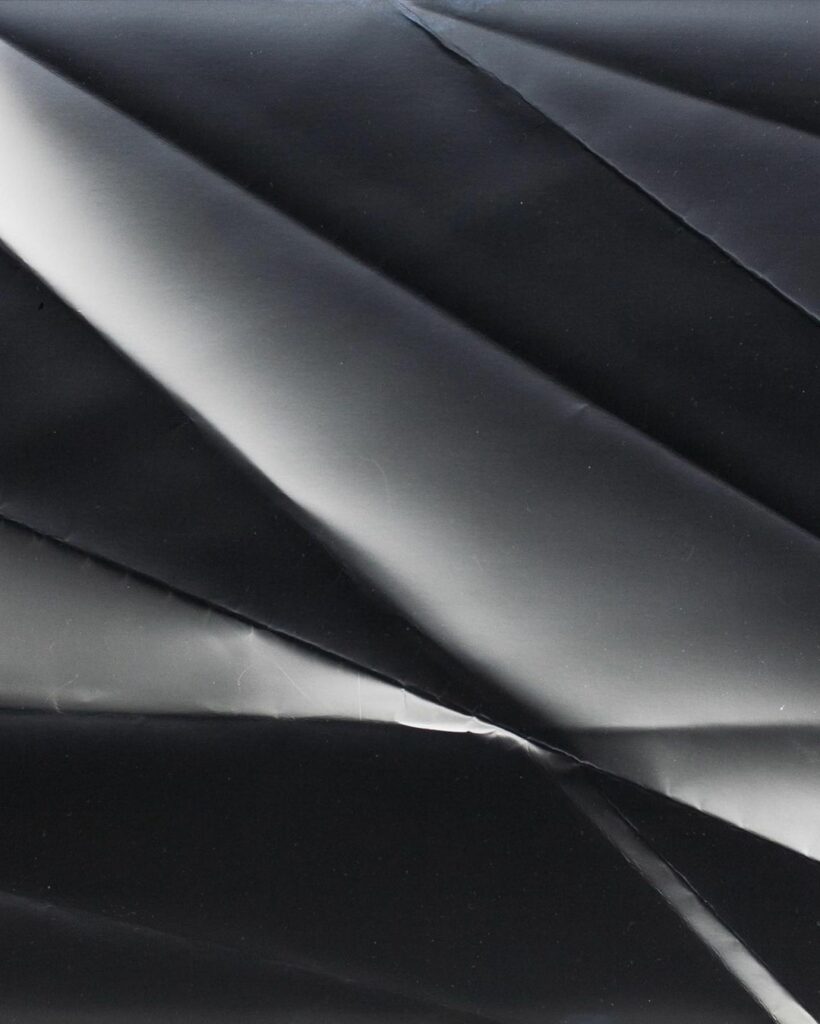 Even in her sculptures and photograms—photo paper folded temporarily before being exposed to light—Benedicto's architectural sensibility is still present. Visitors can even play a game of "Is It A Mock-Up House or A Small Sculpture?" with the models displayed in the studio. And while sculpture and architecture both deal with three-dimensional forms, the architect learned to approach them differently. "I think my sculpture work involves a different thought process."
With materials often used in architecture like stainless steel sheets and other reflective metals, she creates geometric abstractions that invite the audience to interpret those forms. "So I guess I'm doing this to touch on things that I don't get to investigate in doing architecture work. Sometimes I see them as one thing being fantasy, the other, reality."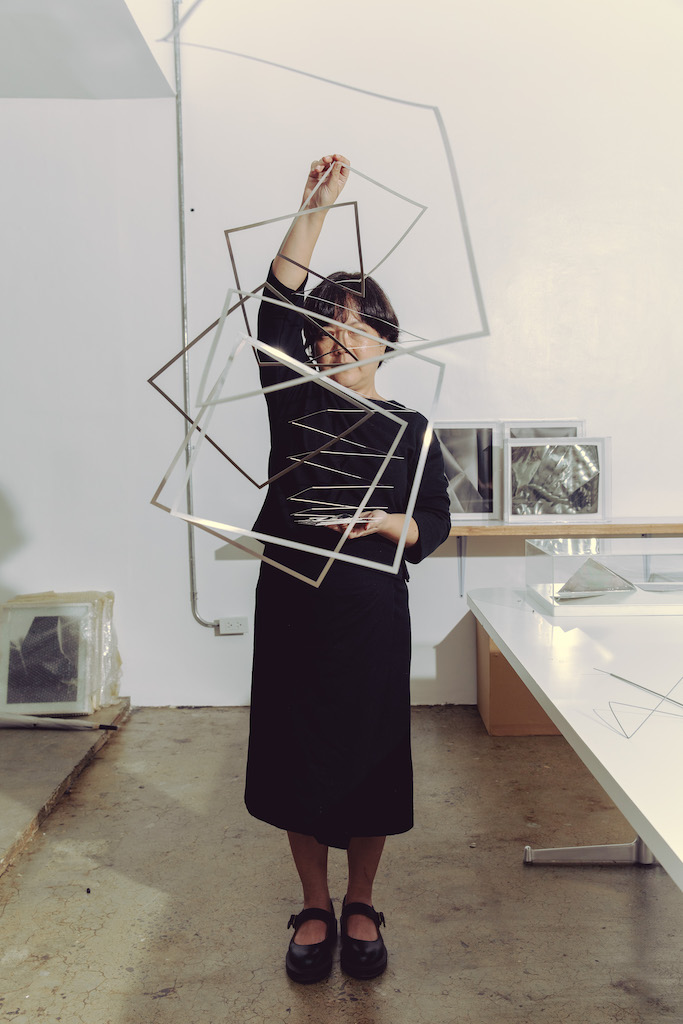 This fantasy was brought to life in the second iteration of Kaput. The rave featured several artists exhibiting their works in a live installation. Here, Benedicto's mirror sculptures were met with Derek Tumala's video projection that resembles metallic scales in constant flux. "I really like her mirror stainless steel works and have been wanting to do light refractions," Tumala, who also curated the rave's art selection, says. "The theme at the last Kaput was 'Utopia.' In a way, I wanted to emulate that in the artists I selected, who do abstraction and conceptual work."
Kaput 2 Utopia back in July was a busy day for Benedicto. Not only was the rave held in her new art studio, it also served as the launch for their new performance space 1F Projects—a development that occurred out of sheer coincidence.
If Benedicto's studio was envisioned as a space for work, the room next door turned out to be a space for play. With its wooden floor and wall panels, 1F was once used as a music studio believed to once belong to composer Louie Ocampo. The multidisciplinary artist saw this as an opportunity and enlisted the help of long-time collaborators, her brother Michael Benedicto and Consunji, to acquire the space. "Initially, we thought it would just be a private space the three of us could share to work on our music, then we figured it would make a good venue for small performances, too."
A play on the word "if", 1F Projects embodies the meaning of the conjunction: a place pregnant with potential. "I wanted to keep their vagueness and blur the limits of their use as workspaces. I never had a conventional office anyway," Benedicto says as she talks about the two neighboring studios. "I mean, there are no rules that say that it can't be a dancefloor or an exhibition space."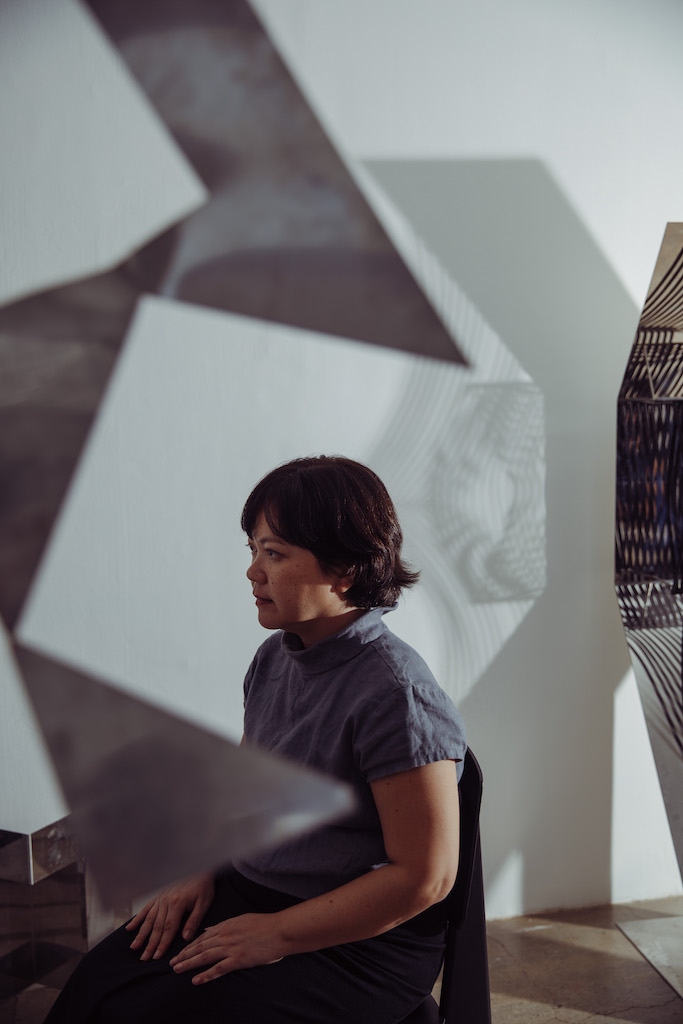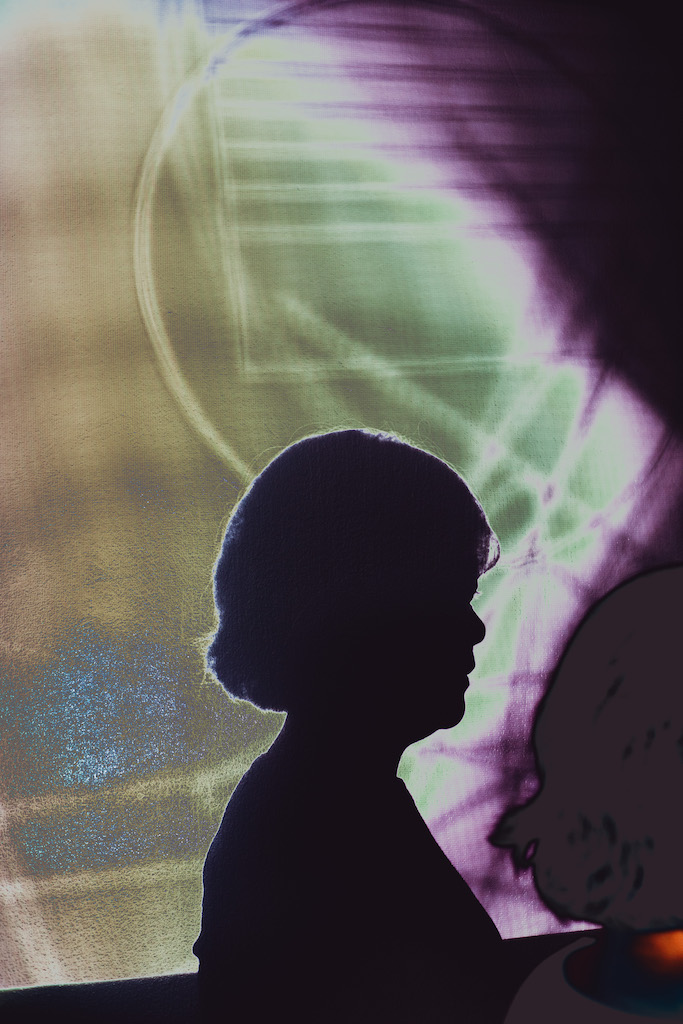 From a space noir play to a show about the desert and the loneliness that comes with it, the trio already has a lineup of events planned out. Benedicto, on the other hand, is going back to her roots. "I am working on one called 'Echoes,' also a music show, and have the musicians play off what that could mean—repercussions, fading repetitions, traces of a past."
When she isn't constructing livable art, the artist-architect makes music. In fact, one of the things she looks forward to with 1F is how she can escape to the next room at the end of a busy workday and just play the piano. "All my daydreams as a child have something to do with music, as are my memories as an adult," Benedicto says. In addition to her collaboration with Consunji for Polyphonic Vision, she also makes music with her brother as the dreampop duo Outerhope.
"Composing a piece then listening back to it is the greatest feeling," Benedicto says as she explains why music is the most special discipline in her creative practice. "And I like this idea that it is easily recordable and accessible; the idea that decades from now or even after I'm gone, someone would find our record and listen to it. It's a time capsule—a space wherein you're alive."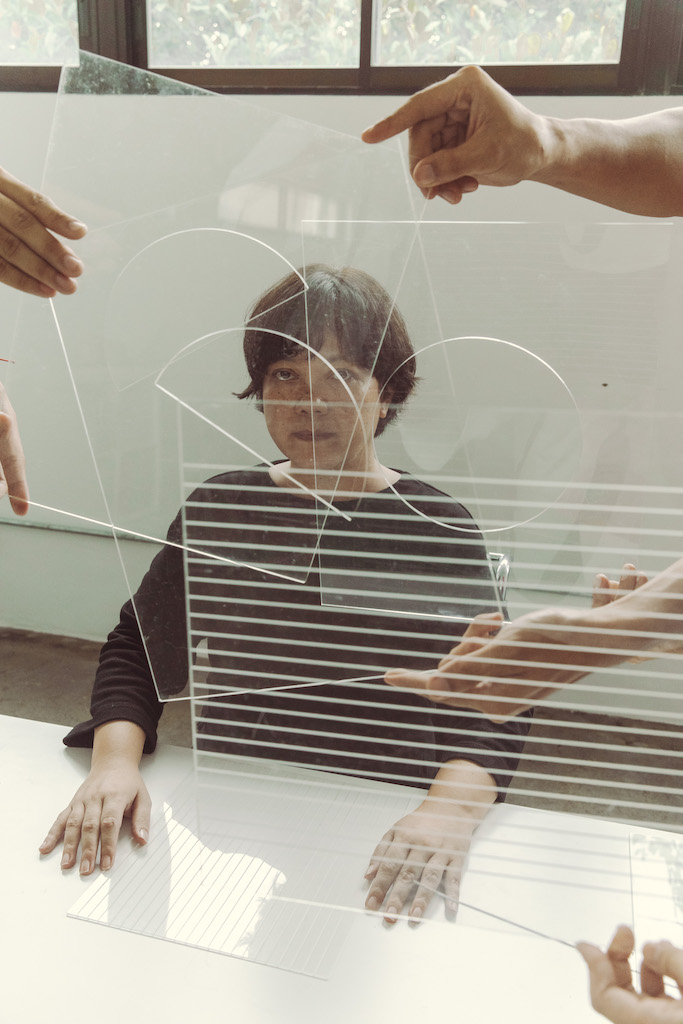 The thing about Micaela Benedicto is that she remembers things with such fondness and fervor.
Her Instagram is a perfect example of this. As she was in the process of moving to her new studio, she posted a love letter to her old space in Cubao. "It was a great era, that time we were there: we were always just making stuff, we ran our own music label, threw crazy parties, etc. Things were not so stable; there were plenty of struggles for sure. Still, the earlier half of our stay there (2010-2014) might've been the best time I will ever have in life, and that's okay."
Her posts about her trip to Tokyo even led to a self-published book with graphic designer and artist Paolo Lim. "[Writing] is something I really enjoy doing—from the stories to even just posting about something that I did like a house or some art."
The photograms and sculptures have not only been a way for the multidisciplinary artist to engage with memory, they've also been a way to explore its nuances. "[The photograms are] like an exaggerated way of seeing a photograph. So it's only certain aspects that you see," she explains. "Just like with any picture, it's not complete. I guess what I learned from that is that it's the same as memory. It's incomplete and very selective. Some things are gone; some things have disappeared."
Memory is indeed fallible. The stories they contain are subject to time and perception. That's why Micaela Benedicto in this universe continues to make art. "Sometimes, I think that all my work are essentially stories, and they just take different forms." For Benedicto, to tell stories is to remember.