Filmmaker Mike De Leon confirmed that we won't see his much-anticipated comeback film Citizen Jake at this year's Metro Manila Film Festival (MMFF).
"Corruption has returned in full force to this festival that purports to make children happy during the holiday season, a euphemism for profit and greed," the filmmaker wrote in a Facebook post on Oct. 31 after a reliable source told him that his film is in should he wish to join the festival.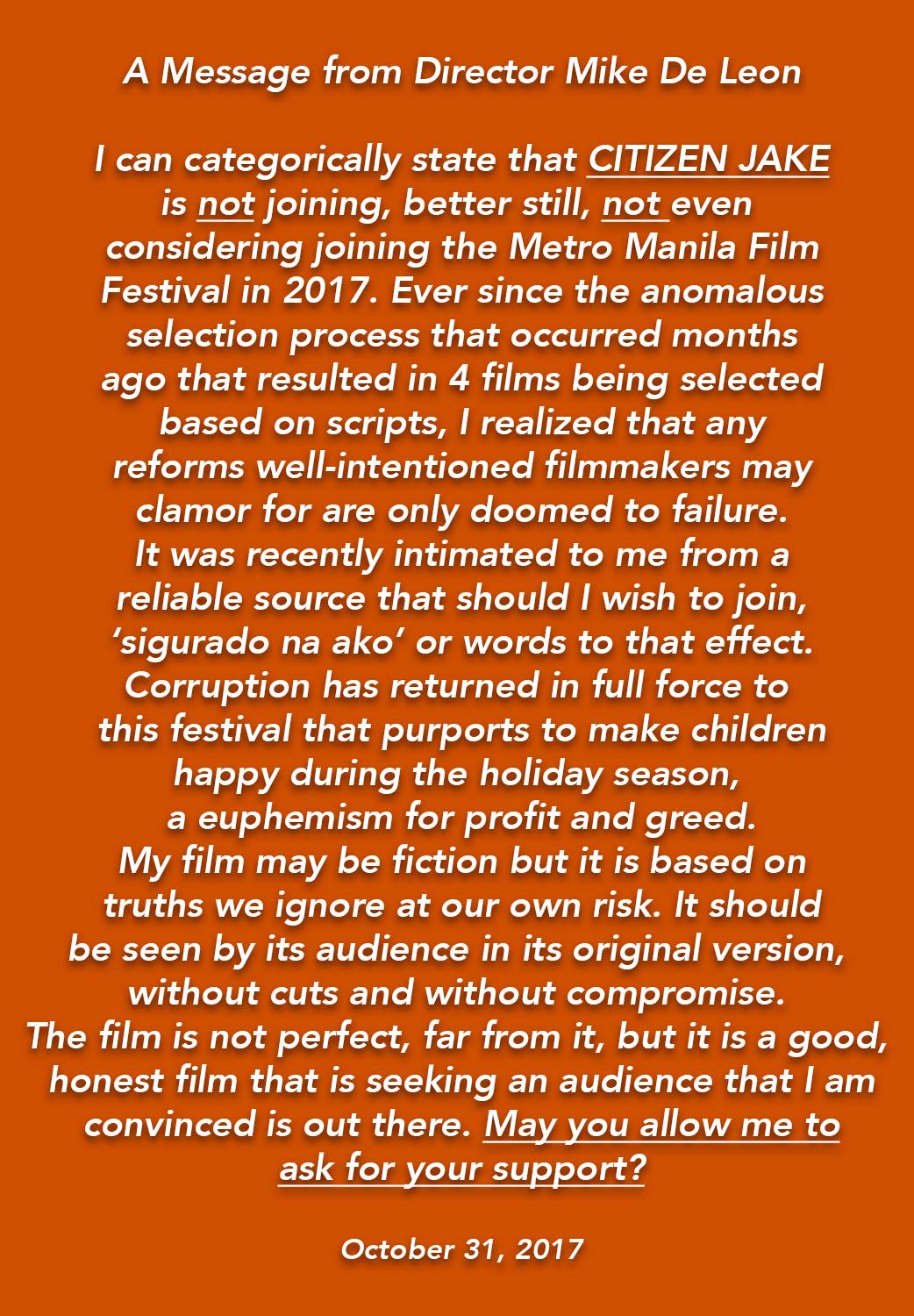 With Citizen Jake no longer part of the festival, De Leon further questioned the MMFF's anomalous screening process and criteria on Nov. 4 through another Facebook post. But, he says, "the biggest problem facing the industry right now is its refusal to acknowledge the rise of independent cinema as a viable alternative to the mainstream films of the big studios."
Festivals like Cinemalaya, QCinema, and Cinema One Originals uplift independent filmmaking and the quality of films in general, but what makes such fairs special is they provide funding to small production houses, writers, directors, and producers to create insightful movies that are not afraid to push the envelope.
"The MMFF does not do that, which makes it, ironically, a film festival in the classic mode, one that should select its entries among finished films and finished films alone."
In July, De Leon debunked various assumptions that Citizen Jake will join the MMFF. "One, a film festival entry should always be a film, not a script. This is just common sense. Two, aside from a handful of names, the identities of the…members of the selection committee were never revealed to the public. Why? Who are they? What are their credentials?" he said.
"Ever since the anomalous selection process that occurred months ago that resulted in four films being selected based on scripts, I realized that any reforms well-intentioned filmmakers may clamor for are only doomed to failure," De Leon stated.
If you'll recall, there were changes with the MMFF selection process in 2016. Last year, the executive committee only accepted finished films and took out commercial viability from the criteria. But the festival run lasted only for 10 days instead of 14. Despite that, filmmakers and film enthusiasts alike celebrated the strand of change.
The change, however, was superficial. MMFF's old screening process returned this year including commercial viability as part of the criteria. This led to the resignation of various executive committee members including screenwriter Ricky Lee, film critic Rolando Tolentino, and journalist Kara Magsanoc-Alikpala. Later on, the film festival drew further flak after releasing the first four entries they've chosen, which reflect the movies shown before 2016.
Right now, MMFF seems to be a hopeless case. It seems like no reforms can save it. While filmmakers and film enthusiasts want to see MMFF back to its heydays, we must also remember that there are other avenues where we can experience more meaningful films. As De Leon said, "In a developing country like ours, films or even television should play a more responsible role in enriching popular culture. This is our country, this is our cinema. Let us demand to be heard. It is not a privilege granted to us by the ruling elite, it is our right."
Header image courtesy of Citizen Jake
Read more:
Why do local films flop?
Five films you should watch if you enjoyed Jerrold Tarog's Bliss
Can Mikhail Red's Birdshot be the first Oscar nominee from the Philippines?
What it's like to work for the movies and TV, according to cinematographer Neil Daza
Writer: OLIVER EMOCLING