Keeping the cement-tile business alive
Machuca Baldozas has been in the business for over a century
Mar 3, 2017
"If you'll go there to the showroom, I have there a pile of all the cut-outs. I can show you…"
Speaking to me is Elvira "Vivian" Machuca, wife of Luisito Machuca Sr. "Whenever I see papers, magazines, newspapers, [I say] 'Ay Machuca!' I cut it out and then I put it in the photograph album." For a name as popular as Machuca, it comes as a surprise that Vivian takes the time to save clippings of their name mentioned in paper. We're sitting in their factory office in Parañaque, the rain stopped pouring for the time being. It's nearing noon, and the Machucas are about to leave to return to their showroom in San Miguel, Manila. "I come here three times a week. Before, I used to come here every day. It's far, sometimes the traffic takes me two hours so I can't take it anymore." Vivian has retired as manager, instead taking the role of consultant to the two new co-managers, who are also her sons, Luisito Machuca Jr. and Jaime Machuca. Jaime is sitting nearby, quietly listening to our conversation. As Vivian recalls the days she took over the family business during the late Luisito Machuca Sr.'s passing, Jaime interrupts: "Think of her as a Cory Aquino."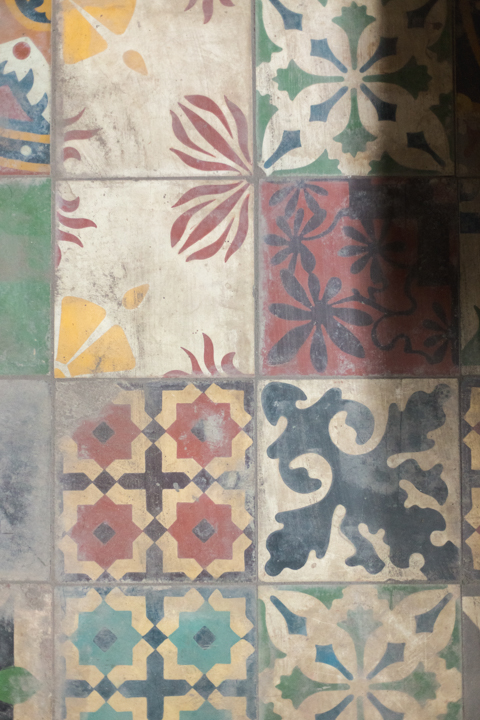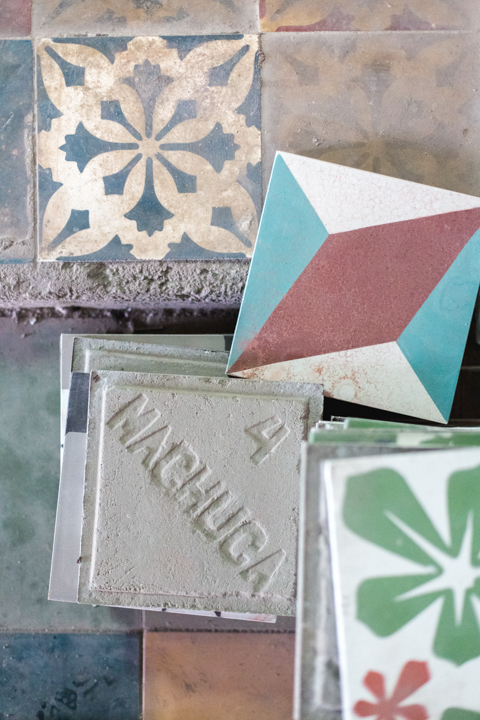 The Machucas have kept the tile-making business for more than a century, beginning with Jose Machuca y Romeo, or Don Jose as they refer to him, coming from Spain to Jaime and Luisito entering as the fourth generation of Machucas to handle the business. Luisito Jr. is an architect by profession and is in the middle of making new designs, while Jaime is in charge of business operations. Both are relatively new to the business; Jaime, in particular, is a fresh graduate but is not afraid in taking on a century-old business. "I wasn't forced to [join the family business]. I really wanted it," admits Jaime. Under their management, they have already made some changes to make work more efficient while retaining the traditional method of cement tile-making: no machinery, no application of heat.
More than a century has passed and Machuca Baldozas still operates. The orders are still coming by the dozens, the tiles being shipped out by the thousands, and the tile makers still pressing their palms brushed with fine sand, working like clockwork. Specifically, like an heirloom timepiece: going through the motions with all the finesse and none of the jarring interruptions—the same actions that have earned the Machuca name all these years.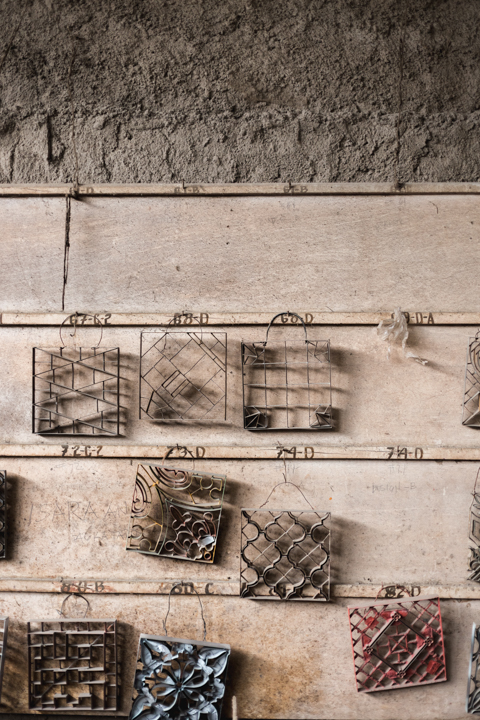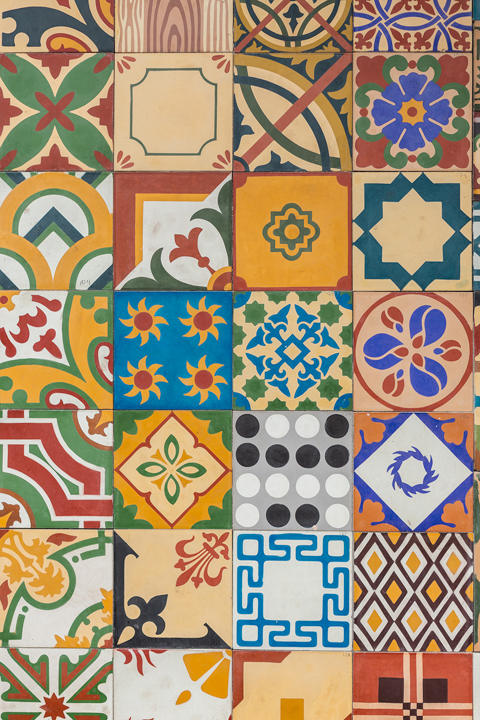 The work of a tile maker under Machuca is painstakingly time-consuming, but to call their work mechanical is callous judgment. Made by hand, a certain level of care accompanies each finished tile. One mistake leads to a rejected tile, and with one tile maker producing 100 tiles per day, progress can be slow. Even then, each tile takes several days to be fully cured. Each tile maker is assigned to the same mold of tiles for a set amount of time, and the repetition can lead to mistakes, but experience tells that the tile makers hone their craft through the trial and error. Most of these tile makers have worked in the factory for years, and even then they are not free of mistakes.
The designs were brought in by Don Jose when he arrived in the Philippines from Spain: Mediterranean-inspired, with geometric and floral motifs that evoke a rustic charm. At present, almost 50 pages of tile designs have been lost due to weather and age, yet the few that remain are more than enough to accommodate their clients. Custom designs are also accepted.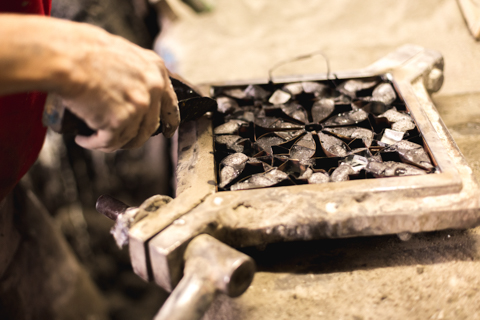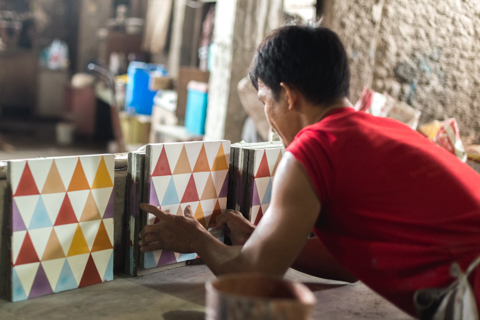 "The thing with cement tiles is that you can never get them perfect. If you inspect the lines, you'll see they're not perfectly straight so I guess that's what we mean by unique." Jaime Machuca
The tiles stand out on their own and are easily recognizable whenever seen to the point of ubiquity. Yet the tiles are anything but regular. "The thing with cement tiles is that you can never get them perfect. If you inspect the lines, you'll see they're not perfectly straight so I guess that's what we mean by unique," quips Jaime. The irregularities in the lines, the subtle changes among each tile due to their handcrafted nature is what gives Machuca tiles their distinct beauty. Each tile, made by the hands of a tile maker, has its own personality that adds to its appeal.
A huge number of residential and corporate spaces have been ordering from Machuca Baldozas for years; from big fast food chains and historic chapels to local specialty stores and fancy restaurants, the Machuca tile has made its way to floors in the country. Through it all, the Machucas keep their heads low with one goal in mind: to always please the client.
This story was originally published in Southern Living, August 2015.
TAGS: Machucas nolisoliph tile-making tiles