When I arrive at Toyo Eatery, where Richie Manapat currently bakes, he is already applying tension to the sourdough he made a day ago for the final proofing. He gets a rattan bowl, lines it with a hairnet, and dusts it with a mix of bread and rice flour. "If we use just bread flour, they tend to stick," he explains. The sourdough is then left to rest before it finally goes into the oven. "[Making bread] is not as glamorous as people think because most of the time, we're just waiting." Before this final proofing, the sourdough has undergone a long process, much like an act of creation: there was nothing, until life appeared. For Manapat, it all starts with pineapple juice ("The pH of the pineapple juice is just right to kill the bad bacteria") and organic rye flour. The mixture draws lurking microorganisms in the air to take shelter in the concoction, and the life of the starter begins. It should be fed and taken care of like one's own child.
Manapat allows me to touch the risen dough. Once pressed, the dented section slowly rises while maintaining the mark of my touch, an indication that the dough is ready for the oven. He then takes a pre-heated pot, which serves as the Dutch oven, takes the dough out of the bowl, and with a lame (a razor blade attached to a stick), slashes the dough then puts it in the oven to bake for 50 minutes.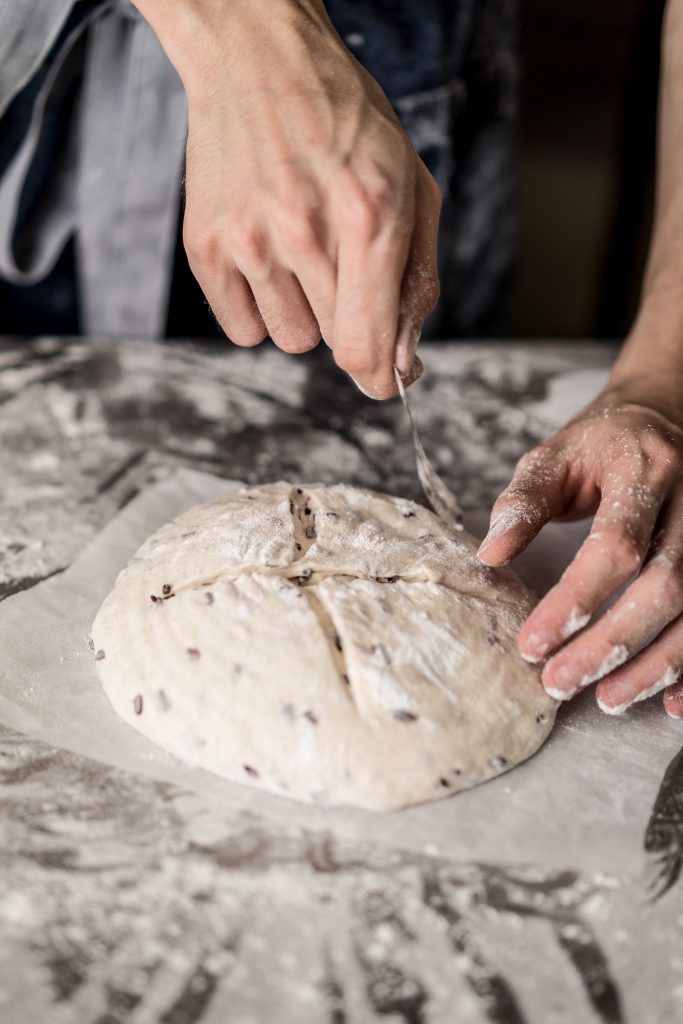 The creation and consumption of bread have drastically changed since its discovery in Egypt some thousands of years ago. From the accidental bread made with grains, water, and salt, most of the commercially produced bread we consume now—and this may be an overstatement—is without life, hence the rise of digestive problems related to gluten. Sourdough is the most natural way to make bread, as the community of natural yeast and bacteria breaks down carbohydrates and gluten, making them easier to digest.
Manapat makes two kinds of sourdough. One is infused with fermented black rice while the other is fed with organic purple corn juice. I ask him if he has to source his materials abroad and answers no, but is quick to add that he has to source most of the flours abroad. "We don't grow wheat in the Philippines," he explains a fact that frustrates him. Even though other crops can grow well in Philippine soil, local farmers still stick to rice even in times of drought. "Wheat is hardier than rice. Rice needs more water, and if you keep planting the same crop on the same parcel of land every time, the nutrient depletes," Manapat continues, citing Thailand, Vietnam, and Mexico as wheat-growing countries with similar weather conditions.
Another thing that forces him to import flour is the milling process in the country. "We actually have rules that require our flour to be adulterated," he says. Under the Republic Act 8976, it is mandatory to fortify rice with iron while flour has to be enriched with Vitamin A and iron before it goes to the market. "Although you are adding vitamins and minerals, these are not [the crops'] natural nutrients. We have [an already] naturally healthy product that wouldn't need all those additives," he explains.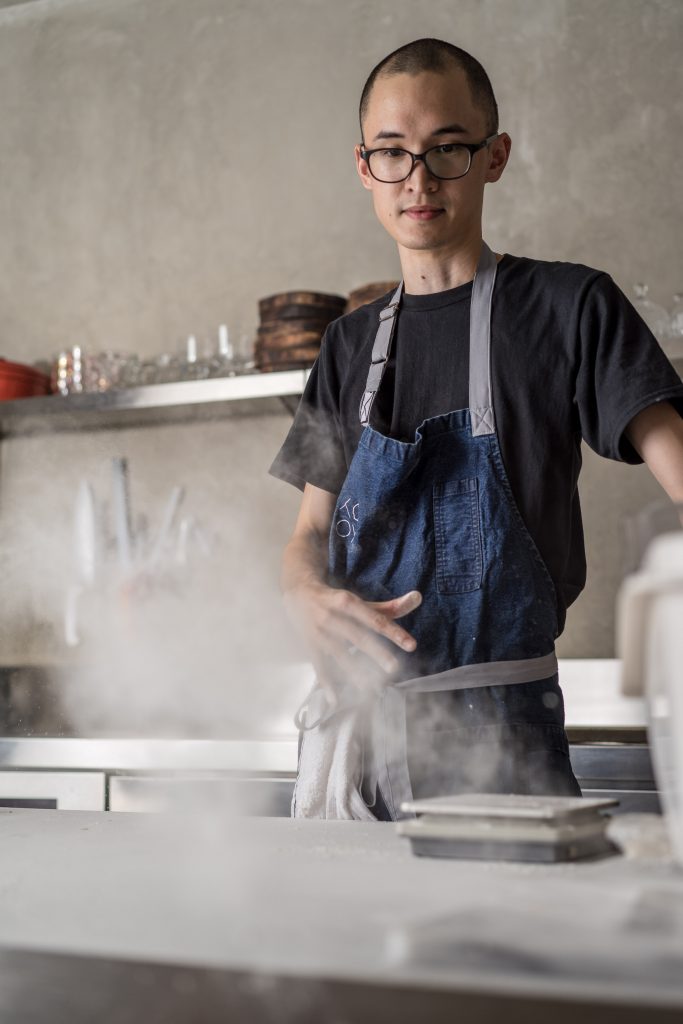 While wheat is not grown in the Philippines, Manapat finds hope in the new wave of local flours, like mango flour made from mango seeds, grape flour, and coffee flour. "Using a lot of organic rice in bread is good, too," he adds. There are other grains like millet that can be used to make sourdough, "but unfortunately, this highly nutritious grain is just used locally as bird or poultry feed, and I need to get my hands on some that hasn't been modified for chickens and birds to eat."
Manapat believes that the interest in sourdough is growing since he began making them two years ago. However, he feels it's not enough. Though there are a lot of coffee shops and restaurants serving sourdough bread in the Philippines, only those in areas frequented by foreigners are the ones that thrive. "People have to get rid of the notion that all bread has to be sweet and look exactly the same every time, as if it rolled off a factory line. I think bread bakers are seen as the least important of the back-of-the-house people; chefs and pastry chefs get all the attention. Does it make me less of an artisan just because I bake bread and not fancy-looking cakes and pastries?" He points out how, in local culinary schools, students weigh between becoming a chef or a pastry chef, not thinking beyond other professions that help keep a kitchen running. Days before our interview, he asked me to watch the "Air" episode of Michael Pollan's Cooked on Netflix, where a Moroccan community baker shares Manapat's vexation: "I'm a baker because I didn't go to school and my parents were poor, but long ago, this profession had a high value."
Manapat finally takes out the bread from the oven; the sourdough has grown into a fine loaf, riddled with holes in varying sizes. He has to let this newest batch rest for a while, so he takes a slice from one that was prepared the night before, the edge of the knife creating a crackling sound as it bites through the bread's crust. Then, he splits it into half and smells a crumb with his eyes closed. He gives me the other half. As I inhale, I smell a rich, complex aroma not present in regular white bread. I put it in my mouth; the moist, chewy bread has a flavor I have yet to find reference of.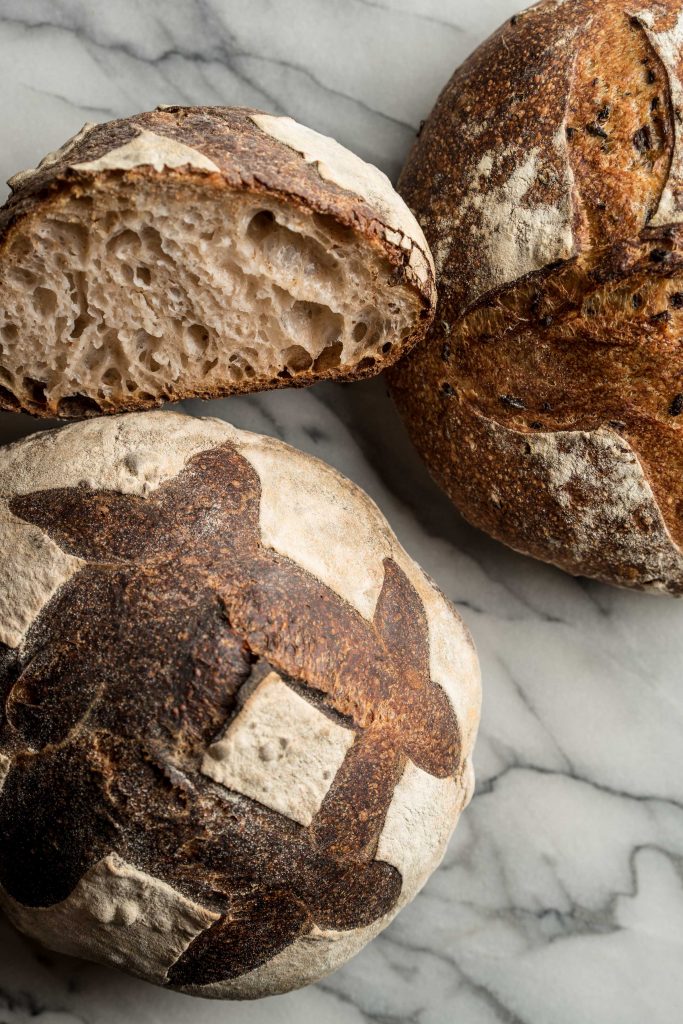 Bread is never seen as a potential partner for our adobo and kaldereta. Filipino food culture sees pan de sal as a breakfast staple and other white breads from local panaderias as merienda. Hence, Manapat tries to incorporate sourdough into Filipino breads, trying it with ensaymada and pan de sal. The latter's origin, especially, piqued his curiosity. "In Spain, pan de sal would be crusty like [sourdough]. In France, they have pain a sel, which is dark bread with big holes. Unfortunately, there isn't much resource [to learn about] the really, really old Philippine bread." Blame the inevitable collective forgetting or the surge of industrialization.
After a long discourse on the Philippine bread industry, we fall quiet, and we breathe in the scent of bread-bread that is teeming with life.
This story was originally published in Southern Living, October 2016.
Writer: OLIVER EMOCLING
PHOTOGRAPHY GABBY CANTERO