"I feel like I started a bit late actually," says industrial designer Jim Torres when asked about putting up his own brand at the age of 23. Perhaps it's the impatience that naturally comes from the need to prove himself or the feeling that where he's at is still far from where he wants to be. Or maybe he's really being modest.
At 23, Torres is at the helm of design firm Zarate Manila. Since its formal launch in February 2016, the firm has been doing work with a stable flow of clients, proven by the hum of productivity evident inside his workshop in Valenzuela. Before Zarate Manila, Torres showed up under the designer radar in Manila Fame 2015 after winning Red Box's grand prize with his "Satellite" collection: alien-like constructs inspired by stars and the cosmos. However, it's his "Escapade" lighting installation that has captured attention, not just locally but also abroad at the International Contemporary Furniture Fair in New York in May 2016.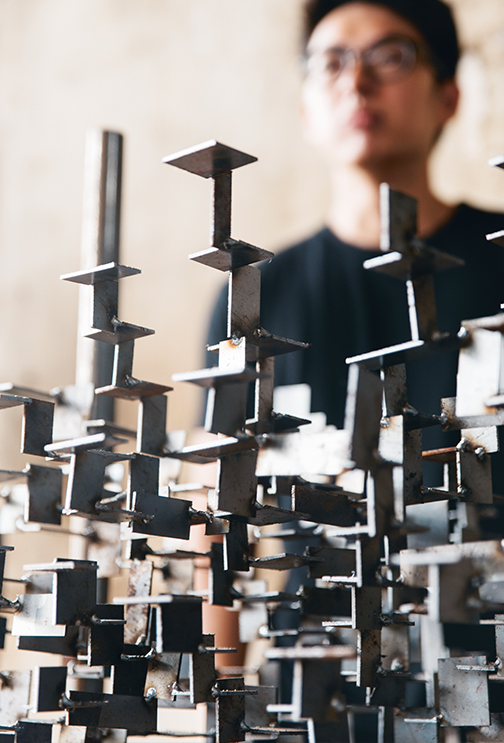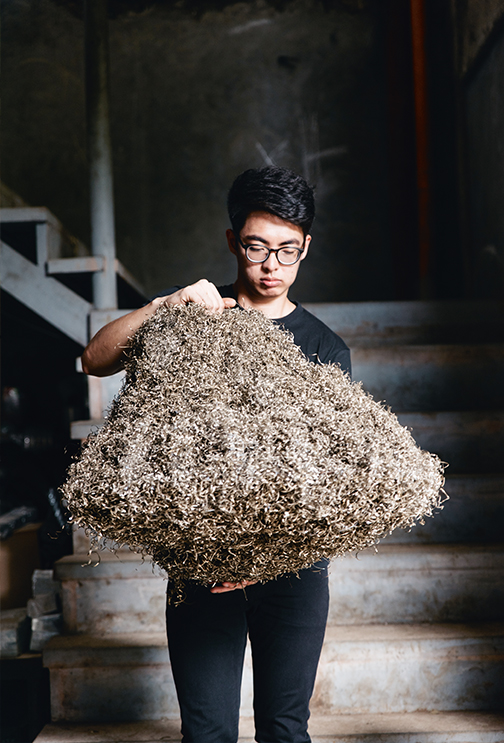 The start for "Escapade" was simple enough. Seeing metal shavings lying around the workshop, Torres thought he could do something with it. But to transform the metallic equivalent of lint into a frothy orb of light, Torres had to employ innovation and traditional handwork: coming up with his own machine to create the right thickness of metal and then having his artisans sculpt the material by hand to form the final piece.
"Aesthetically, I follow an organic and very Filipino style, but I try to inject something global, which is technology. I want to update the Filipino design. I want to change the picture of it as a woman weaving or a woodcarver carving in a backyard factory—the idea that the hands are the primary tools or the capital. I'd like to change people's perspective, especially of the global market; to show that we can be fierce, too."
It's a sentiment that goes against the overt capitalization of "backyard businesses." Filipino design has always been rooted in "handmade," working with materials that are readily available (wood, bamboo, rattan, etc.), with the country blessed with versatile organic materials that are wondrously flexible yet strong.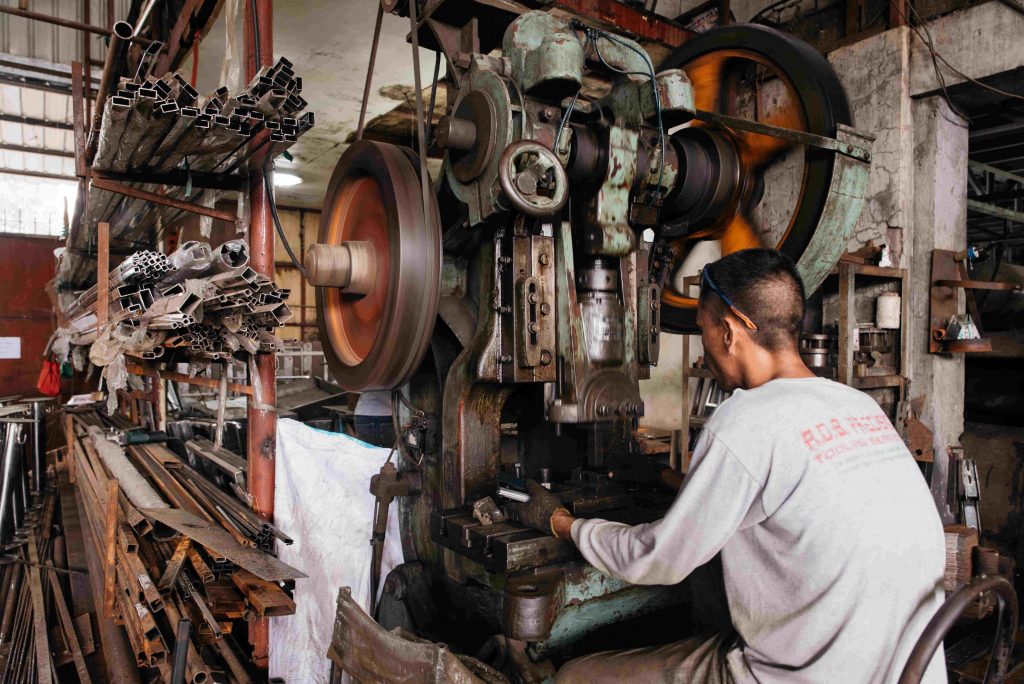 When asked why he chose metal as a medium, something that's not as emblematically Filipino, Torres says he decided on it having worked for three years as a designer at Industria Edition, a brand known for their artisanal approach to crafting metal. But from an outsider's perspective, the designer has chosen a fitting medium that's at par with the level of change he desires. Metal is the foundation that revolutionized our way of living. Its firm and requires precision, malleable and yet unyielding once cooled to the right temperature. But the rigidity that steel evokes and the coldness that typifies technology are missing in Torres' designs. His creations seem organic and almost alive, the coldness of his raw material thawed by his emotions and the personal touch of his artisans. He refuses, in fact, to speak of his design as products but rather as art, stripping it of the manufactured coldness that is attributed to industrial processes.
On one worker's table is a sample piece for his exhibition for Manila Fame in October. Metal plates no bigger than two inches in width or length were welded together to evoke either an expanding universe or an explosion frozen mid-air. We find out it's the latter as Torres explains the theme of his coming exhibition, aptly titled "Propaganda." He says it's inspired by the Spanish colonial period, but the imagery will be about "explosion and devastation." We can only guess at the story it wishes to tell, but it's apparent he's aiming once again for something "revolutionary." Asked whether he welds the material himself to show his workers what he wants them to make, Torres says, "No, I just tell them the basic idea or the overall silhouette, and then they're in charge of how they achieve that."
In a way, Torres is creating an expanding universe in his little workshop, brewing up a brand of Filipino design that's independent of the bigger names that have previously defined Filipino. He bares it down to craftsmanship, taking the word in its most universal definition and the ingenious way in which the artisan interprets and transforms his medium.
This story was originally published in Northern Living, September 2016.
Writer: RENZ NOLLASE
PHOTOGRAPHY PATRICK SEGOVIA