Here at Nolisoli.ph, we're no stranger to the honesty bus system. (Read: Will an Honesty Bus work in Manila?) This system does away with conductors (who typically collect fares) and instead expects people to pay for their ride at a drop box or any other designated paying outlet inside the bus. It's a test of character for the public, because you can easily get away with not paying or not paying enough.
A local bus firm, Green Frog Hybrid Bus Company, announced on their Facebook page on Mar. 5 that they were implementing an honesty system starting Mar. 11. Under their system, you can pay the exact change at a drop box or use one of their prepaid tap cards.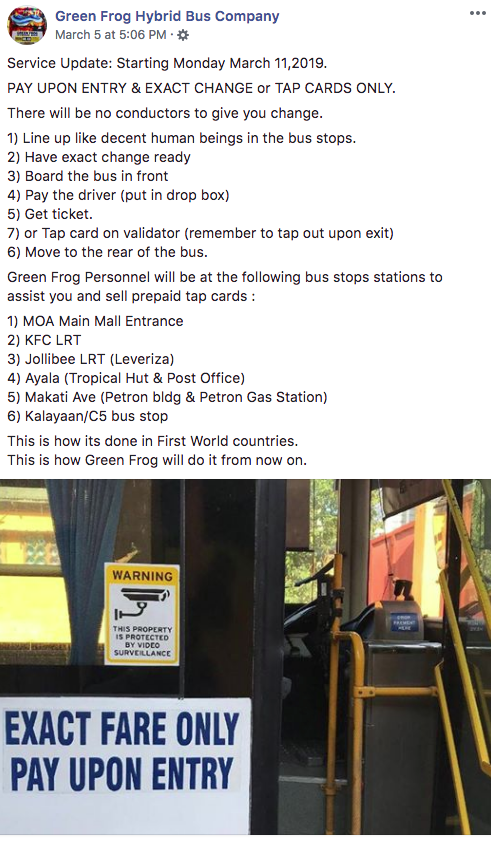 Under their rules, the company wrote, "line up like decent human beings," which just about foreshadowed what was about to come.

On Mar. 20, less than ten days after they implemented the service, they announced that they had to end it. Apparently, over 30 percent of their passengers decided to abuse the system and did not pay for their rides.
We can't say we're surprised, but it's still really disappointing. It's a huge blow to our faith in our countrymen. As much as we want to believe in others, stunts like this show that many people will resort to stealing and lying. We get mad at our politicians for being corrupt; it seems like they're just reflecting the character of their people.
Featured photo courtesy of Green Frog Hybrid Bus Company's Facebook page
Get more stories like this by subscribing to our newsletter here.
Read more:
Will an Honesty Bus work in Manila?
Going to the airport from QC? Try this new P2P bus service
LOOK: This luxury bus to Baguio and Baler has CCTV, aircon, and personal entertainment systems for each passenger
Read more by Zofiya Acosta:
Heads up, these common house plants may be toxic to your pets
This coworking space has its own gaming and karaoke room
There's a sangria bar above the Uniqlo building in BGC
Writer: ZOFIYA ACOSTA