There's only a week and a half left in October, which means it's almost undas. If this were any other year, most people would be booking trips home or planning out a mini-holiday. Sadly, undas is kind of canceled this year. Cemeteries around the country are closed for the main days of observance to prevent a superspreader event.
Although traveling isn't as safe as it once was, the holidays still mean that people will be making their way home or just outside the city. Here's a list of updated requirements, whether you'll be traveling by plane or bus. 
Air travel requirements
If you're a locally stranded individual (LSI) or someone who needs to travel domestically for other valid reasons, airports have a stringent set of requirements you'll need to comply with before flying. 
It varies from airport to airport, but some common documents you'll need to prepare include: 
Government-issued ID

Medical certificate issued by the local government

A negative result on a real-time reverse transcription-polymerase chain reaction (RT-PCR) test
For the RT-PCR test, the time frame between the test and flying out depends on the destination, but most cities, like Cebu and Davao, require the test to be conducted within three days of departure. 
Other important documents that may be required when you fly are company IDs, any official documents that serve as proof of residence and official, written documents that serve as your reason to travel.
Local carriers like Philippine Airlines and Cebu Pacific also have dedicated pages on their website to address documentation requirements for flying during the pandemic.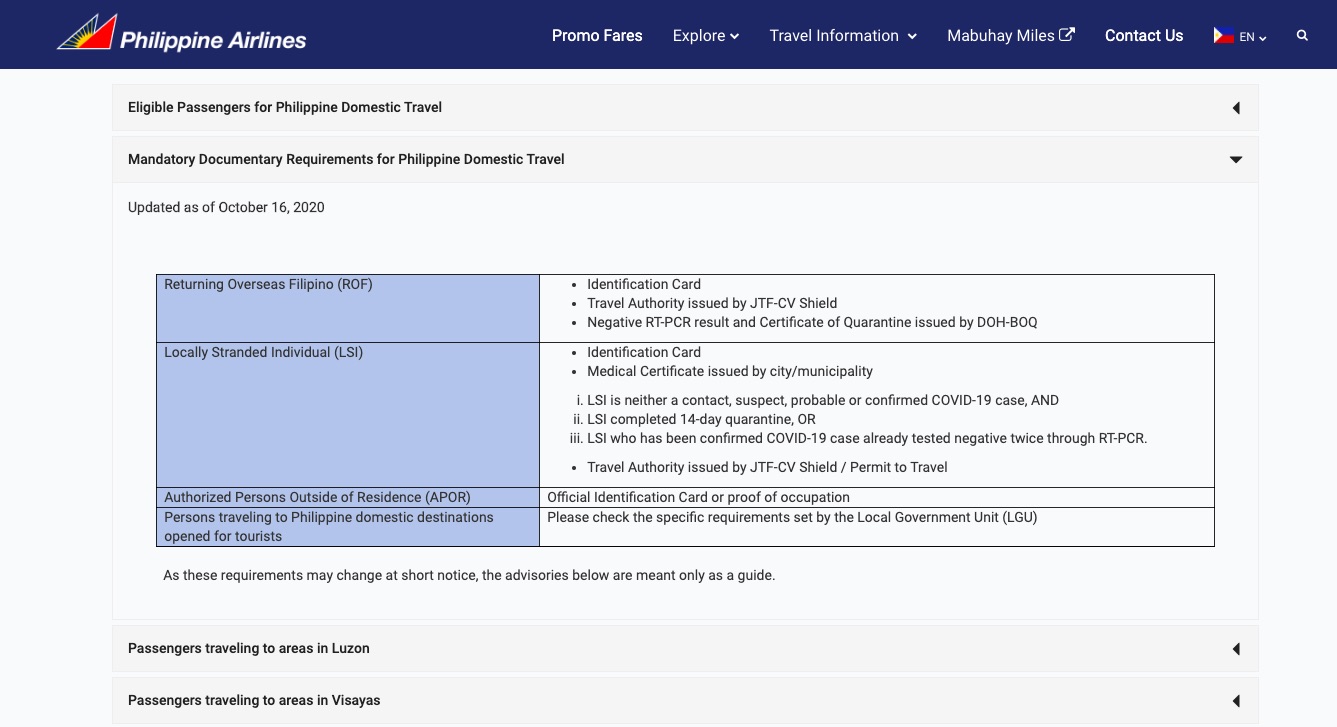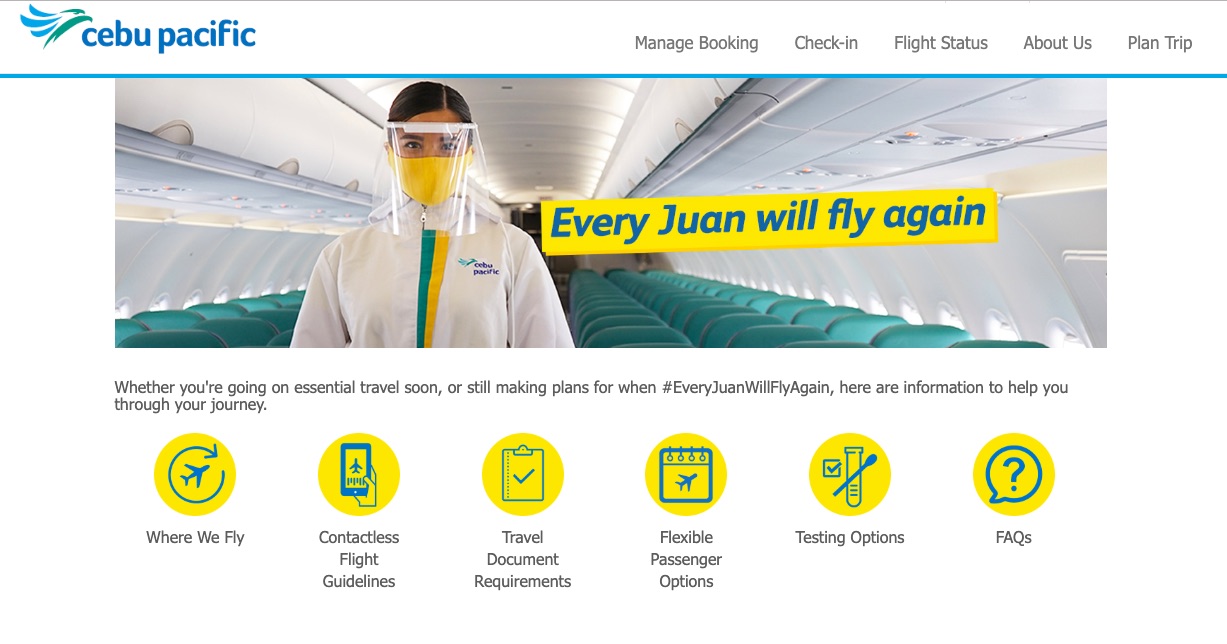 Screengrab courtesy of Cebu Pacific's websiteEach website has a database of the complete list of required documents and other information you'll need to fly. 
Bus travel requirements
As of Sept. 30, some provincial bus routes in Luzon have been reopened by the government. People from select places in Pampanga, Laguna, Batangas and Cavite can opt to take the bus if they ever need to go to Manila, and vice versa. As per The Land Transportation Franchising and Regulatory Board's (LTFRB) pronouncements, the list of requirements for traveling via bus are the following: 
PNP-issued Travel Authority/Pass at the point of origin issued within 48 hours prior to departure

Valid identification card (must include the passenger's address, place of origin, age, workplace or school

Written consent of passenger approving that he/she will submit to coronavirus disease (COVID-19) testing or quarantine at the terminal or place of origin

Other documents required by the concerned LGUs or the IATF
Travel Tips
If you're traveling for valid reasons, make sure you strictly follow the COVID-19 protocol set by the place you're departing from and arriving at. 
The government has mandated that all travelers must wear masks and face shields. Aside from that, don't forget to bring a travel-sized bottle of alcohol or hand sanitizer. Social distancing is a little trickier on airplanes, but as much as possible, try to keep a safe distance from other travelers. 
https://www.instagram.com/p/CCvSqcXgVDH/
After arriving at your destination, make sure to comply with all of the regulations they've set for newly arrived travelers. 
Traveling isn't as easy as it once was (if it was ever easy at all), but if you stay vigilant (or just stay home), we can all stay safe. 
Header image courtesy of Suhyeon Choi on Unsplash
Get more stories like this by subscribing to our weekly newsletter here.
Read more:
Starting Oct. 21, non-essential international travel is allowed. In the middle of a pandemic
Only for essential travel: 25 countries are now allowing Filipinos to enter
These 7 Pinoy films are the closest thing to traveling we can get right now
Writer: ANDREIANA YUVALLOS