There is a constant evolution in technology. New phone models emerge every year, making that recent model old already. Around 20 to 50 million metric tons of electronic devices end up in landfills every year worldwide. This is what we call electronic waste or e-waste.
In the Philippines, environmental group Kalikasan People's Network for the Environment calls for the support of President Rodrigo Duterte for a law on e-waste management. Gabriela Women's Party Representative Emmi de Jesus proposed House Bill 5901. The bill aims to reduce the e-waste we produce.
Kalikasan PNE's national coordinator Clemente Bautista told Inquirer.net that the bill works by "making waste management a public service while directing private manufacturers to take responsibility for their products from production to final disposal."
The presence of e-waste in our landfills pose a threat both to humans and the environment. According to the World Health Organization, exposure to harmful contents of e-waste like lead, cadmium, and other toxic fumes may cause damage to the immune, respiratory, nervous, digestive, and reproductive systems. This is specially true to people who collect waste for a living.
"Tons of imported e-wastes are dumped on our land, and as they are left to decay, its toxic chemicals eventually seep through our environment. Despite the Philippines being a signatory to the Basel Convention, which prohibits the transboundary movement of hazardous waste, these toxic wastes are still welcomed to our shores through the importation of EEEs," Bautista added.
While the bill isn't ratified yet, here are some ways you can do to reduce e-waste.
Dispose properly
If you're appliances are no longer working and are bound for disposal already, throw it away properly. The Philippine Ecological Solid Waste Management Act or Republic Act 9003 requires the local government to have a special collection of e-waste in households.
Companies are also encouraged to practice extended producer's responsibility. For example, telecom company Globe has a program called "Project 1 Phone." Clients can bring their defective or old phones to Globe. The company, then, will take responsibility to send the phones to a recycling company.
There are also bins in malls where you can drop batteries and other e-wastes.
Consider donating your old gadgets
Most of the time, we leave gadgets collecting dust in the cabinet or we throw them away when a new model arrives. If your old gadget is still working, consider donating them to charities. Any kind of computers will be a good donation to public schools, while calamity-stricken communities could use old phones to communicate with their loved ones. Various charities and organizations accept gadgets as donations as well.
Recycle or sell it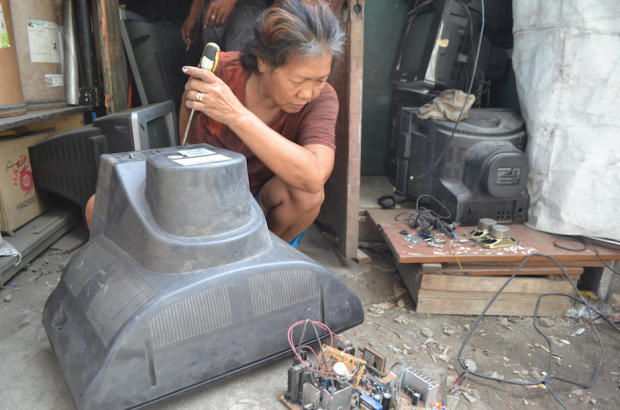 If your old gadget only has a defective part, try to  have that replaced and use it again. If you don't want to use it at all, try selling it to parties interested in second-hand items. Just a reminder, be considerate and sell old gadgets for a reasonable price.
Think long-term when buying appliances
Don't think about trends when buying new appliances or gadgets. When my brother graduated from college, he got a Samsung phone with a keypad. When he got enough money to get a better phone, he gave the phone to me. After about eight years, the phone still works well.
It is always better to check the quality of a gadget instead of buying for the sake of what's trendy. Check appliances and gadgets for durability and for function. If you don't need a phone capable of LTE, then settle with a non-LTE phone. If you don't need a voice-controlled gadget, don't get one. Also, consider stuff made with the environment in mind.
If you purchase necessary items that are designed cleverly, you would be able to save money, the environment, and other humans as well.
Read more:
A part of Puerto Princesa is transforming into a ghost town
Parenting in the digital age, when and how
How to save the environment, according to Marianna Vargas
Don't throw those kitchen scraps just yet