Before you get into pottery, you have to understand that a single piece, regardless of size, takes at least eight weeks to make.
That's roughly two months of waiting to see the end result of shaping clay by hand, and yet, after the final firing in a kiln, there's no assurance that your work will survive the process.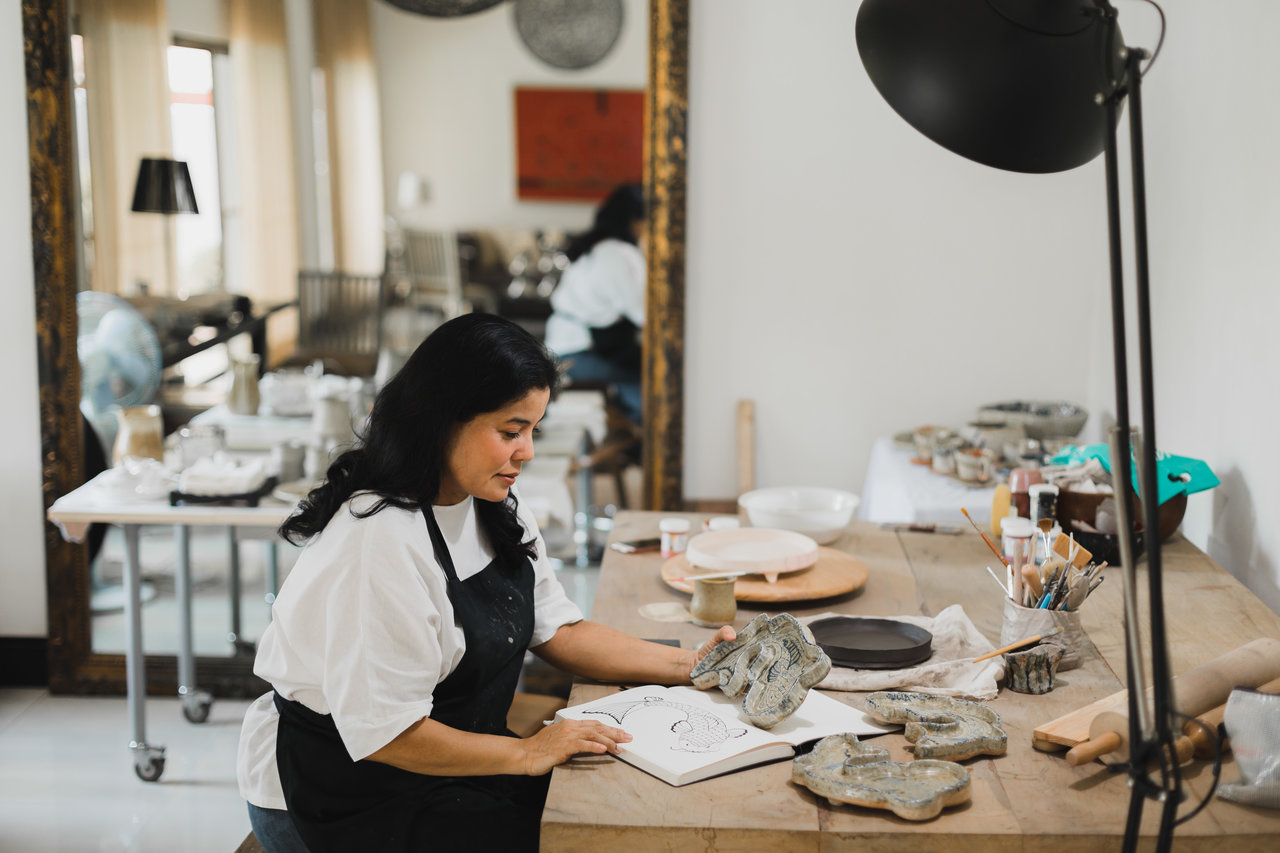 "Pottery taught me to let go. You cannot make clay follow 100 percent of what you want because it behaves differently. Even when you bake it, you don't know what's going to happen, if it's going to warp or not. Even the colors change," says potter Aleth Ocampo.
The moment we step inside a small corner of her workspace is the same moment we realize that Ocampo—a potter, painter, and chef—is a master maker, someone who creates no matter the space, no matter the medium, no matter the circumstance.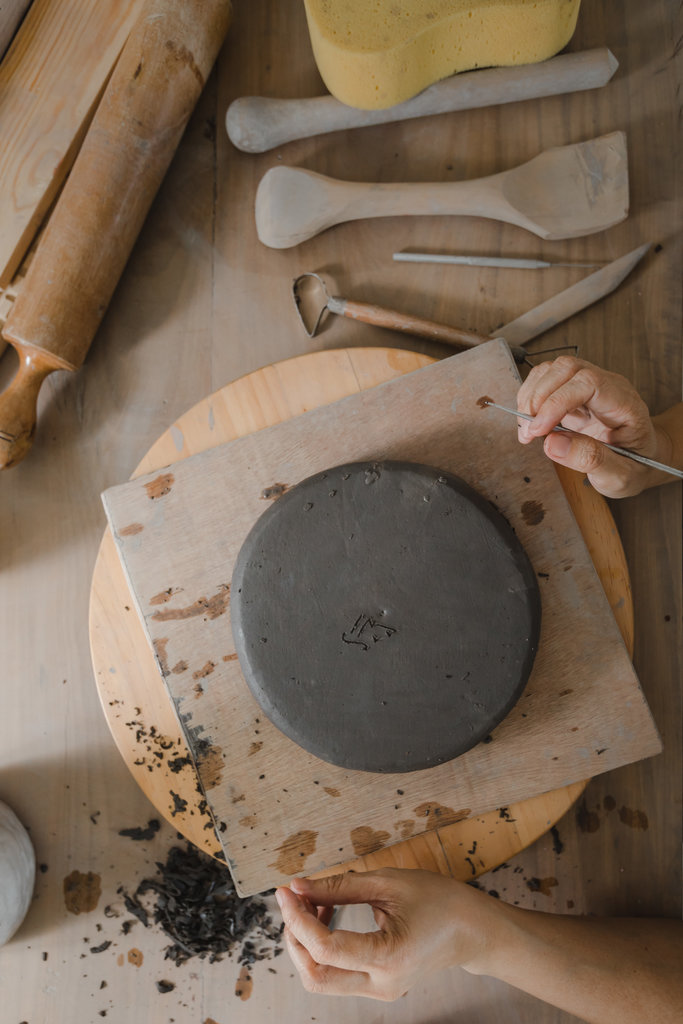 We find Ocampo by a bespoke table made of molave. A few steps away is another wooden piece: a ladder she had used in the '80s to paint murals. Strewn across the table's hardwood surface are a couple of rolling pins, a cake turner, and some cooking spoons. Here and there are a few cake-decorating supplies. These are tools Ocampo has reassigned from kitchen duty to pottery projects. And while the objective of our visit is to spotlight her stoneware, she cannot help but align the clay-centric craft with her culinary pursuits.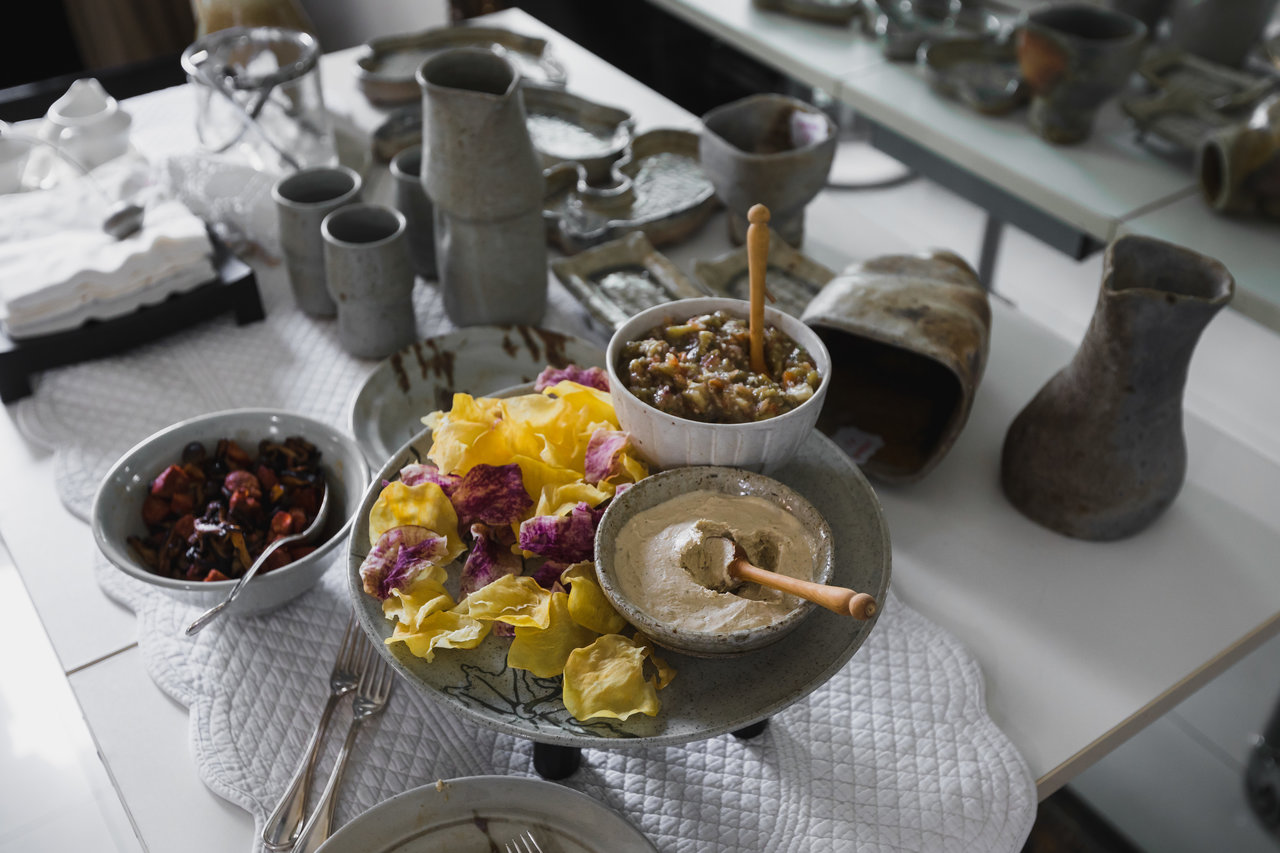 "I'm inspired by food when it comes to the form of my pottery. [They] really [go] hand in hand," says Ocampo, explaining that her approach to designing stoneware will always be geared towards the dining experience. 
After all, she got into pottery to design hollowware for her recipes; she used to run the Sari-Sari Cafeteria in Eastwood. "My goal was always to make vessels for my food." 
While her delving into pottery began as a personal desire to heighten a meal's multisensory appeal by including handsome dinnerware into the mix, she eventually had to unveil her craft to the public when friends began inquiring about the clay works she would post online.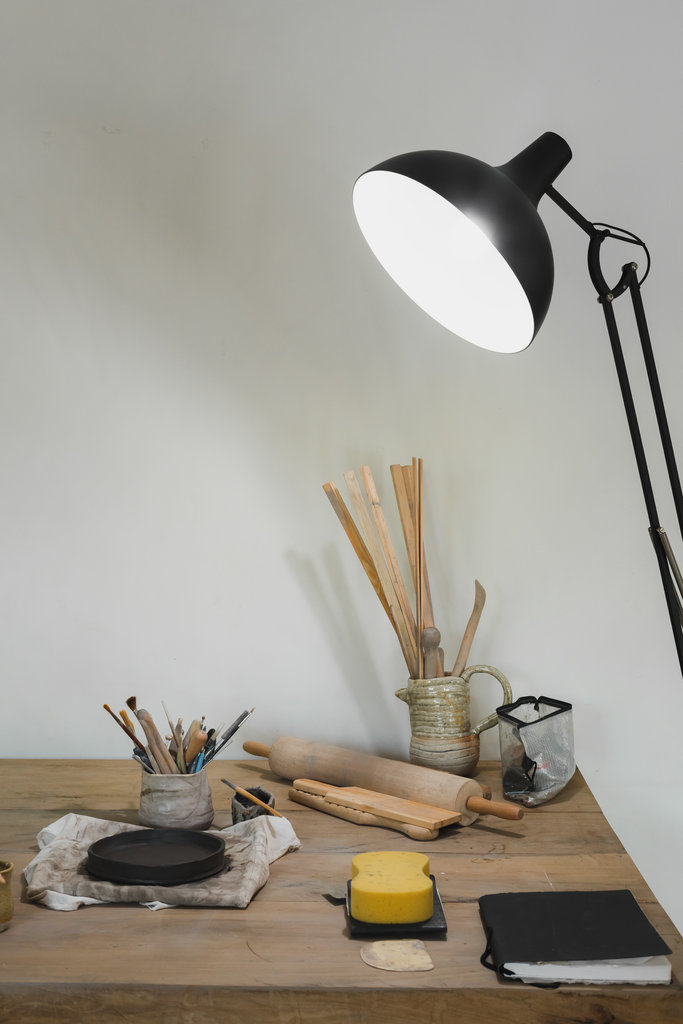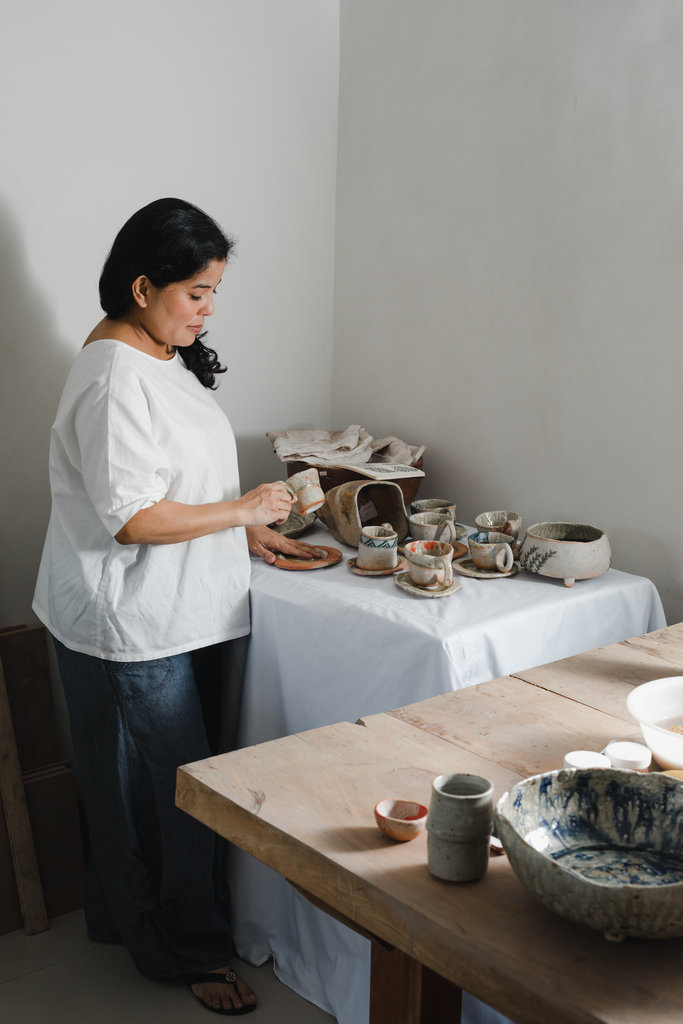 The same thing had happened with her cooking: She would usually throw dinner parties for friends and loved ones, who joked that they should be paying for such a gastronomic experience—and from a formally trained chef at that. This eventually led to Ocampo hosting private dinners in her Magallanes home, but that is another story.
Ocampo heartily laughs at herself for using kitchen items to create her stoneware as she talks about her pottery process. She is set to procure a proper set of pottery tools, she says, but just hasn't gotten around to actually ordering them.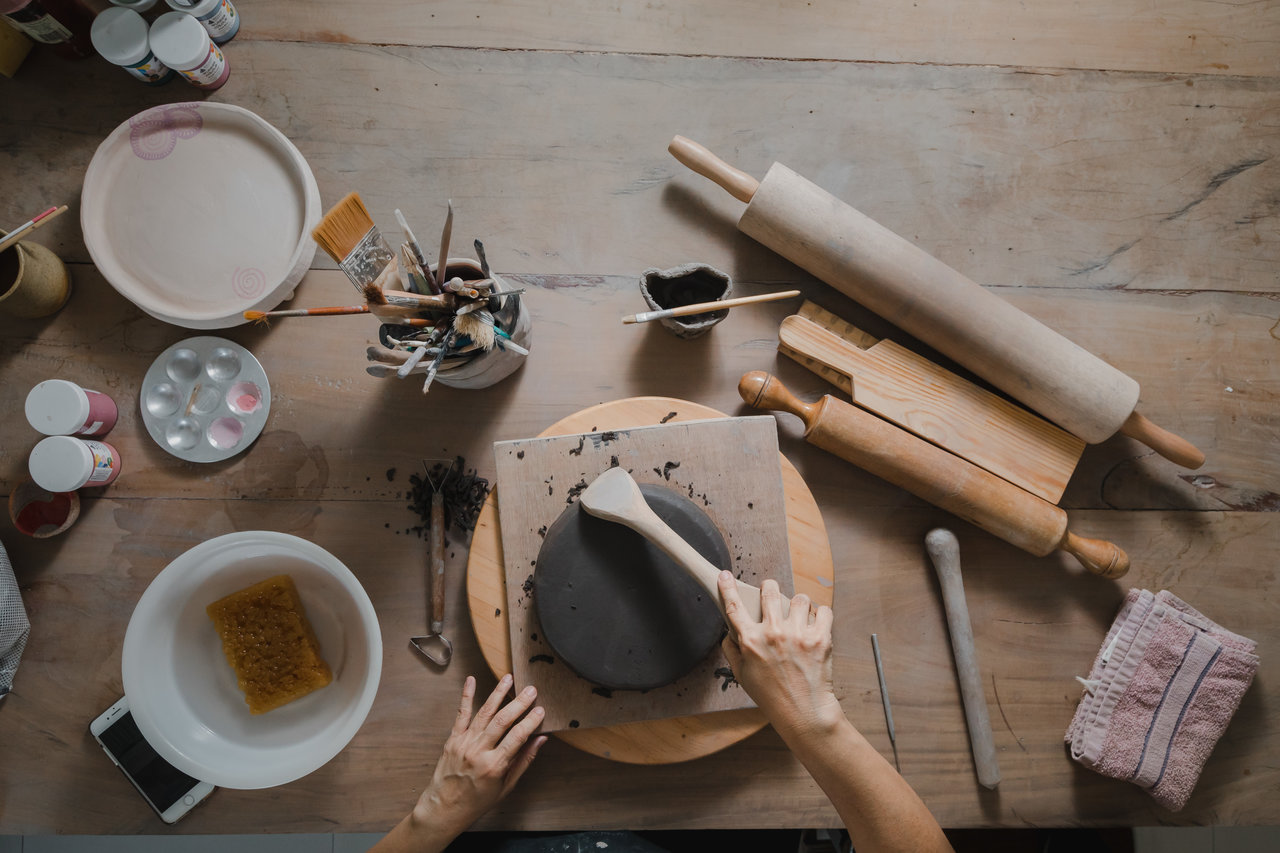 Her methods, although unconventional, are crafty in the best sense. This is perhaps one of the most endearing characteristics of Ocampo's pieces: that they are molded by hands that make do with what is available, and that they bear the painter-turned-chef-turned-potter's imprint. 
Most of Ocampo's pieces are hand-painted with doodles and patterns inspired by everyday things. An upcoming solo exhibition in functional art hub Aphro Living on Oct. 21 will reveal the potter's recent experimentation with form. While the pieces will still feature Ocampo's hand-painted designs, you might just see a koi fish-shaped dish, or a platter that takes the shape of bok choy or Chinese cabbage, instead of conventional plates, mugs, cups, and bowls.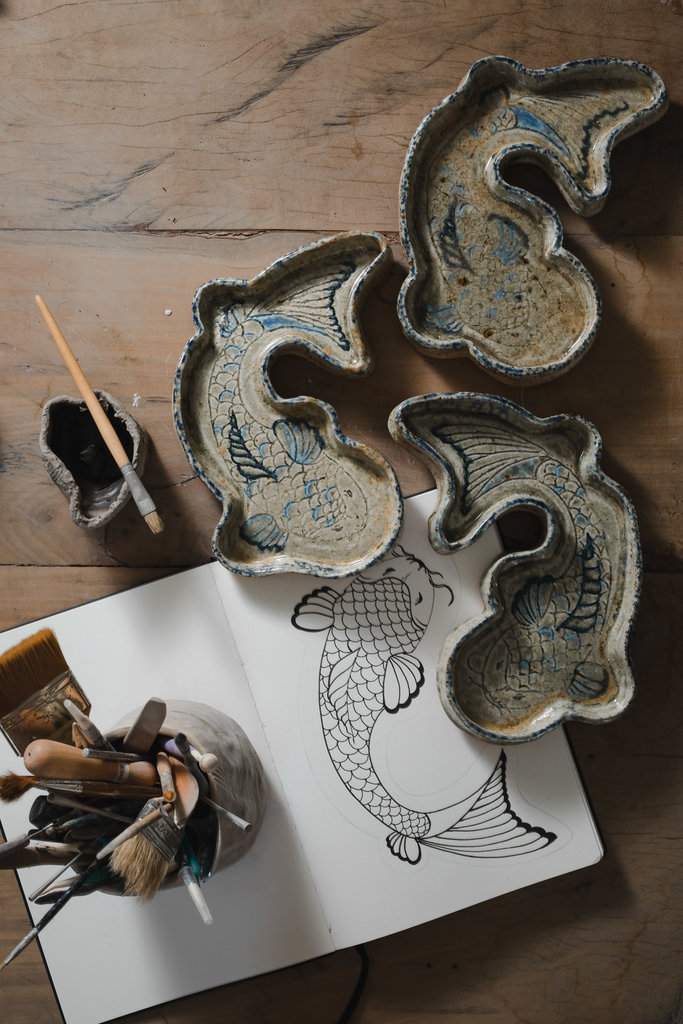 "What I like about pottery is the process. It's so unpredictable. I always say it's much like life. Actually, I was going through so much when I decided to go back to pottery," says Ocampo, who had initially tried her hand in pottery in the '80s but ended up sticking to painting and cooking after deciding that the wheel wasn't for her.  "I used to be such a control freak; You can ask my daughters."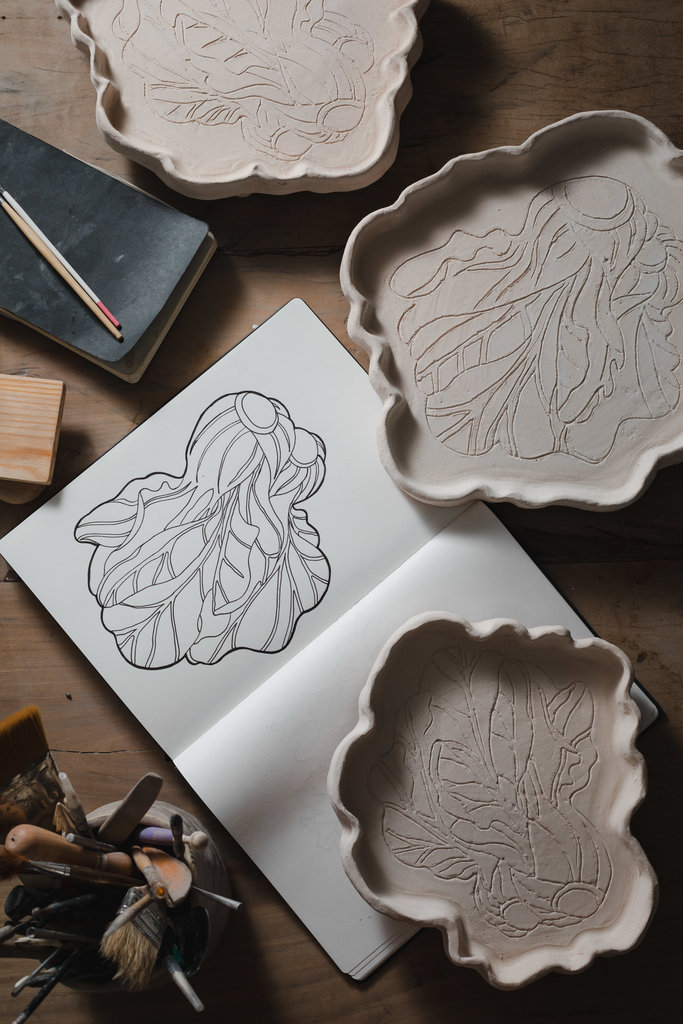 Years later she finds herself waking up every day, adamant still that the pottery wheel isn't for her, but with a newfound urge to get her hands dirty with clay sans the wheel. All of Ocampo's pieces come alive through hand-building pottery techniques such as slab, pinch, and coil. "I have tools that help me, but I want to have direct interaction with the clay without a mechanical gadget interfering with what I want to do with it."
This decision to do without the wheel has challenged her to work on her pottery daily, since she gets to store clay at home and work where it is most convenient for her: in her living room with Chowee the Chow Chow, her "youngest child."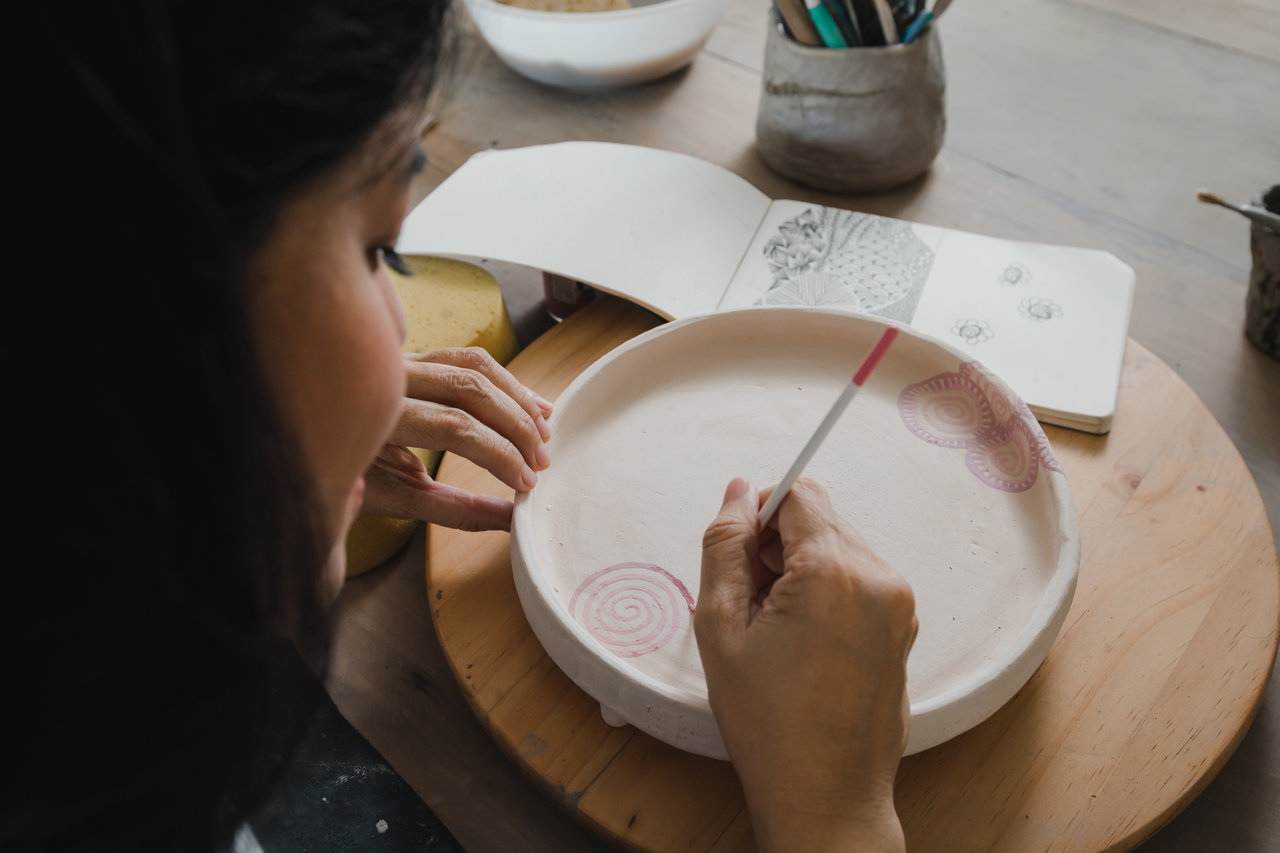 But even when she works in the comfort of home, Ocampo doesn't deny that there are still challenges to her craft. "For me, the most challenging aspect of anything is starting. Even with pottery, in any form, I think, you just show up and work. That's the most challenging: to drag yourself to start. But if you're passionate about something, each day you look forward to working. It's different."
"What I like about pottery is the process. It's so unpredictable. I always say it's much like life."
She shows a deep admiration for friends in the pottery community. "Of course, I also draw inspiration from fellow potters. They're very generous in sharing techniques and ideas," Ocampo says, noting that pottery is very much a communal act. Firing pieces takes days—sometimes weeks—at a time, and several stoneware artists often commune through the process. A single piece is fired twice, and potters often share a kiln, too. Much like the culinary experience, it is an interactive process, where human connection is key to getting desired results.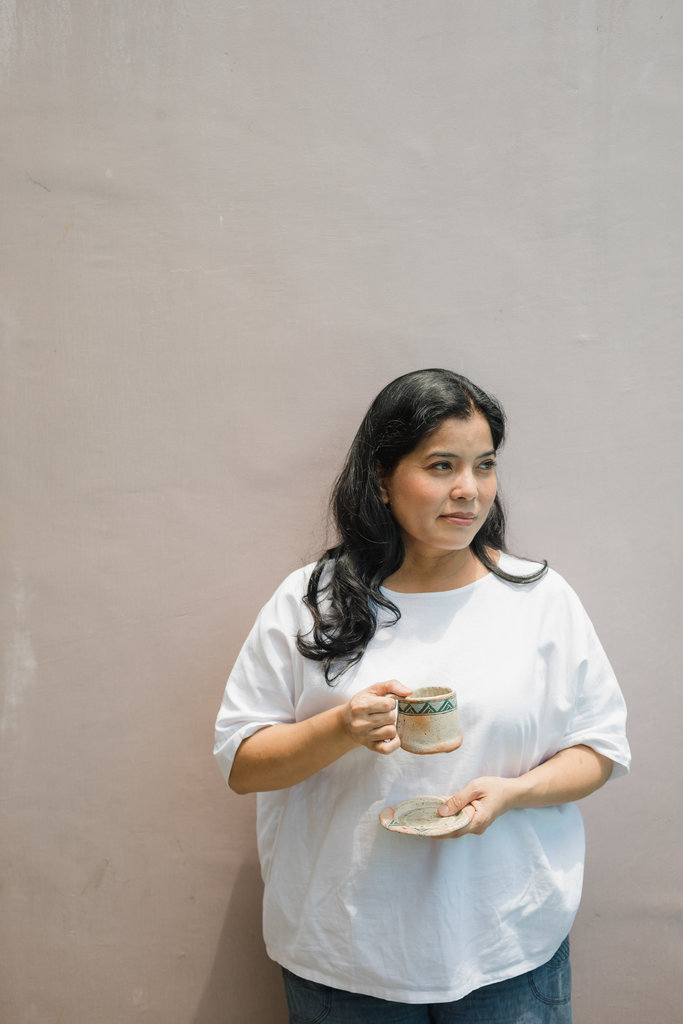 "For me, with what I do, I think what's most rewarding is that I have both worlds. Pottery is delayed gratification. You have to wait. When I cook, though, it's instant gratification. When you're done cooking and then you feed your family, your loved ones, and see their appreciation, then you get validation. And I always believe that I'm only as good as my last show or my last dinner, so I strive to make things better next time."
Writer: ALYOSHA J. ROBILLOS
PHOTOGRAPHY JILSON TIU