Don't be misled by this DOTr Facebook post
Fake news alert
Nov 22, 2017
In the middle of a flurry of disparaging feedback by the commuters because of the recent MRT-3 mess, the Department of Transportation (DOTr) attempted to atone in the form of some "good news" on a Facebook post last Friday.
The DOTr boasted several Philippine airports awarded with star ratings from the United Kingdom-based air travel intelligence company Official Aviation Guide's (OAG) On-Time Performance (OTP) Star Ratings. It's basically a ranking of airports' punctuality worldwide. On their post, it says that Iloilo International Airport placed 14th, beating airports of Kuala Lumpur, Seoul, and Hong Kong.
Aside from Iloilo, the following airports also received star ratings: Ninoy Aquino International Airport, Bacolod, Davao, Tacloban, Laguindingan in Cagayan De Oro, Kalibo, and Puerto Princesa.
But wait. Don't be misled. The news isn't as good as it looks.
In another Facebook post, a graduate physics student from the University of the Philippines-Diliman pointed out that the DOTr's post comes across as fake news.
"Fake news! Yes, these airports were given a star. Literally. It should be noted that OTP uses a 5-star rating system," writes Sean Julian C. Fortuna.
Apparently, Iloilo International Airport only got one star out of five. And in the list of one-star-rated airports, it placed 14th, unlike what the DOTr's post implied. Overall, it was ranked 455th. That's pretty far down.
The other airports mentioned were also in the bottom 35 of the OTP list, which you can access here. If you're wondering, here are the annual OTP scores of our airports on the list:
Iloilo International Airport – 67.5/100
Bacolod-Silay Airport – 64.7/100
Davao International Airport – 64.1/100
Tacloban Airport – 64.1/100
Laguindingan International Airport – 63.2/100
Ninoy Aquino International Airport – 61/100
Kalibo International Airport – 57.2/100
Puerto Princesa International Airport – 54.7/100
"These scores aren't really something to be proud of, especially since all our airports are in the bottom 7% of all airports given a star rating. The average airport score is 78.1 and our best airport is TWO standard deviations (6.9) below this average. In short: Kulelat pa rin tayo," says Fortuna.
Does Iloilo beat Kuala Lumpur, Seoul, and Hong Kong airports, you still ask? Yes. But that doesn't make our airports efficient.
On their page, OAG explains how they award stars: "The Star Ratings range from one to five stars. Airlines and airports with the best on-time performance, for example, the top 10%, receive five stars. The awards are then distributed, across all airlines with the poorest performers receiving one star."
When Fortuna commented clarifications on the DOTR's post, they replied that it's the first time for our airports to earn star ratings.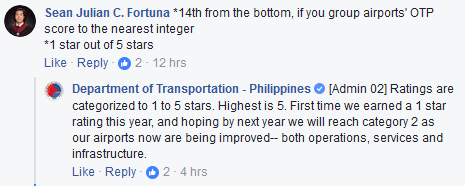 "First time we earned a 1-star rating this year and hoping by next year, we will reach category 2 as our airports now are being improved—both operations, services, and infrastructure," writes DOTr.
Nevertheless, our airports (and transportation systems in general) still have a long way to go. And I guess the easiest thing we could do to push for their improvement is to let government officials know that we're watching and losing our patience.
Header image courtesy of Akrosdayunibers.com
Read more:
More proof that our train systems need serious upgrade
The old tranvia system can bring you from Plaza Lacson to Makati in 25 minutes
How to make Christmas commutes just a bit safer
TAGS: airlines airports be department of transportation fixture nolisoliph