I have been taking the LRT Line 1 from Caloocan to Manila for five years already. While I like taking the train in its lull hours, I despise riding it during peak hours. Every day, thousands of people have to endure long lines, sweltering heat, occasional technical difficulties, among others. This is one of the few train systems we have in Metro Manila today. But before the train, our ancestors rode the tranvia or electric bus system.
Recently, architect Paulo Alcazaren posted a photo of the old tranvia system dating back to 1932. The system serves various cities including Malabon, Caloocan, Manila, Pasig, and Makati. The photo also indicates the supposed travel times to specific destinations. For example, it only takes 25 minutes from Plaza Goiti (also known as Plaza Lacson) to Makati. Today, it would probably take you probably 45 minutes and at least two transfers (train and bus/jeep) to go to Makati from the same destination. Imagine how much time you could save with the tranvia! But sadly, the tranvia is gone.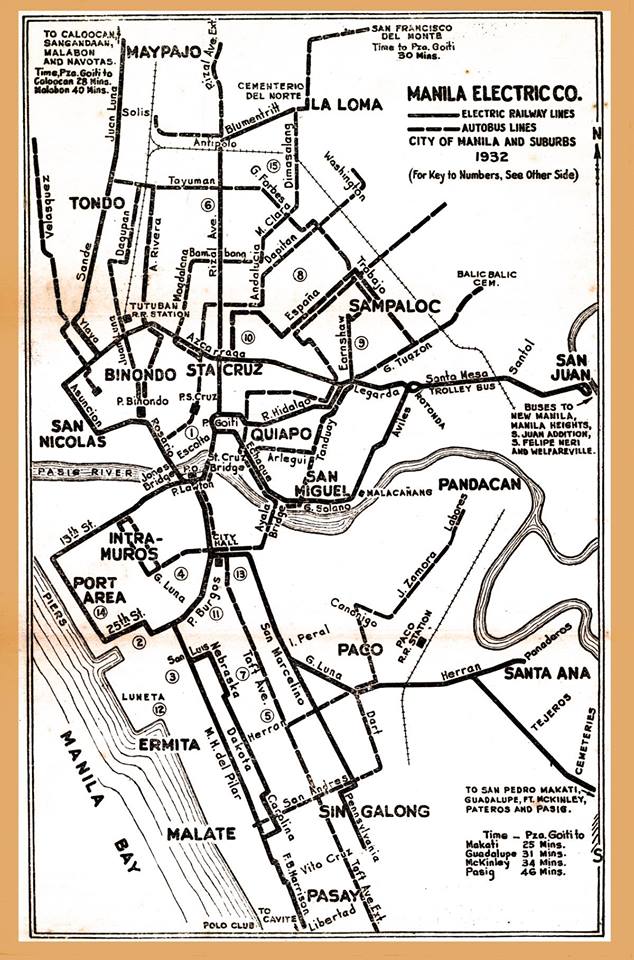 It was in 1887 when Department of Public Works official Leon Monssour proposed a streetcar system for Manila, patterned after New York and Paris. The plan was to have an extensive five-line network with the central station outside Intramuros. The first network made was the Malabon-Manila line, which opened on Oct. 20, 1888. It operated on steam with transfer points in Tondo, Maypajo in Caloocan, and Dulu.  Four years later, the Manila Railroad Company opened the first long-distance rail line network going to Dagupan.
When the Americans arrived, the Manila Electric Railroad and Light Company (Meralco) under Charles Swift, an entrepreneur from Detroit,  was introduced. Under the company, 12 lines were promised. According to Gary L. Sarte, the LRT Line 1 has the same route as Meralco's Pasay and Sta. Cruz routes. Then, there was also the line from Paco to McKinley and Pasig under Manila Electric Co. In 1930s, the already elaborate transport system saw the rise of gasoline- and electric-powered buses from Meralco as well.
The transport system seemed to work, but where is it now?
In another post, Alcazaren writes that the transport system back then was "comprehensive and inclusive" and affordable. However, the World War 2 destroyed the system, resulting in the rise of jeepneys. "The tranvia system disappeared and infrastructure focused on jeepneys and cars, and the inefficiency that comes with a sprawl-based pattern of urban development," he writes.
"The railroad is the most economical and efficient means of transportation worldwide," Neal H. Cruz writes in an opinion article for the Inquirer. It's true. However, our current train systems are not the most reliable—it's not surprising when there are reports of MRT's breakdown due to a diaper. But upcoming railroad projects give us hope. There's going to be a subway by 2024 and a Manila-Pampanga railway by 2021. For now, let's just hope that future developments would be more effective and better designed—and let's just be more patient. As Alcazaren writes, "Remember that the traffic is not the problem, it is the symptom of the lack of a transport system planned before and in coordination with urban development."
Header image courtesy of Pixabay
Read more:
A photographer took aerial photos of Manila and they're utterly suffocating
Bambike takes green transportation to a new level with its use of sustainable material
This is how Filipinos dealt with flood in the early 1900s
Writer: OLIVER EMOCLING