This free font will help you remember your notes
Sans Forgetica is scientifically designed to improve your memory retention
Oct 10, 2018
Do you have a hard time remembering your notes? I admit my own memory is quite bad, and I like to say that I have the (re)tention span of a goldfish.
Luckily, a multidisciplinary team of researchers from Australia's Royal Melbourne Institute of Technology (RMIT) came up with a free downloadable font designed just for us memory-challenged people. Sans Forgetica (get it?) is designed to be just a little bit hard to read—not enough to be incomprehensible, but enough to trigger your brain's "desirable difficulty" switch. Desirable difficulty means that when a task is a little bit harder to fulfill, your brain tries a little bit harder to achieve it as you start desiring to fulfill it more. In the case of Sans Forgetica, your brain enters into a deeper cognitive processing when reading the text, improving the amount of information retained in your memory. Pretty neat stuff.
Here's a sample of how the font looks: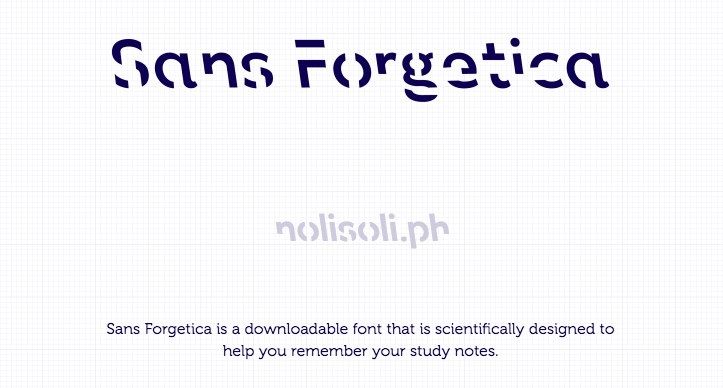 The things that stand out the most is that the sans serif font has letters with missing portions, and is slanted to the left instead of the right. The kerning is also pretty much nonexistent. Somehow, however, the font still remains relatively pleasing to the eye. This is in no doubt owed to the RMIT team's collaboration with renowned typographer, Stephen Banham, and the creative consultant agency Naked.
Try this font out if you've got info you need to remember (notes, dates, you name it).
Learn more about the font by visiting the RMIT website.
Featured photo is a screengrab from RMIT's Sans Forgetica video.
Get more stories like this by subscribing to our newsletter here.
Read more:
Why choosing fonts matters, especially for professional documents
Artist made a sticker pack that honestly conveys depressive feelings
More emoji options for iOS users with new update
Read more by Zofiya Acosta:
Women should be able to use contraceptives without fear of abuse
Universities should do more to protect their students
Jerrold Tarog replaces Erik Matti for Darna
TAGS: font memory retention nolisoli.ph sans forgetica