10 films from Southeast Asia you can watch for free
Thanks to TINGIN ASEAN Film Festival
Nov 22, 2018
Last year, the National Commission for Culture and the Arts (NCCA) introduced TINGIN ASEAN Film Festival to students, teachers, filmmakers, and local art enthusiasts for free. It's a film fest that featured "representative films" from all over Southeast Asia. This year, NCCA is bringing it back on Nov. 26 to 29 at Gateway Cineplex, Cubao.
"This festival will once again encourage meaningful discussions and collaborations with our colleagues and friends in Southeast Asia. In this Post-Truth era where fake news is threatening to become the norm, the stories we tell each other (through film) may be perhaps our best and most effective line of defense," says NCCA Commissioner Teddy Co on a press release.
Aside from Southeast Asian Films, foundational films Perfumed Nightmare and Who Invented the Yoyo? Who Invented the Buggy? by National Artist for Film Kidlat Tahimik will also be shown, as well as Victor Tarago's Yield, a "quietly powerful documentary that will surely hold audiences enthrall with its stark portrayal of child labor and pervasive poverty in the Philippines," says TINGIN festival head Maya Quirino.
In addition to the screenings, there will also be lectures and masterclasses on creative processes. See the schedule here:
Nov. 26, 3:15 p.m., Cinema 1 – Masterclass by Kulikar Sotho, Director (The Last Reel, Cambodia)
Nov. 27, 5 p.m., Cinema 6 – Masterclass by Victor Tagaro
Nov. 28, 2:40 p.m., Cinema 6 – Lecture: The Art of Kidlat Tahimik
Dukun (2018) by Dain Said from Malaysia
Dukun is loosely based on the true story of the gruesome murder of a former Malaysian politician, Datuk Mazlan Idris. He was killed by Mona Fandey, a once popular Malaysian singer-turned-with doctor.
The Last Reel (2014) by Kulikar Sotho from Cambodia
Rebellious teenager Sophoun discovers an old film starring her mother, offering her the chance to dictate her own destiny at last, but at the cost of uncovering some dark secrets from the past about her parents lives during the Khmer Rouge regime.
Yasmine (2014) by Siti Kamaluddin and Man-Ching Chan from Brunei
A young woman who lives with her strict father works to become a champion at Silat, Indonesia's version of kung fu.
A Copy of My Mind (2015) by Joko Anwar from Indonesia 
A female cheap salon worker and a pirated DVDs subtitle maker fall in love during the turbulent presidential election in Indonesia.
Vientiane In Love (2015) by Anysay Keola from Laos 
Vientiane in Love is a collection of five stories that tackle love in various forms: a probable romance; a love gone wrong; a long-extinguished love; familial love, as well as love for one's humble work; and unrequited yet unselfish love.
The Monk (2014) by Maw Naing Aung and The Maw Naing from Myanmar
Informed by a strong Buddhist sensibility, The Monk is a treatise on faith and spirituality set in Myanmar. This sensitive coming-of-age tale revolves around a young monk, Zawana, who has spent most of his life in a monastery in the Burmese countryside.
hUSh (2017) by Djenar Maesa Ayu and Kan Lumé from Singapore 
Cinta is an aspiring singer from Bali who decided to move to Jakarta in search of success. The trappings of city life and materialism leaves her disenfranchised on a painful spiral.
The Road to Mandalay (2016) by Midi Z from ASEAN x Taiwan
Two Burmese immigrants fleeing their country's civil war in search of a new life in Thailand.
Homogenous, Empty Time (2017) by Thunska Pansittivorakul from Thailand
A documentary film that explores the spread of nationalism according to the concept of "Homogeneous, Empty Time" by Walter Benjamin, a German Jewish philosopher and cultural critic.
Big Father, Small Father and Other Stories (2015) by Phang Dang Di from Vietnam
Vu, a photography student, arrives in the sprawling metropolis of Saigon and moves into a slum neighborhood where he meets a mix of eccentric characters.
Here's the screening schedule: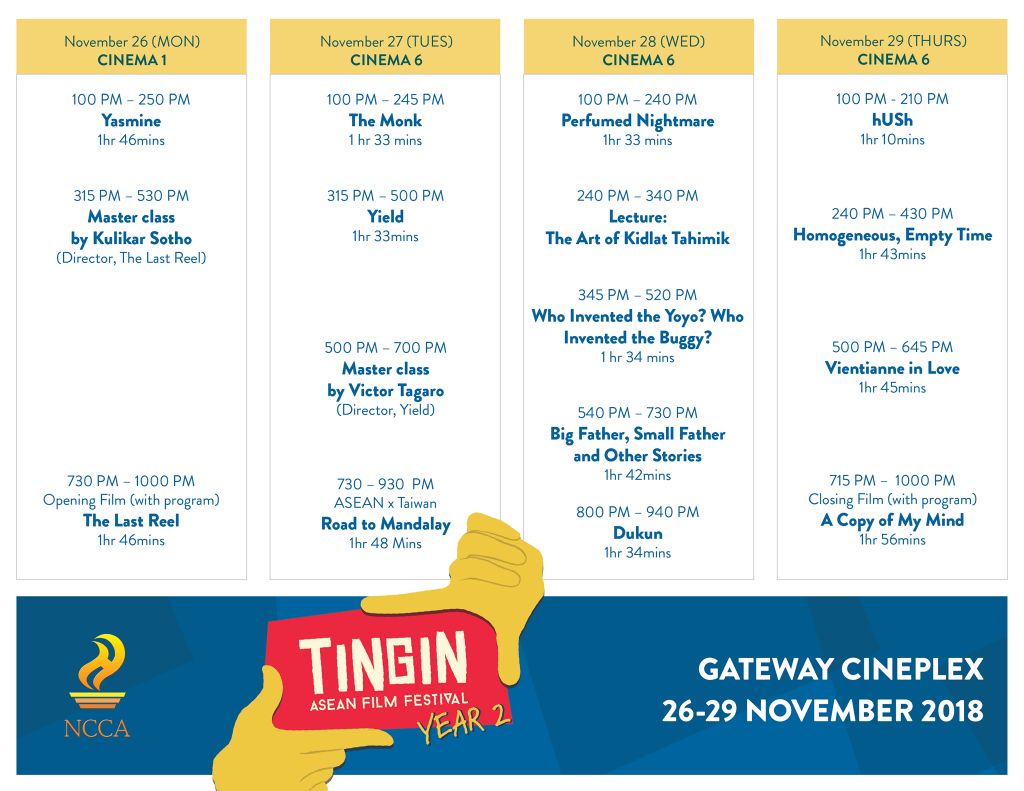 For inquiries, message TINGIN's Facebook page or e-mail [email protected]
Photos courtesy of TINGIN ASEAN Film Festival
Get more stories like this by subscribing to our newsletter here.
Read more:
Micro-theater Cinema '76 opens its new branch in QC
Watch indie films past midnight at this new Maginhawa cinema
"Heneral Luna" is coming to Netflix—here are other films we want to see, too
TAGS: film festival national commission for culture and the arts ncca southeast asia TINGIN Asean Film Festival