"Heneral Luna" is coming to Netflix—here are other films we want to see, too
Hey there, Netflix PH
Oct 30, 2018
When Heneral Luna first premiered in cinemas three years ago, it flopped. At first. It was pulled out from theaters soon after, but after intense clamor from netizens and viewers, the film was put back on show and stayed running in theaters for nine weeks.
Quite a feat, since we're talking about a historical film here. The reception eventually brought to life Goyo: Ang Batang Heneral, which caused just as much (if not more) buzz this year.
And just in time for the General's 152nd birthday, Netflix announced that they're adding Heneral Luna to their roster of streamable films.
So. It looks like the General is quite sequestering this streaming service. (Please indulge me this Heneral Luna joke.)
This just gives us hope. If we can get Heneral Luna on a major streaming platform, perhaps we can get more local films, too. After all, this isn't the first time Netflix has made Filipino films and shows available.
(READ: This Philippine drug war drama is coming to Netflix this April
Award-winning film "Birdshot" is coming to Netflix next week)
So dear Netflix Philippines, if you're reading, here are a few more suggestions straight out of Nolisoli.ph's wishlist:
BuyBust
UPDATE: As of 9:19 a.m., Netflix Philippines has just revealed that BuyBust will be available for streaming on Nov. 15.
Dear Netflix Philippines gods (or whoever does this thing), the Philippines needs BuyBust outside the cinemas and into our phones and laptops. You would be helping a nation (okay, my family) still drunk on Rodrigo Duterte's "greatness" by showing an action-packed movie exposing how big a claptrap his war on drugs is.
– Yazhmin Malajito, Junior Content Creator
Ang Nawawala
I was a freshman in college when I first saw this movie. It was one of the first few indie movies I've seen and really liked. I swear, I couldn't stop talking about to my friends for weeks! The music, the storyline, the casting, was everything! I mean Ms. Dawn Zulueta! Annicka Dolonius! Marie Jamora's vision was ahead of its time. But really I just want to watch this on my own and dance.
– Christian San Jose, Junior Content Creator
Bliss
Really well made thriller movie with mind bending plot points and just the right amount of jump scares. Leaves you with a feeling of dread after the movie and deserves multiple watches in order to fully digest the story.
– Tricia Guevara, Junior Designer
Apocalypse Child
Eye candy in the form of Sid Lucero, Annicka Dolonius, and Gwen Zamora. Visually appealing movie that showcases Baler and a little bit of the town's history. The plot has a lot of twists, but they're foreshadowed very obviously so you just get to watch in anticipation as everything unravels. Also, Armi Millare made the soundtrack for this!
– Tricia Guevara, Junior Designer
Barber's Tales

Set in a rural village deep within the mountains in the midst of Martial Law, Barber's Tales or Mga Kuwentong Barbero tells the story of Marilou, a widow who inherited her late husband's barber shop, and her venture into breaking traditional gender roles. We can't help but laud Eugene Domingo's powerful performance as Marilou, who has shown viewers that she's more than just a "side-kick of the country's comedy queen".
– Jill Chua, Junior Content Creator
Portrait of the Artist as Filipino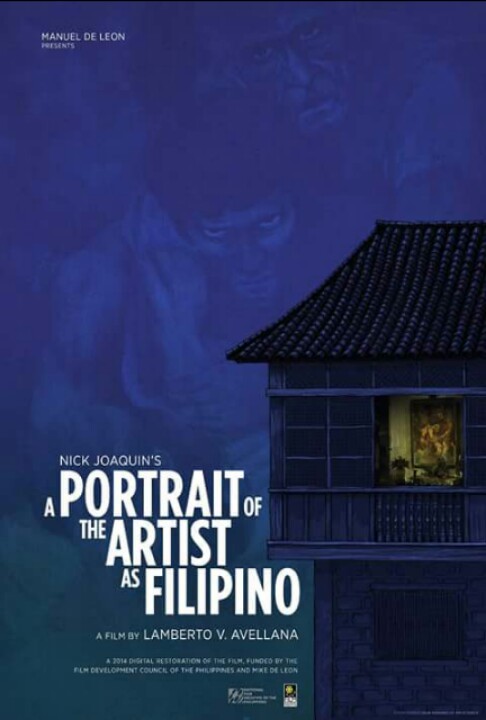 I'm pretty much the black and white person of Nolisoli, so here's my obligatory old movie pick. Watch this if you loved Ang Larawan! Avellana's Portrait is a straight adaptation of Nick Joaquin's seminal play of the same name, unlike Ang Larawan, which was an adaptation of the Tagalog musical adaptation of Portrait of the Artist (two degrees of adaptation, oh my).
This movie needs to be available for streaming because 1. The Avellanas (Lamberto, the director, and Daisy, the actress playing Candida) are arguably the power couple of Filipino Golden Age Cinema. 2. It contains Nick Joaquin's original prose. 3. The first time I watched this was when Ateneo screened the restored version a few years ago. This being Ateneo, the audience was mostly made up of students and the few invited guests (which included the descendants of the Avellanas). It's a testament to the film's strengths that it was able to get a crowd like that to scream at its pivotal moments. If an auditorium full of students can shout, "PAULA NO," fully knowing that the director's heirs was in the room, I think you can agree that the movie that moved them to do so should at least be made easier to find.
– Zofiya Acosta, Junior Content Creator
Patay na si Hesus
I haven't seen it, and I regret it. When the lineup for Pista ng Pelikulang Pilipino first came out, I already eyed it as one of the films I really want to see, but alas, I didn't, hanggang sa namatay na yung screen time niya. To be honest, Netflix, I just want a chance to watch all the indie films I missed at the theaters because of my schedule (and my budget). I'm sure I'm not the only one.
– Pauline Miranda, Associate Managing Editor
Respeto
Respeto came out when I was fresh out of my hip-hop media phase (by that I mean after spending the most part of 2016 listening to the hip-hop Broadway musical, Hamilton), so of course I was drawn to it. But after seeing the film, the sharp dialogue and lyrics, the story, it all just really captured me and I've been wanting to see it again. Being able to stream it would help me replay a lot of the rap battle scenes (which I loved).
– Pauline Miranda, Associate Managing Editor
Ang Larawan

Ang Larawan is a film you'd want to watch over and over again. This on-screen musical gave a fresh rendition of a Nick Joaquin classic which, up until today, I still continue reread to make sure that no details went unnoticed. If such attention is needed for a written piece, what more for a movie composed of versatile actors, meticulous production designs, and meaningful musical scores, right?
– Aanne Bulan, Junior Content Creator
Bwakaw
Bwakaw by Jun Lana is a really charming comedy about a dying gay man and his dog. (No, really!) As a queer woman, I'm always on the lookout for queer films that have a nice and gooey center at its core. Too many queer films focus on the "deviant" aspect of LGBTQA+ sexualities, and while that's valid, it does kind of promote the idea of queerness as just a sex thing. Plus, I don't think anyone can deny that most queer films are young—no one ever really likes talking about the elderly gay communities. So Eddie Garcia playing a gay man contemplating his impending mortality and trying to take care of his dog? Very, very refreshing. This movie needs to be streamed, pronto.
– Zofiya Acosta, Junior Content Creator
Update:
Netflix just released a list of other Filipino films they're bringing to the platform. Soon you'll be able to watch the following, too:
Kita Kita (Nov. 16)
My Ex and Whys
It Takes a Man and a Woman
Seven Sundays
Starting Over Again
That Thing Called Tadhana
The Breakup Playlist
The Mistress
Vince & Kath & James
Beauty and the Bestie (Nov. 26)
Praybeyt Benjamin
The Amazing Praybeyt Benjamin
You Changed My Life
A lot of mainstream flicks, that's for sure. Still hoping we get our indie fix, too, Netflix.
What other local films do you want to be able to legally stream online? Let us know in the comments.
Get more stories like this by subscribing to our weekly newsletter here.
Read more:
Watch Rufa Mae Quinto's comeback film at Cinema One Originals 2018
The future of content is in streaming, say these four renowned filmmakers
Read more by Pauline Miranda:
"Goyo" subverts all the reasons we like movies—and it's great
Jose Rizal might not be the hero we always thought he was
TAGS: Ang Larawan ang nawawala apocalypse child barber's tales bliss buybust Goyo: Ang batang heneral heneral luna Netflix patay na si hesus portrait of the artist as filipino Respeto