We're at the turn of a new decade, and, as Time describes in their report on the 2020 Pantone Color of the Year, this period is marked by many things: fear, hope, and change, in particular.
I'm not going to talk about colors now, but rather something just as colorful and just as representative of the same themes: "Lam-ang: An Ethno-epic Musical," by Tanghalang Pilipino. 
Opened Dec. 6, the musical is based on and inspired by the Ilocano ethno-epic "Biag ni Lam-ang," with a few contemporary tweaks. It reinterprets the version of the epic published by Isabelo delos Reyes, reworked for the stage by Jen Darlene Torres (music and lyrics) and Eljay Castro Deldoc (new book and dramaturgy).
"Lam-ang" is a different retelling of the epic many of us may have encountered (but unfortunately no longer remember) in our school books. It takes the story of the mighty, almost god-like warrior and humanizes it. One of the musical's directors and set and prop designers, Marco Viaña, describes their treatment as such: "Kapag sinundan mo kasi 'yong epic version na tinuturo sa mga eskwelahan, pinapakilala si Lam-ang bilang someone na mayroon nang kapangyarihan, at 'yong journey niya ay punong-puno ng magic. Superhuman ang pagtingin sa kaniya. So isa sa mga naging layunin namin ay para mas makakapit ang mga manonood sa kuwento. What if tao si Lam-ang?"
Covering the span of Lam-ang's life, the play also does more than just chronicle the events that built him up to be the exalted man he became. It shows the motives behind Lam-ang's and other characters' actions.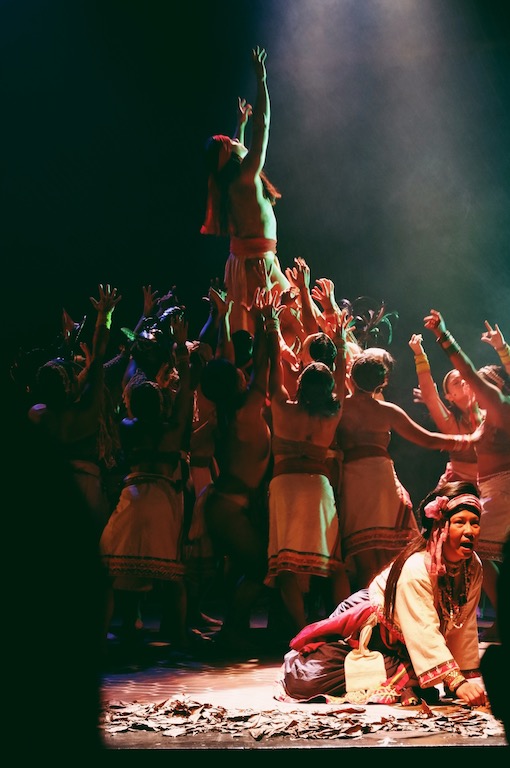 True enough, there are situations that show Lam-ang and other characters with objectives not far from what we see in leaders and people in our circles today. Scenes are placed to show Lam-ang's humanity: a man that deals with doubts, one that, despite having strength, determination (and political will, if you must), is also flawed and perhaps misunderstood, as seen when his desire to occupy neighboring tribes' lands is seen as him being prideful and greedy, when, at least for Lam-ang, it is but for the benefit of their own tribe. Ultimately, each character's actions and statements add a layer of reality to the epic. 
But what truly sets this staging apart is its faithfulness to the source—not just with the story, which has been orally transmitted for generations, but with the representation of the heritage and culture of Ilocos. 
Representing these cultural traditions proves to be a tricky thing (and it continues to be a challenge especially now, along with the surge in interest in the local and indigenous), but what Tanghalang Pilipino did right is keeping their references close. They used the in-depth study of the Tingguian and Itneg people published in "The Tinguian: Social, Religious, and Economic Life of a Philippine Tribe" by Fay-Cooper Cole as the play's Bible, also influencing and informing the costumes, stage design, and props created for the show.
Aside from the costumes—the entire cast donning bahag, or more specifically balikes (woven belt), and ba-al (clout) for men, and dingwa (narrow skirt with colored border) for women—the set also takes influences from the traditions of Northern Luzon.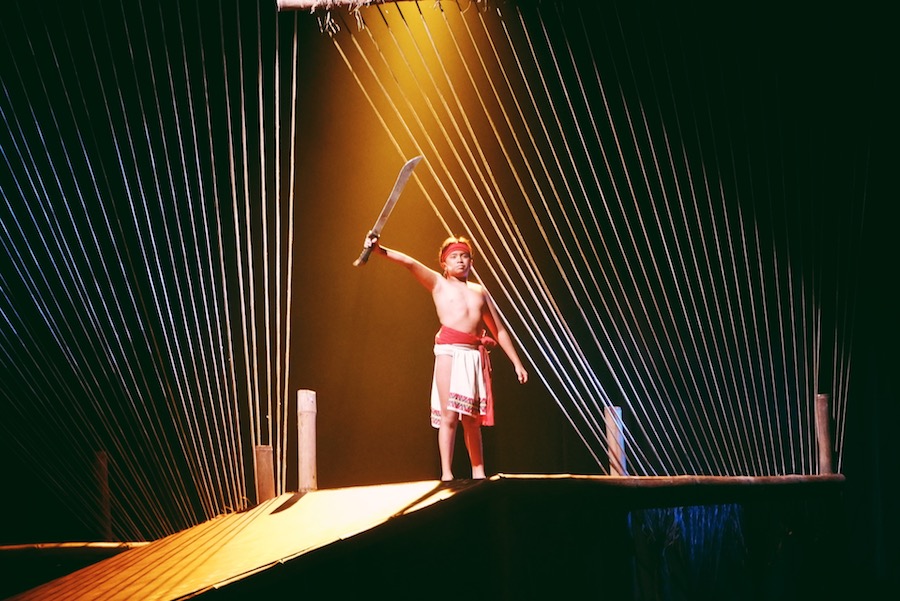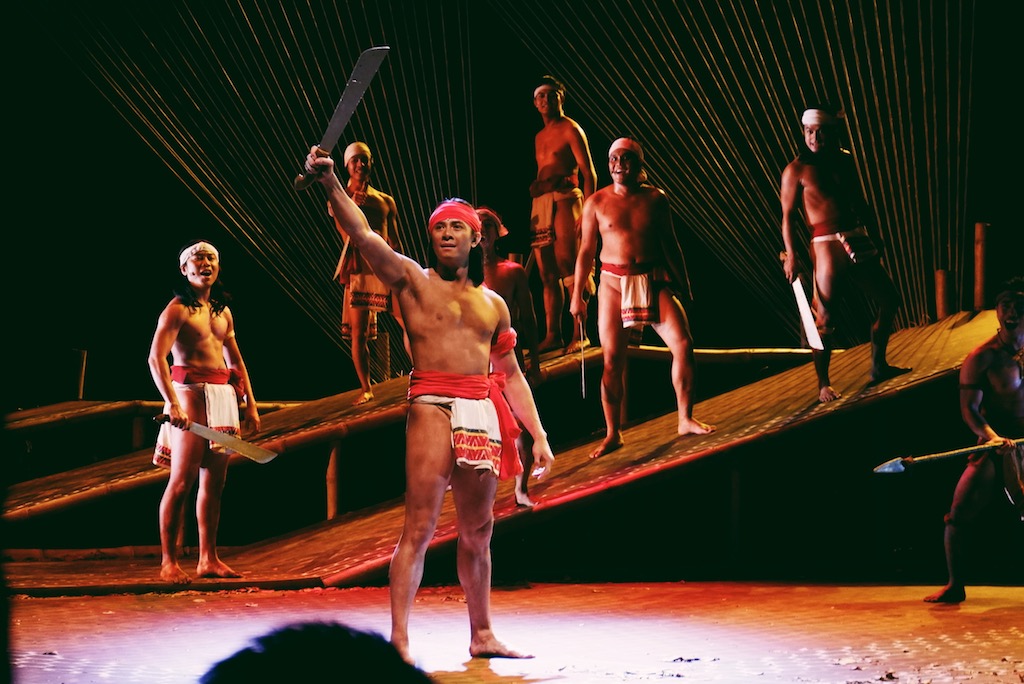 "'Yong epic kasi ni Lam-ang, mula siya sa Nalbuan, nag-travel siya sa mga lambak, bundok, pumunta siya sa Kalanutian, seaside… nagta-travel siya sa different locations. So ang challenge ay paano mo magagamit 'yong space para maikuwento ang kaniyang journey," Viaña says. 
"May chapter (in the Tinguian) about ano 'yong landscape ng Ilocos even before tawagin siyang Ilocos. Naging inspiration ko yun para gumawa ng set design na nagta-transform on stage. Nag-research kasi kami sa Ifugao, nagkaroon kami ng opportunity pumunta ng Ifugao at naka-meet ng mga chanters at merong mga kinuwento samin dun na pag nagtatanghal sila, naglalatag lang sila ng banig tapos merong chanter, tapos binubuhay ng members ng community yung chant ng kanilang babaylan. So naging inspiration din namin yun sa staging, kung saan yung mga taong ito, mga member ng community, sila yung nagbubuhay sa kuwento ni Lam-ang."
Viaña co-directs the musical with fellow theater actor Fitz Bitana.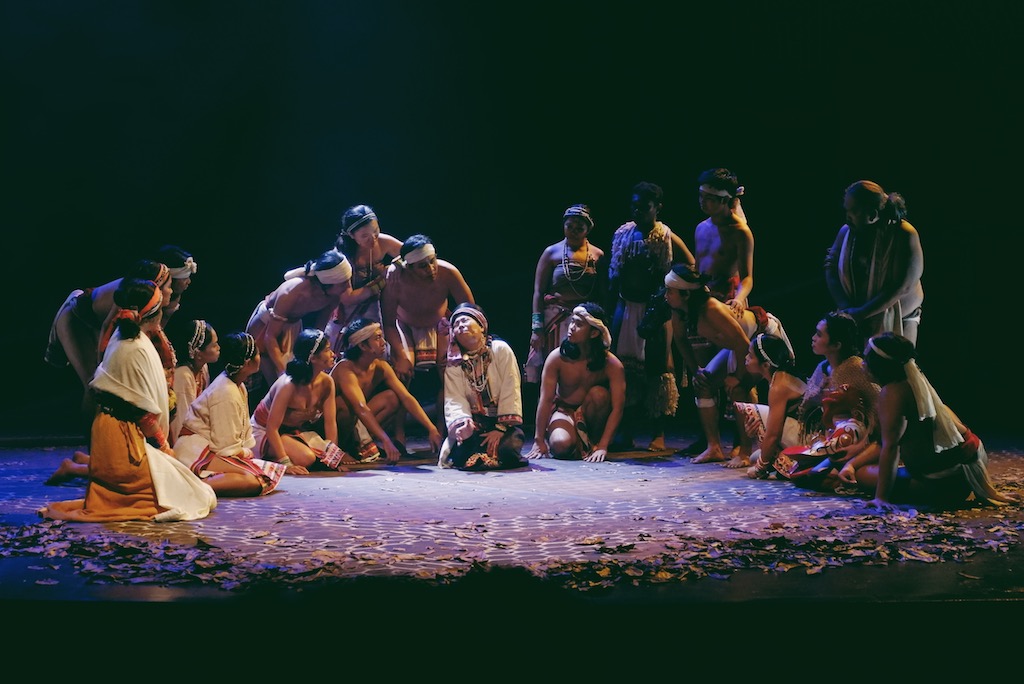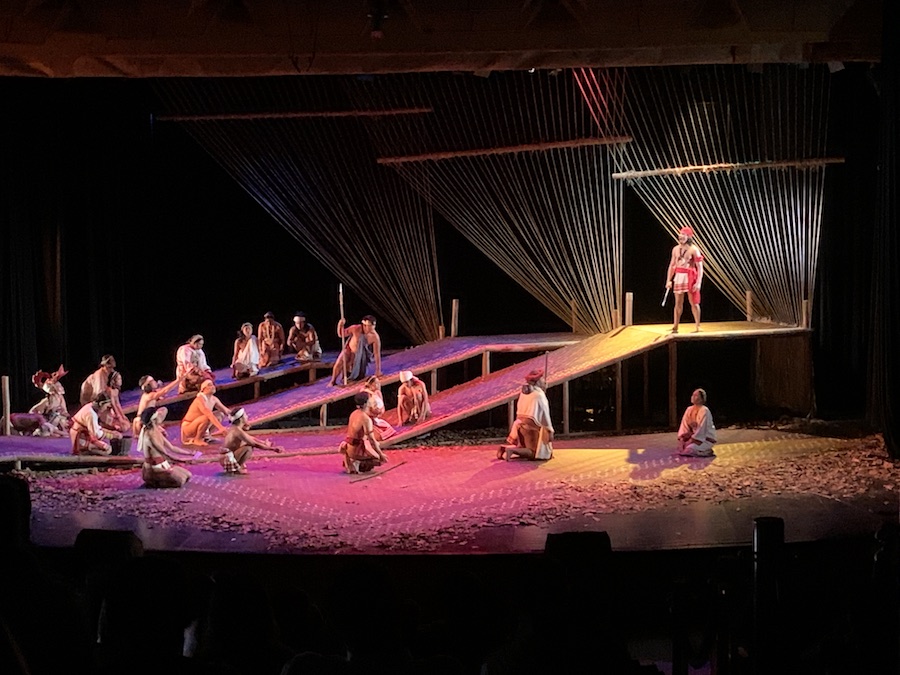 The music (written by Jen Darlene Torres, with musical direction and sound design by TJ Ramos) also keeps its Ilocano influences, with some songs more markedly injected with pop elements that ultimately make it more engaging for the contemporary viewer. But the musical's most powerful moments are in the haunting chants of Baglan (Tex Ordoñez-De Leon), echoed by the ensemble cast.
JC Santos also gives a noteworthy performance as Lam-ang in his return to the stage. Anna Luna's portrayal of the feisty and headstrong Kannoyan meanwhile adds brightness to each scene she's in. Also memorable are Lance Reblando and Ybes Bagadiong as Taraok and Tangguob, respectively, as they inject a bit of comedy into certain scenes and add to the action in most, despite their "limited" movements as they portray Lam-ang's pets.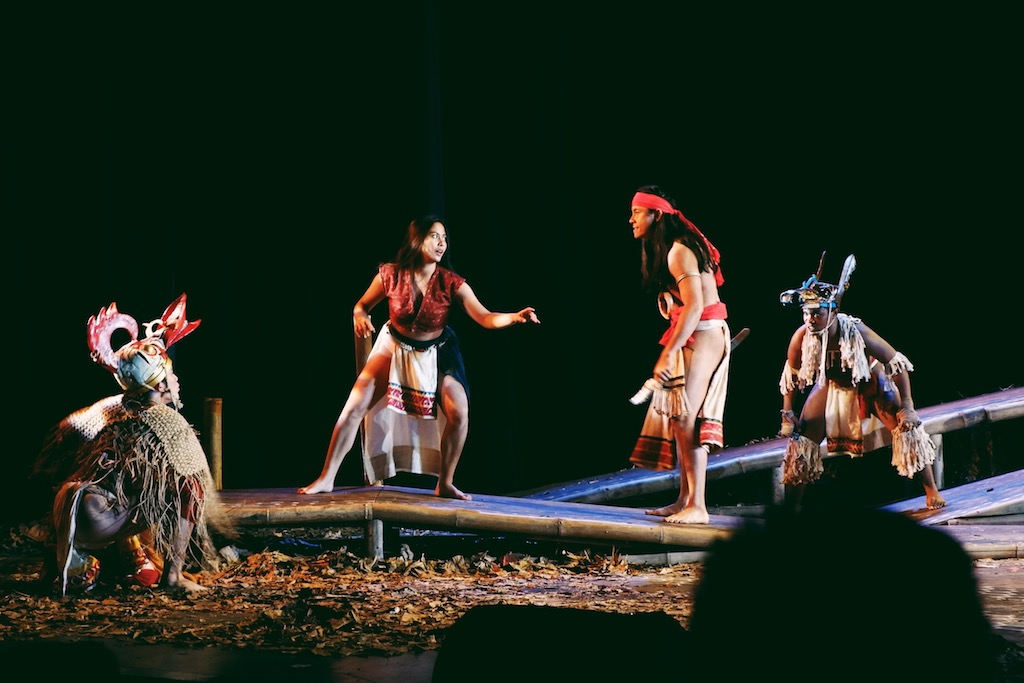 Overall, "Lam-ang: An Ethno-epic Musical" revives the old tale and imbibes it with a more youthful energy thanks to its largely young cast and artistic team. It's a fitting year-ender and penultimate production in Tanghalang Pilipino's 33rd season that serves to remind us of the timeless relevance and richness of our cultural and traditional stories. 
"Lam-ang: An Ethno-epic Musical" runs from Dec. 6 to Dec. 15 at the CCP Little Theater. Starring JC Santos, Anna Luna, Tex Ordoñez-De Leon, Jonathan Tadioan, Lance Reblando, Ybes Bagadiong, Alvin Maghanoy, Hazel Maranan, Remus Villanueva, Paw Castillo, Josh Cabiladas, Raflesia Bravo, Karenina Ng, JV Ibesate, VJ Cortel, Francis Gatmaytan, Rapah Manalo, Miah Canton, Antonette Go, Gabo Tolentino, Alys Serdenia, and Lhorvie Nuevo. 
Get more stories like this by subscribing to our weekly newsletter here.
Read more:
Devastatingly real, 'Katsuri' transforms literary classic to essential social viewing
Art is protest, Tanghalang Pilipino proves with "Mabining Mandirigma"
You can now buy CCP tickets via their new app
Writer: and PHOTOGRAPHY PAULINE MIRANDA