House's nod to divorce bill met with mixed reactions
The Philippines is one of the last two countries in the world that doesn't allow divorce
Feb 6, 2020
On Feb. 5, one of the many filed bills pushing for divorce in the Philippines was approved by the House of Representatives. During the hearing of the House Committee on Population and Family Relations, the panel approved House Bill No. 100 or the Absolute Divorce Bill of 2019 authored by Albay 5th District Rep. Edcel Lagman.
A technical working group (TWG) will then be formed and tasked to combine the Absolute Divorce Bill of 2019 with other divorce bills authored by Gabriela Women's Party Representative Arlene Brosas and Davao del Norte 1st District Representative Pantaleon Alvarez alongside inputs from resource persons before it will be passed to the Senate and eventually be up for voting in a bicameral conference. 
The House's acknowledgement to the divorce bill was unsurprisingly met with mixed reactions. In an Inquirer report, several pro-family groups and individuals brought up how this will threaten the sanctity of marriage with some also suggesting to change the word "divorce" owing to its negative connotations that spring from Western cultures. 
"Catholicism is also a foreign concept and we have embraced it in the Philippines," said Rep. Lagman in response. "Now, we will have to restudy the suggestion that we should call this bill a reinstitution of divorce because truly, we had divorce practices and policies even before the Spanish time."
A deluge of sentiments and arguments were evident on social media. Here's what people had to say: 
Many citizens were declaring that it was about time for divorce to be legalized since the Philippines is in fact the only remaining state aside from the Vatican City without any divorce laws. 
Philippines, legalize divorce. It's about time. 💁🏻‍♂️

— M.A. Buendía 💎 (@MABuendiaHD) February 5, 2020
People also found this to be good news as a divorce law will bring freedom to the rising number of people who are in bad marriages
Malapit na maging malaya ang nakararami. 👍

— Kael (@kael1205) February 5, 2020
Then again, some people were still against it as they brought up religious beliefs and argued that this will make it even harder to trust and commit to your partner and may as well promote infidelity.
Divorce Bill and Dissolution of Marriage should not be implemented in the Philippines for God honors marriage! Marriage is holy, pure, and sacred for it is from God.#NoToDivorce https://t.co/Dcl4Yyx05o

— art dinio (@artdinio) February 5, 2020
It's sad that Philippines might legalise divorce now. We're the only nation left who doesn't approve to divorce bill. Cheaters are going to be happy with this bill :(((((((((((

— 진환 봇 🍥 (@toget_tttop) February 5, 2020
But a reasonable point by @veryvalderrama is that Divorce will ultimately depend on the couple and the marriage.
If you're not for divorce, then don't get one. But please don't rob others the happiness and freedom that they deserve by going against this one thing that will not affect you or your marriage in the first place. After all, it's not your life; it's theirs. 🙂 https://t.co/ku7n4sKJiR

— Nadine my head like yeah (@veryvalderrama) February 5, 2020
An intriguing conspiracy theory is that this announcement is simply being used as a distraction from the rising coronavirus cases in the Philippines. 
In order to divert the attention of the public of the Philippines government's failure in controlling the entry of the #coronavirus, Congress approves bill legalizing #divorce in the #Philippines.

— iAmPeeJayPee (@iampeejaypee) February 5, 2020
With all the controversy, I also sent the news article to a group chat to see my friends' opinions. One of my friends who's in law school replied with this: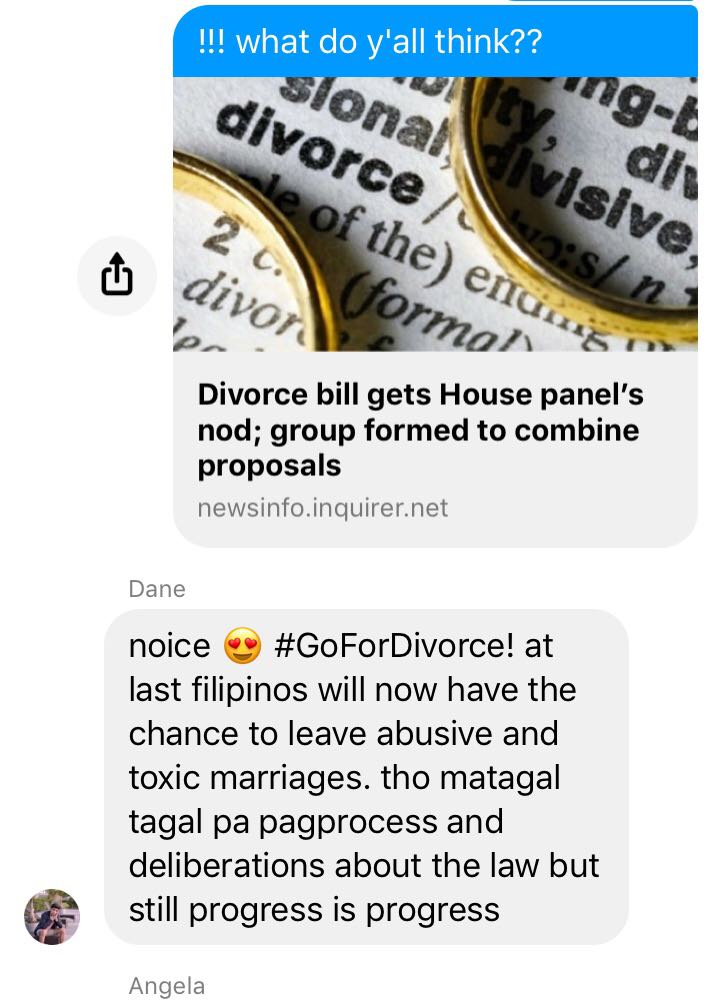 After voicing his opinions, he goes on to explain how the House's approval is still only the first step as it will need to go through hearings before it becomes a law. 
Another reply was from a friend who has admittedly suffered the consequences of a dysfunctional marriage. She echoes: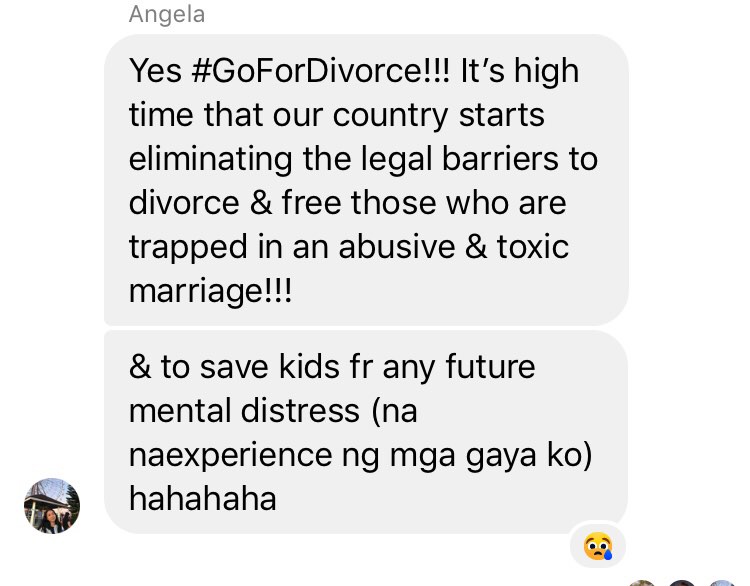 And the final reaction is from the other half of a couple who could be affected by divorce becoming a law in the near future.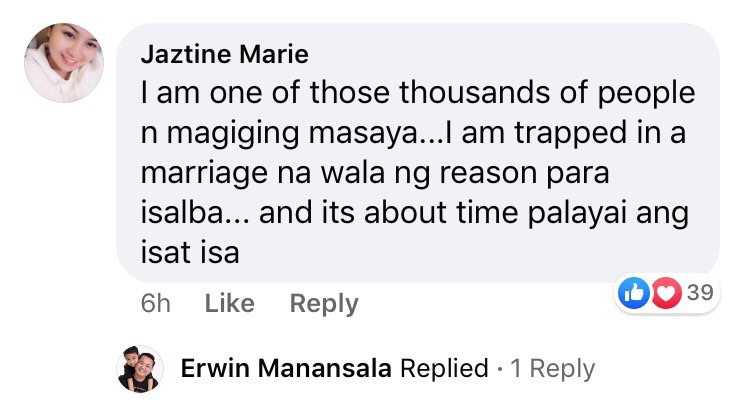 Header photo by  pasja1000 on Pixabay
Get more stories like this by subscribing to our newsletter here.
Read more:
Divorce is finally making progress in the PH
Here's how you can properly support PWDs
Can a podcast transform Filipino youth's political indifference into action?
TAGS: annulment divorce divorce philippines Gabriela women's partylist marriage religion