A wise person once told me that to feel more productive, he listens to his podcasts at 1.5 speed.
"I listen to everything on 1.5 speed so that I can get more listening in," he said to my amusement. "Usually I can finish 'The Daily,' The New York Times podcast, while I shower and do my skincare routine and listen to a TED Talk on the way to work."
This is the same guy who reads at least 10 articles in the morning before starting his day. A guy I don't personally know but felt a certain connection to based on what Vanity Fair writer James Wolcott calls an "authentic secondhand human experience," that I felt listening to him talk on a podcast called 'Gamma Project.'
When asked why former Teen Vogue editor and now Out Magazine head honcho Phillip Picardi listens to podcasts the way he does, he simply said, matter-of-factly, that it makes him feel more accomplished.
The rise of podcasts
In 2017, a study by a university in Minnesota found out that 52 percent of people listen to podcasts while driving, 46 percent while traveling, and 40 percent while walking, running or riding a bike.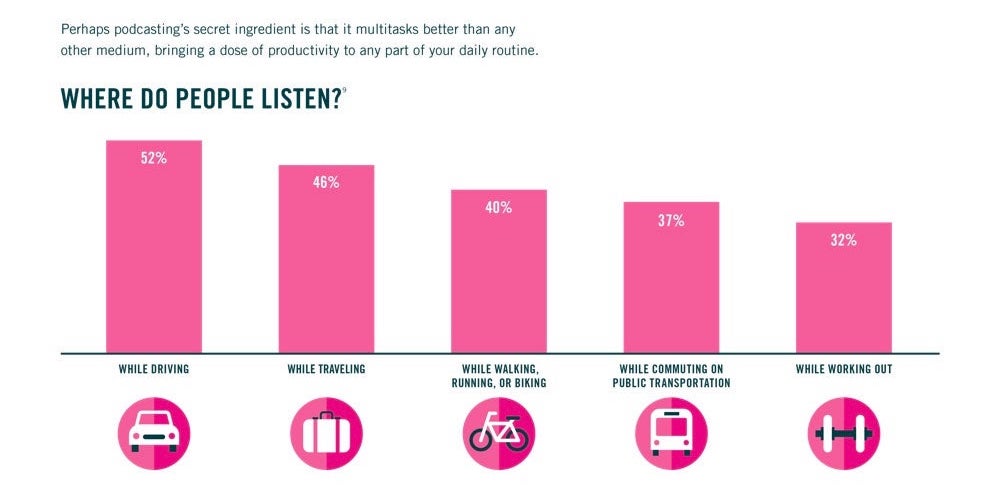 The medium is becoming the preferred format for media consumers owing to its diverse topics, forgiving durations that can vary anywhere from ten minutes to three hours or more, which 85 percent of people listen to until the end (what short attention span now?), and because humans crave oral stories.
Statistics has greatly varied since. By some new estimates, these numbers have actually doubled in the last two years, even more so has its demographics, which now mostly consists of people between the ages of 12 and 24—basically Gen Y and Z.
A need for a more informed podcast
In the US, where mainstream podcasting is said to have emerged in 2003, shows like "Serial," a long-form investigative journalism podcast sparked the country's interest in the "pods." While in the Phillippines, a quick look at Spotify's podcasts chart reveals that Filipinos like listening to TED Talks, "religious figures" like Bo Sanchez, Joel Osteen, and Oprah, a guide to relationships called "Boiling Waters," and the self-proclaimed "pillar" of Philippine podcasting, a radio and TV personality named Mo Twister.
While I'm no Phillip Picardi in terms of podcast listening skills (nor editorial foresight-wise), as a novice listener, I find that there are no local shows equivalent to the informative and insightful allure of a good episode of, say, "Fresh Air" with Terry Gross (despite that painfully cringey interview with Lizzo), or Refinery29's "Unstyled," where founder Christene Barberich invites powerful women from media and other fields to talk about pertinent issues surrounding feminism, work, and life, or even "The Economist Asks" which guests include Anna Wintour, Malcolm Gladwell, Melinda Gates, and other key political figures and experts.
One in five Filipinos depends on Facebook for daily news, a social media platform rife with misinformation, susceptible to data theft, and notorious for its role in tilting elections all over the world.
And if there ever is a few good informative ones, they are probably usurped by these shows that pander to our desire for chismis and unfounded veneration for problematic personalities.
There's so much potential for podcasting in the country particularly because radio still remains the second most-trusted source of political information, and second, because the audiences are changing, becoming younger and more aware of social issues. By 2020, Filipinos age 10-24 will comprise at least a third of the population.
Informing a young generation of Filipinos
In fact, part of this demographic (18-29 years old) already consists over 30 percent of registered voters in the last mid-term elections according to the Commission on Elections (Comelec). Although, because of various phenomena like the multiplicity of experience brought about by belonging to differing socioeconomic classes, varying educational attainment, etc., the youth bloc is hardly strong enough to sway the elections, as noted by experts.
Based on the latest statistics on education in the country by the Philippine Statistics Authority, nine percent of Filipinos aged 6 to 24 are out of school owing to factors like the high cost of formal education. [READ: How much does it cost to study at the country's top universities?]
This alone significantly affects the youth's level of participation in and understanding of local issues.
More alarming, though, is the fact that one in five Filipinos depends on Facebook for daily news, a social media platform rife with misinformation, susceptible to data theft, and notorious for its role in tilting elections all over the world (see Netflix's 2019 documentary "The Great Hack").
How then do we educate the youth given these inequalities and harsh realities in the era of fake news? And given facts alone can't convince people because we are hardwired to reject ideas that challenge our worldview and identity (yes, I learned that through a TED Talk).
Staying woke
A new locally production suggests a solution: laymanizing social issues and utilizing the rising medium that is the podcast. Called "Woke Up PH," this weekly podcast program is geared towards millennials and Gen Z audiences (which explains their choice of name, a word that traces its origins to the African American vernacular). [READ: A glossary of terms you need to stay woke in 2019]
"We aim to address the growing disinterest and apathy of today's youth with issues they simply cannot understand or do not see the relevance of," the podcast's About page reads. Other than discussing these issues in layman's terms, it also wants the youth to understand its relevance enough for them to do something about it.
As of writing, "Woke Up PH" already has seven episodes published and accessible through Apple Podcast, Spotify, and YouTube. It's inaugural episode—its longest one to date at 60 mins—is a response to President Duterte's fourth State of the Nation Address in July, wherein Office of the Vice Presidente Undersecretary Phillip Dy talks about the under-the-radar efforts of Leni Robredo. [READ: 4 key takeaways from Duterte's fourth SONA]
True to its mission to educate the Filipino youth, their second guest is Comelec's James Jimenez, who talks about the perceived youth vote and why this younger generation of voters has the potential to sway the elections if they are more informed. [READ: A comprehensive guide on voter registration]
Other guests, who along with "Woke Up PH" founder and host Edmer Maguan, tackle issues from the Marawi rehabilitation and the killings in Negros to the state of LGBTQ rights and the environment include legislator Samira Gutoc, activist Nadja De Vera, LGBTQ rights advocate Jervi Li popularly known as KaladKaren Davila, and Masungi Georeserve's Billie Dumaliang. [READ: Masungi Georeserve proves conservation and land development can jibe]
"I just hope it inspires more young people to take action. I feel like many want to do something theoretically, but it just doesn't get done unless you just accept that you have to stop making excuses for why you can't start something." —Edmer Maguan, 'Woke Up PH' Founder and Host
We spoke to Maguan—who has a degree in Communication Research from the University of the Philippines Diliman and is a candidate for a Masters Degree in Business Administration at the Stanford Graduate School of Business—about his brain-child, its beginnings, influences, how they are reaching out and appealing to younger audiences, and the challenges of being a non-profit.
How did the idea of producing a socially-aware podcast start?
There are two things that led to this, actually. First was the 2019 midterm elections where many of today's youth were left dismayed with the results and a lot of conversations were happening about doing something. I realized at the end of the day we can stay in our societal silos and talk endlessly or we can just decide to take action. I did the latter.
The second factor was my love for podcasts. I found myself listening to so many podcasts that covered current events and social issues in the United States, but none from the Philippines. At the same time, I couldn't find any, so I just started my own.
Which podcasts did you look up to while formulating what would be"Woke Up PH"'s format?
I really like listening to The New York Times's "The Daily" to stay informed on social issues and I draw inspiration from their host Michael Barbaro for his line of questioning. I also like Kara Swisher's "Recode Decode" that tackles how tech affects society as a whole and vice versa.
You are currently studying abroad, how are you managing between doing interviews and overseeing "Woke Up PH"'s operations?
I have an amazing team of producers, editors, graphic designers, and marketers who do an amazing job at what they do. I made sure to surround myself with excellent people that I trust who also shared the same passion.
How are guests selected? Can you walk us through the process of producing an episode?
We use a topic-based approach. As a team, we pick a topic first and then find a guest who can best talk about it. Once we source the guest, we prepare an interview guide and schedule the interview. That's the gist of it but, of course, there are a lot of little operational things that add up and take up a lot of time.
Platforms such as podcasts can inevitably be taken advantage by people with self-serving agenda. How do you ensure that doesn't happen with "Woke Up PH?"
As with any other platform, media, or resource that can be the case. For the people working behind it, I make sure to have deep conversations with volunteers about their motivations, principles, and values. For guests, our producers go through a thorough background check. We promote varying perspectives, but at the end of the day, we owe it to our audience not to spread fake news.
What are some considerations you have when putting together an episode to make it more appealing to your target audience? And in turn, how do you measure metrics in terms of engagement?
First, we ensure the topic we will talk about is one that our target audience find appealing or will find appealing. Next, secondary to competency, we also consider the clout our guests have. In terms of metrics, we like to look at three things: (1) number of starts to see how the topic was able to hook them; (2) drop-off rate to see how well we were able to sustain our audience throughout each episode; and (3) followers to see how each episode has made them interested in the podcast as a whole.
How is "Woke Up PH" being funded? Is it a non-profit?
We are and will always be a non-profit. We're on the investment stage and still developing our listenership. Down the line, we plan to do advertisements and fund-raising, but I say we will never be for-profit because the money made from advertisements and fundraising in the future will just go back into the company to further promote it. Our end goal is to reach the most people that we can, so everything should and will go into that.
Who are some personalities and figures you are looking to have on the show? How many episodes are you aiming to do so far?
We want to have a mix of personalities come on board from community leaders, politicians, professors, and even private individuals who have done their own thing. We are a weekly podcast and don't plan on taking any breaks. Our seasons will be per year. We started at the end of July this year, so we'll have 20+ episodes for season one, but season two should ideally be 52 episodes.
What key takeaways do you want your audience to have after having a thorough listen to your podcast?
From listening to the podcast, I'm hoping the Filipino youth will have a concrete idea of what they can do to take action on social issues. We end our podcast each time with a call to action, so the goal has always been to mobilize the youth.
For those who find out the beginnings of the podcast, I just hope it inspires more young people to take action. I feel like many want to do something theoretically, but it just doesn't get done unless you just accept that you have to stop making excuses for why you can't start something.
"Woke Up PH" is available on Apple Podcast, Spotify, and YouTube (audio only).
Get more stories like this by subscribing to our weekly newsletter here.
Read more:
How women are at the forefront of Marawi's rehabilitation
In the killing fields of Negros, the lives of farmers and activists mean nothing
A comprehensive guide on voter registration
Don't get SOGIE? Check out this easy primer
Writer: CHRISTIAN SAN JOSE
ART LEVEN SANGALANG