4 key takeaways from Duterte's fourth SONA
We listened to Duterte's one-and-a-half hour rambling so you don't have to
Jul 22, 2019
The fourth State of the Nation Address (SONA) of President Rodrigo Duterte is one with a few firsts. It's the first time they've had an LED screen, which according to news anchor Karen Davila, was to display graphics accompanying the President's report; it's the first time for a live orchestra, specifically the Philippine Philharmonic Orchestra, to perform at the function; it's also the first time Duterte had been late to the SONA.
The President arrived a few minutes before 5 p.m. in the presidential chopper (when he should have been giving his speech at 4 p.m.), with some political analysts and reporters speculating that his tardiness had something to do with the weather. Last year, the SONA was delayed due to the turnover of the House Speakership.
After a few brief greetings, Duterte started his speech a few minutes after 5 p.m., citing his three percent disapproval rate from a recent survey. He joked, " I hope that the members of Congress, sana hindi kayo included sa three percent."

Corruption
The issue of corruption was the first thing that he addressed, expressing his disappointment over the recent government scandal involving the PhilHealth. "Huge amount of medical funds were released to cover padded medical claims and imaginary treatment of patients. I am grossly disappointed." He noted that while the Bureau of Customs was lauded for having generated P585 billion last year, had the BOC "been clean," it could've generated the Filipino people a lot more money.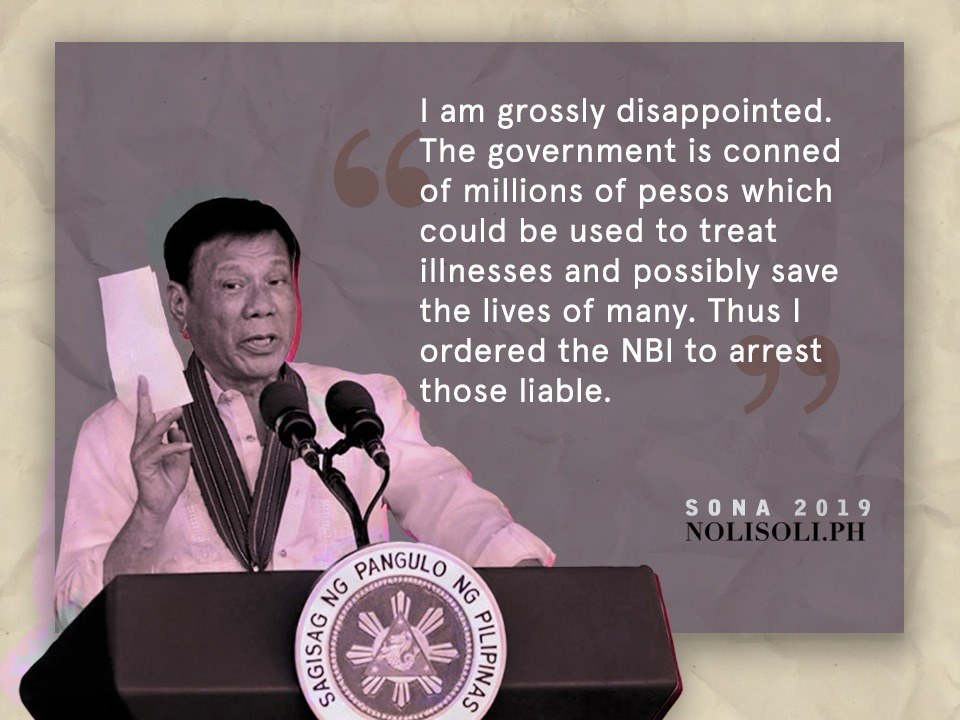 He proceeded to implore Congress to impose the death penalty in cases of heinous crimes related to drugs, corruption, and plunder.
(READ: Why do government offices still close at lunch despite "no noon break" policy?)
But at the same time, he asked Filipinos to be assertive when dealing with government offices. "'Pag kayo o ikaw, hiningan more than the required payment by government at humingi pa sa iyo, I've been telling you, mag-eskandalo kayo sa opisina. Make a scene. Sampalin mo!"
Later in his speech, he wearily stated, "When will corruption end? Well, I don't know. I've been in government for 35 years. Hanggang kailan ba talaga itong corruption na ito? Corruption exasperates. It frustrates."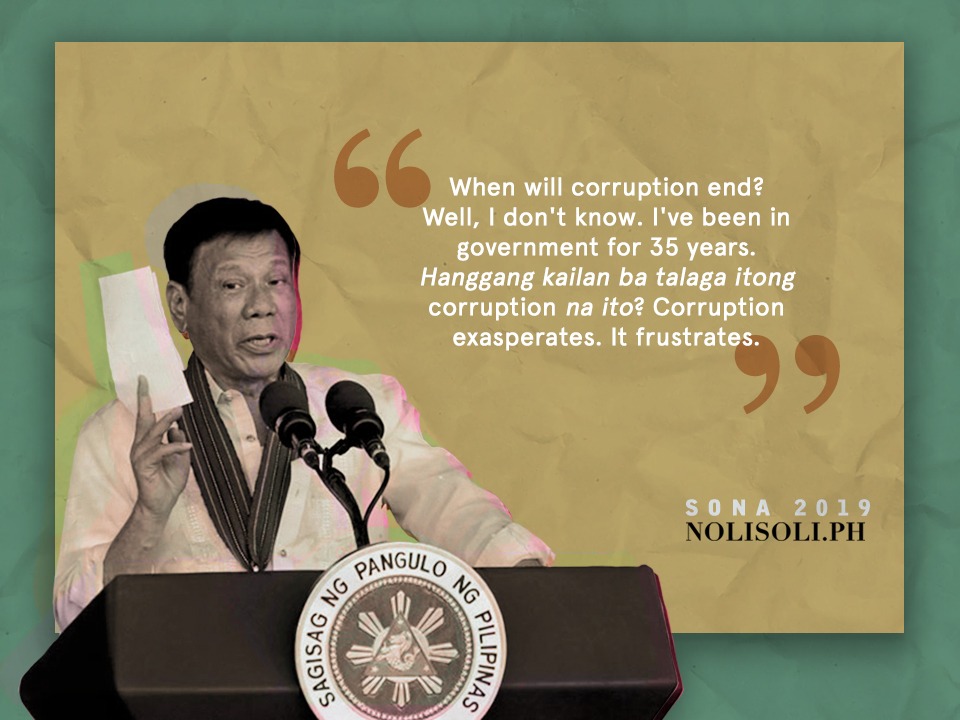 Environment
The administration also took pride in its effort to rehabilitate Boracay and Manila Bay.
"I am proud to say that it has been restored close to its original pristine state," he said. "Boracay island is just the beginning." This would've been a good enough statement, had he not chosen to sneak in a misogynistic comment: "And the girls there, the foreigners are just waiting for you gentlemen to visit the place. They are on the beach, sunbathing."
(READ: Manila Bay, a "magnified cesspool," to undergo Boracay-like rehab in January)
He also dispelled speculations that the rehabilitated lands will be given to wealthy investors. "Wala akong kaibigang mayaman. Ayaw kong kaibigan ang mayaman. Because 'pag mayaman ka, tatabi ka lang sa akin, pati ako napahiran na ng kung anu-ano ang hingiin mo sa gobyerno."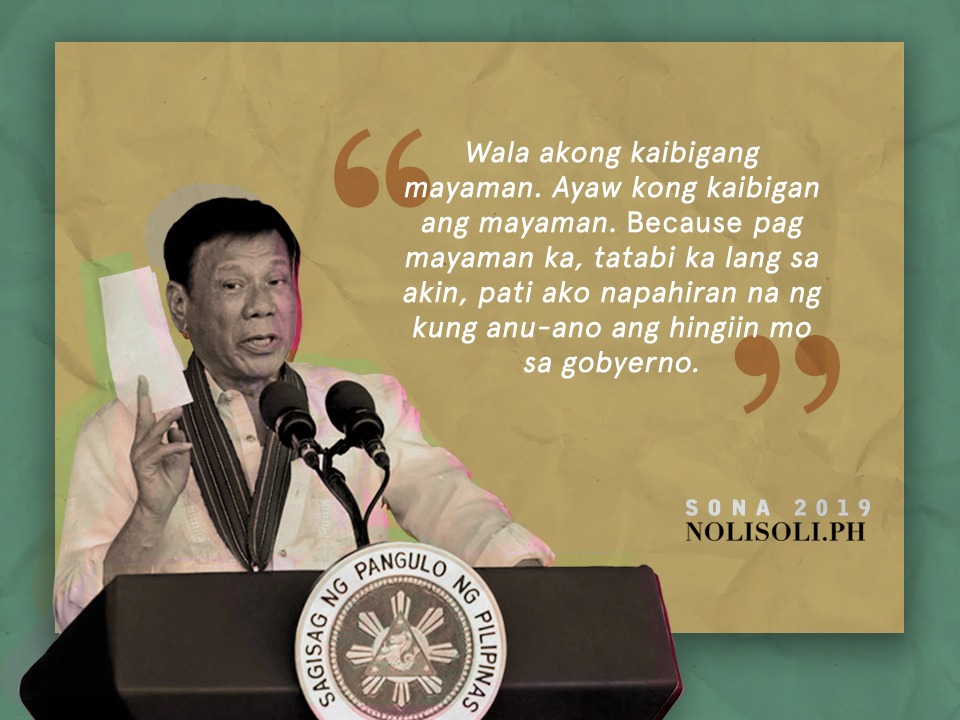 On the rehabilitation of Manila Bay, Duterte has this to say: "We will shut down establishments that continue to pollute and poison our waters. I am going to dismantle your building or simply burn it down so we can have a new set up of environment-friendly whatever it means."
(READ: DENR to close more establishments by Manila Bay in the coming weeks)
West Philippine Sea
Thankfully, Duterte used his fourth SONA to address our sovereignty over the West Philippine Sea, saying: "Our ownership of the West PH Sea is internationally recognized." He acknowledged (even confirmed) that the WPS indeed belongs to the Philippines based on the United Nations Convention for the Law of the Sea (UNCLOS). But at the same time, "UNCLOS and the arbitral award in case of Rep of PH vs China recognizes instances when other states may utilize the resources found within the coastal states' EEZ." The "other states" being China.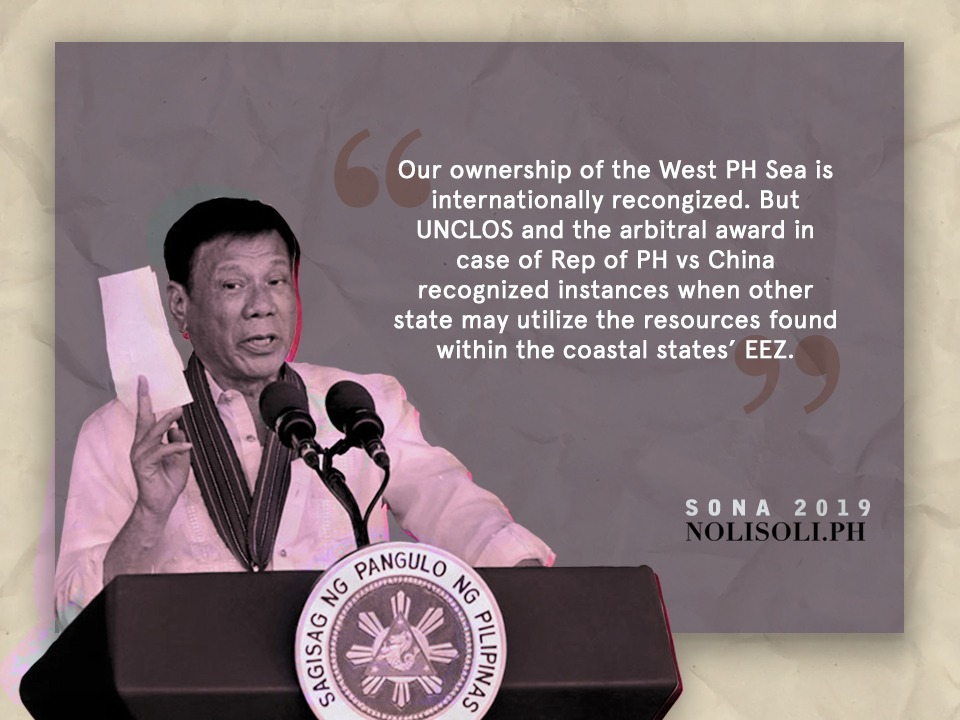 (READ: Why is Pres. Duterte mum over the plight of fishermen attacked at Recto Bank?)
However, he countered that with a word of caution: "It is ours but we have been acting along that legal truth and line. But we have to temper it with the times and the realities that we face today." He added grimly, "the avoidance of conflict on our national waters compels us to perform a delicate balancing act. War leaves widows and orphans in its wake." It's a great point, and the president should listen to it himself: The drug war has also claimed the lives of many and left countless widows and orphans in its wake, too.

Duterte is tired of his own presidency
A common thread running throughout the speech is the President's seeming exhaustion at his own administration. While there were brief spikes of energy ("It is not the eagle in the fight, but the fight in the eagle that matters. Believe me, I will end my term fighting"), his speech was littered with references to a general feeling of fatigue.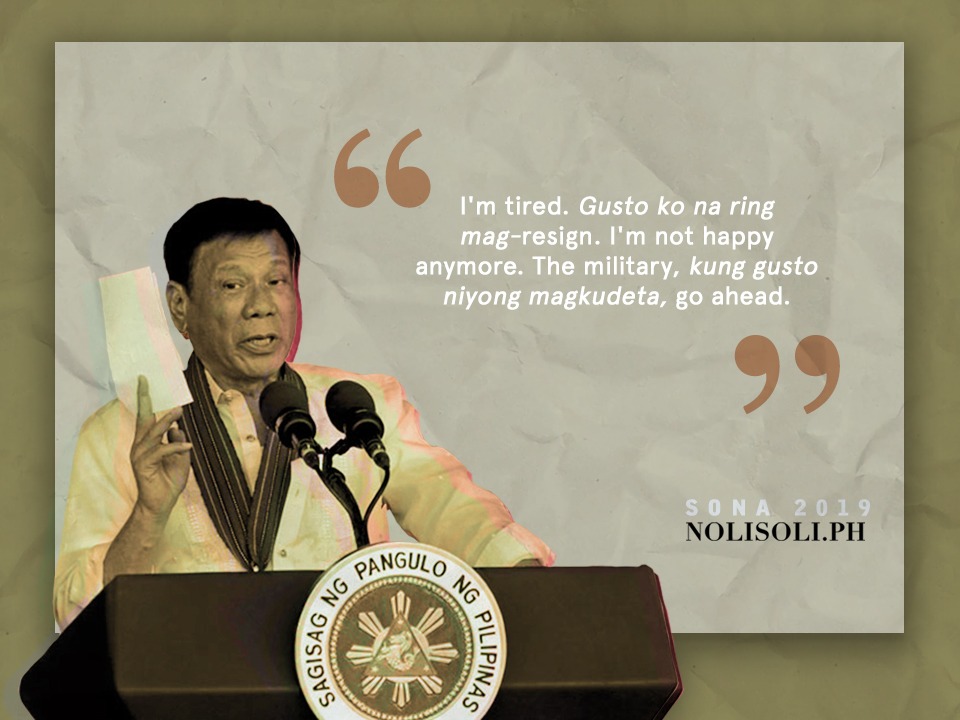 "I'm tired. Gusto ko na ring mag-resign. I'm not happy anymore. The military, kung gusto niyong magkudeta, go ahead," he explicitly stated.
(READ: Rumors will end if Malacañang gives forthright statements about President Duterte's health)
He also even went as far as joking about being convicted of extrajudicial killings by the International Criminal Court, asking the tribunal if it could provide him with "a comfortable cell, heat during wintertime, air conditioning in summer, and unlimited conjugal visits."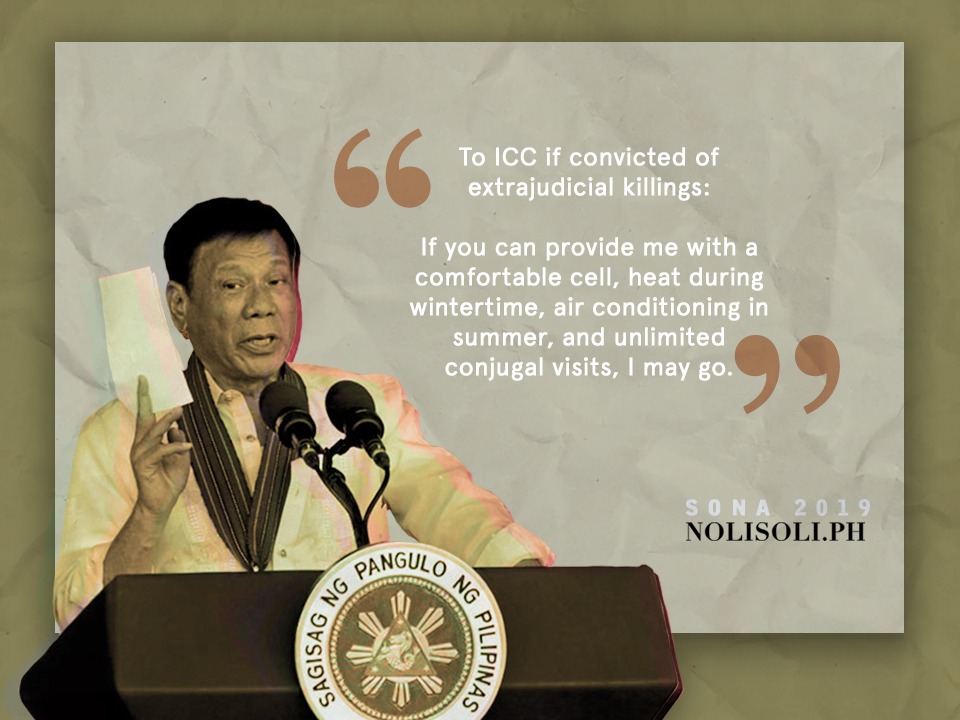 As expected, his fourth SONA went beyond the promised 45 minutes, lasting an hour and 33 minutes. At one point, he even acknowledged going overtime and gave the audience a way out. "I promised you 45 minutes. You want to go home now?"
Unlike his other SONAs, where we would've been too incensed at his words to consider packing up before it ended, we honestly did want to go. If you're tired, Mr. President, so are we.
Get more stories like this by subscribing to our weekly newsletter here.
Read more:
Checking up on Duterte's 2018 errand list in time for the 2019 SONA
Fashion is political especially on the SONA red carpet: A first look at this year's statement pieces
No surprise: Duterte's misogyny has trickled down to the rank-and-file
TAGS: Duterte philippines presidet duterte sona 2019