As COVID-19 positive cases near the 14,000 mark in the Philippines, a handful of hospitals are also on their way to reaching full capacities [READ: Five hospitals in Metro Manila have now declared full capacity amid COVID-19 outbreak] and their halls further becoming marked territory. To help decongest medical facilities and lessen the risk for non-critical patients, it was crucial for medical services to remain accessible either through phone calls or online consultation services. Here is a growing list of organizations' hotlines you can dial for different health concerns. 
Telemedicine hotlines by the Department of Health 
In addition to Department of Health's (DOH) emergency COVID-19 hotlines, open too all callers nationwide, you can call the number (02) 894-26843. PLDT, Smart, Sun and TNT subscribers can also access the hotlines by dialling 1555. 
Meanwhile, the department has also partnered with Globe Telehealth to provide free calls to Globe and TMsubscribers via health service hotline KonsultaMD through the number (02) 7798-8000.
CloudPx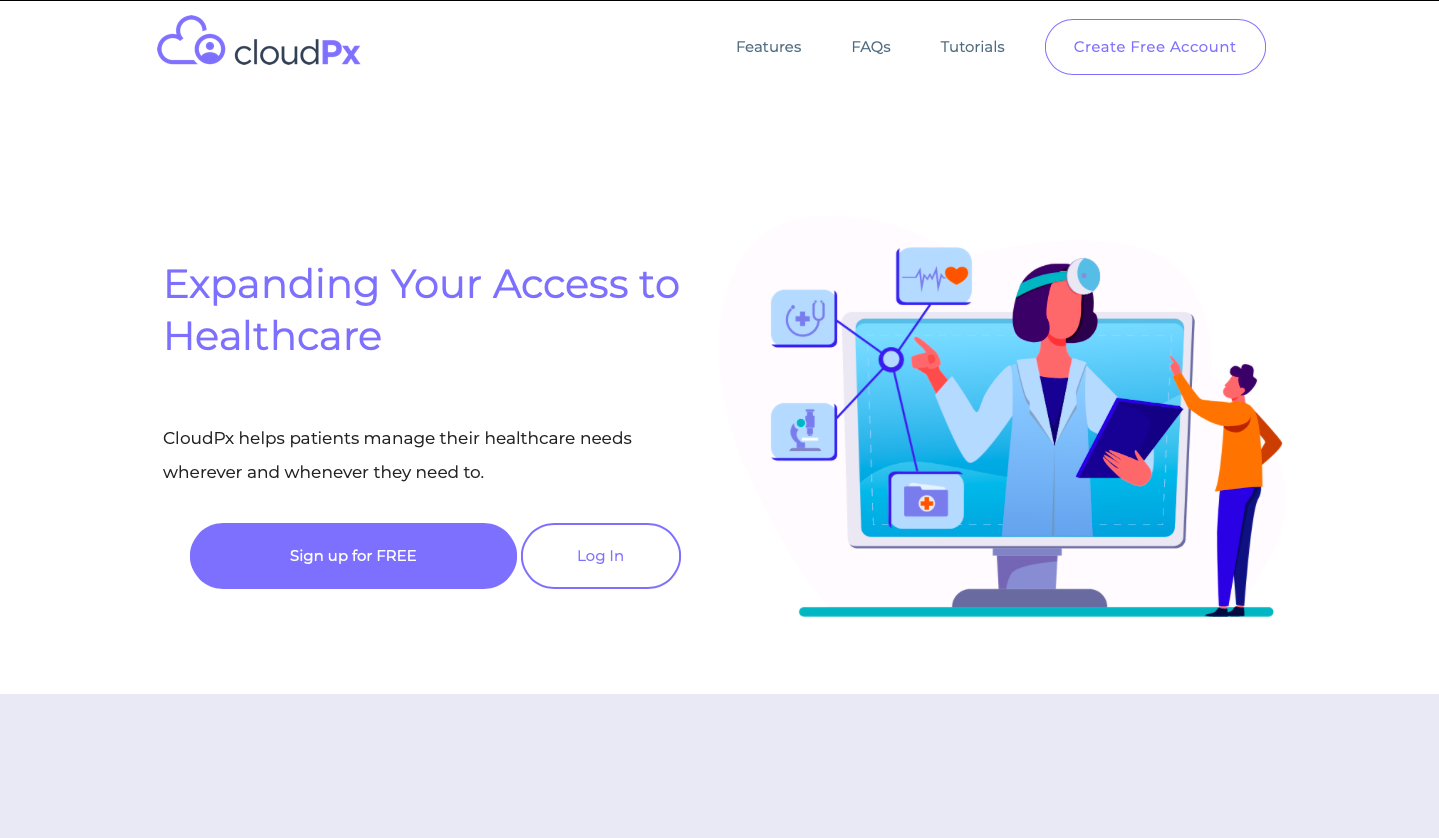 The DOH has also recently partnered with Cloudpx– a fully integrated personal medical management system that works in conjunction with CloudMD which is a practice management system used by doctors. CloudPX allows users to schedule online consultations with doctors and to receive doctor's orders (prescriptions, medical certificates etc.) directly into their CloudPX account.
Using CloudPx is free. However, some doctors may charge for their services, which includes a minimal service fee. Nevertheless, all you really have to do is sign up for an account as a patient. You can read about how its whole system of E-consultation sessions operate here.
SeeYouDoc

Another partnership from the DOH is with SeeYouDoc– an online medical and/or dental appointment booking system first introduced to doctors in Marikina City, Philippines. It offers a free and convenient way to find board-certified doctors and swiftly book appointments for free. Through this, you can easily access needed information regarding a doctor's practice and then book an appointment accordingly.
Whatever time of the day and wherever you may be, you can easily search for doctors by name, location, specialization or Health Maintenance Organization (HMO).  Through this, you can easily access needed information regarding a doctor's practice and then book an appointment accordingly. They offer consultations  and services under general medicine, dentistry, dermatology and even OB-GYN. You can sign up for an account here.
Teletherapy by the Office of Sen. Risa Hontiveros and Mindnation 
Last  Apr. 20, the Office of Sen. Risa Hontiveros announced that were accepting bookings for their Teletherapy services until April 30–which they have since extended. The program in partnership with behavioral healthcare system MindNation aims to consistently help people who might be feeling distressed during the pandemic and especially as May is Mental health awareness month.
Employees and students based in the Philippines and Singapore can sign up through this link to get free 30-minute consultations with licensed psychologists from 10 a.m. to 10 p.m.
National Center for Mental Health's crisis hotline
The Department of Health along with the National Center for Mental Health has also set up a hotline operating now for those who are seeking mental help and advice from professionals. Have a free consultation by calling their hotlines at 0917-8998727 or (02) 8989-8727.
Telepsychotherapy for Frontliners
Numerous clinics have also opened up their hotlines and websites for frontliners who may be dealing with the mental and emotional burnout that comes with attending to the influx of COVID-19 patients for hours on end. Included in these clinics and organizations are: Diliman Psychological Services (UPD PsycServ), Ateneo Bulatao Center for Psychological Services, Circle of Hope Community Services, Inc, Protect the Frontline by the National Center for Mental Health, In Touch Community Services, Hopeline Philippines, Thomasian Mental Health Responders. See the full list and further details here.
[READ:
Mental health check: How digital psychotherapy helps us cope with pandemic anxieties
]
Teledermatology for the Philippine General Hospital's department of Dermatology
For its regular patients and new patients with urgent skin diseases, PGH's dermatology department has recently launched its teledermatology services. To schedule consultations, all you need to do is send a private message to UP-PGH's Department of Dermatology's official Facebook Page. Consultation hours are on weekdays from 9 a.m.- 5 p.m. 
MediCard's online and telehealth services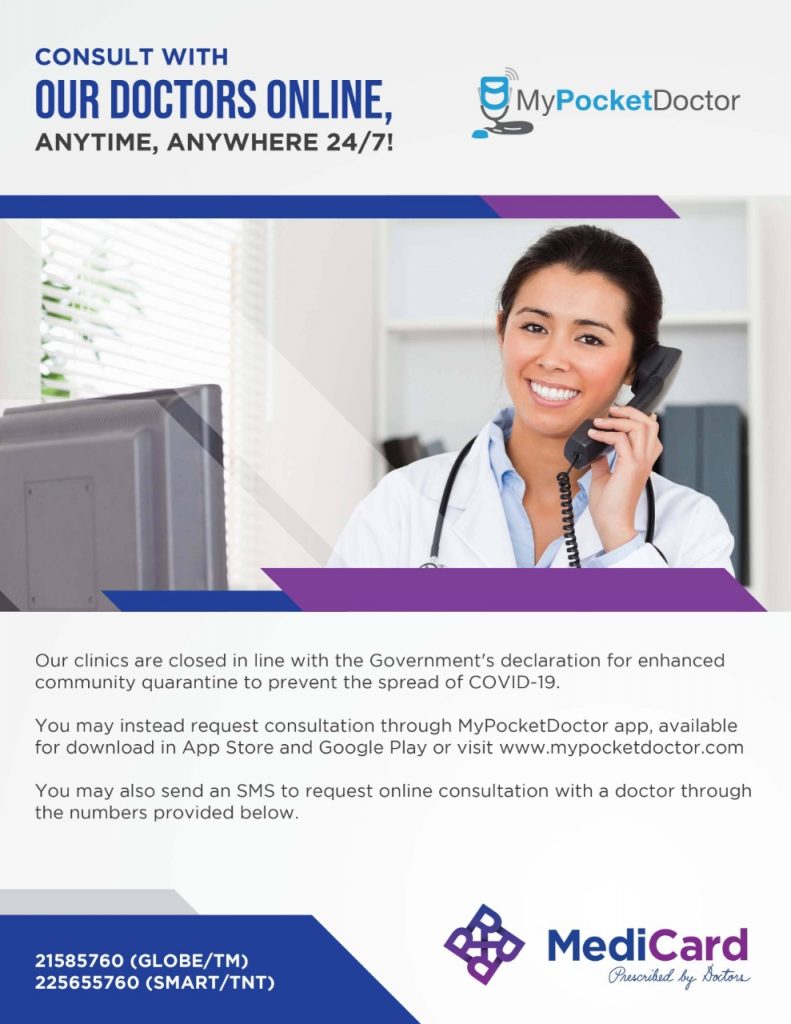 Due to the implementation of the enhanced community quarantine, MediCard's clinics are currently closed—but patients or anyone with medical concerns can reach them for a consultation via the MyPocketDoctor app which can be downloaded from the App Store and Google Play.
You can also seek medical advice from them at any time of the day through their official website or SMS through 21585760 for Globe and TM and 225655760 for Smart and TNT.
Header photo by Annie Spratt on Unsplash
Get more stories like this by subscribing to our weekly newsletter here.
Read more:
Get online consultations for free from this mental health care service
This online vet consultation group will help your pets survive the lockdown
5 online communities to help you cope during quarantine
Writer: JOY THERESE GOMEZ