What happened to the old Harry Roque?
"Nagpapatunay po na hindi po Presidente ang nasa likod sa panunupil diumano ng kalayaan ng malayang pananalita at pamamahayag… Suportado po ni Presidente ang malayang pananalita at malayang pamamahayag," Roque said as he opened one of his regular daily briefings at the Palace.
[READ:
What's next for Rappler's Maria Ressa, Rey Santos Jr. after cyber libel conviction?
]
Before appearing in a virtual presser yesterday to convey the Palace's stance on the guilty verdict against Rappler CEO Maria Ressa and researcher-writer Reynaldo Santos Jr. on cyber libel charges, Roque used to be on the other side of the argument.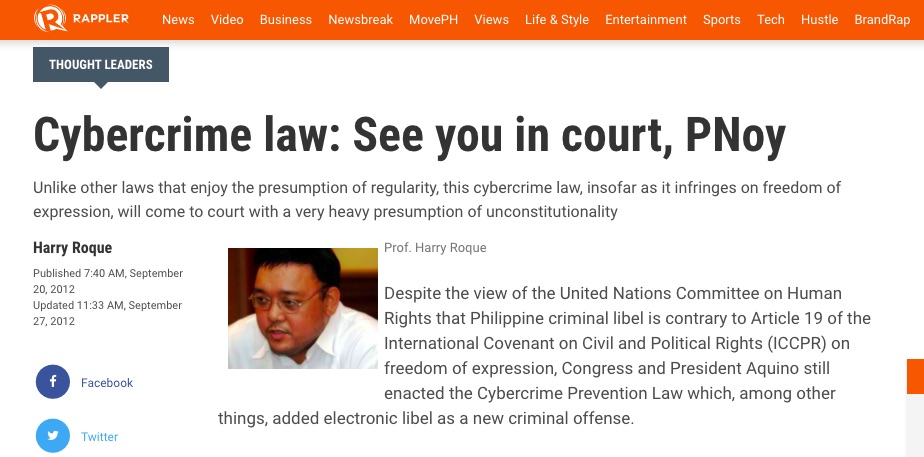 Don't believe us? Read this opinion piece he wrote on Rappler(!) days after the passage of Republic Act No. 10175 or the Cybercrime Prevention Law in 2012, where Roque, then a staunch defender of human rights, wrote a case against the "draconian" law. He started by citing the United Nations Human Rights Committee's view on Alexander Adonis vs. Republic of the Philippines, which says that the country's then-new cyber libel law was against Article 19 of the International Covenant on Civil and Political Rights.
Alex Adonis was a radio broadcaster in Davao whom Roque represented in a libel case in 2007. Adonis was convicted after a libelous report about the alleged extra-marital affairs of then House Speaker Prospero Nograles. (In the same virtual briefer on June 15, Roque recalled President Duterte backing Adonis. It was where Roque and the then Davao mayor were introduced.)
Roque, in his piece, even had the foresight to predict the law's wide-ranging implication to freedom of speech given the Philippines' huge social media usage. He said, "Any user of these leading social media tools is now liable for prosecution since the fact that an allegedly libelous writing appeared on the internet is already sufficient to prove the element of publication." A situation that inches closer to reality with Ressa's verdict as precedent.
RA 10175 was passed in 2012 under then President Benigno "PNoy" Aquino III, whom Roque criticized for his decision to do so. "[I]nstead of heeding the UN's call to review its existing libel law, Congress and PNoy appeared to have slammed the body by enacting an even more draconian legislation against cyber libel.
"By criminalizing internet libel, government expanded the infringement of freedom of expression even to the realm that has enabled us to give life to the principle of a free market place of ideas—the internet."
The former University of the Philippines Law professor (who taught constitutional law) even went as far as calling the previous administration "insecure," saying, "[C]oupled with its unprecedented public approval ratings, it continues to be insecure and unable to compete in the market place of ideas."
It's as if 2012 was an altogether different era. Barely eight years since he wrote this scathing criticism of the government and its law—even challenging PNoy to court ("We will see the PNoy administration in court on this one. And we will prevail," he wrote), here we have an almost unrecognizable Roque that stands behind the podium this time, in the graces of a new president.
Whatever happened to that Harry Roque?
Header photo courtesy of Inquirer
Get more stories like this by subscribing to our weekly newsletter here.
Read more:
What's next for Rappler's Maria Ressa, Rey Santos Jr. after cyber libel conviction?
How the Philippine media was threatened over the years
Is the ABS-CBN shutdown unconstitutional?
Writer: CHRISTIAN SAN JOSE