From fan pages to political accounts: Here's what could happen after celebrity pages get sold
After offers to buy celebrity fan pages surfaced, netizens have found evidence as to what these pages could become after purchase
Jul 22, 2020
Only last month, a number of netizens found a number of empty Facebook accounts using their names all around the same day on June 7. Netizens suspected that these were political trolls creating fake accounts as a ploy to maybe incriminate citizens for terrorist acts—all this happened during the height of the Anti-Terror Act's process of becoming a law. 
[READ: Fake Facebook accounts are on the rise—and DOJ is already ordering an investigation]
Recently, another suspicious activity has been happening online and it's got the same elements: a bunch of unknowns wanting to take another person's identity. Last Saturday, July 19, actress Bea Alonzo shared on her Instagram stories that fans were messaging her about unknown individuals offering to buy Bea Alonzo fan pages, many of which already had a number of followers. Afterwards, actress and activist Angel Locsin and actress Maja Salvador also published messages of their fans expressing the same concern.
Bea, then Angel, then Maja revealed that some people have reached out to their fan page accounts asking to buy the accounts (with a large following). We don't know sino ito at bakit nila gustong bilhin, but dear fandoms, as @mjfelipe said, please hold the line. ✊🏼❤💚💙 pic.twitter.com/ahyhiSlgxM

— Bianca Gonzalez (@iamsuperbianca) July 21, 2020
It is not yet known why these offers are being made but as Alonzo said, "you be the judge." However, after Alonzo and Locsin's speculative posts, netizens were able to find evidence that a fan page was once converted into a politician's Facebook page in the past. 
University of San Carlos' official school publication Today's Carolinian pointed this out in a Facebook post this week. According to the paper, netizens discovered that Deputy Speaker LRay Villafuerte's Facebook page was formerly a fan page for GMA actor Jake Vargas. 
A silent feature of Facebook pages is that it's able to show a page's history, including when they changed a name and what they changed it from. It was around 2018 when Facebook developers added this feature to promote account transparency—and in this case, it truly is serving its purpose.
Through the feature, anyone can visit Villafuerte's official Facebook page, click "See More" on the "Page transparency" section at the right sidebar and click "Page History." From there, you can clearly see that the page was created on Feb. 1, 2011 under the name Jake Vargas. It was then changed to Jake Villafuerte on Mar. 26, 2016 and changed one final time to its current iteration Lray Villafuerte.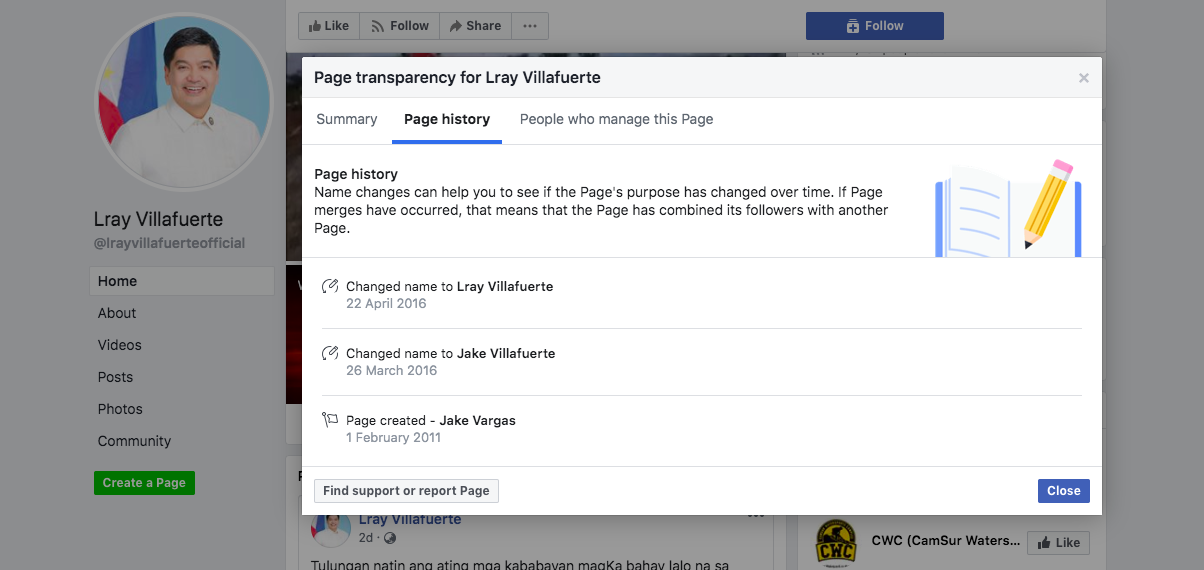 Likewise, Villafuerte's son Camarines Sur Governor Migz Villafuerte's Facebook page was also once a completely different page. On its inception on Jan. 9, 2014, it was first called "Mcdonald's Sexret Files." A year later, on Nov. 12, 2015, it became Gov Migz Villafuerte 2016 and was finally renamed to Governor Migz Villafuerte on May 20, 2016.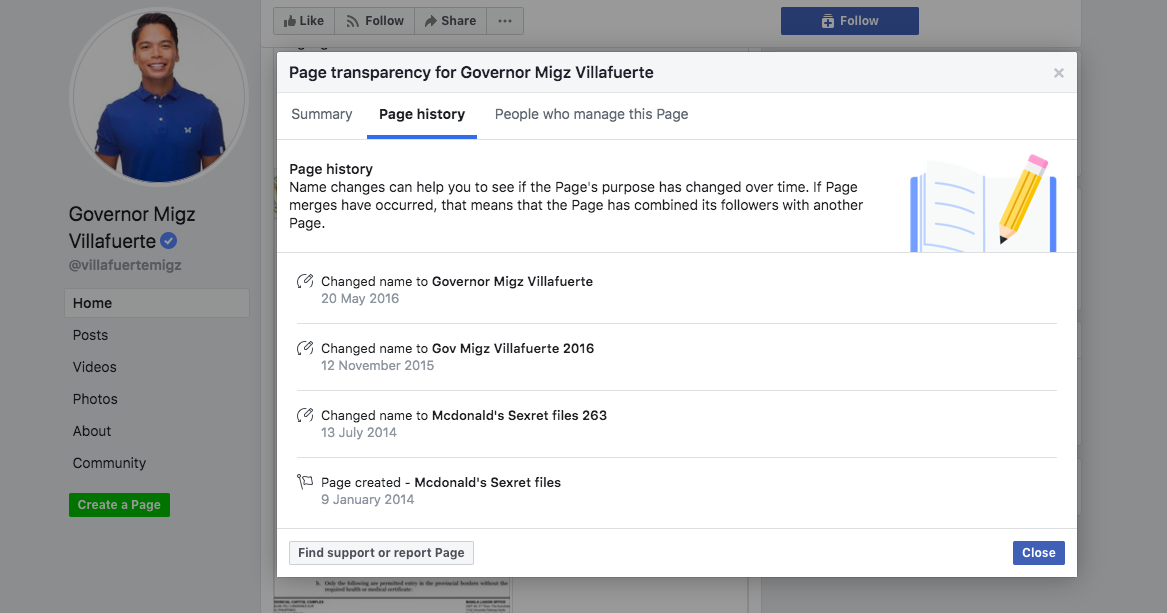 The current offers to buy fan pages were made after a number of ABS-CBN stars, including Alonzo and Locsin, protested against the media network's shutdown. 
Show business is a big part of the Filipino popular culture and it translates even to social media fan bases, where many celebrity fan pages can be found with varying number of followers, some with millions even
These fan pages are used to promote the celebrity's projects, shows, social media accounts and offer a glimpse of their lives outside of television.
Get more stories like this by subscribing to our weekly newsletter here.
Read more:
Bye fake news? Facebook will now boost credible news reports on your feed
Anti-Terror Bill dissenters themselves may be behind fake FB accounts —Sen. Lacson
ABS-CBN's shutdown has everything to do with press freedom
TAGS: ABS-CBN Angel Locsin Bea Alonzo Facebook governor lray villafuerte maja salvador migs villafuerte the carolinian trolls