Who can ever forget this mythical bird? "Ibong Adarna" was among the must-read literary classics back in high school, and we've all had our fair share of opinions about the three princes of Albania—Don Pedro, Don Diego and Don Juan—and their pursuit of the mystical bird whose voice can both lull anyone to sleep and heal any illness.  
This weekend, we're being treated to back-to-back online releases from the Cultural Center of the Philippines (CCP) and ABS-CBN that tell this all-too-familiar story that tackles love, greed, family, deceit, magic and hope. Since this quarantine has brought us to several trips down memory lane, watching these streams might be a great way to spend your long holiday.
CCP's "MALA"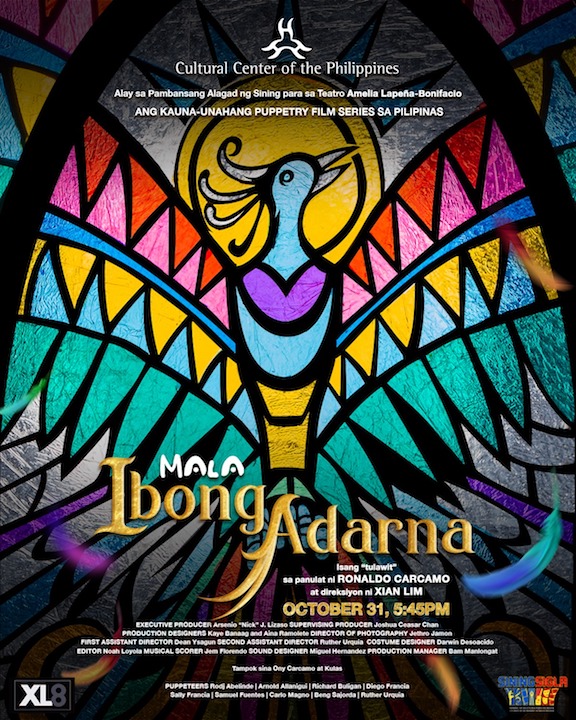 Through a new series called "MALA" which means "movies adapted from literary arts," CCP will be using puppetry to present local literary classics for the first time in the country.Its first offering is none other than the 16th-century korido. "Ibong Adarna" will be directed by actor Xian Lim, written by premiere ventriloquist Ony Carcamo and produced by CCP's very own president Arsenio J. Lizaso. 
It will be available for streaming through the CCP-Office of the President's official Facebook page on Oct. 31 at 5:45 p.m.
ABS-CBN's Sagip Pelikula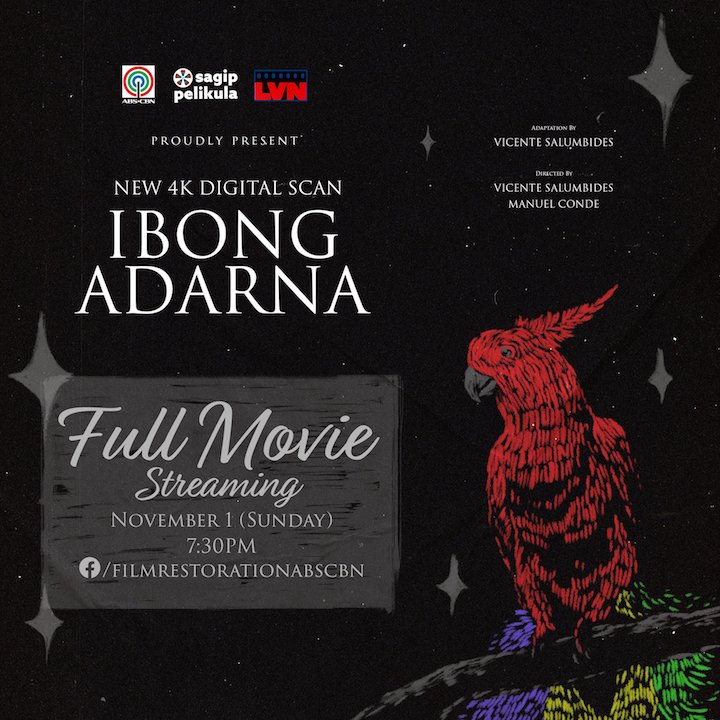 The television network's famed film restoration effort Sagip Pelikula is teaming up with LVN Pictures Inc., to unveil the restored version of the 1941 film based on the fantasy-adventure literary classic. Directed by Vicente Salumbides, it stars Mila Del Sol, Fred Cortes, Ester Magalona, Vicente Oliver, Deanna Prieto and Ben Rubio.
The epic's film adaptation is known as "one of the oldest films in the ABS-CBN archives and one of the rare pre-war Filipino films with a known copy." It was originally released in black and white, but selected scenes were handpainted frame by frame to give it a color sequence—making it the first to have such a feature in local film history.
The full "Ibong Adarna" film from 1941 will be available for streaming through the ABS-CBN Film Restoration's official Facebook page on Nov. 1 at 7:30 p.m.
Header photo from Cultural Center of the Philippines
Get more stories like this by subscribing to our weekly newsletter here.
Read more:
Filipino epic "Ibong Adarna" gets a new English staging by Repertory Philippines
Webtoons and podcasts: PH literature is taking these non-book forms
CCP Arthouse Cinema is streaming these free films for National Indigenous People's Month
Writer: YANN MAGCAMIT