Dr. Jose Rizal, Lope K. Santos, Francisco Baltazar, Jose Corazon de Jesus, Marcelo H. Del Pilar—these iconic authors are some of the pioneers of Filipino literature. They've given us numerous works written from a local viewpoint that tackle issues relevant to our culture. That's why local literature is important, and for the longest time, we've thought of books as the main and most accessible way of getting our hands on it.
But as much as we love books, there are times when we don't really have enough brainpower to process pages and pages of words especially after a long, tiring day. Some of us would prefer chilling on our couch with headphones on or scrolling on our phones—but what if we told you you could actually enjoy local literature this way, too?
For audiophiles: "Sandaang Salaysay"
Local literature taking the form of audiobooks and being distributed through podcasts doesn't come off as a surprise. After all, the local literary scene started with stories being passed down in oral form by our ancestors during pre-colonial times. "Sandaang Salaysay" reverts to this literary form, and it comes in a way that appeals to the youth, too.
This podcast series which features various local folktales was specially created by Ateneo's Areté and Ateneo de Manila Basic Education for young audiences. You can find classics like "The Monkey and the Turtle," "The Story of our Fingers," and "Ang Paglalakbay ni Juan (Tamad)" narrated in English and Tagalog.
Check out "Sandaang Salaysay" here
For webtoon enthusiasts: Penlab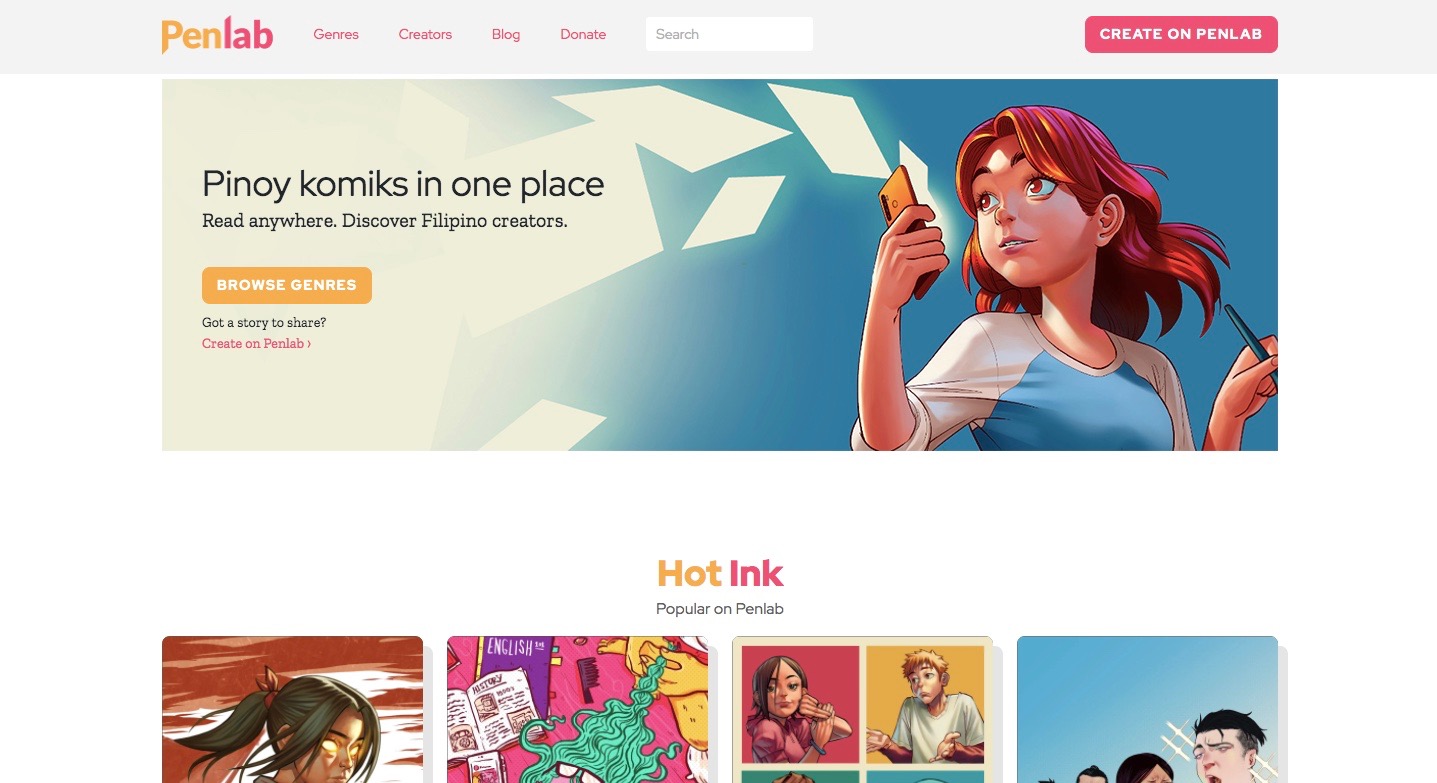 Launched just this year, Penlab serves as a platform for Filipino webtoon artists to reach more audiences for their works. It currently hosts a variety of genres, including science fiction and fantasy, comedy, romance and suspense. While all series on the website are available for free as of writing, Penlab's creators are looking for ways to let readers support webtoon creators through the platform. 
Among the works we'd recommend you start with are Kalabaw Kolektib's gods-and-monsters reimagination of the country's colonial era "Katipunera Warrior," Marianie's quirky and empowering ode to the "dalagang Filipina" titled "Nagmamahal, Maria Clara" and Mikey Jimenez and Borg Sinaban's one-shot story about the war on drugs based on a real-life event titled "Takeout."
Check out Penlab here
Header photos from Areté and Penlab
Get more stories like this by subscribing to our weekly newsletter here.
Read more:
"Comics is for men" and other lies female comic book creators debunked
Local queer literature to add to your reading list
Celebrating Balagtas: Why "Florante and Laura" remains relevant
Writer: YANN MAGCAMIT