On July 27, President Rodrigo Duterte delivered his fifth State of the Nation Address (SONA) for his fourth year in office. Aired live from the Batasang Pambansa, it ran for an hour and 40 minutes—which is 20 minutes over the initial duration that Presidential Communications Secretary Martin Andanar mentioned in the afternoon.
Prior to the address, Presidential spokesperson Harry Roque said that the speech will focus on the COVID-19 crisis and the government's detailed recovery roadmap for the pandemic "in much detail." 
However, the President also managed to comment about the United States and China, talk about the Martial Law in Mindanao, commend Senator Bong Go for the 75 Malasakit Centers all over the country and criticize Senator Franklin Drilon and the Ayalas. 
He also had time to deliver numerous golden quotes that we're bookmarking for future use—may it be for our Twitter bios, or for forthcoming arguments. Here are some of them.
"Life is fickle like the weather"
HAPPENING NOW: President Rodrigo Duterte is delivering his 5th State of the Nation Address from Batasang Pambansa Complex. #SONA2020 pic.twitter.com/Qdq9DUBZZ0

— Nolisoli.ph (@nolisoliph) July 27, 2020
Move over, "when life gives you lemons, make lemonade." We have a brand new life quote courtesy of the President. 
Uttered while he was talking about the current COVID-19 health crisis, this quote is among the "lessons to be learned from the coronavirus pandemic" that he listed. "While I am aware that the road to a comfortable life is far from easy… like the rest of the world, we suffered," he also said.
Noting the unprecedented global scale of the pandemic, the President expressed his gratitude to those who ensured the steady supply of food and basic utilities as well as the "valiant soldiers, policemen, and security guards who keep peace and order" in communities. He also noted that the "government needs to have the support of the people if it is to succeed in battling the cause of that crisis."
"Life that is lost is lost forever"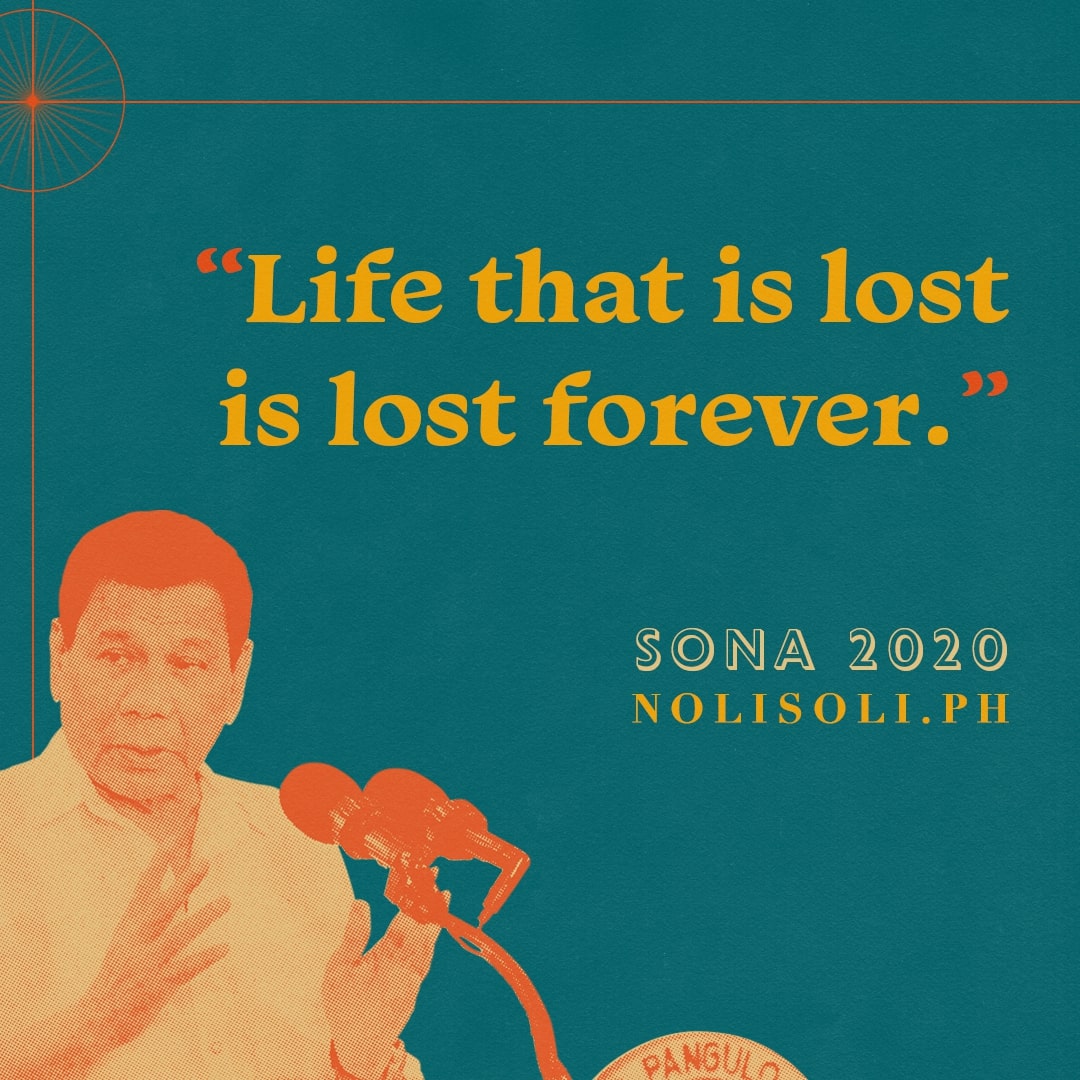 Here's another life quote, everyone, and it's still in line with the pandemic. While it does give off Tumblr blogger vibes, it doesn't stray far from the truth, especially during this health crisis that we're experiencing. He said next that non-substantial causes can be supplemented, and we truly agree—we just hope that other government officials could see that too.
"We must implement online learning, blended learning, TV and radio broadcasts that every student can avail," added the President, segueing into his talk about the current education situation in the country and his action plans.
"I want to call Jesus Christ to Bethlehem"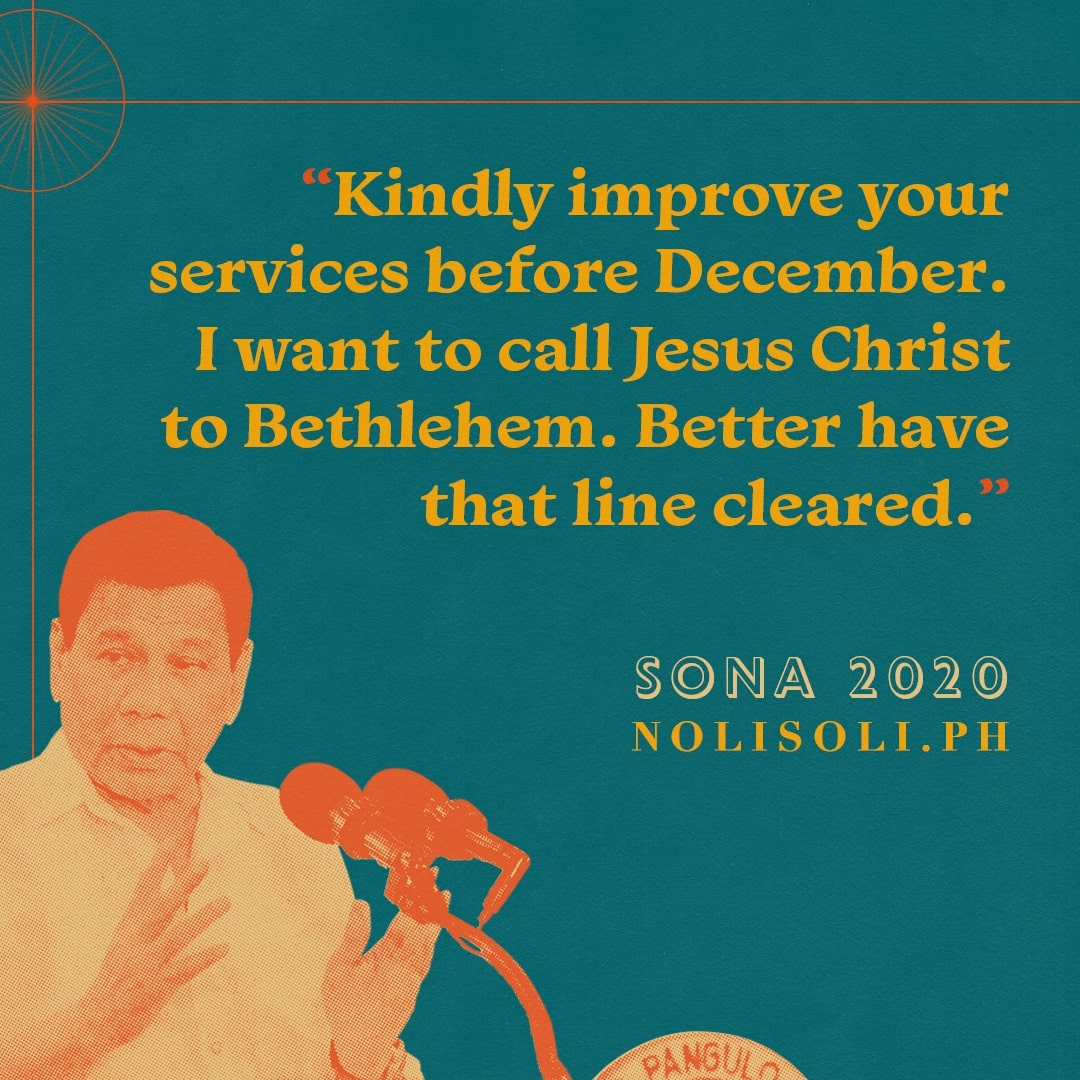 While we want to keep this as a one-liner for our daily use, the entire quote was actually very noteworthy.
"I will be the one to articulate the anger of the Filipino people, and you might not want what I intend to do with you. Kindly improve your services before December. I want to call Jesus Christ to Bethlehem. Better have that line cleared," was what the President fully said while talking about the telecommunication services in the country.
During his speech, Duterte vented frustration on the "lousy" services of telecommunication companies and threatened to close all of them if this continues. "Ang sagot palagi sa akin, 'The party cannot be reached.' Saan pumunta yung yawa na yun?" he asked.
"We will remain relatively peaceful, hindi naman very peaceful"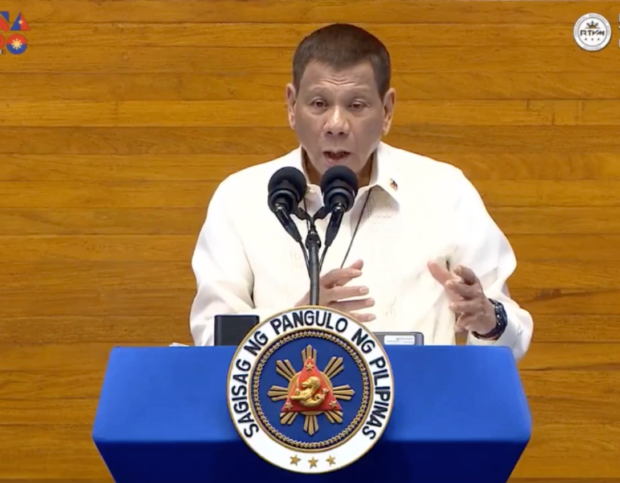 For those who love playing it safe, you'd definitely relate to the usage of "relatively" and the "hindi naman very peaceful" disclaimer. You wouldn't want others to set their expectations too high, especially when talking about being "peaceful" when faced against criminals, right?
"Crimes will increase, let me assure you: For as long as I am president, there will never be runaway crime in any of our cities. We will remain relatively peaceful, hindi naman very peaceful. You know what will happen to you," warned the President.
"I am speaking to the criminals: You commit holdup, you commit rape, you commit all sorts of things and you harm the public, then kaaway mo na ako. Patong-patong na naman ang patay dito," he continued.
"This is not the time for storytelling. SONA kasi ito"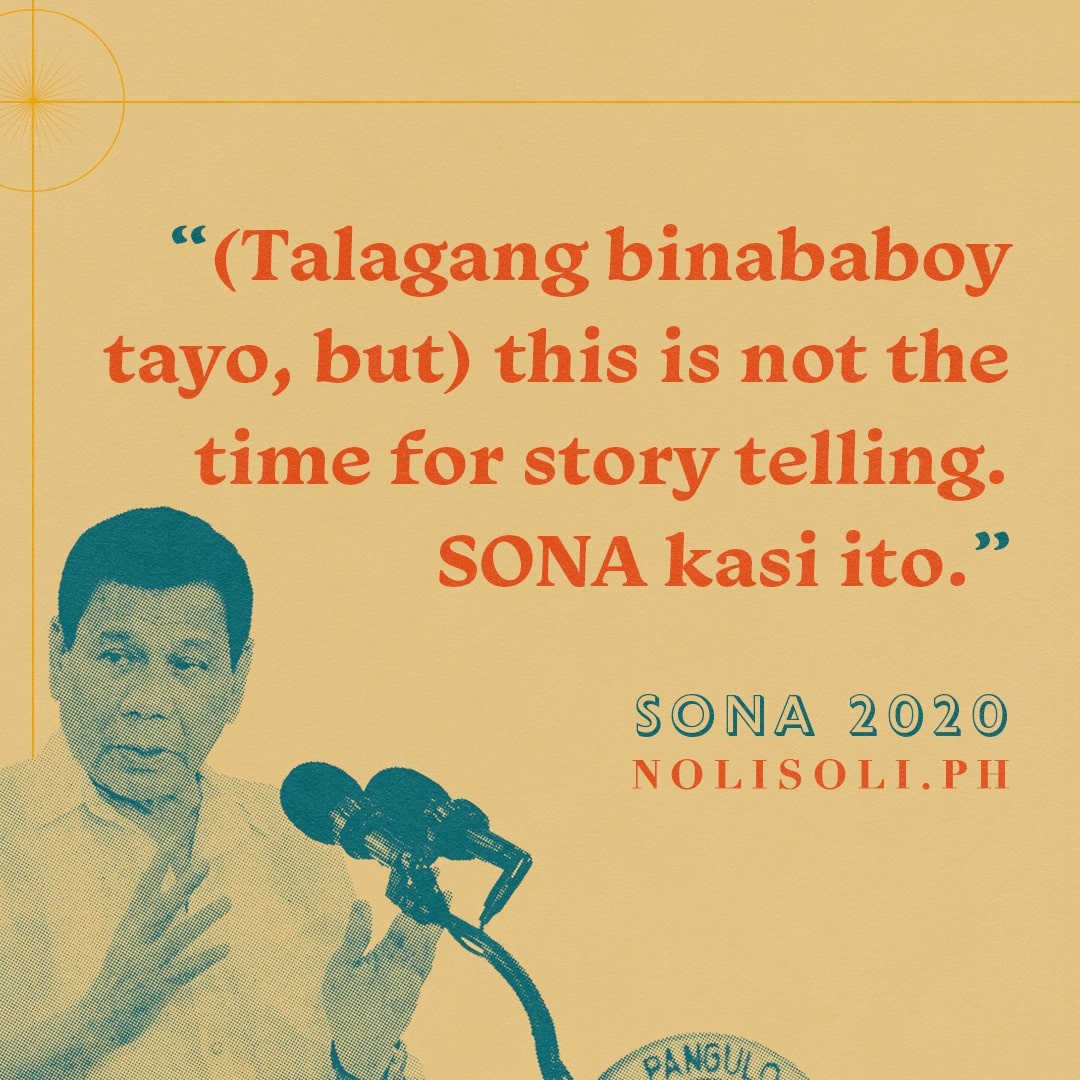 Before we start giving the context for this, we'd just like to say: We wish other officials think about this specific quote (before airing out their long personal grievances) during other public addresses.
Anyway, this line was delivered by the President while talking about the drug situation in the country. "Someday I'll tell you this story, what happened to the Philippines. Hindi ngayon," he said, just like your friend who always keeps you hanging when it comes to juicy gossip.
"Bakit nagkaganito ang droga ng Pilipinas. Why the drug syndicates continue to operate just like the countries of Colombia, Mexico, and it is being played inside the national penitentiaries," he added. "Talagang binababoy tayo, but this is not the time for storytelling. SONA kasi ito."
"I did not hear much clapping so I assume you are not interested"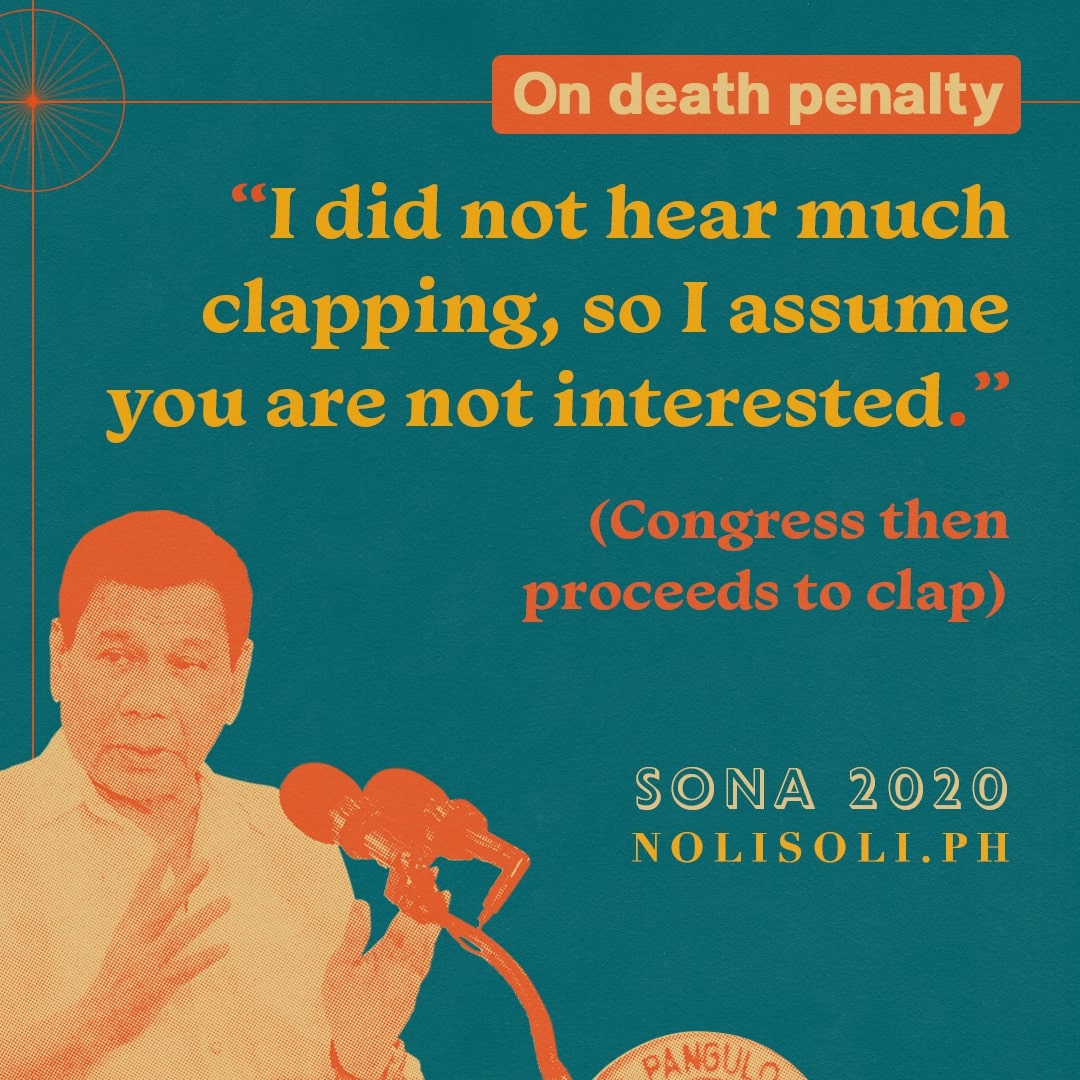 As Regina George-worthy as this quote may sound like, it was actually spoken by President Duterte while tackling a very serious topic: Death penalty.
"I reiterate the swift passage of a law reviving the death penalty by lethal injection for crimes specified the Comprehensive Dangerous Act of 2002," he said. "This law will not only help us deter criminality but also save our children from the dangers posed by illegal and dangerous drugs," added the President.
"I'm sorry but I have to say this to you, I do not like it"
For some reason, this reminded us of all the arguments we've witnessed coming to an end because of one side's lack of remaining good comebacks.
Context-wise, this was said by the President while criticizing Senator Franklin Drilon and the Lopezes and Ayalas. Previously, Drilon commented that political dynasties must be banned in order to "dismantle oligarchy."
"In an interview, he arrogantly mentioned, among others, that oligarchs need not be rich. Then he linked the anti-dynasty system with oligarchy and the topic was my daughter and son," said the President in the earlier part of his address, mentioning his children who are also currently holding positions in the government. 
Towards the end of his speech, he again returned to spotlight Drilon and even slammed the Ayalas for being the type of oligarchy that takes control of utilities like water and power. 
Header photo from Inquirer.net/Screengrab from PCOO
Get more stories like this by subscribing to our weekly newsletter here.
Read more:
Here's why the country cannot afford to fully reopen its economy, according to President Duterte
Duterte just signed the Anti-Terror Bill
4 key takeaways from Duterte's fourth SONA
Writer: YANN MAGCAMIT
ART LEVENSPEIL SANGALANG