Filipino cinephiles, rejoice! After announcing that they're shutting down their Maginhawa micro theatre, Cinema Centenario will be moving to digital screens through a streaming platform. 
[READ: A tragic ending: Cinema Centenario is closing their doors (for now)]
Moov is Cinema Centenario's online streaming service that aims to keep the spirit of the former Maginhawa haunt alive by streaming local films that would otherwise go unseen by most audiences. 
https://www.instagram.com/p/CGKZNxiBN_c/
According to their announcement on Instagram, "MOOV carries Cinema Centenario's brand of curation for a wider reach of audience and the growing demand for [an] alternative source of entertainment. MOOV will continue the celebration of the Filipino vision and cinematic artistry beyond its centennial year."
Their website currently has three short films and a documentary available for free viewing. You can stream "Ang mga Alingawngaw sa Panahon ng Pagpapasya," a 2015 short film set against the backdrop of the country's "Bagong Lipunan" era, "Paano Bihisan ang Isang Ina," a 2018 short film about a pre-teen boy who rents an adult entertainer to be his mother for a week and "Santa Nena!" a 2017 short film that tells the story of a patron saint statue that comes to life every night and is tasked with bearing the second Messiah with the help of a miraculous chosen boy with glowing balls (yes, that's what the synopsis says).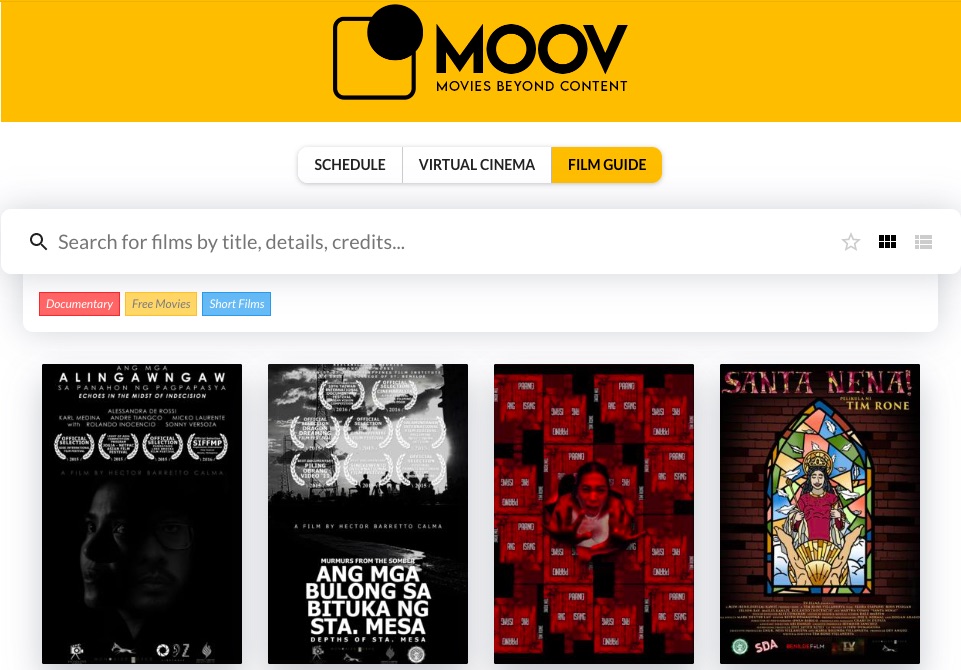 Moov is also streaming "Ang mga Bulong sa Bituka ng Sta. Mesa," a 2015 documentary that chronicles life in the depths of Manila's Sta. Mesa district. The single-camera black and white documentary captures tales of hope, grief, misery and inspiration juxtaposed by the railroad that metaphorically connects each individual living in the community. 
If you're interested in keeping Cinema Centenario's vision alive, you can also donate to their cause through their website. 
You can access these films by linking your Facebook account or signing up on the website using your email. The website is still new, so expect some kinks along the way, but we're ecstatic. This is definitely the plot twist we've been waiting for. 
Header image courtesy of Cinema Centenario Facebook
Get more stories like this by subscribing to our weekly newsletter here.
Read more:
These 7 Pinoy films are the closest thing to traveling we can get right now
You can stream over 100 local films at this year's Pista ng Pelikulang Pilipino
6 local films you may have missed in cinemas are now streaming online
Writer: ANDREIANA YUVALLOS