For Pride Month, Nolisoli revisited queer spaces—past and present—through the stories of people who lived in and through them. There's Malate with its dimmed but nonetheless still inclusive streets, Cubao that was once home to music hangout Today x Future, Makati with its artistic meccas XX XX and Pineapple Lab, Taguig with its buzzing nightlife fixture Nectar, Ortigas with the loud and proud home of the drag queens O Bar, and the transient spiritual hub that is Open Table Metropolitan Community Church (MCC) now in Mandaluyong.
***
Assured that they are loved by God
By graphic designer and illustrator Dan Dy-Liacco
I first came to Open Table Metropolitan Community Church (MCC) in 2015. I had been looking for an LGBTQ+ accepting church for a while because my Christian faith was important to me, and it was something I wanted to pursue alongside others who shared my faith. But I could not stand behind the homophobic messages I'd heard from the pulpit of the church I'd grown up in.
I'd tried a few different churches in Metro Manila, but I couldn't say I had yet found one which truly welcomed gay people, trans people, and queer people, as they were.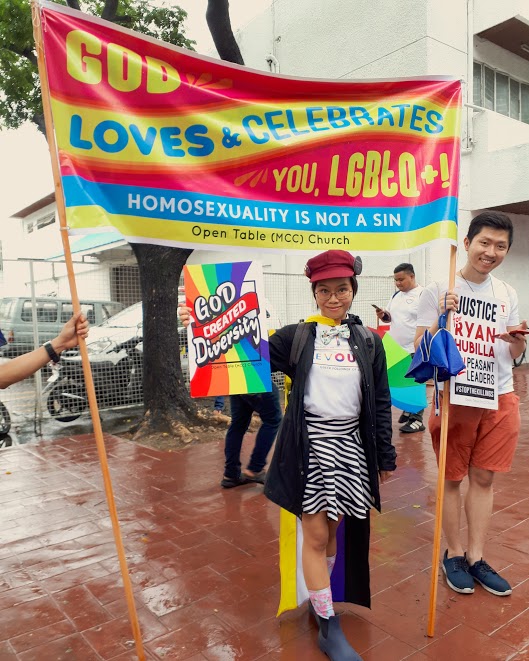 The church isn't the geographic or physical location; it's the people—the community that makes the church.

Dan Dy-Liacco
That is until I discovered MCC. I read about the church while doing research for my undergraduate thesis on increasing SOGIE awareness and acceptance. At the time, I was questioning my gender identity. But I had only come out to a scant few of my friends. I visited the chapel where the church met. It was in Cubao at the time, in a little yellow room.
That day I met a small group of gay men, and a lesbian pastor, and I would come to learn that almost all of them had grown up in the Catholic or Christian faith but had faced rejection from their churches. I think part of the reason I was afraid to examine my difficult feelings about gender was that I would never again have the support system that a church provided. But when I found MCC, not only were they supportive of my thesis research, the church also fostered an environment in which I felt safe to say that I was in a questioning place with my gender. Over time, the family I'd found in MCC became an important part of my support system as I became sure enough of my gender identity to start telling people that I was non-binary.
It was at a SOGIE workshop that MCC held at the chapel that I met for the first time, in real life, a person who identified outside of the male/female binary who was about 20 years older than me. I had met other non-binary people over the internet. But there's something different about meeting and interacting with someone in real life. To see them in the same space that you yourself occupy, to shake their hand as you hear their story and ask them questions… there was something about that which took the existence of non-binary people out of the realm of the abstract and theoretical, and made it that much more real. And I can't quantify what a difference that made for me.
I interviewed that person I met at the workshop for my thesis. We're still in contact to this day. He now identifies as a trans man, which is also valid. After I completed my thesis and graduated, I came out as non-binary to more and more people. I came out to my mom. After a couple years, I came out publicly on Facebook.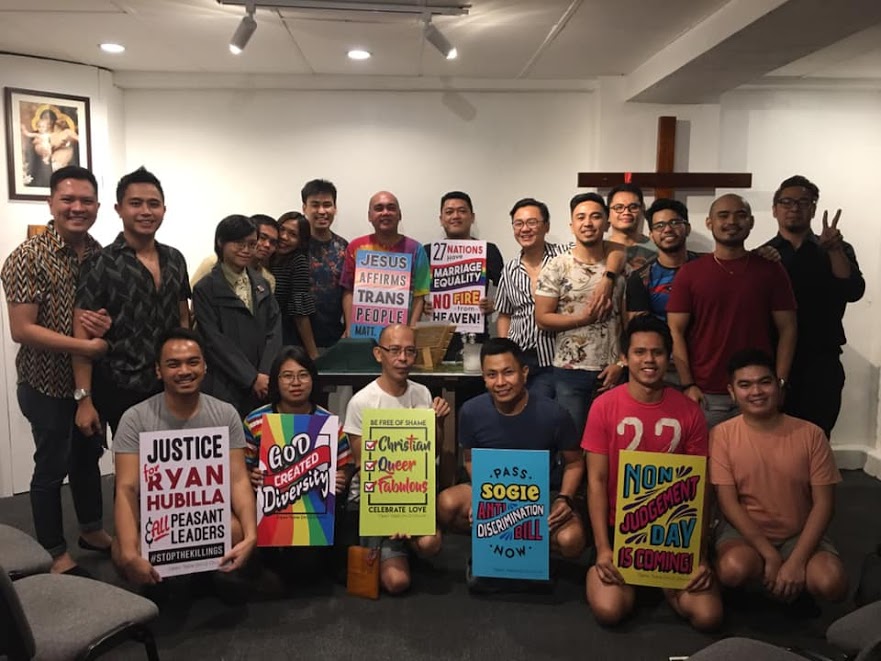 The church has moved locations over the years. In the time that I've been with MCC, we've moved from the yellow room in Cubao, to the NCCP building in Quezon City, to our current location in Mandaluyong (though during the pandemic, we've been holding our services online). But the church isn't the geographic or physical location; it's the people—the community that makes the church.
I have continued to be involved with MCC since I first found the church in 2015, from attending pride parades with placards declaring God's love and acceptance of LGBTQ+ people, to occasionally preaching Sunday sermons, all because I want to pay forward what MCC was able to do for me. To cultivate a safe space where a queer or questioning person can be part of a community of faith where they won't feel like they have to hide or reject who they are in order to have a relationship with God. Where a queer person can be assured that they are loved by God, and that their sexual orientation, gender identity, or gender expression is not a sin.
To create a safe space for everyone
By Open Table MCC secretary and advocacy officer Sean Malang
Whenever I am asked this question, I love to always talk about how I started attending the church back in 2015. I remember I was still part of another organization that's focused on HIV awareness, which is Project Red Ribbon. At that time, MCC was always our spiritual partner whenever we had events like World AIDS Day or AIDS Candlelight Commemoration. Because of one person, our then pastora Kakay Pamaran, I started to attend the church.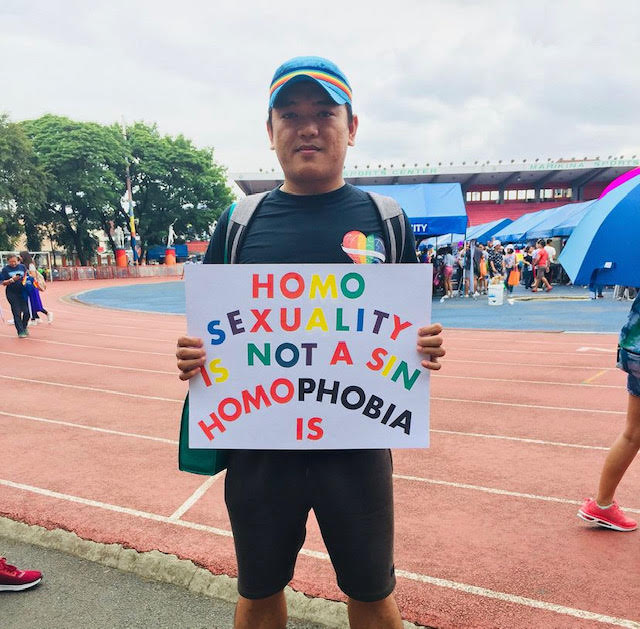 I remember every after service through the Benediction, our pastor would always say, "May you be the face of Jesus Christ to other people and may you also see the face of Jesus Christ through other people." I've always believed in that and lived through that example.
Fast forward to today when we are still in this COVID-19 pandemic, I guess that's one of the things that I am looking forward to, which is to go back to the new normal and have our physical worship again. I am blessed to have this community that has helped me through the pandemic because even though we don't have a physical worship we are able to still meet online.
I'd like to go back to the mission and vision of the church, which is to maintain or create a safe space for everyone particularly to LGBT Christians who feel that they are not welcomed by their mother churches and also to proclaim God's radically inclusive love through all people, through Jesus Christ, and the importance of social justice and the longing for that day in the future when we are all free from oppression.