The Cebu restaurant scene isn't just alive—it's absolutely thriving. Adventurous eats in the city exist aplenty (just watch the Netflix documentary for a preview), but no one has really pushed the culinary envelope in terms of elevated dining. Well, that is until semi-recently.
As a proud Cebuano native-turned-Manila transplant, coming home and trying new restaurants is one of my go-to activities. Most have been delicious—which is the bare minimum to be frank—but a select few have been mind blowing.
Many locals (including myself) used to lament the lack of ingenious and unique food choices in Cebu. But after seeing what these new restaurants have to offer, I can confidently declare that the Queen City of the South is catching up. And it's doing it fast.
Starting with Bell + Amadeus.
Bell + Amadeus is one of the first restaurants that made me realize that Cebu's dining scene is ready for more diverse eats. Before you're even seated, the look of the restaurant gives you a preview of what you can expect. 
The minute you walk into the concrete-clad restaurant, you're greeted with dim, moody lighting and sleek interiors that convey that you're in for a culinary treat. With interiors like this, your standards are bound to rise. But you'll be pleased to know that their food and service do the tasteful atmosphere justice.
Attention to detail is one of the foremost things you'll notice once you've settled into your table for the evening. The servers are attentive and always return after they promise to (something that usually doesn't happen, to be honest), refill your water without asking, and are always prepared with a recommendation up their sleeve.
Later on in the evening, I was shocked to find out that our main server for the evening was actually one of the owners. That fact is telling enough. 
The team behind the restaurant describes their food as "modern continental cuisine." An apt description, since their food doesn't strictly follow a single culture or food category.
Another impressive feat that Bell + Amadeus has achieved is a full cocktail bar serving craft cocktails with top shelf liquors—something considered a rarity in Cebu. The bar also doubles as a motif wall and adds to the overall chicness of the restaurant.
The restaurant's menu is small but mighty, covering all of the a la carte categories with well selected options. There are no more than four dishes listed per course on the menu. What impressed me the most was that every dish looked meticulously planned and thought out, but balanced with a passion for food not all possess.
In contrast to the restaurant's moody atmosphere, the dishes are all presented in a bright and colorful manner. Edible flowers and colorful sauces are used to create a visually striking plate, with the flavor to back it up.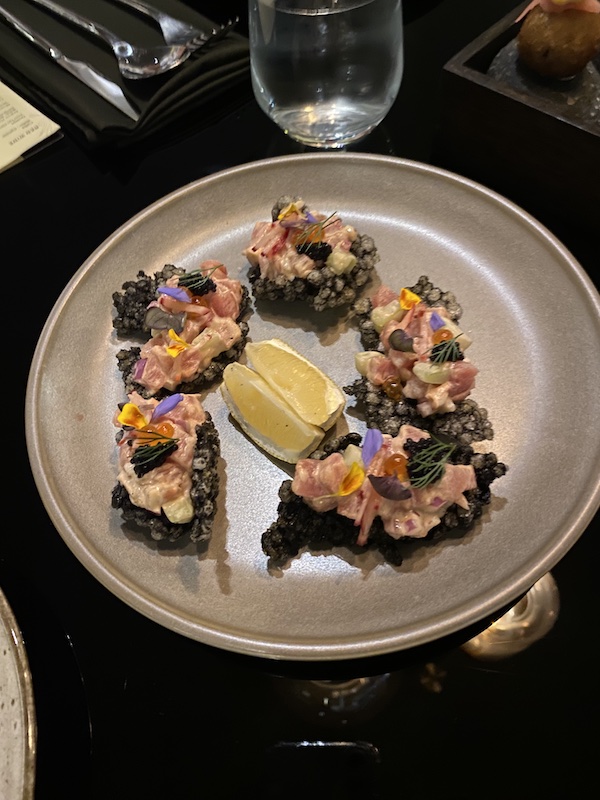 One of my favorite dishes from the restaurant is the tuna tartare served on top of squid ink tapioca crackers. The supple, pink tuna was laid atop a black canvass of crunch and flecked with colorful edible flowers to deliver a flavorful, fresh, crunchy bite. I had four.
Drama and showmanship is also on the menu at Bell + Amadeus. Their chicken confit with guanciale cranberry marmalade, whiskey demi glaze, polenta, and pine nuts is a showstopper.
Before the dish is sent to the table, it's covered with a transparent dome and filled with smoke. When it arrives, the dome is lifted revealing the chicken through a fragrant (literal) cloud. I personally wasn't able to try this dish since I'm allergic to chicken, but it was the best dish of the night according to my fellow diners (my family).
Their consensus was that the chicken was tender, well-seasoned, and something they'd go back for again and again. I'm compelled to trust them since my standard for food was likely something I genetically inherited from them.
Another crowd pleaser was the wagyu cubes with Japanese fried rice and nori butter. The dish was served on a mini-grill complete with glowing embers and grill top. It's a type of dish you'd smell before seeing and applaud before eating.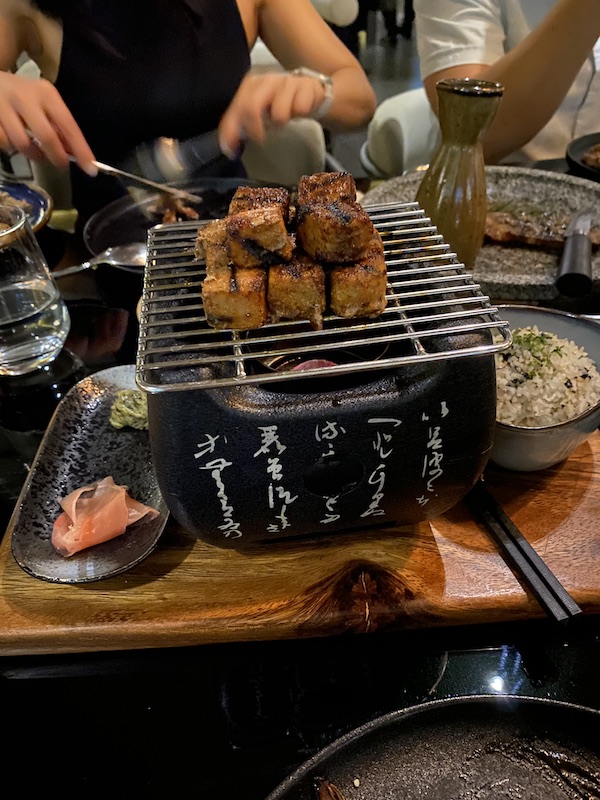 Aside from being dinner and a show, this dish is also something everyone will like. The nori butter enhances the wagyu's flavor, which was, of course, cooked perfectly. For anyone who loves beef, this is a recommendation I'd wholeheartedly make.
After ordering literally almost everything (and doubles, since takaw mata is a genetic trait we all share) from the menu, there was still room for dessert.
This was my personal highlight of the evening.
There were two desserts on the menu, and of course, both were promptly ordered and consumed. The first was a ylang-ylang creme brulee with ube moss, jackfruit gel, and black sesame ice cream. The second was a coconut panna cotta with fruits, edible flowers, pistachio praline, and black truffle ice cream in saffron sauce.
Both desserts were a mouthful to say, and a delicious mouthful to have.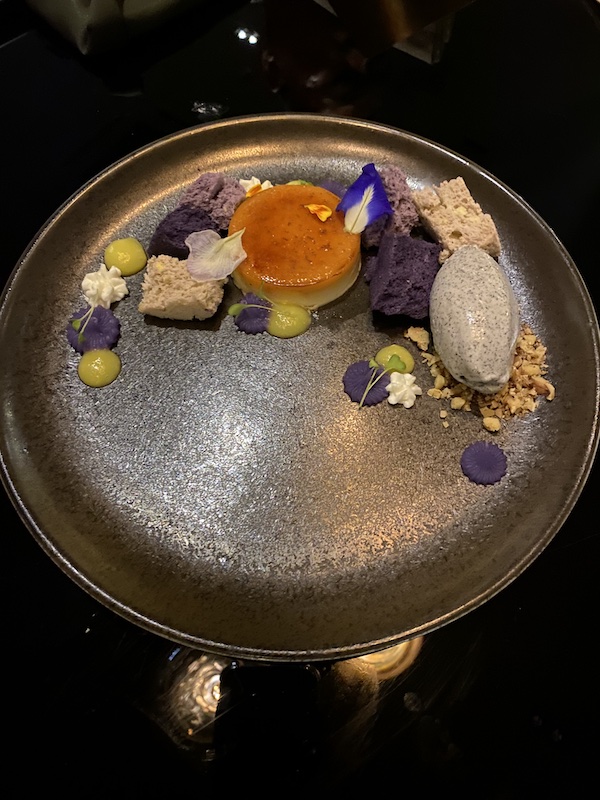 The creme brulee was a visual delight. It was served on a large black plate, which contrasted well with the bright colors of each component. It was more on the deconstructed side, which means you can select which elements of the dessert you'd like for a unique bite each time.
The panna cotta was one of the best desserts I've ever had the pleasure of eating. Though relatively simple in presentation compared to the creme brulee, it was a feast that played with textures, temperatures, and bold flavors.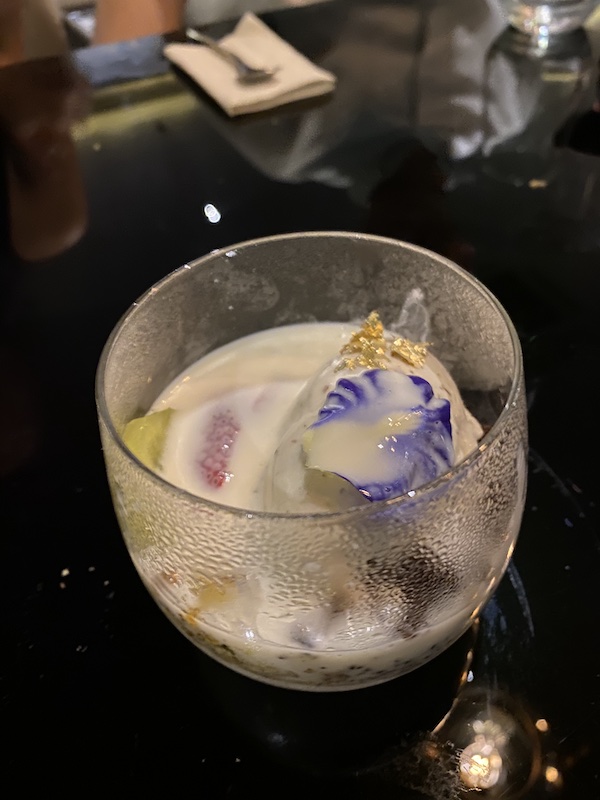 The saffron sauce is poured in the dessert vessel warm, which slowly melts the truffle ice cream and releases its umami flavor. I was initially worried that the truffle ice cream would be too overwhelmingly savory, but it fell perfectly right on the spot where umami meets sweetness.
The panna cotta itself was made with a rich coconut cream. Combined with all the aforementioned elements plus the pistachio praline, each bite was a symphony of sweet, savory, umami, and texture.
It was nothing short of the perfect dessert to end the evening with.
The meal was a success—so much so that I demanded to shake the chef's hand after dinner. I congratulated the entire team on bringing their vision to life, because every dish tasted like a story unfolding. I saw the creativity, thought, and memory put into each element.
It was a delight and an honor to bear witness to such a rare experience in my hometown.
Something non-locals are unaware of is the fact that Cebuanos are fickle. Cebu has seen the opening and (abrupt) closing of many popular chain restaurants from Manila and around the world (R.I.P. Saladstop).
A new restaurant opens, and it's the talk of the town for three to six months, and then it closes abruptly with little to no warning because everyone stopped coming. Opening a restaurant like this was a gamble.
Above all else, Cebuanos prioritize value for money. To be transparent, the restaurant is pricey. The price point wouldn't be out of place in cities like Makati, but it's more expensive than most restaurants here in Cebu.
While avant garde in its presentation, the restaurant has captured the attention (and the palates) of Cebuanos. Yes, we're fickle, but we know good food when we taste it.
While Bell + Amadeus has only been open for around four months, their phone hasn't stopped ringing. Reservations are highly encouraged, if not absolutely necessary. And the restaurant is full almost every night.
Bell + Amadeus' recent success is technically an anomaly—but in the best way possible.
Bell + Amadeus is located at 88th Avenue, Gov. M. Cuenco Ave., Cebu City. They are open from Tuesdays to Sundays, at 10 a.m. to 11 p.m. You can contact them through their Instagram.