You know how anime characters make the most exaggerated reactions to the most mundane things like eating a meal so good they are transported to another universe? That's how I remember eating my first Kodawari gyudon. This was in 2020, my first pandemic birthday when it was still an Instagram business run by cook and MasterChef Asia alum Jake Aycardo. I distinctly remember inhaling (no kidding, that's how fast five of us consumed a tray meant for up to eight people) the whole thing within 10 mins, and regretting not getting two trays.
This was the early days of the pandemic. Anything that you did not labor to make at home was heaven-sent. Kodawari was one of those trendy newcomers that your IG moots (a bunch of people stuck at home with nothing better to do) were raving about. Looking back, we were deprived in many ways of many experiences that anything new really amounted to a breakthrough.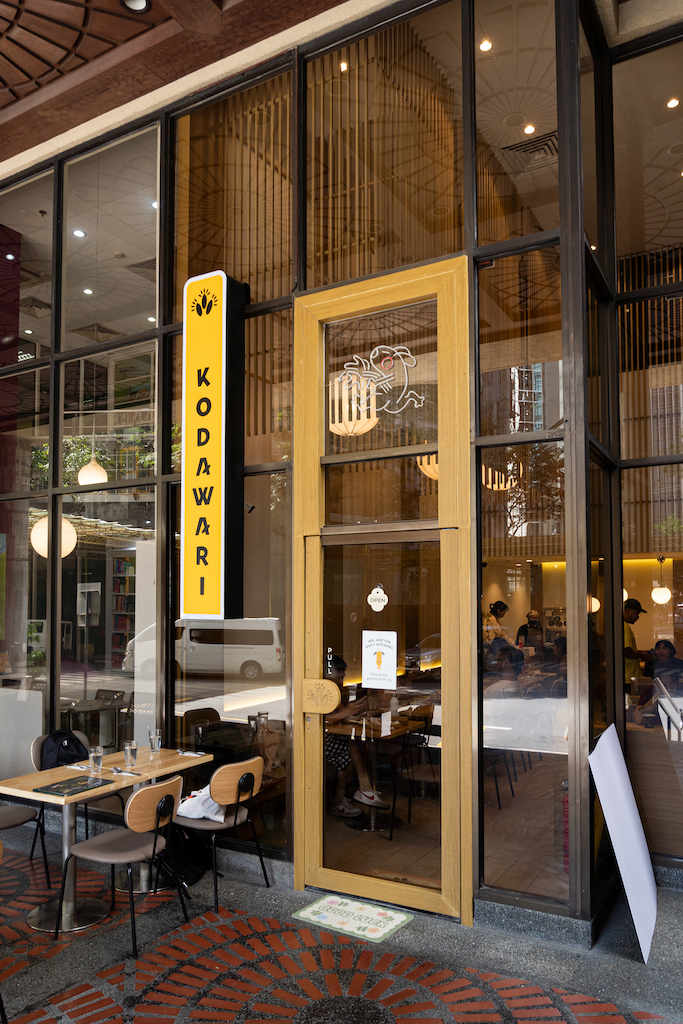 In light of new-found freedom (in a setting not as strict as the previous years yet one where we are still wearing masks—voluntarily!), I needed to reevaluate whether the experience measures up in a post-delivery world with in-person dining. I wonder, did I really have an epiphany digging through stubby grains of Japanese rice doused in sweet-savory sauce past rustling crisp kamote leaves, fishing impossibly thin strips of beef in between craters of sous vide eggs?
Lucky for me, Kodawari just opened its first dine-in restaurant space in Salcedo, Makati.
But face to face with a list of new dishes in an IG-feed-brought-to-life location peppered with art inspired by its famous gyudon, it seemed futile to resume this quest for validation. Instead, we ordered the following, with a little help from 1/3 of Kodawari partners and branding head honcho Toni Potenciano: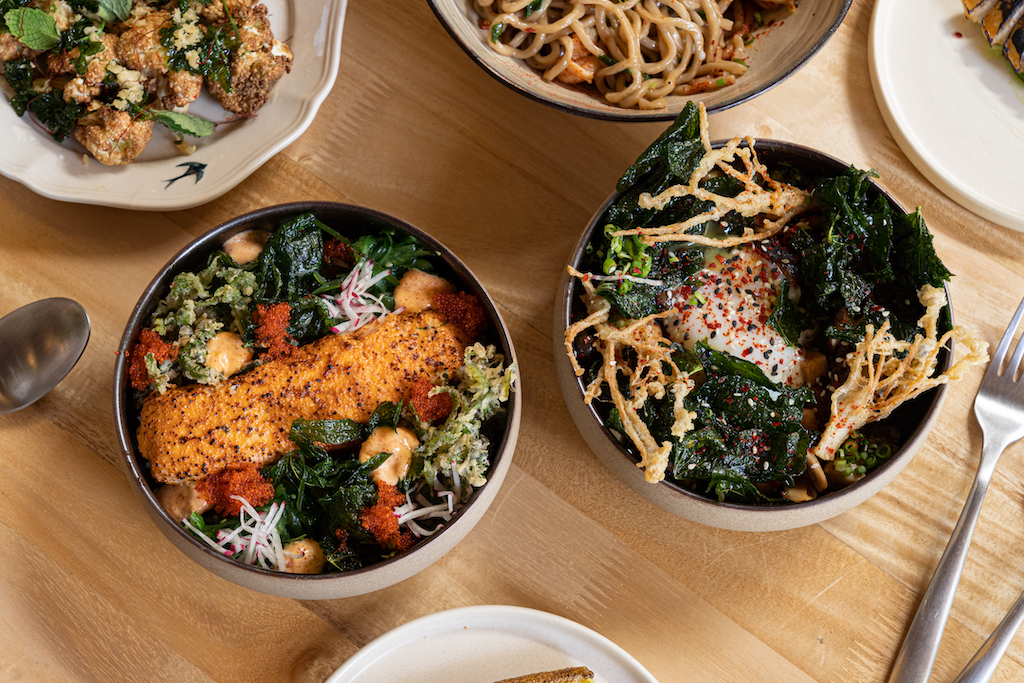 Shroomdon (P525), a meat-free version of their best-selling gyudon complete with fried kamote leaves, 63° egg, and four kinds of mushrooms including enoki tempura. Like all the bowls on the menu, it's enough to share—if you order it alongside small plates.
Salmon mentai don (P850), a bowl of torched salmon joined by a mentaiko aioli and various supporting but also individually wonderful elements—crispy pako (winner of my unofficial Kodawari fried greens contest), radish, tobiko, and wakame. A premium choice, if you're cutting down on beef, but I hear the steakdon (Aycardo swears he can have it every day) is also great.
Saba misoni (P420), a clean-tasting shime saba with miso sauce served with chuka wakame. You will need this as a respite from all the big flavors.
Chilimansi (P355) or fresh thick-ish noodles in a spicy-citrusy sauce reminiscent of the beloved merienda: instant pancit canton but with sous vide egg and plump shrimp!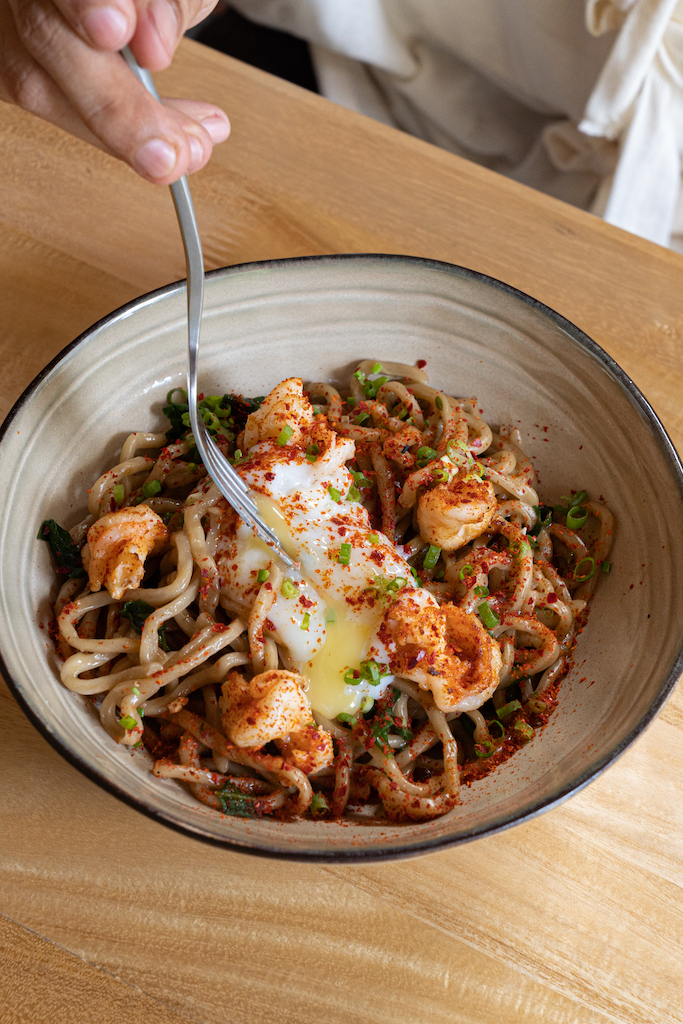 Small plates of vegetables (you must order them at all costs, I implore you):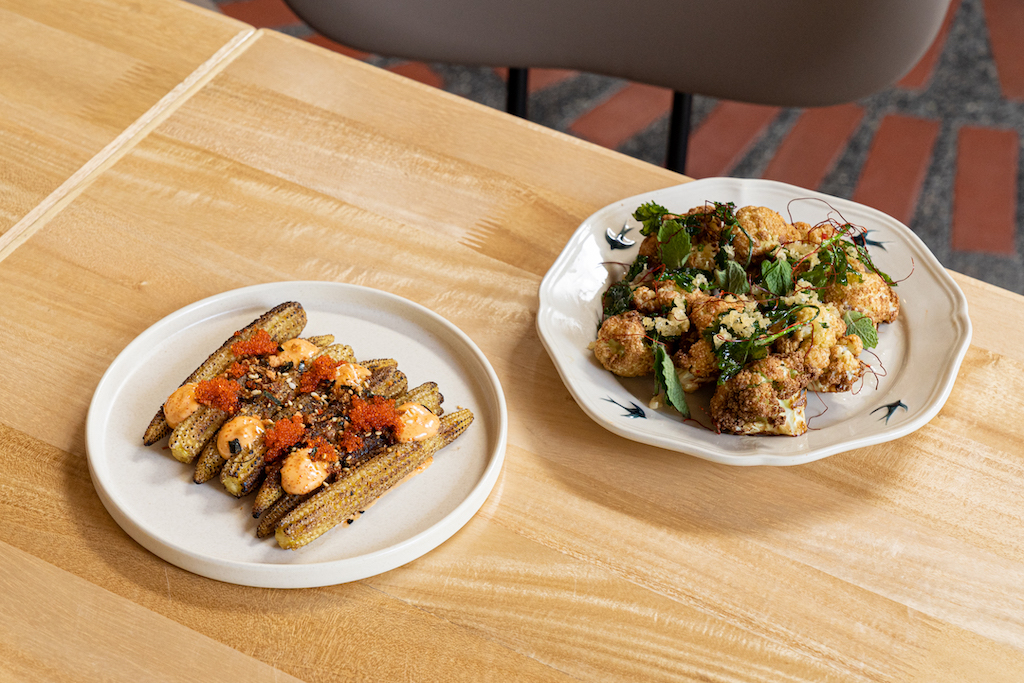 Fried (but greaseless!) cauliflower (P280) with cilantro, mint, and puffed rice in sesame-patis-lime dressing. Unassuming fave! A grower!
Grilled juvenile corn (P265) with mentaiko aioli, nori, and tobiko. We need a "surf and turf"-adjacent term for an excellent pairing of land and sea produce.
Desserts (fun to have, can be shared. Can be!):
Fuji apple cloud (275), an apple panna cotta with tea-poached apples and miso cashew praline for an unexpected salty twist.
PB&J (P255) strawberry compote, peanut butter crunch, and saltine toffee. Topped with vanilla ice cream. Your sandwich wishes it could be this!
---
And now, for after desserts special, a little conversation I had with the trio behind Kodawari's brick-and-mortar pivot: Aycardo, Potenciano, and their business partner Ryan Serrano, plus, takeaway talk with its manager Athena Pasiliao on opening week jitters.
This interview has been edited and condensed because nobody can read past 500 words nowadays apparently.
Congratulations on the new space. How did you decide it was time to put up a physical space?
Serrano: Jake and I worked on a similar tray concept, Musha Shawarma, during the pandemic. At that time, the pandemic situation was mellowing down, nag-iiba na 'yong delivery behavior, we were worried na baka kapag open na 'yong malls, people won't order na sa Instagram. So medyo defensive move siya, parang 'Let's move ahead and open a retail store before this goes away.' Thankfully, that never went away.
So I can still order a tray for delivery?
Potenciano: Yes, from our commissary in Brixton [Pasig].
Why Makati?
Serrano: We were looking at BGC but rent there was super high. Rent here in Makati is not so bad and the crowd was similar: may residential, may office, CBD.
Jake, did putting up a physical dining space make you miss any aspect of working in a remote kitchen?
Aycardo: Parang sa Kodawari, I've made myself obsolete very fast—at least sa trays side. The cooking, the replying, na-delegate ko na siya lahat. Now, masaya ako to be working in person, to be serving people, to be seeing people. It's nice.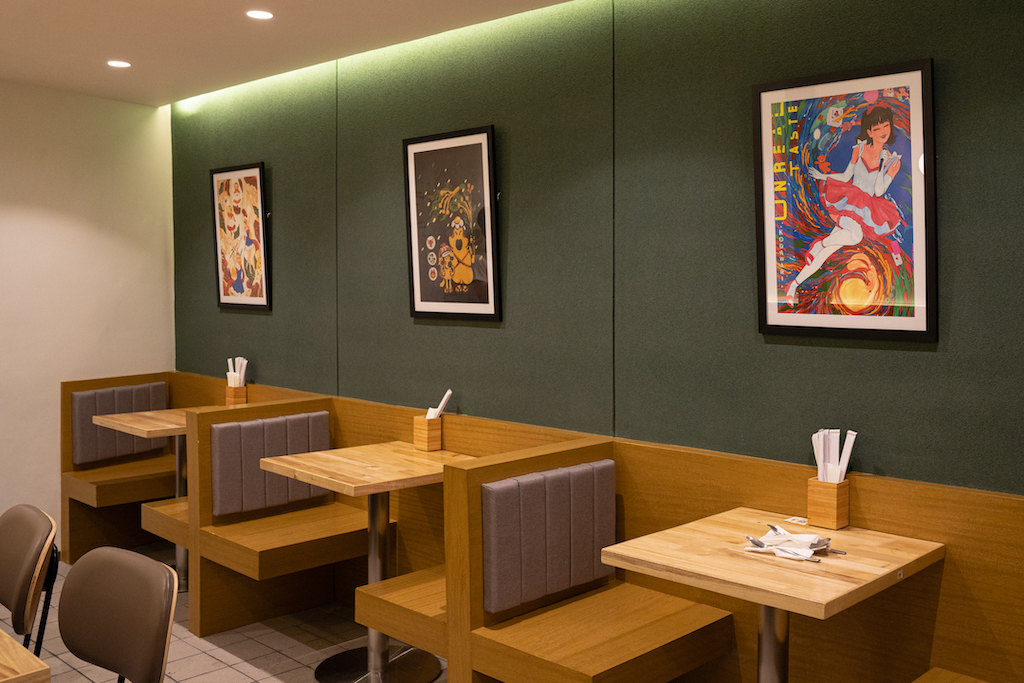 Toni, you were telling me how important it was to translate Kodawari, the brand, into a physical space. And Kodawari already had a solid visual identity online. Is it a necessary requirement now for opening restaurants?
Potenciano: Definitely. We're catering to the Salcedo office-goers, residents but also people who have been following the brand for the last two, three years. We wanted them to feel like they're part of the lore, of the journey. But we didn't want to be alienating to people who had never heard of the brand either because a lot of the people who are coming here have never had it.
Aycardo: It's in the DNA din natin to work with and empower creatives. Kodawari is built on friendship.
Moving on to the "funner" questions. What's one dish on the menu you can subsist on for a period of time and not get tired of?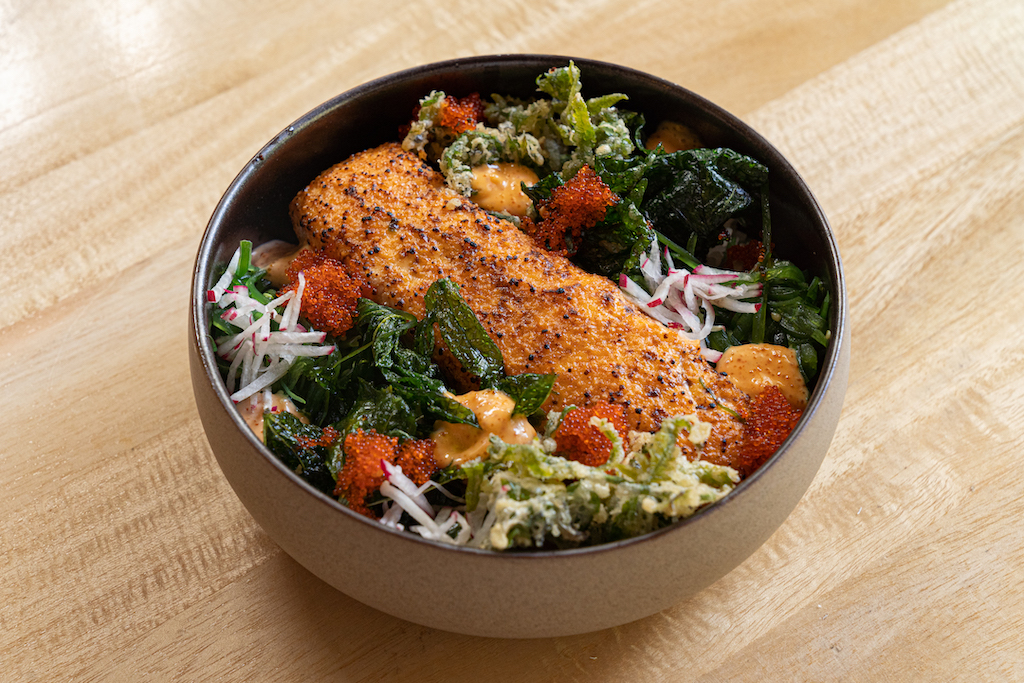 Serrano: Salmon mentai don. [Writer's note: Yes, he can finish it by himself.]
Potenciano: Saba misoni.
Aycardo: Steak don.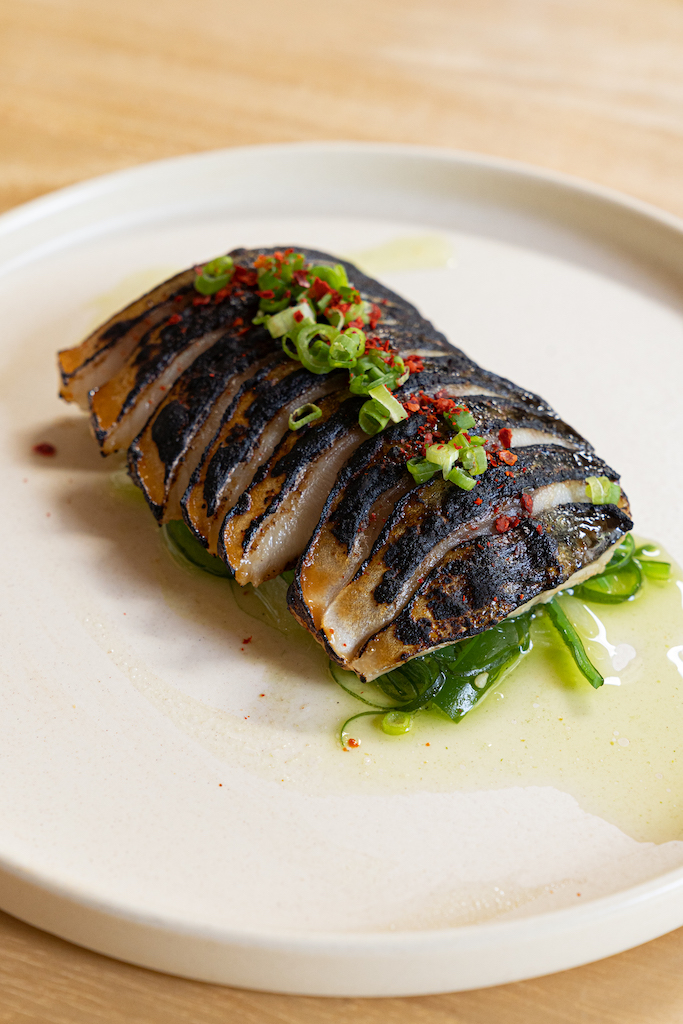 What's something on the menu that has best-seller potential and people should try apart from the gyudon?
Aycardo: Cauliflower.
How much do I spend to enjoy a, not full, but substantial Kodawari experience?
Aycardo: Let's say you're four people and you share a small plate, a veggie plate, and a dessert, that comes out to around P650 each.
Potenciano: With a bowl each.
By the way, who created the dessert menu?
Potenciano: Chino Cruz of Baker on East. They're all parfaits, the donburis of dessert because you're essentially layering stuff.
Ryan, so one of the earlier feedback is how substantial the bowls are. They are good enough to share but the price is still somehow relatable at mostly P400 except for the steak and the salmon. How is that possible for a business in Makati in the middle of inflation?
Serrano: I think with the margins, we try not to be too greedy. A lot of restaurants like high margins so even if not many people show up, they make money. We trust that people will appreciate the generosity and will keep coming.
Potenciano: I think what's super important also in terms of operations is that food comes out within five to 12 minutes because after 12 minutes a customer follows up na.
Aycardo: Having a cute shopkeeper helps also. Parang fashion show dito actually.
Speaking of, hi, Athena! You seem very well-adjusted to the job.
Pasiliao: I try to represent Kodawari's sharing and friendship in the best way. Actually, I've been working for Kodawari from Jake's house pa lang. I used to manage orders up until last year and then I was a consultant.
Without incriminating anyone or the business, what's the craziest thing you've seen happen here in the first few days of opening?
Pasiliao: During opening day, there were a lot of people, we were overwhelmed by the support honestly. But at like 2 p.m., there was already a waitlist. We couldn't seat everyone, it was a full house. We had to pause operations for an hour and a half to regroup and breathe so that all the staff can be okay. By 5 p.m. we opened again, and we're good na. We were able to jump over that hurdle.
What's something diners can look forward to in the coming weeks?
Aycardo: We're working on getting alcohol. We also have merch on initial release, in-store only. Eventually, I really want to explore apparel, feeling ko may potential talaga.
The most important question that I have for all of you is: What's up with the comfort room? I've seen it all over Instagram, people are taking selfies inside.
Aycardo: Was there music when you went?
Potenciano: There's a separate speaker there. Yes, it is very special.
Aycardo: Honestly, ang nag-inspire sa akin is nung pumunta ako sa studio ni Carl Jan Cruz with their yellow toilet tapos Aesop 'yong sabon nila. Boogie before maganda din 'yong CR nila. Very psychedelic. We really wanted something special but within the DNA. It's "Howl's Moving Castle"-inspired fields, tapos 'yong song on loop is from Ragnarok Online.
Potenciano: But for intellectual property reasons our lawyer advised us to make our own print. This was by my And a Half officemate Mark Andres. If you go to the banyo, there's one dog and you have to find it. It's somewhere there. That's the game. Look for the dog.●