Boy meets girl, but then what happens? That's the premise of Upstart Production's latest musical comedy "Breakups and Breakdowns." The musical is written and directed by Joel Trinidad, with music by Rony Fortich. 
The musical is a romantic comedy that revolves around the dating lives of its four main characters: Mark, a playwright in a romantic and writing rut, Derek, a commercial model and confirmed bachelor who loves playing "The Game," Nina, a hardworking, frustrated painter daylighting as a graphic designer, and Sandy, a costume designer about to leave for another country who is currently in a situationship (read: in a kind of relationship but not really) with Derek. 
The cast is composed of local theater heavyweights with Reb Atadero as Mark, Tanya Manalang as Nina, Nelsito Gomez as Derek, and Nicky Triviño as Sandy. Rachel Coates, Sarah Facuri, and Trinidad also star in the musical, playing multiple characters as Blanche, Morgan, and Amanda; Pamela and Felicia; and Richard and Howard respectively.
As a self-professed expert in the romantic comedy genre (read: I grew up watching Gary Marshall and Nora Ephron movies), my expectations were well exceeded after seeing "Breakups and Breakdowns."
A recipe for the right kind of rom com
All the rom coms I've loved before have a formula: It should be funny (of course), have endearing characters with chemistry, fall right in between ridiculous and relatable, and subvert typical norms found in the genre. Lucky for all of us, the musical has that in spades. 
Trinidad's writing sets up a solid foundation for the show. The funny bits are well crafted, the references are universally understandable, and everything is just ridiculous enough to remind you of someone you know from real life. 
One particular number that shines in the comedy department is "Clients From Hell." The number features Nina and her boss, Felicia (Facuri), pitching to two farcical clients from hell, Morgan (Coates) and Howard (Trinidad).
For anyone who has ever had to lock horns with clients from hell, this specific number might just take you back in time and give you PTSD. 
The song features a compressed version of all our client nightmares rolled into one. Confused clients who just "don't get" what the presentation is about (even though you literally just explained the concept for the past hour), everyone changing their minds to agree with the major decision maker—even though they claimed they liked what you showed them earlier—and your boss throwing you under the bus for the good of the company. 
And of course, revisions that bring you back to where you started.
Coates and Trinidad do a spectacular job at playing the stereotypical clients from hell. Most likely because they've been on the other end of things. Their exaggerated mannerisms (and Trinidad's wig when he plays Howard) perfectly illustrate the standard issue client from hell.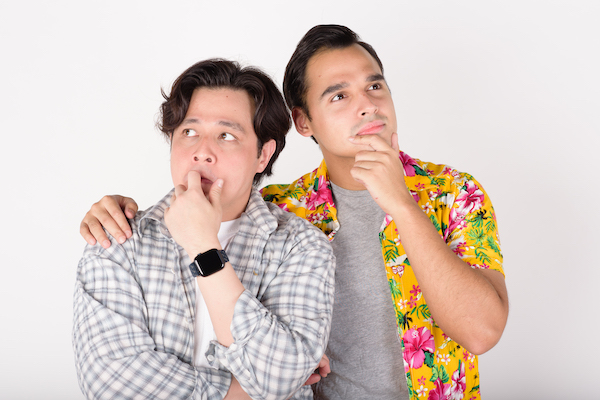 Another number that showcased the hilarity and relatability of the show was "Be Prepared." In the number, Derek discusses sensitive, adult matters with Mark. It's refreshing to see a conversation about sex between two friends on stage, instead of whispered in conversations in private. 
It's a little on the raunchy side, but that's usually where most of the fun is found in things.
Another thing that the musical does well is leaning into genre-typical tropes, while of course, subverting them in the end. There are happy endings in store for all of the characters (maybe not the ones we'd see coming), but the unexpected twists and turns on the way make it more enjoyable when we finally arrive. 
At the beginning of the story, Sandy was willing to change herself just to impress Derek. While this works initially, she later finds out that being her genuine self does the trick to help her win the guy better.
Casting chemistry
For those of you who are unfamiliar with the local theater scene, this cast is next to unbelievable. Unbelievable in the sense that they're all talented and accomplished actors by themselves, but even more unbelievable that they're all on stage together.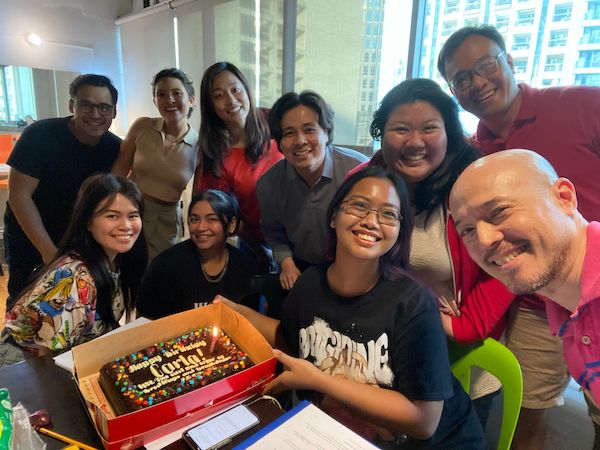 While the cast is friends in real life (with a few actual couples sprinkled in), it definitely doesn't hurt to bring their chemistry on stage. It's obvious that they're having a great time on stage, which adds to the overall enjoyment of the musical. 
The cast did a fantastic job of bringing the characters to life. Among the main cast, there are no 2D characters or caricatures of people—which is also refreshing. Nicky Triviño, who also plays Sandy, is who director Joel Trinidad credits for bringing the women of the story to life. Triviño pulled triple duty as actor, co-director, and dramaturg for the production, which played into the production's favor.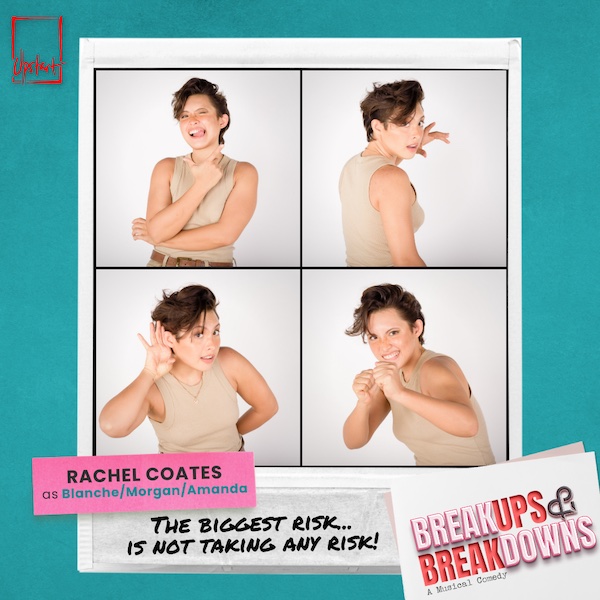 Another person who deserves the spotlight in this production is Rachel Coates. Coats also played triple duty, expertly juggling the characters of Blanche, Morgan, and Amanda. She exuded such a lovely, lively energy for the whole show. The distinctions between her characters were also clear in her mannerisms and affectations. She's one to watch out for. 
My two favorite performances, though, happened to belong to Facuri and Gomez. Facuri's Pamela has become one of my favorite characters—probably ever. She's an intense, unapologetic woman who knows exactly what she wants, and even helps Sandy bring out her "inner hottie" (which she didn't actually need).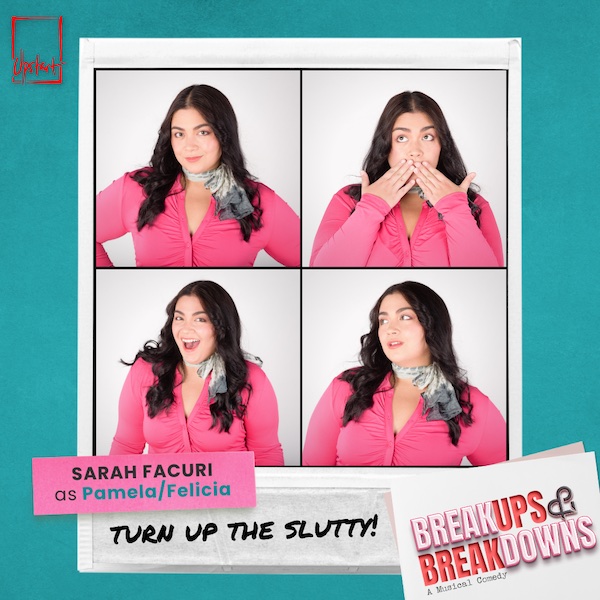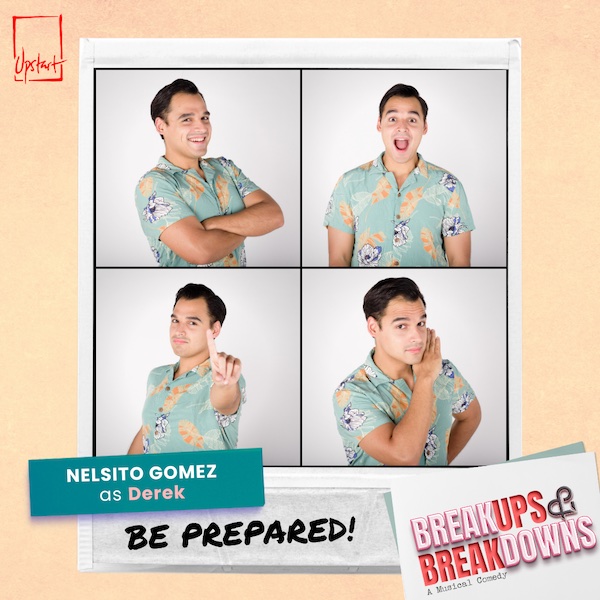 Pamela possesses the qualities of a friend everyone should have: She's frank, supportive, will always hype you up, and sometimes leave you speechless with what she says. Facuri lends an immaculate voice to Pam (which I've taken to calling her in my head) with numbers that leave your stomach aching with laughter.
Gomez's Derek was one of the comedic highlights of the show. He reminded me of some people I actually know (and sadly may have dated) in real life. The unfashionable, playboy himbo (a male version of the stereotypical "bimbo") landed all the right comedic punches. His character arc from playboy to dedicated partner was also one of the most touching aspects of the show. One of my favorite bits was when he was getting ready for a night out by spraying cologne on his nether regions. Hilarious. 
A thigh-slapping good time
"Breakups and Breakdowns" is a gem of a show. Aside from the source material and the cast's chemistry, the show is something theater (and rom com) lovers shouldn't miss on its next run.
While there are some points for improvement—like how the show would have benefited from a smaller theater to amp up the awkwardness or the intimacy, or how the dancing could have been omitted—it was still a thigh-slapping good time.
For anyone going through a breakup or a breakdown, the show does its part to not just lift your spirits, but remind you that you're not alone.