There are two things that can change the world, according to this environmental lawyer
Antonio Oposa talks about this and more in his book "Shooting Stars and Dancing Fish"
Jul 19, 2017
"There are two things here that can change the world if we just do it. You just need a shift in thinking," says Antonio Oposa during an interview with the media during his book launch. Don't be fooled by how the book looks. It may be playful and whimsical, but it presents a realistic approach on how ordinary people like us can save the world.
The two things Oposa was pertaining to was gardening and road-sharing, or prioritizing public transportation. "One is edible landscaping and community gardening to restore human connection to land, air, and water. It will dissolve the problem of hunger, air pollution, and flooding," he said. "The other thing is road-sharing. If you have public transportation, why would you take a car? You set aside an entire lane for public transportation. Create a lane so [public transportation] would go faster." Oposa has made quite a few solid points.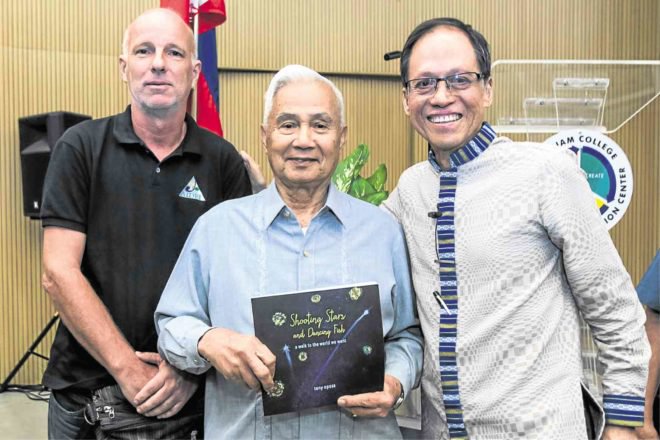 Planting more trees sounds easy but in reality, we're struggling to keep them alive. I would love to see the city laced with vertical gardens and lush trees. It's a great way to combat pollution in the country.
"The enemy is the car. Everybody thinks the car is the solution [but] the car is the problem. A hundred cars occupied by a hundred people. It takes up so much space," Oposa argued. And looking at the current traffic situation, we can't help but agree.
"Shooting Stars and Dancing Fish" wants to "shift the economic mindset from the present egocentric model of mindless extraction and consumption, to the ecocentric model of conservation, protection, and restoration (CPR)." Aside from the author's memoirs and anecdotes from his life, the book is also like a children's storybook. The paintings and poems Oposa created make it appealing to younger readers as well.
After decades of serving and working in environmental law, Oposa had one thing to say: "Don't treat me as a resource person. I am just a small person. Internalize the book and become the advocate. Not me."
Proceeds of the book will go to the author's SEA Camp (Sea and Earth Advocates of Culture, Arts, and Music for the Planet) located in Bantayan Island, which was destroyed by typhoon Yolanda back in 2013.
Photos courtesy of Inquirer.net
TAGS: Anthony Oposa environment environmental law environmental lawyer manila nolisoliph philippines protect environment Shooting Stars and Dancing Fish