LOOK: We simplified #SONA2017 for you
Here's #SONA2017 in easily digestible tidbits. You're welcome.
Jul 24, 2017
Admit it. The State of the Nation Address (SONA) is a major case of information overload—so much so that most of us actually look up SONA key points online.
This year, President Rodrigo Duterte offered us 15 to 18 pages of information overload, to be exact, and it took him a total of two hours to conclude his speech.
So whether you're looking for a rundown because you missed today's SONA or you just want a simpler version of the 15-page address, here's #SONA2017 in bullet points and easily digestible tidbits:
The theme of #SONA2017 was "A Comfortable Life for All"
It started at around 4:25 p.m. and ended 6:25 p.m.
His introduction spotlighted "change that can survive the test of time"
He covered a number of topics, which we will be breaking down below
Agriculture, Food Security, and Food Production
Duterte stressed that "ours is a rich country," but one that tends to mismanage its natural wealth. He plans on focusing on the basics of food production so that the administration can develop better ways of processing our raw materials and encourage investors to do the same. This is seen to provide more income for farmers as well as improve the quality of local products manufactured for consumption here and abroad. He also instructed various offices to investigate the effects of climate change on food security. Other topics he touched on are the sustainable use of land and how laws can be utilized to promote this.
Environment and Mining
#SONA2017 was all about sending a strong message to mining companies operating in the country: Take care of the environment and be responsible for the damage you cause, or suffer the consequences. What consequences, you might ask? One option is to "tax" mining operators "to death." Another, according to Duterte, was to completely shut them down. He also told mining companies to:
Pay proper taxes
Declare correct income
Stop exportation of mineral resources
Stop destroying aquatic resources
Rehabilitate damaged environmental resources
Mindanao and Martial Law
"It is not the peace of the dead, but the peace of the living that we seek," said Duterte, as he talked about putting an end to violence and rebellion in Mindanao. Duterte added that declaring Martial Law was what he saw as the quickest and safest path to peace.

War on Drugs, Extrajudicial Killings, and the United Nations
This year, Duterte accused the United Nations of "trivializing" his war on drugs by citing human rights and due process. He defends his war on drugs by saying that he is doing this for the safety of future generations. One thing's for sure: the killings will continue for as long as the trade and use of illegal drugs exist.
Disaster Preparedness
Duterte calls on various departments and organizations to work on making the Greater Manila Area more resilient against natural disasters. He also talked about investing in new technology that will help the country advance itself in terms of disaster risk reduction and management.
Red Tape and the Citizen's Complaint Hotline
Duterte has always been vocal about ousting erring government officials and getting rid of corruption. But he reminded Filipinos that he needed civilians' help in the fight against corruption. He urged concerned citizens to utilize the country's Complaint Hotline (8888) and report instances of corruption without second thought.
Reproductive Health and the Smoking Ban
According to Duterte, he pushed for the nationwide smoking ban to "minimize access to tobacco products and support those who want to quit [smoking]."
He also expressed his growing concern over the Temporary Restraining Order (TRO) on the implementation of the country's Reproductive Law, calling it "the bane of our efficiency." Duterte then declared that he is pro-choice and for responsible family planning.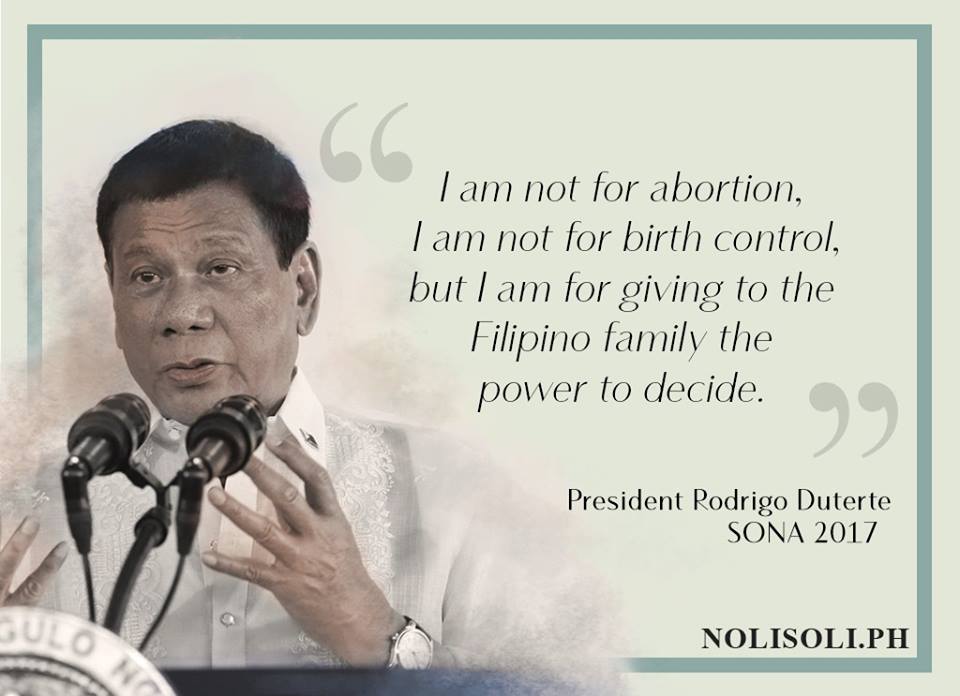 Education
Aside from investing in Higher Education, Duterte said that he plans on improving the country's K-to-12 system.
Cultural Heritage
He also touched on the importance of the country's cultural heritage, calling for the return of our Balangiga Bells, which were taken from Samar in 1901 during the Philippine-American war.
Connectivity
Duterte cited that he has pushed for the installation of free WiFi in public places. He also promised better broadband connectivity in the coming months.
China
Duterte thanked China for agreeing to provide monetary assistance for infrastructure development. China has committed to helping the Philippines build two bridges that will aid public transportation along the Pasig River, he said. He also mentioned that we have been involved in bilateral talks with China on the West Philippine Sea issue.
Welfare of Soldiers and Policemen
Duterte expressed his undying support for the country's soldiers and policemen. He added that a coup would not surprise him if we do not take better care of the people who risk their lives fighting for our peace and safety every day.
Check out President Duterte's most memorable quotes from today's SONA here.
See the complete transcript of Duterte's SONA here.
Read more:
6 points from Duterte's SONA we agree with
Four times President Rodrigo Duterte stood up for the environment
LOOK: Citizens react to President Duterte's SONA
TAGS: Duterte manila philippines President Rodrigo Duterte rodrigo duterte Sona SONA 2017 State of the Nation Address