The agony and ecstasy of being a ballet dancer
Dancers have to practice 13 hours a week, no excuses
Jul 29, 2017
National Artist for Dance and Ballet Philippines' founder and present artistic director Alice Reyes sits in front, facing a group of performing dancers, involved and hands-on. She exchanges whispers with her associate, a couple of company alumni, and renowned danseur Nonoy Froilan—perhaps visualizing a better routine or noting a mistake.
We were at the weathered and humble rehearsal studio of Ballet Philippines (BP), the country's flagship company in ballet and contemporary dance, watching dancers practice for the company's gala performance in August. The combination of careful steps and calculated bending of spines of their slender bodies, sculpted by years of training, tapering off to their en pointe toes take the spectators' breath away.
And that's just the rehearsal.
There are 10 BP scholars practicing with the company dancers because this particular production calls for a bigger group. But before one shares a stage with the BP members, they have to withstand vigorous training, and if there's one thing BP Dance School director Rubylee Gomez cannot stress enough, it is that ballet is tough.
The first step to becoming part of BP is to enroll in its own scholarship program, which is what Gia Gequinto did. After years of summer workshops, the 25-year-old became a scholar in 2010 before she was promoted to company member status the following year. Back then, she was a dance major in college at the University of the Philippines Diliman. "In the morning, I'd [work on] my academic subjects and then spend the afternoon with BP," she recalls.
To be a scholar, applicants have to audition. Auditions are just like regular ballet classes, except the artistic and associate directors, company manager, and a BP alum select who among the aspirants are worthy of working for the company. "[It's] a very tough competition because they have to impress the artistic director and [make her say] 'Yes, I can use you in a production. I can see you in the Main Theater as a dancer for BP.' She already has her own set of standards," says Gomez.
Out of the usually 60 to 100 applicants, whose ages range from nine to early 20s, only around 35 are selected. Sometimes the number is reduced due to scheduling conflicts, as those who have been selected are required to attend daily classes from 5:30 p.m. to 8 p.m.
"[Those who had to beg off] are regretful, but had they pursued it, it would not have been safe for them. [When] a student can't come to class on time, it causes a lot of stress not just on the body, but also on the mind and spirit, and they will just end up trying to catch up. It's frustrating," admits Gomez.
But the doors are open for second tries. Or for even third, fourth, and so on. Gomez says ballet is selective, "but if you really love and you're passionate about it, you'll work for it." For some BP company members, it took them two or three auditions to get in.
Some have extraordinary passion for the dance. Martina Gallemit, 14, moved to Manila from Zamboanga del Norte after she was accepted to the scholarship program last year.
She affirms that BP offers more difficulty than her previous school did. "Here, it is definitely harder. I have to give more, because there are more classes. There are more levels [of progression], which means it's going to [become more dfficult] for anyone to get into the company," she says.
That's because the scholarship program is a pre-professional training ground where scholars get a taste of what it's like to be in the award-winning dance company. According to Gomez, it's where they get the next group of BP dancers—a training camp where the usually expensive tuition is waived.
Although BP's scholarship program doesn't provide allowance, there are some cases, mostly for male scholars, where the company gives additional financial aid in the form of stipend in exchange for a little extra work. They're meticulous about whom to offer it to, though. "If the artistic director knows that they would definitely be part of the company, then she'd be willing to invest," says Gomez.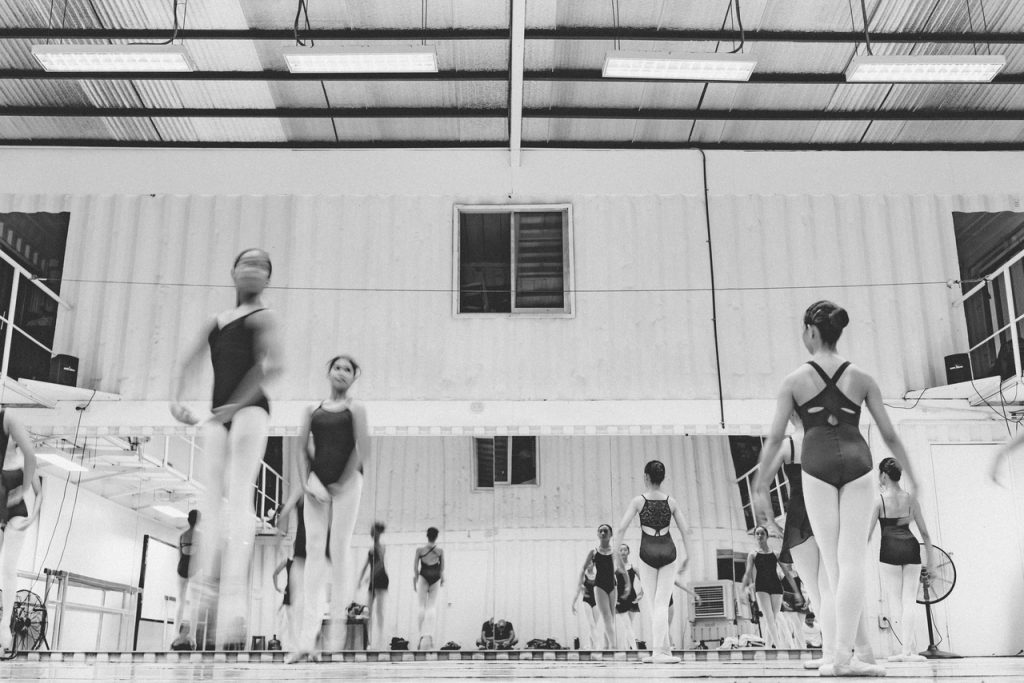 The next generation
Three hundred meters away from the Cultural Center of the Philippines is BP's makeshift satellite studio. Called "Studio One," it's a rehearsal space made from shipping containers that were re-modified in 2014. Daily, at 5:30 p.m., passing pedestrians can hear the strains of classical music and the occasional calls for "round arms, symmetrical fingers, square hips" coming from the studio.
This is where some scholarship classes are done. The teachers are also BP's own, like BP Dance School Principal Karla Javier. She teaches Classical Ballet I, the class where Gallemit belongs, along with 12 other danseuses.
When asked about the future of professional dance in the country, Gomez expresses confidence. "You are talking to the first company that professionalized dancing, so [the industry] will continue. There are a lot of opportunities, especially for Filipino dancers. It's bright." Surely, BP will continue to dance with excellence and beauty that they're known for inside and outside the country.
This story originally appeared in Northern Living, July 2017.
Read more:
Why do local films flop?
Three things to expect from ArteFino Fair
Why is Nora Aunor not a National Artist?
TAGS: alice reyes arts ballet Ballet Philippines Cultural Center of the Philippines culture dance nolisoliph