A bizarre shape juts out of the Katipunan horizon: It's a building called Areté, Ateneo de Manila University's creative hub.
Years ago, a massive eagle's nest containing two eggs once sat in its place. It was a metaphorical outdoor installation meant to bless the grounds upon which a giant could step foot—an image of disciplines interweaving, much like branches to fill a home as well as ideas in incubation, ready to hatch into vibrancy.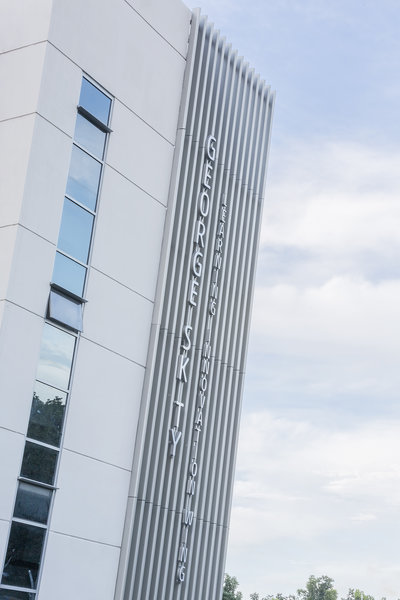 Today, a monolithic two-winged structure designed by architecture firm W.V. Coscolluela & Associates takes flight, safeguarding both the seeds of modern and contemporary art and future ideas.
On one end is the Innovation Wing, straight-edged and crowned in glass and concrete to let in natural light. Here is where creation happens, inside classrooms, studios, and "Sandboxes" or activity hubs for various disciplines of the arts. On the other is the Arts Wing, a metallic yet fluid construction—"curvilinear," as put by Ateneo's president Fr. Jett Villarin, S.J.—that will house the art museum.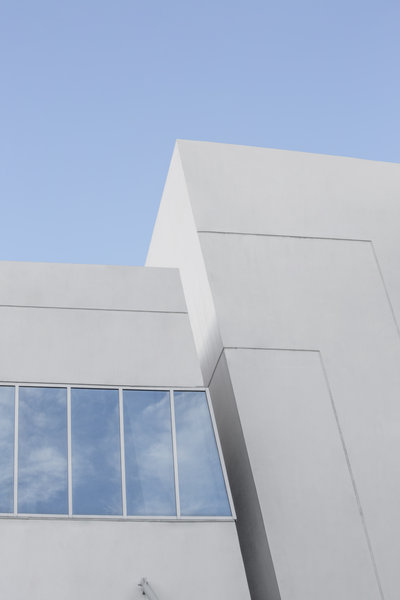 The two contrasting buildings of Areté are connected by a bridgeway, and it's a purposeful structural comparison to the two sides of a brain: one sequenced, rational, and linear, and the other imaginative and unconventional. Both exist in balance, neither one functioning without the other.
State of contemporary arts
"There is great interest in the field of the humanities now, not only in the visual arts but also in other genres," says Boots Herrera, director of the Ateneo Art Gallery (AAG), which is due to transition fully into the structure in May. "On the part of the Ateneo Art Gallery, our new home in Areté will allow us more flexibility to expand our programs to include a wider community of artists."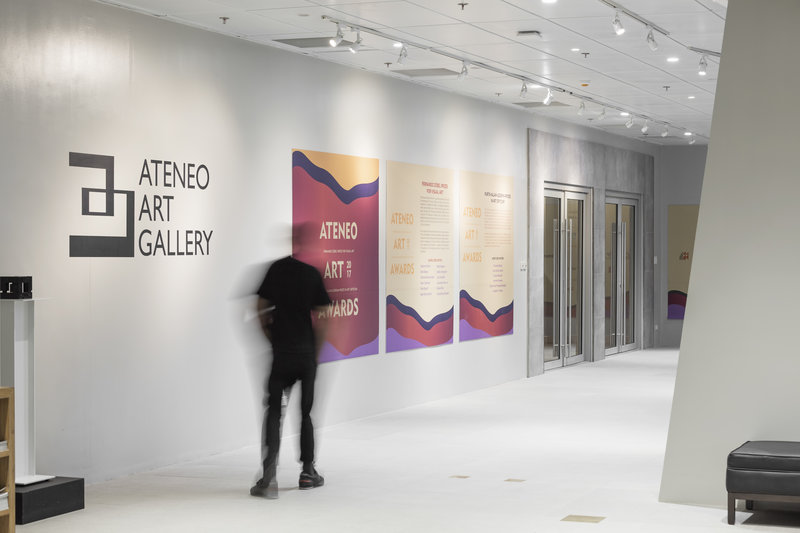 Containing over a thousand art pieces, the AAG has more than enough material to circulate throughout the year for visitors to see. At the ground floor of its new space, three galleries will host both permanent collections and temporary exhibitions. The third floor galleries will explore thematic and more historical exhibitions, aside from housing programs to further discourse on contemporary art. At his bequest, national historian Ambeth Ocampo has donated select 19th century to early 20th century artworks from his personal collection as a means to contextualize the history of Philippine modern art.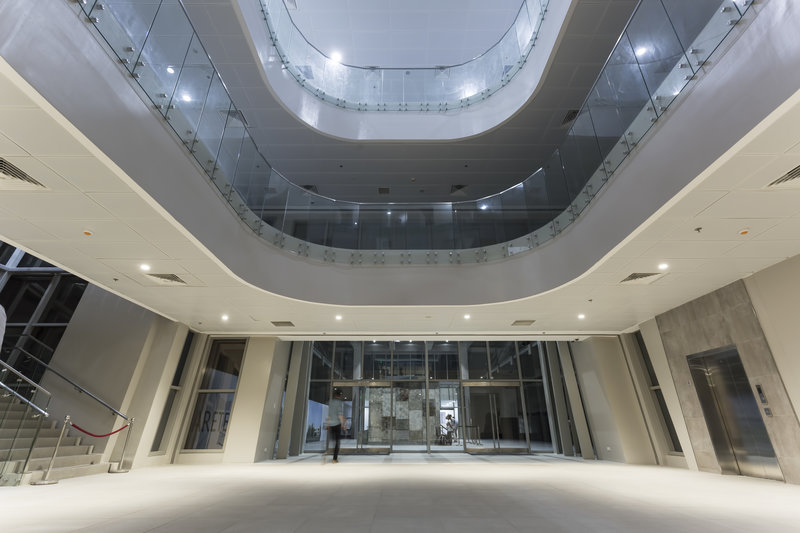 While already a museum in essence, AAG elects to retain its name and brand. "Our name perhaps reflects its history, as the AAG was [initially] housed in relatively small spaces and its founders did not anticipate it growing to what it is today," Herrera explains. "Also, the use of the term 'gallery' follows the original concept of galleria, which refers to a fine art collection, as opposed to a gabinetti, which is a collection of curiosities."
The other side of the coin
Finally, we are given a tour of the near-finished Innovation Wing. Upon the main stairwell, verbs guide each footfall, with words on plaques drilled into each step. Quite playfully, the word "start" is embedded into the first stair. We follow the remaining words up until the last level, but the final plate is still to be placed.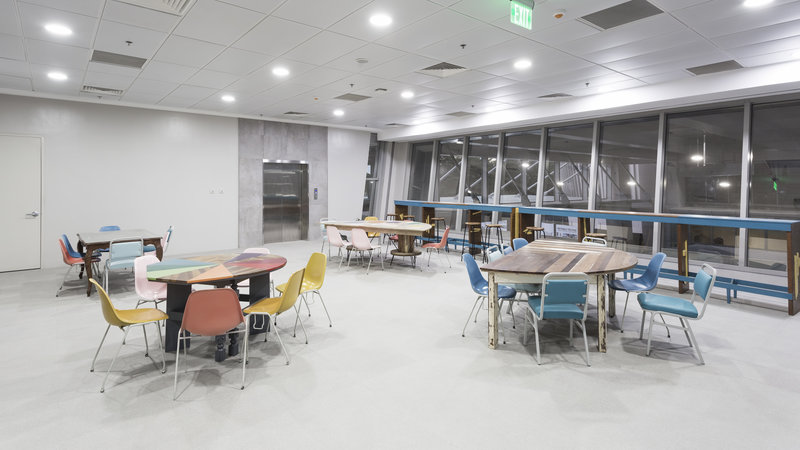 In a common area furnished with painted chairs and upcycled tables by Resurrection Furniture, another metaphor for cerebral hemispheres surfaces. Two semi-circle communal tables sit on either side, one colorful and the other near-bare. Here is where students may lounge between classes or brainstorm on new artistic pursuits.
An empty and undivided third floor is set to be the hyped Sandbox, what could be Areté's iconic feature that would set it apart from other creative hubs in the country. It is pegged to house the latest tech and equipment for various facets of art, from 3D printer laboratories to experimental classrooms, whatever they may be.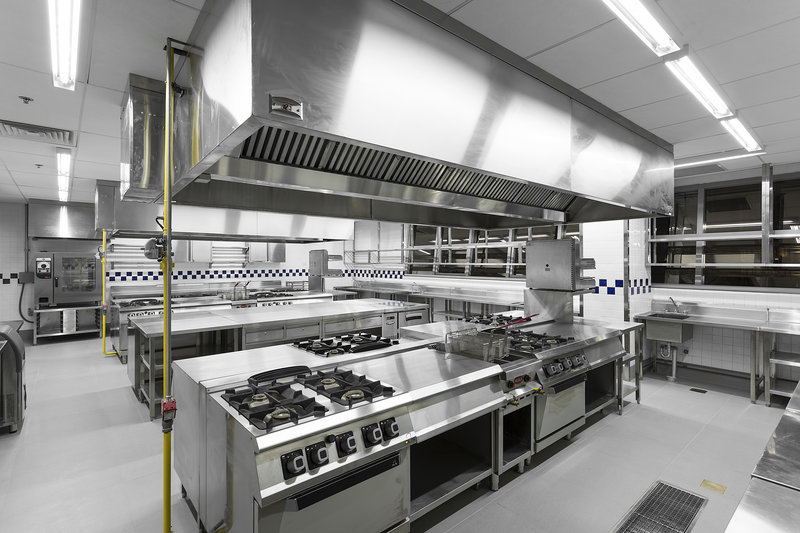 We catch a glimpse of the classrooms. In one hallway, parallel to each other are a music room with a view of the Marikina valley, and a dance studio with wooden floors. Trapezoidal common tables are pushed against the wall in another room, but in full function, they may be connected to each other in whatever geometrical shape students and teachers see fit for their lessons. Downstairs, at the Le Cordon Bleu Institute, sleek kitchen fixtures and massive ovens await students of restaurant entrepreneurship.
Writer: BELLE MAPA
PHOTOGRAPHY RG MEDESTOMAS