Since 2013, art mavens have been looking forward the annual Art Fair Philippines, which displays a growing number of galleries, events, and participants every year. Floors of The Link Car Park—converted to a one-stop exhibition space for one weekend—are cramped with a large number of attendees.
More often than not, it's the crowds that get in the way of a good art-viewing experience. Admit it, we sometimes feel panic when we see a large backpack inches away from a glass sculpture. Or maybe someone's selfie stick is in the way of a painting we want to see.
Art fair etiquette is not hard to come by. Still, the Art Fair team has given us some basic tips on how to make for an optimal viewing experience for us and our fellow visitors. Here's what not to do when you get there.
1. Look, but don't touch. Also never lean on the artwork.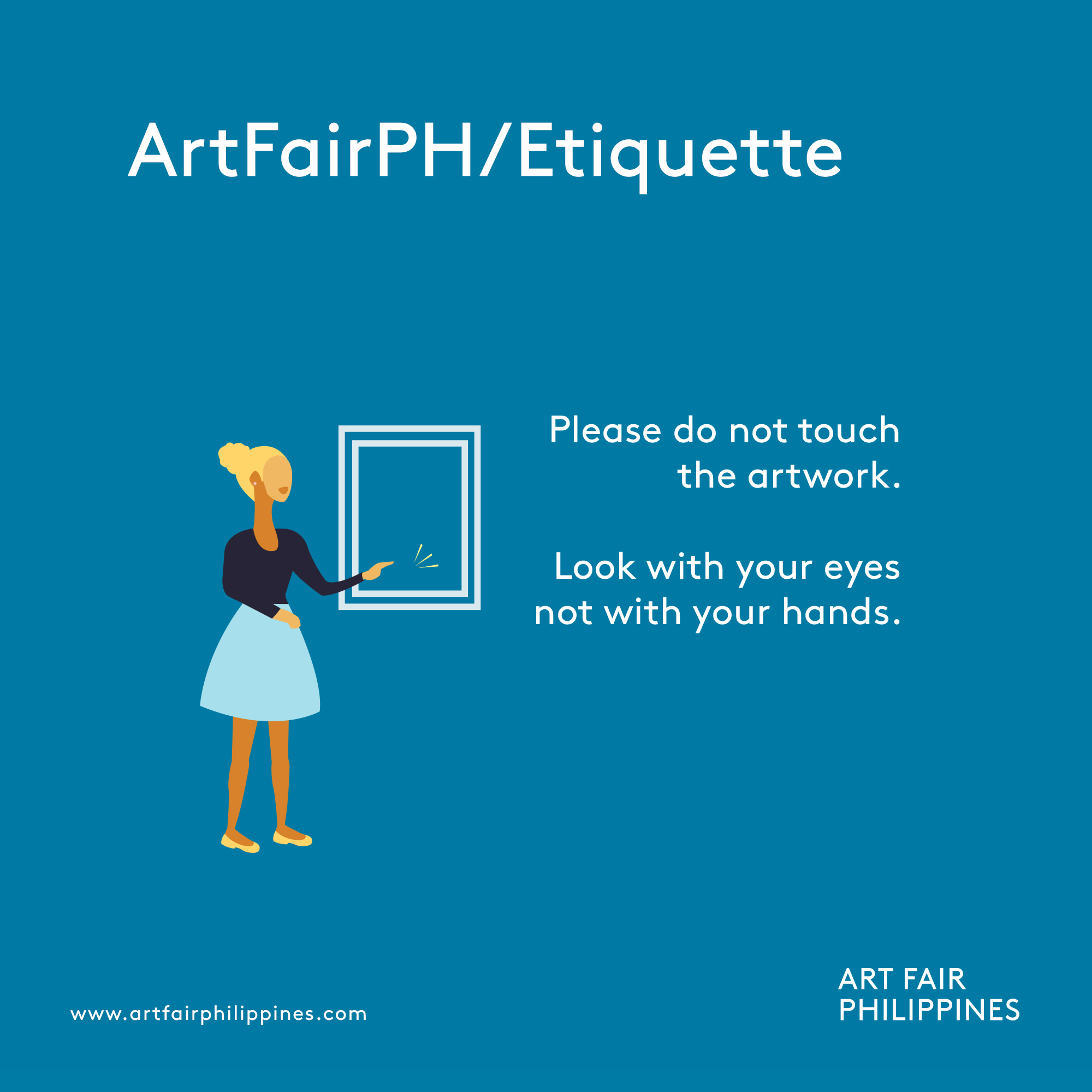 No matter how gorgeous your Art Fair OOTD is, it's not worth the damage you can cause on the artwork. Paint and other mediums can chip, smudge, and even get on your own person. Worse, you might even break a sculpture by accident. You can look without touching. Art is meant to be seen and felt—but not by our own hands!
There are, however, interactive exhibition pieces. So only handle the art if it's explicitly stated that you can do so.
2. Take a step back. Don't stand too close to the artwork.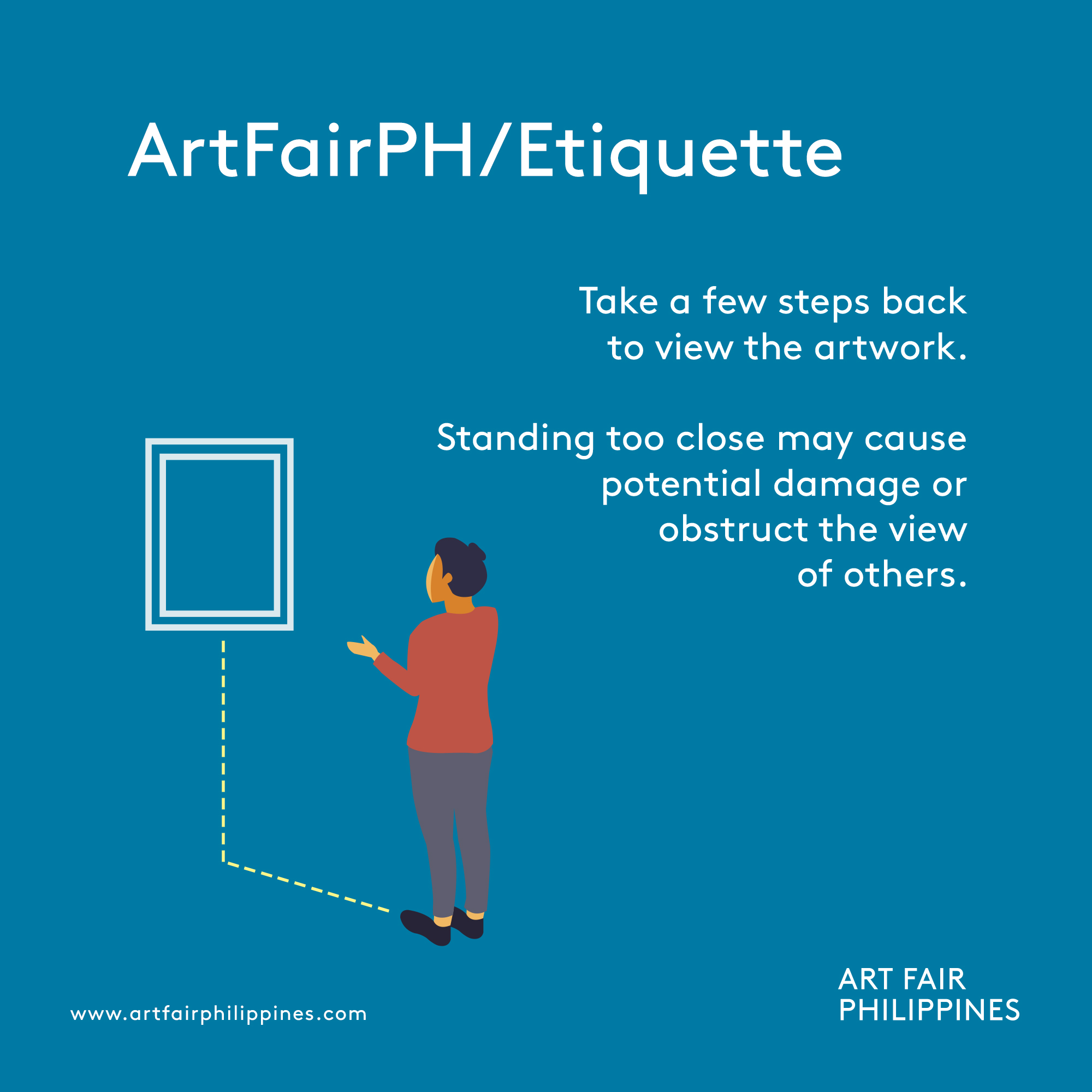 You may be obstructing the view of the people around you. Also, much like rule #1, you might accidentally touch and damage the artwork. Take a step back. Sometimes a work is much more enjoyable when you see the bigger picture, literally. Even if you want to see details, you don't need to stick your face too close.
3. Avoid bringing big bags and umbrellas. If you can't, check them in.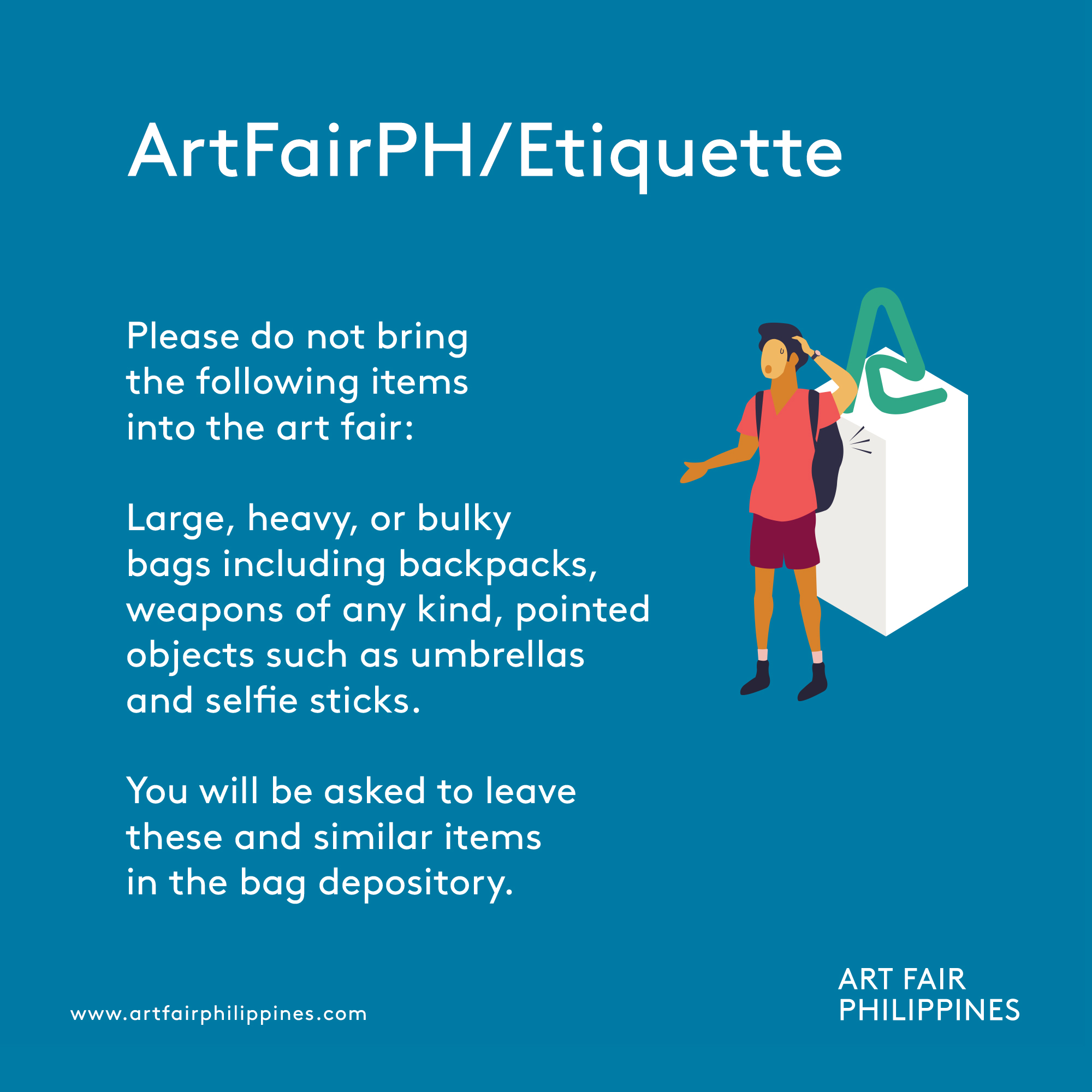 Have you ever stumbled or gotten pushed back after a backpack has bumped into you? It happens at art fairs, too. If you're the one carrying a huge bag, you might not even notice it scratching up against, say, a painting, or a fragile sculpture. Plus, you might be keeping back the flow of people.
4. You can take photos but please DO NOT use flash.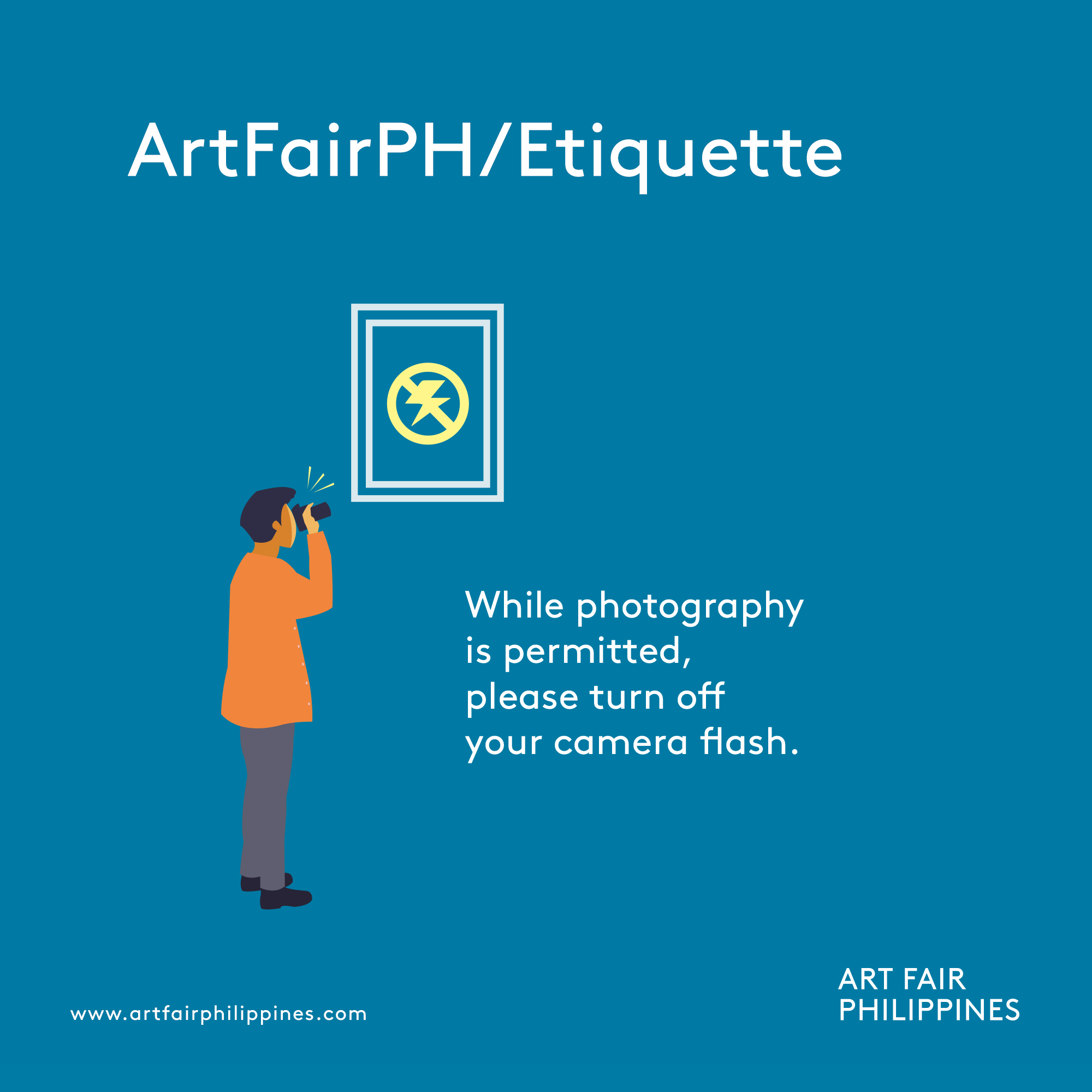 Light and heat can seriously harm a painting (that's why museums and galleries have controlled lighting). Sudden flashes of light can lead to discoloration and chemical breakdown of the materials used in the painting. It's also out of courtesy to people around you who might get blinded by the light.
5. Don't bring outside food and drinks into the art fair.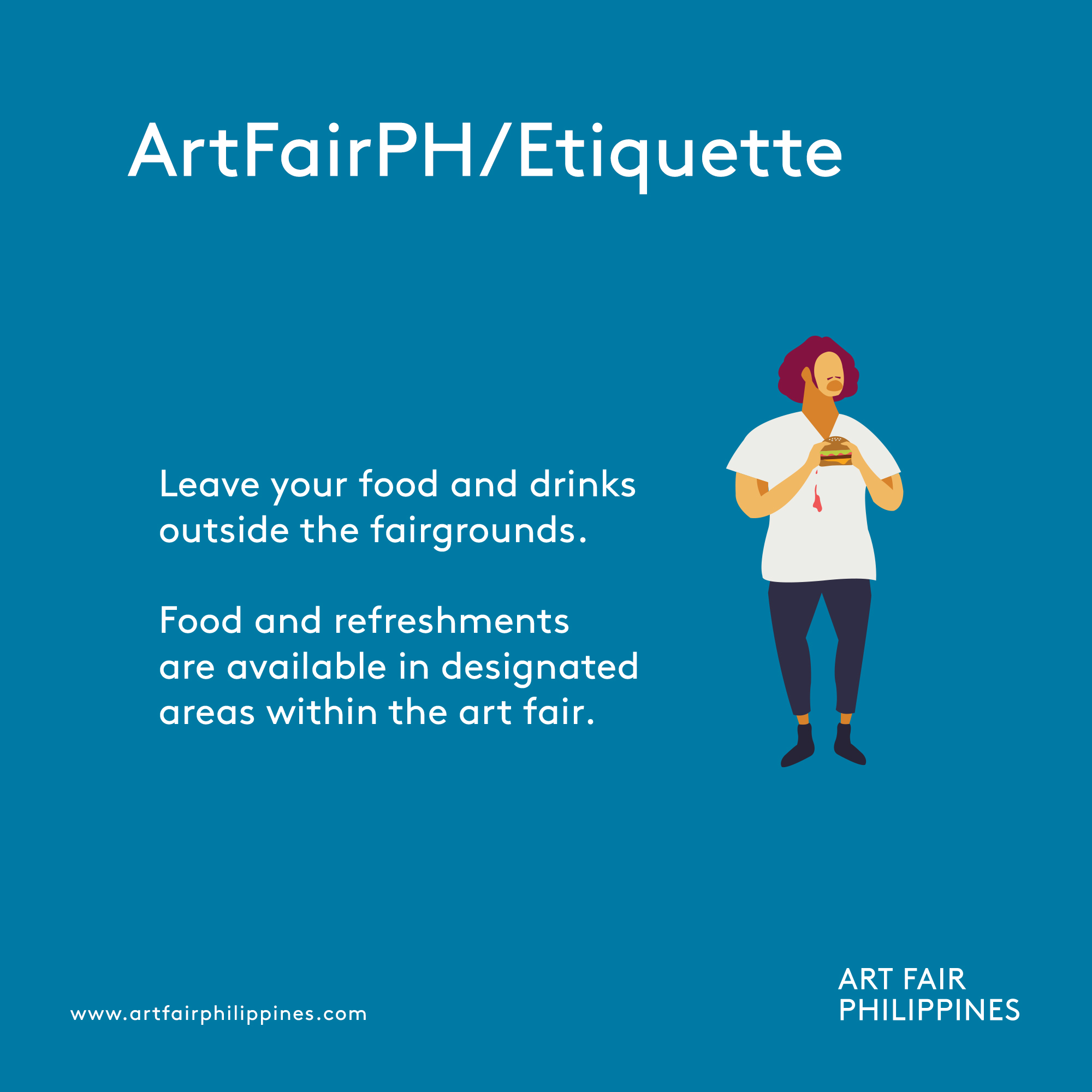 Accidental spillage can cause a huge mess. Worse, what if your food or water hits an art work? The art fair will have a café and a bar within The Link for you to refresh yourselves if you need. Perhaps maybe don't go on a bender either, despite the good flowing rum.
6. Keep your children in your sight.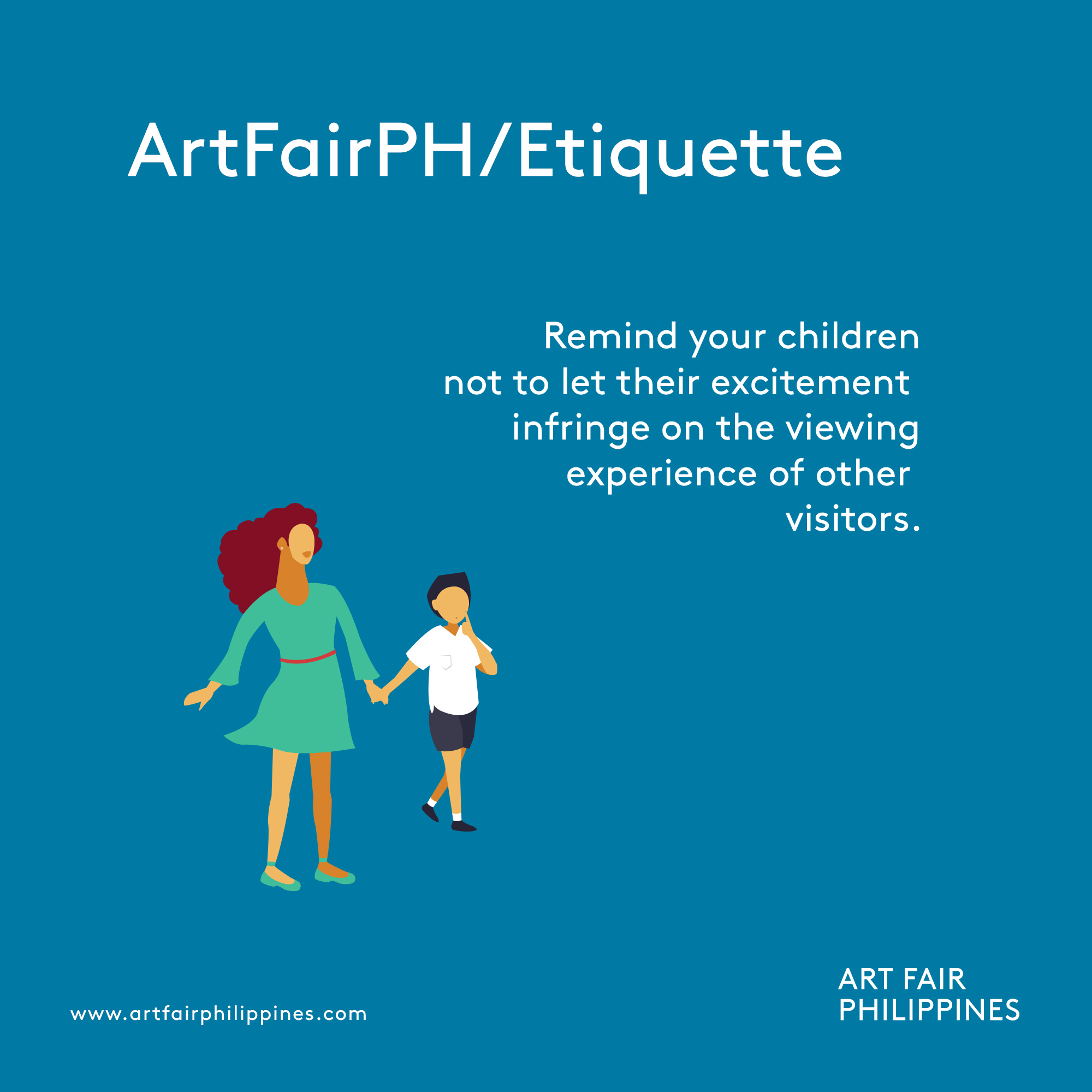 Events like this boost children's curiosity and interest in art, which gives a huge impact in their creativity. While it is encouraged that you bring your kids to the Art Fair, keep in mind that not all participating galleries have child-friendly artworks. Some might be easily toppled or damaged.
Your children's uncontrollable excitement might also disturb other fairgoers, so make sure that they never go out of your sight. Also remind them to be at their best behavior beforehand.
Stay tuned to our site for more of our Art Fair PH coverage and updates.
Photos courtesy of Art Fair Philippines
Read more:
Malang, Fernando Botero, David Medalla, and other artists featured for Art Fair 2019
All the art events happening this week outside of Art Fair Philippines