Here's the reason why you are having a hard time booking a Grab lately
Grab sets the record straight
May 17, 2018
Wonder why booking a Grab car is painstakingly hard lately? You are not alone.
Many users of the transport network vehicle service took to the social media these past few days to express their frustration over the situation.
Thank you @grabph , because of your inefficiency, I lost a once in a lifetime opportunity to assist my dad's friend and previous co-surgeon at the operating room today. I am very disappointed as I am really sad.

— Claude Homer Fong (@ClaudeCity) May 14, 2018
Nice @grabph ilang cancellations ba bago makakuha ng ride?

— Mika Reyes (@mikareyesss) May 9, 2018
Taray! Mas mahirap na kumuha ng @grabph ngayon! Naks! Ang galing! Congrats guys 🙌🏻🙌🏻🙌🏻🙌🏻 nag level down.

— KEIKO NECESARIO 💥 (@KeikoSoundsLike) May 11, 2018
.@grabph hi just a question how long do I need to wait to be able to book a ride? I have been for an hour now, do I need to wait an hour more? maybe a day? also now that you've gained a monopoly, when will your service actually become reliable?

— Elise Apilado (@EliseApilado) May 8, 2018
Last night, to address the public's outrage, the ride-sharing app sent out an email to its users explaining the reason behind its shortage of cars resulting in extended booking time.
Through an infographic, Grab said that since their acquisition of competitor Uber earlier this year, the number of people requesting for rides has doubled to an average of 600,000 a day.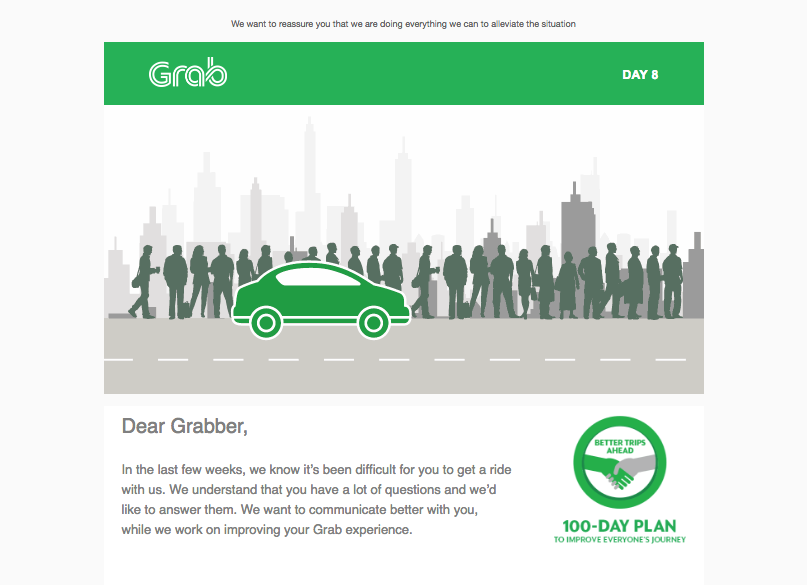 However, the number of registered and eligible to service users under them has decreased from 43,000 to 35,000. Various reasons have been cited for the decline, such as more than 2,000 registered units deciding not to switch to Grab from their previous affiliation.
To add to this, according to a master list issued by the Land Transportation Franchising and Regulatory Board (LTFRB), 6,000 cars were missing from the initial audit of TNV drivers registered under Grab and Uber when the latter was still operational, thus rendering them ineligible to accept rides.
Despite all these, Grab reassured its patrons that they are pursuing measures to increase the number of available cars for booking. This includes enticing drivers by releasing incentives to increase their productivity and in the long run prevent them from transferring to rival TNVS companies looking to enter the ride-sharing sphere.
The company also said that they are working with government regulators to put 6,000 displaced drivers to work.
For now, Grab suggests users explore other transport options including making use of some of the app's features like multi-stop and ride-sharing.
Photos courtesy of Inquirer.net
Read more:
Grab plans to impose penalty on cancellations made by passengers
One in four Grab drivers will no longer see passenger destinations prior pickup
Uber finalizes operations merge with Grab for PH
TAGS: Grab LTFRB ride-sharing TNVS transport Uber