BPI postpones implementation of P100 free for over-the-counter withdrawals
And it's not sitting well with its patrons
Jul 4, 2018
Updated (July 5, 9:08 p.m.)
Bank of the Philippine Islands (BPI) is delaying its imposition of P50 to P100 fee for over-the-counter (OTC) withdrawals and inter-region deposits to January 2019.
"We have decided to postpone the implementation of the branch transaction fees for peso cash deposits and withdrawals to January 2019," BPI Customer Experience Management Office Head Maria Ana Luna said in a statement. "This will give our clients enough time to be more familiar with our existing Bank Anywhere facilities via our online and electronic channels."
Two days ago, BPI sent an advisory that this policy will start in September only to take it back.
Inter-region deposits are transactions where a client deposits into or withdraws from an account registered in another region.
However, it must be noted that the fee for the OTC withdrawals applies to those whose who have an ATM Card account or non-passbooks. Regardless of the amount, BPI will charge P100. They will also ask for a hundred bucks from passbook holders who would have an inter-region withdrawal.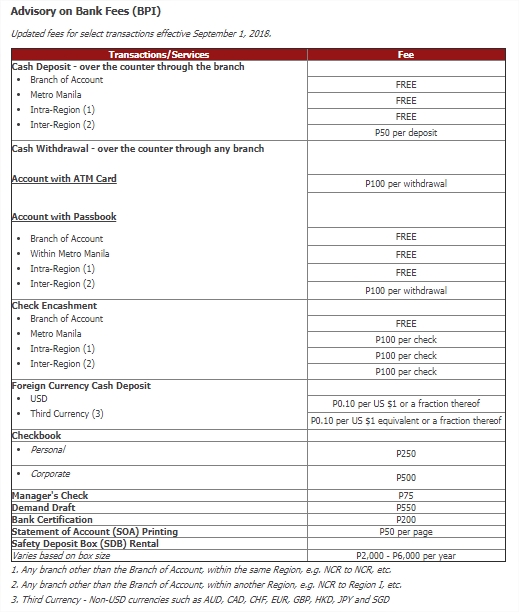 Regarding checks, it's recommended to get them encashed in the home or issuing branch. Outside that, BPI will charge P100 per check.
While withdrawals through ATMs are free and recommended, this will be a problem for those who have to pull money from the bank higher than the daily withdrawal limit which is P20,000. (Withdrawal limits can be adjusted though. Call your bank for more details.)
Get more stories like this by subscribing to our weekly newsletter here.
Featured image courtesy of Marianne Bermudez for Inquirer.net
Read more:
This new digital currency will save you from long bank and ATM queues
The BPI fiasco is just a system glitch, but how do you protect your bank account from hackers?
How to save over P50,000 by the end of 2018
TAGS: bank of the philippine islands nolisoliph